Since the birth of Eco Renewable Energy in 2015, Dean Atrash has been on a mission to educate and inspire people about the magic of renewable energy. Aside from plastic bag bans and digital receipts, forward-thinking shopping centres can utilise new ways to power-up their sustainability practices and amplify their messaging.
There's no question that our planet and its future generations are relying on today's citizens to raise awareness and make proactive environmental changes. Businesses are being held accountable to their environmental impact promises and shoppers are expecting more.
Enhance your behind-the-scenes activity and engage shoppers with interactive installations
Whether it's investing in solar panels, enhancing recycling and waste management, or encouraging environmentally-friendly modes of transportation through dedicated bicycle parking spaces and EV charging stations, an abundance of ways are available for shopping centres and retailers to work cohesively towards their environmental and sustainability goals.
However, aside from corporate efforts, it's also essential to educate, engage and inspire shoppers to play their part. There's strength in numbers when it comes to embarking on the journey towards a brighter, greener future. The more environmental awareness and accountability we can initiate together, the more it helps to enkindle a positive chain reaction.
Sparking authentic connections and conversations that truly matter, Eco Renewable Energy is leading the way with innovative, interactive solutions to promote your overall sustainability and marketing goals. From brand activations to permanent installations, they've strategically partnered with some of Australia's biggest brands, including IBM, Nestlé, Shell, LeasePlan and Absolut.
Celebrating the 'human side' of renewable energy, the company's Smart Solar Benches and WeWatt Bikes are just two of its most popular offerings. With pleasing aesthetics, brandable surfaces and versatile gamification, shopping centres of all sizes can take advantage of these temporary and permanent eco-friendly installations for good.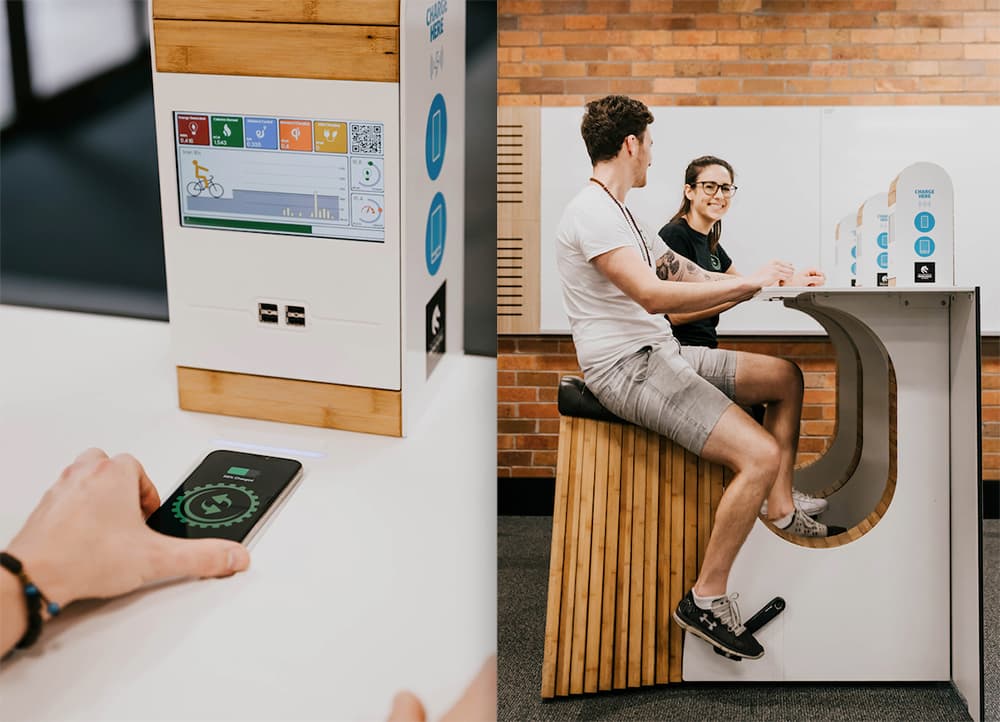 Smart solar benches
Offering easy installation and requiring low maintenance, Smart Solar Benches are the perfect step towards transforming any shopping centre's outdoor space into a green space. Powered by a standalone solar energy system 100%, the benches are equipped with environmental sensors that collect and share real-time data about air quality, temperature, humidity, air pressure and noise levels.
With branding surfaces, smart data integration and usage analytics, the benches also provide shoppers with free wi-fi hotspots and device charging to incentivise engagement in high-traffic areas. Creating social hubs, these can be further enhanced with bespoke software, gamification and web landing pages to align with a sponsor's marketing campaign.
In a successful collaboration with Melbourne's Yarra City Council, a number of these smart solar benches were installed in Fitzroy and Richmond, and are coming soon to Carlton North. The first of their kind in Melbourne's inner city, the benches will encourage locals and passers-by to sit, relax and recharge in nature. They will also provide access to critical information, products and services, particularly for those who may not otherwise have access. Revolutionising the common bench, intelligent urban furniture is a significant step forward in supporting smart and sustainable outdoor spaces, shopping centres and public spaces.
WeWatt Bikes
Prompting shoppers to take a break in between their retail therapy sprees, the WeWatt bikes offer wireless or USB device charging in exchange for clean pedal power. Creating a dynamic, eco-friendly branding experience, the bikes harness calorie-burning, renewable energy, to make users stop, think and pedal for environmental goodness.
Complete with brandable surfaces, customised energy dashboards and gamification opportunities, the WeWatt kiosks are crafted from mostly recycled materials to complement any indoor or outdoor space.
Eco Renewable Energy recently partnered with Hong Kong's Hysan Development to install five WeWatt bike kiosks, branded as 'Eco Bike Chargers' at Lee Gardens and Hysan Place with a minimalist, clean aesthetic. Located at the heart of Causeway Bay's shopping district, one of Hong Kong's best renowned luxury shopping destinations and regularly frequented by the younger generations, the WeWatt Bikes will serve as an environmentally-conscious reminder for shoppers looking to charge their devices.
Hysan is the second shopping centre in Hong Kong to have installed WeWatt Bikes, also proving popular across global airports, corporate offices, schools and universities.
It's not all fun and games, there're plenty of ROI opportunities
Promising a healthy 'return on interactions', shopping centres can also benefit from the traditional ROI of 'return on investment'.
Aside from providing an additional advertising platform, these innovative installations will also help to keep shoppers on-site, knowing that they'll have a place to go if their phone batteries start to run low. With free phone charging and elements of social interaction, the hubs can be installed in high foot traffic areas such as the food court, outside restrooms and next to waiting areas, creating a more communal experience and further encouraging shoppers to linger for longer.
Big data collection offers analytics on measures of success, such as traffic volume and duration of usage, empowering retailers and shopping centres with insights to take their strategic campaigns to the next level. Tailored to your specific short and long-term goals, the installations can be intuitively set up to collect survey-based questions for future use.
Levelling-up their sustainability efforts, shopping centres can start educating local communities while attracting new shoppers and maximising customer retention. With younger generations increasingly indicating their concerns for the environment, it's important for businesses to review their current processes and identify new ways to promote environmental sustainability. Aside from plastic bag bans and digital receipts, there are plenty of innovative opportunities for retailers to step up their game and set themselves apart from other businesses.
With Mother Nature's approval, small steps can catalyse mighty leaps and bounds on our journey for betterment. Blissful people, feel-good shopping experiences, happy planet – it's a win-win for all.


To learn more about Eco Renewable Energy's sustainable innovations, please visit www.ecorenewableenergy.com.au