Our world is becoming increasingly more connected. Smart technologies have never been more prevalent in our daily lives – our smart cars drive themselves and our smart homes talk to us. Jérôme Audais, Managing Director, KONE says, these technologies herald new opportunities to make life run smoothly – and it only follows that people expect the same kind of connectivity and flexibility from the centres they shop at.
Retail is your business – people flow is ours. Our expertise reaches far beyond the delivery, installation, maintenance, and modernisation of elevators and escalators.
The people flow in a shopping centre has three main peaks. The start of the day sees an inflow of employees, early shoppers, people stopping for coffee or breakfast, and those arriving by public transport who pass through the centre on their way to work. As the morning goes on, the number of people falls before peaking again at lunchtime. After a lull in mid-afternoon, the evening rush begins as the workday finishes and people enter the centre to shop.
Keeping your retail facility running like clockwork and providing a healthy return on investment requires smooth goods flow just as much as smooth people flow.
Escalators and inclined autowalks are the backbone of people flow in any retail facility;  ideal for transferring and directing large volumes of people, they make it easy for shoppers to reach different levels smoothly and safely, even if they're carrying bags or pushing trolleys. They can also be used to provide a panoramic view over the whole facility, lead people through promotional areas, and encourage them to visit upper floors.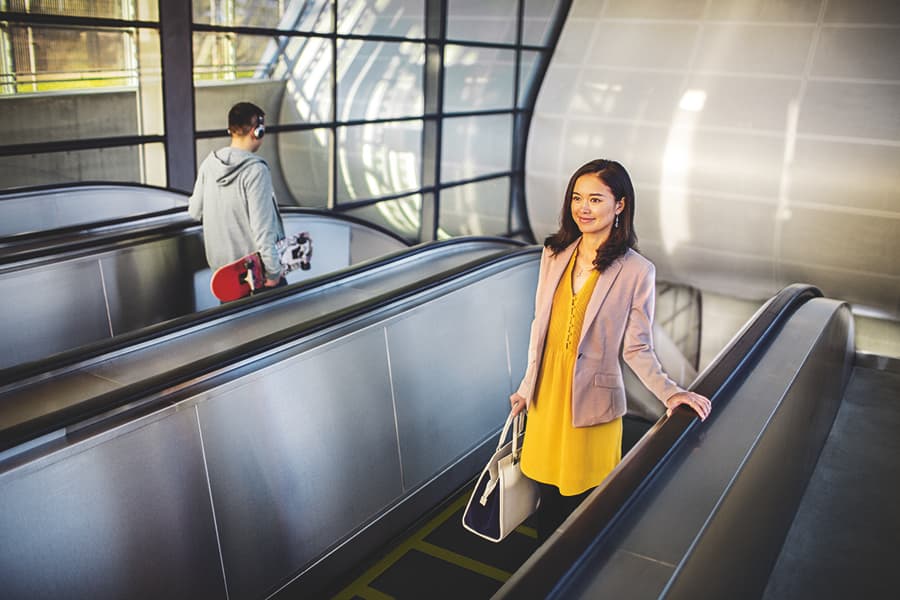 The past year has seen a move towards online and mobile-first solutions, which has demanded we quickly adapt to various challenges in every aspect of our lives. Retail centres are no exception. Centres have had to transform their customer experience, and differentiate their centres to attract people for more than shopping. The focus of retail centres has shifted to become urban hubs, and providing rich experiences with whole innovative approaches to the way we shop.
Retailers have had to adapt to unexpected needs, which has seen a move towards health and wellbeing solutions to encourage shoppers back to centres.
One of these initiatives has seen a rise in 'Click & Collect' models, such as Scentre Group's Westfield Direct service that offered a new multi-retailer option for drive-thru collection. Behind the customer experience lies the need for seamless movement of goods from retail floors to parking structures, via autowalks and elevators. The same flexibility is expected for the safe and efficient flow of customers in and out of centres, with many centres upgrading their parking facilities to offer registration plate recognition for a touchless experience, while speeding entry at the same time.
Touchless experiences have unsurprisingly become a key trend in retail spaces. The challenge has been finding smart solutions to improve health in centres for customers to smoothly and safely flow through centres.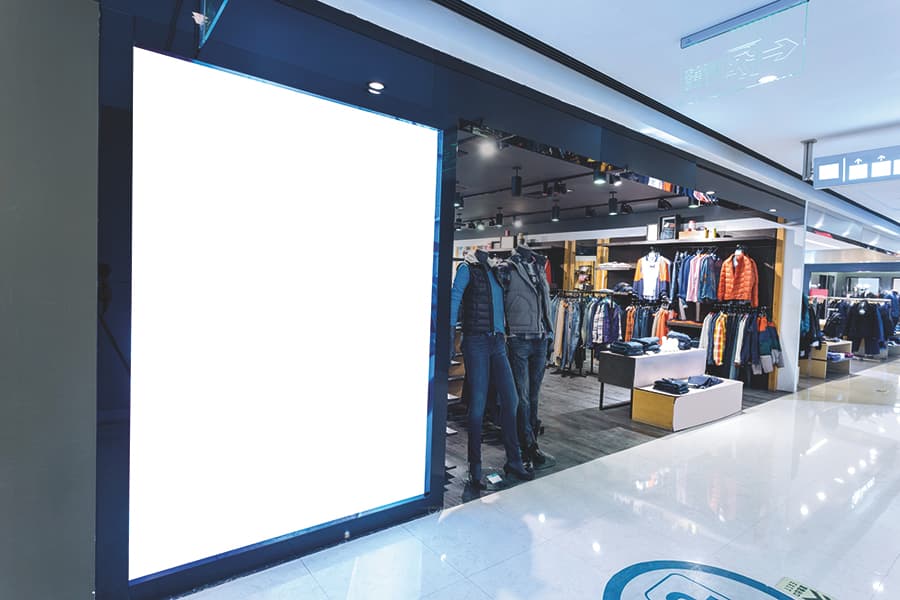 The last 12 months has really put personal space and hygiene in the spotlight. People now choose to not hold handrails on escalators, and use everything but their finger to press elevator buttons and open door handles. This has demanded we find alternatives to either make their journey touchless or find ways to sanitise the things they come into contact with.
Technology such as UV lighting module integration into the mechanism of an escalator has allowed us to automatically sanitise the handrail on each revolution, resulting in more comfortable and relaxed shoppers.
These integrations illustrate how the usage of a centre can evolve over its lifetime. We've seen just how important it is for building infrastructure to be flexible and purpose designed. Retailers count on centres to manage people movement, and keep foot (and trolley) traffic moving. Cloud connected vertical transportation allows for elevators to be easily upgraded in the future with seamless digital integration.
Cloud connectivity is also a major time and money saver from a maintenance perspective. Remote monitoring of lifts means smarter predictive maintenance decisions. Artificial intelligence based preventative maintenance is able to collect enormous amounts of data around the clock from sensors installed in the equipment and analysed in the cloud. This ensures continuous monitoring, risk analysis and transparency, meaning potential faults can be identified long before they become a problem, reducing service disruptions and costs associated with major faults.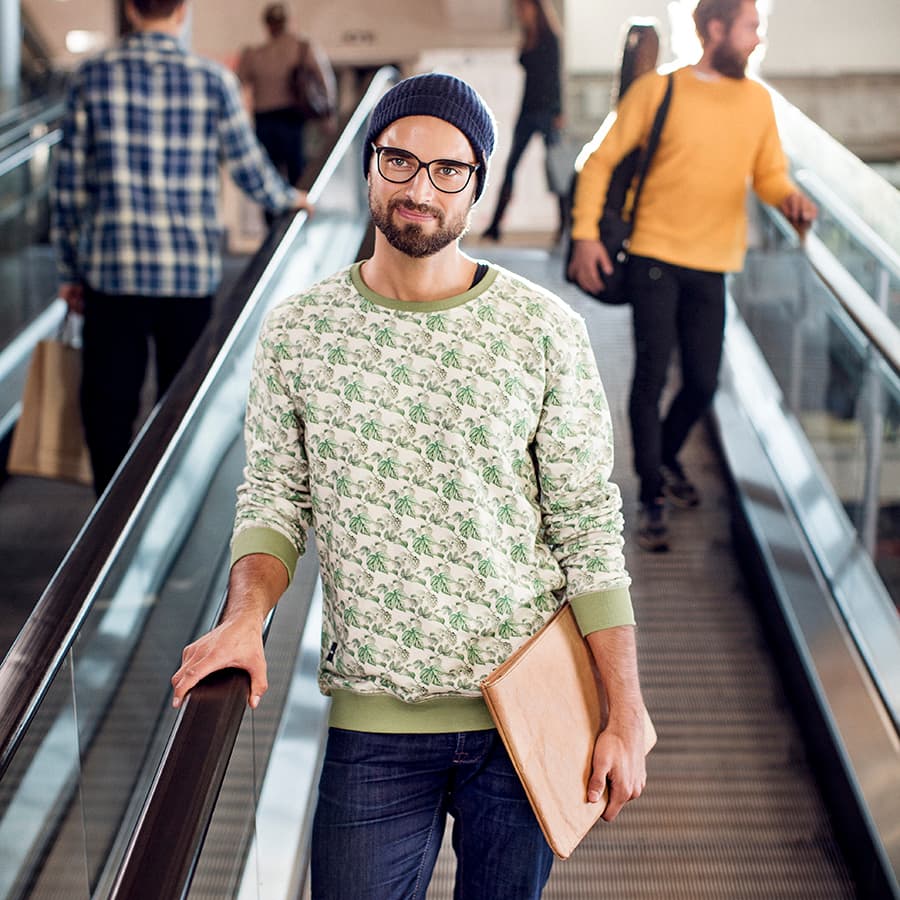 Much like other connected devices, vertical transportation that is cloud-connected is able to feedback in real-time the equipment status and help us ensure that stoppages are addressed quickly and sometimes even before they occur!
Some of our retail customers are seeing this predictive maintenance service as key to enabling improved shopper experiences – nobody likes walking down an escalator or queuing to use a lift.
Cloud technology also learns from the data that is processed, so that services are becoming more and more intelligent all the time. This advanced digital experience assures centres are future proof.
The KONE DX class includes built-in connectivity to easily enable all of these functions.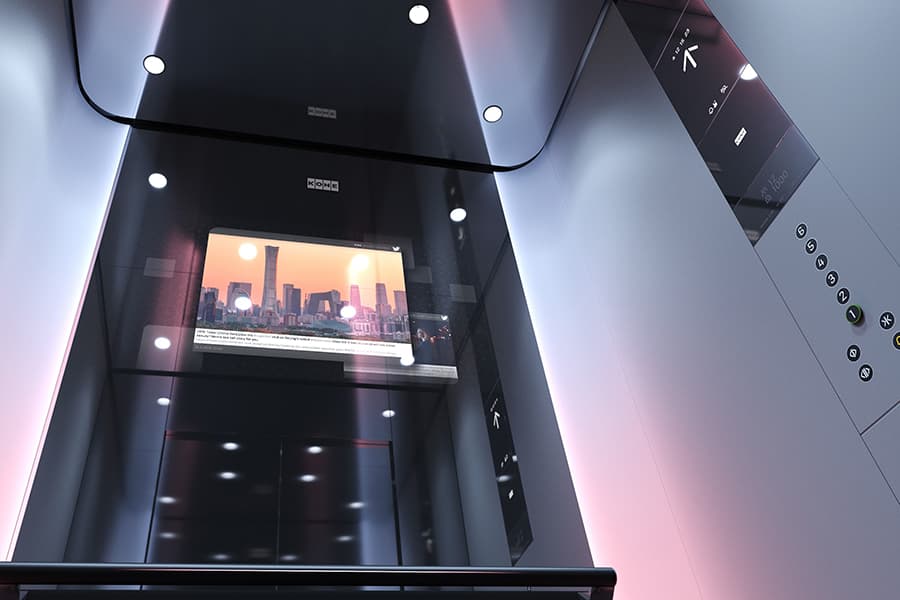 Elevator modernisation can future proof a centre in more ways than one – it is also key from a sustainability perspective. Modernising an elevator can itself achieve energy savings up to 70%. The best in its class for eco-efficiency, KONE DX saves energy and reduces the carbon footprint by using environmentally-efficient hoisting and lighting, as well as idle and standby modes to reduce the energy consumption of the equipment. We're a trusted partner for our customers, helping them meet various green building requirements with these smart technologies.
Connected services are promising a new era of digitally enabled people flow that will improve safety, convenience and sustainability and take your centre to the next level.
To discuss how your centre can improve people flow and increase connectivity, contact KONE.com.au