A broad look across the world sees Susanne Pini conclude that 'Public Places' will be the new retail centres. The 'built environment' is a significant part of our lives and culture but, retail wise, could it give way to open spaces?
Change is upon us. There is a new kind of retail unfolding, more social, more purposeful, with smaller, possibly fewer stores, but more bars and restaurants – and hopefully more bustling public spaces, for a start. 
The Great Pause
The Great Pause, as some are calling it, has caused us all to slow down, to reassess our values and to reevaluate where and how we live, as we look for novel ways to connect with our communities and nature. People have rediscovered the value of proximity, and the need to be close to one another and the things they need, rather than relying on driving a long distance. Easily accessible public spaces, such as walkable streets and parks became beacons of hope during lockdown, as we adapted to a slower, simpler normal. Many of us have also become more deeply aware of the shops and amenities in our local streets when we suddenly couldn't access them anymore. We realised how much we miss and appreciate public life and human interactions, such as bumping into each other in parks or cafés, while shopping or walking the dog; in other words, all these unstructured social interactions that help people feel connected to their community and improve social cohesion.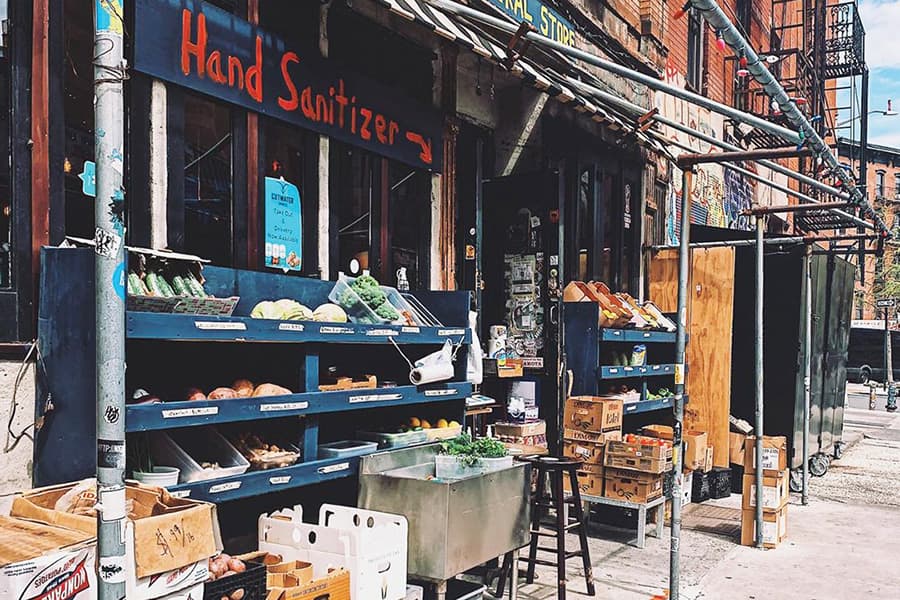 The pandemic has strengthened the case for making neighbourhoods self-sufficient. With some degree of normality returning, there will be a desire to spend but with the new community minded spirit, consumers will become more mindful about why and what they buy and who they are supporting in the process. 
We can expect even greater shifts towards buying more locally made products and a return to the smaller stores and makers in the 'village'. Studies already show that almost 30% of customers in the UK and US are planning to spend more at their local stores post-lockdown. They are likely to feel more of an allegiance to small independents whom they may have built a relationship with, plus they may feel safer visiting small shops where it could be easier to control numbers and maintain distance in a way that large stores may struggle to do so.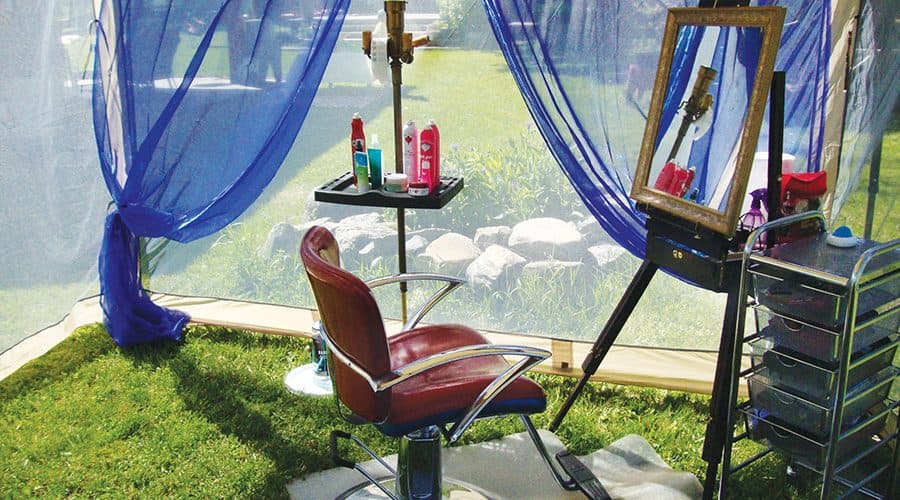 Can we really get back to business as usual? Probably not…
While early indications show that it could be good news for local and independent stores, the big question is how will COVID-19 affect already embattled shopping malls?
To put it simply, business models reliant on maximum footfall, such as shopping malls, department stores and big supermarkets, are at odds with social distancing. In some cases, they are even designed for the opposite effect. Supermarkets intentionally put meat and dairy sections in the back of the store, and design the layouts of other staples so that we are forced to walk by other displays. Except checkouts, everything else about the store is designed to keep us inside, shopping longer.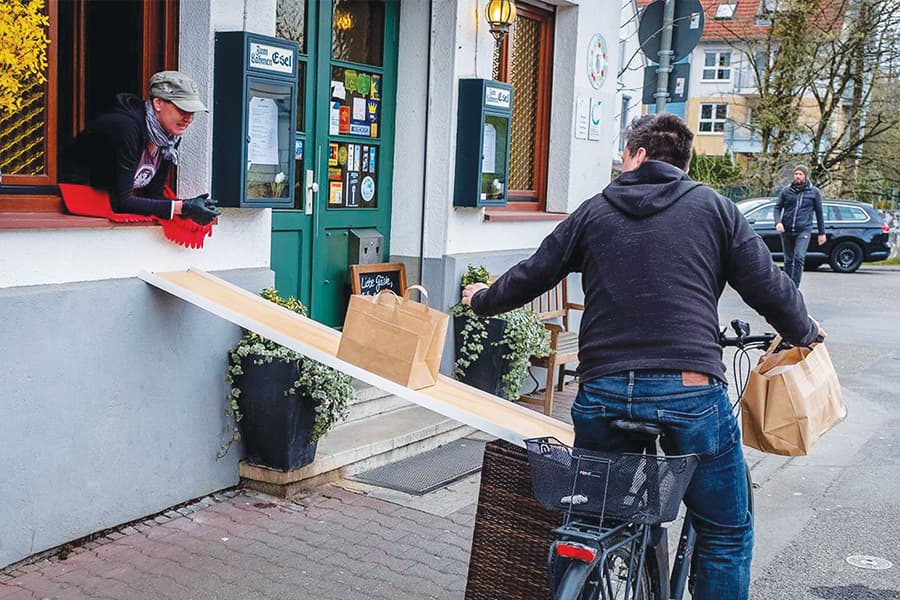 Furthermore, malls are typically built around anchor department stores that occupy multiple floors where all the smaller stores in between rely on those anchors to bring in customers. However, department stores worldwide have been in trouble for years and the pandemic might just be the last straw. A new report by Green Street Advisors predicts more than half of department stores located in US malls will close by the end of 2021 and that could have a domino effect. 
Of course, the internet has by now separated shopping from buying, hence, more successful shopping centres have been trying to find creative solutions, by not just selling things but also offering services and 'experiences' to draw in shoppers. Alongside the fashion stores there are health providers, gyms, cinemas and a variety of food outlets, but in the world of social distancing, even these are proving problematic in these vast indoor spaces. Indeed, the recent study by management consultants McKinsey, showed that US consumers have less intention to go to the mall than even for booking an international holiday.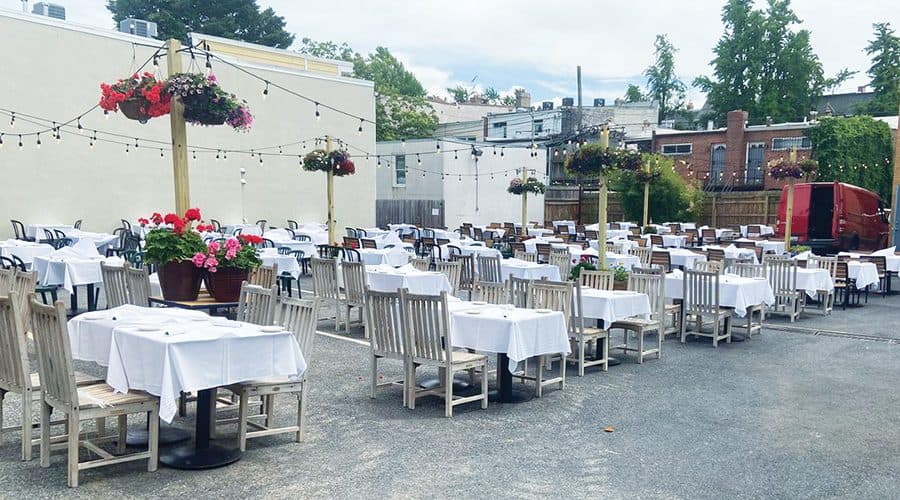 Big dreams, small shops
Evidently, as a part of the new financial model, we will need to rethink store designs and layouts and create more efficient, smaller floor plans. Instead of conventional design using expensive traditional building techniques, we'll need to move towards innovative, low-cost solutions that could be upcycled, recycled and re-purposed in a day. Flexible design means that a store layout can be easily modified for different uses, such as click-and-collect, take away windows or outdoor use, and we have all witnessed how crucial that proved during lock-down. There was barely a block, it seems, without a bar handing cocktails, wine and beer through its front door or window, and as the food ecosystem has been shaken to its core by the crisis, we were increasingly queuing in front of our local restaurants-come-groceries to buy milk, eggs and, yes, toilet paper.
Smaller retailers can often adapt faster than larger ones. Space costs money and renovations are not free. Even before the fallout from COVID-19, to keep up with changing shopper preferences and habits, many retailers have been already shrinking their footprints and predictions are that rental space requirements may be now reduced even further by 20-40%. 
According to a recent CBRE report, retail spaces, some as small as 18 square metres, have been mushrooming everywhere, as businesses battle high rents, online shopping and a lack of prime space.
These hole-in-a-wall spaces are tiny but their unofficial network is huge. They often don't offer much choice, nor do they try to beat bigger players. But what they do offer is localism and consistency and it is their relative scale and simplicity that could work in their favour, especially in the post-COVID times. 
These new micro-retailers benefit from the smaller spaces, shorter leases and lower rents. They are often specialised in one trade but, as suggested in a recent Inside Retail article, some could be hybrids, based on two complementary businesses sharing overheads. We might start to see spaces with a mix of uses like 'a bike repair and juice bar', 'a dry cleaner and shoe care', 'custom furniture and hi-fi' that, despite their miniature size, could easily become small social hubs, offering not just goods for sale, but also a whole world around that.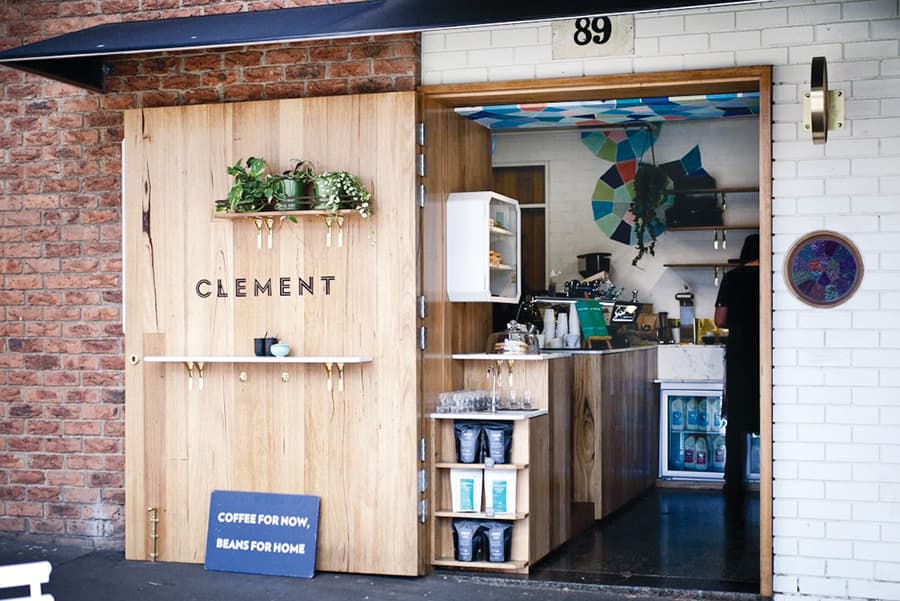 Dining in the street
If there's one thing that COVID-19 has taught us, it's how essential bars and restaurants have become to our social lives and their pivotal role in our collective post-pandemic future. People who have been cooped up inside for weeks on end have been yearning to venture out, to reconnect and socialise. Hence, the planning authorities in the cities worldwide have been waiving fees for outdoor dining and shortening the time for applications from a few months to just couple of days to help cafés and restaurants reopen safely, and fast. Businesses with their own parking space or patios were given the green light to spread out their dining services. In urban areas without much private outdoor space, local councils are letting them set up tables on footpaths, streets and public plazas. Even adjacent on-street parking spots are being used for impromptu seating areas and flexible pop-up eateries are set off by planters, fences and traffic cones. 
Some cities are going a step further. The Lithuanian capital Vilnius has announced plans to turn the whole city into a vast open-air café by giving over much of its public space to restaurants, bars and cafés. With the aim to open up, retain jobs and keep Vilnius alive, the hard-hit businesses will be allowed to set up their tables, free of charge, on the nearby plazas, squares and streets, while still observing physical distancing measures, including restricting the number of customers and spacing tables at least two metres apart.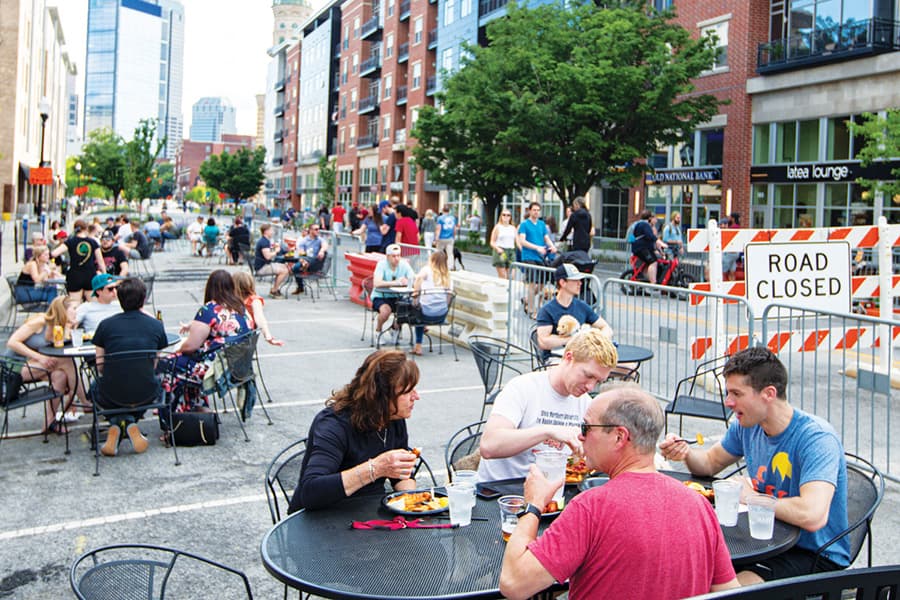 New York has announced a plan for the city's Open Restaurants program, which allows restaurants and bars to expand their outdoor seating on sidewalks, kerbs, lanes, backyards, patios, plazas, and open streets, which could see roads pedestrianised and converted into large eating areas on nights and weekends. New York City's revered bar scene has been turned inside out – outdoor drinking has replaced indoor drinking and customers, thirsty not only for an adult beverage but also for the social experience are occupying the pavements in front of their favourite watering holes, sitting on fire hydrants or chairs provided by the bars. To keep their impromptu street trade safe, pavements are marked with chalk or tape to show how people in line should space themselves safely. 
Restaurants and bars are the backbone of New York City's neighbourhood culture and the mayor declared that this kind of outdoor dining is the new reality and 'is the way forward', different to anything the city has done before.
When there is a will there is a way as they say. The permit process was so easy that officials in some cities were expressing regret that the decision did not come sooner, wondering why did it take a pandemic for the authorities to allow people to eat outside.
Public spaces by and for all
At this time when there's a growing consensus that being outdoors is safer than being inside, outdoor public spaces must be a central part of the path forward; the economy needs to restart and the world wants to get out of the house. Cities from Barcelona to Bogota are being transformed into cycling and walking spaces by enlarging public squares and closing streets off to traffic entirely.
The city of Milan has announced its Strade Aperte plan or 'open streets' plan that will repurpose 35km of roads, converting them into people-friendly streets with wider sidewalks and cycle lanes. Over in Vancouver, footpaths directly next to supermarkets and pharmacies are being widened to help customers social distance more easily. New Zealand also announced national funding for bike lanes and wide sidewalks, while the mayor of London plans to transform parts of the UK capital into one of the largest car free zones in the world.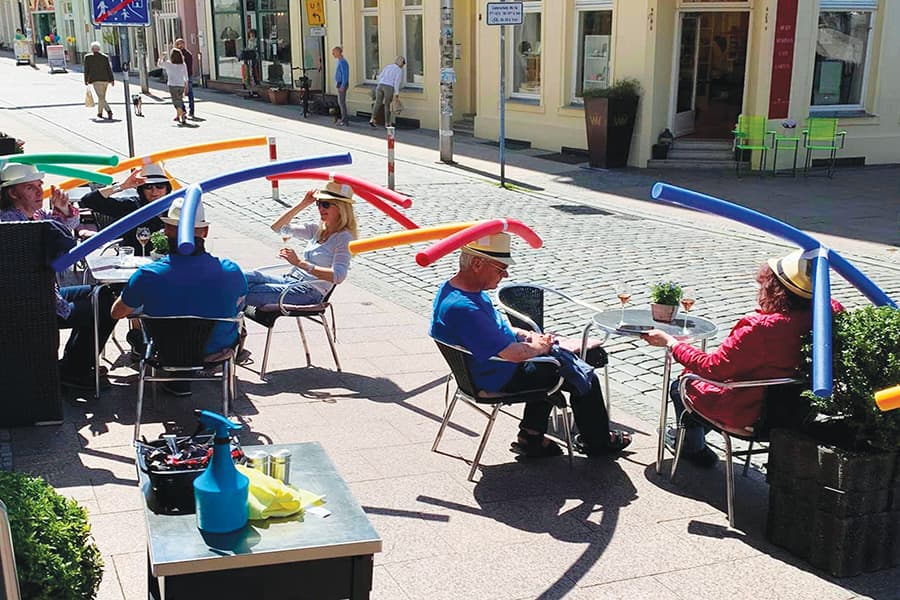 Open streets allow for wider sidewalk areas, making customers feel better about standing in line to access a shop or a café with appropriate physical distancing – but they also make perfect business sense.
A well documented 2016 survey of more than 100 cities around the world that maintained multiple pedestrian-only streets found that retail sales increased by 49%, while cities in Austria, Germany and Scandinavian countries had more than 60% increases in sales. Another study done by Transport for London shows that people walking, cycling and using public transport spend 40% more each month than car drivers, with numbers being replicated in studies in Toronto and in New York City.
Streets and public places, local high streets in particular, are the physical setting for public life and they should become the setting for every reasonable type of use to allow communities to reopen beyond walking, biking and dining outdoors. Open-air farmers markets provide a most obvious model for how public spaces can serve everyday needs while taking 'lighter, quicker, cheaper' steps to adapt to physical distancing.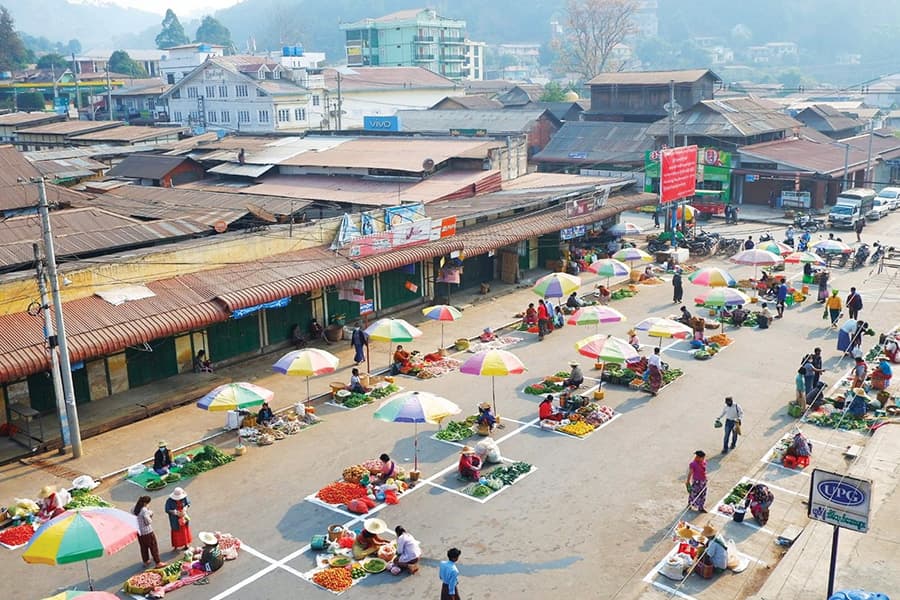 What is more, with footpaths finally widening up, cities could explore other types of outdoor retailing, pop ups and even some services like laundry pick-up, pet grooming, fitness activities and perhaps even, haircuts and manicures.
And as radical as it may seem, many of these trends and ideas aren't that novel, they just might be new for the locality and the future has finally brought them closer.