'Pop Ups' used to be temporary, inexpensive, amateurish. Not any more! Pop Ups are now mainstream, sophisticated and an established form of retail. They are the future and are being embraced by even the luxury brands.
As bricks-and-mortar retail reopens around the world, Pop Up shops are popping up more than ever. The retail landscape is markedly different as COVID-19 has forced retailers to adjust their operations and rethink strategies. Consumers are still wary of going back to stores and, consequently, thousands of stores have been shutting their doors, creating a deluge of empty, often prime retail space that landlords will be scrambling to fill. And Pop Ups may just be a potential saviour.
From shopping centres and airports to festivals, Pop Ups have long been an important element of the retail sector, and the concept has grown to become a billion-dollar industry. Short-term Pop Ups have primarily served as testing grounds for emerging brands as they make their first foray into physical retail; and while this may have originally been the strategy of start-ups, the concept is being heavily used by big-name brands, from Amazon to Louis Vuitton. With each Pop Up space being unique, Insta-friendly and tailored to the location, they are making the most of the benefits this setup can offer.
Besides using empty spaces in a COVID-19 world, Pop Ups – often referred to as the 'Airbnb of the retail world' – have a host of other advantages working in their favour. Safety first, the blank canvas of a Pop Up store means that it is much easier for a tenant to provide and test new health and safety protocols, such as social distancing and contactless transactions, as opposed to reformatting an existing site. Then, there is an increasing respect for independent retailers, which are a dominant force in the Pop Up market, and since many people are turning to entrepreneurship during the pandemic, Pop Up retail just may be the perfect way to promote a business.
The concept of Pop Up also tends to be associated with exclusivity; there is a marketing buzz around an opening or the subsequent events, which in a time of very limited crowd sizes, can be turned into an unexpected advantage. As an illustration, The Secret Summer Festival in New York City (also known as Sundaze) typically had 1,000 people packed into one outdoor space for an evening, but in the era of the coronavirus, only 60 very expensive tickets were sold each night, creating a lot of hype and faux scarcity around the event.
Popping up everywhere
The beauty of Pop Ups is that they can pop up almost anytime, anywhere! Streets, pavements, empty warehouses, rooftop gardens and parking lots, you name it – as long as the space is safe to host a group of socially distanced people, any place can be a Pop Up nowadays. With outdoor space deemed safer, Pop Up outdoor cafés and restaurants have been spilling into streets, sidewalks and parking lots, sometimes taking whole neighbourhoods all over the world.
Rooftops are also being turned into clubs and cinemas, like The Greens in New York, where you can rent your own perfectly distanced mini-lawn with cabana-style lounge chairs and umbrellas while enjoying panoramic views of the Brooklyn Bridge.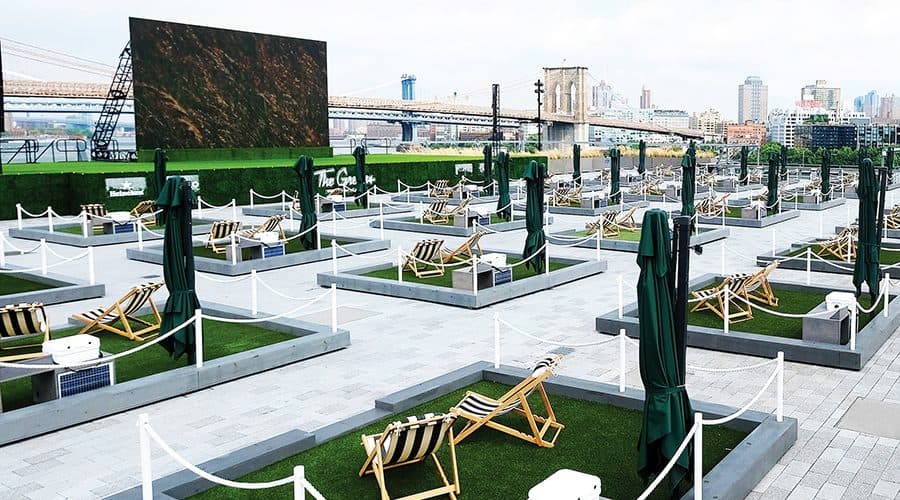 Closer to home, Sydney is planning to turn George Street and The Rocks area into an outdoor dining precinct, whereas Melbourne restaurants and cafés are expecting to spend up to $100,000 to get back to serving meals via Pop Up outdoor dining pods.
Luxury fashion brands have always been great believers in Pop Ups, and the COVID-19 crisis only cemented that belief. During summer, cult jewellery brand Alighieri built a Florence-inspired Pop Up in London that served Italian meals alongside its jewellery collection. The pastel-hued Alighieri shop was complete with wooden shutters reminiscent of the jewellers in Florence, a tabaccheria (tobacconist) where you could buy postcards, and even a black cat that roamed around the mini-town.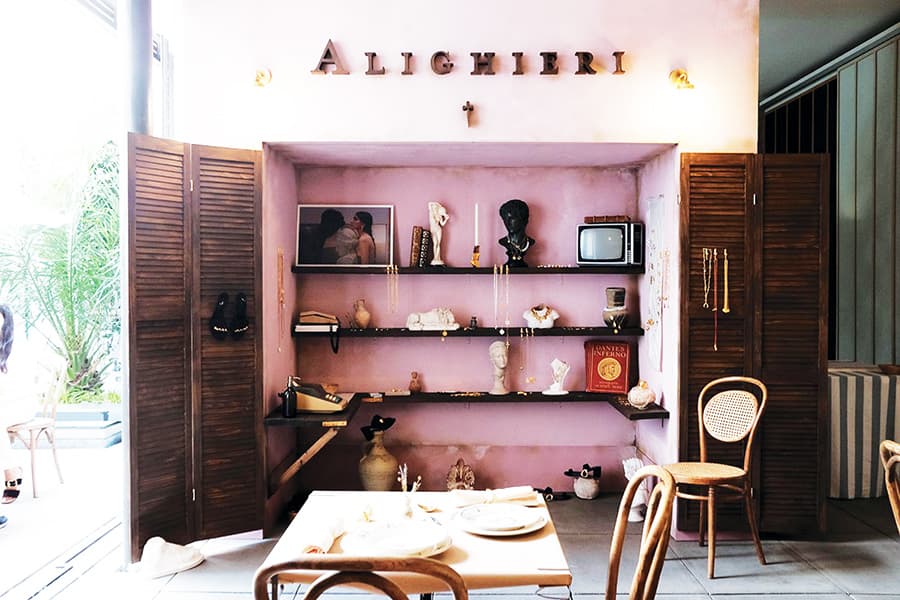 Founder Rosh Mahtani explained: "With travel being so restricted right now, we came up with the idea to create our own Italian old town, something dreamy and nostalgic."
Inspired by the idea of an Italian holiday, he wanted to create a space where people could give themselves a mini-break, see friends they hadn't seen for some time, have some food and go home with a souvenir or two.
Other luxury fashion retailers have followed their customers who were lucky enough to find themselves at the real Italian Riviera or southern France. Across the Mediterranean, Dior launched several 'Dioriviera' Pop Ups, including the widely publicised Capri store, featuring an idyllic décor in the ephemeral setting nestled on a cliff, with breath-taking sea views. Dior in-house retail strategists suggest that Pop Up stores post-pandemic would be part of their future retail strategy that allows them to follow their clients and show up where it makes sense.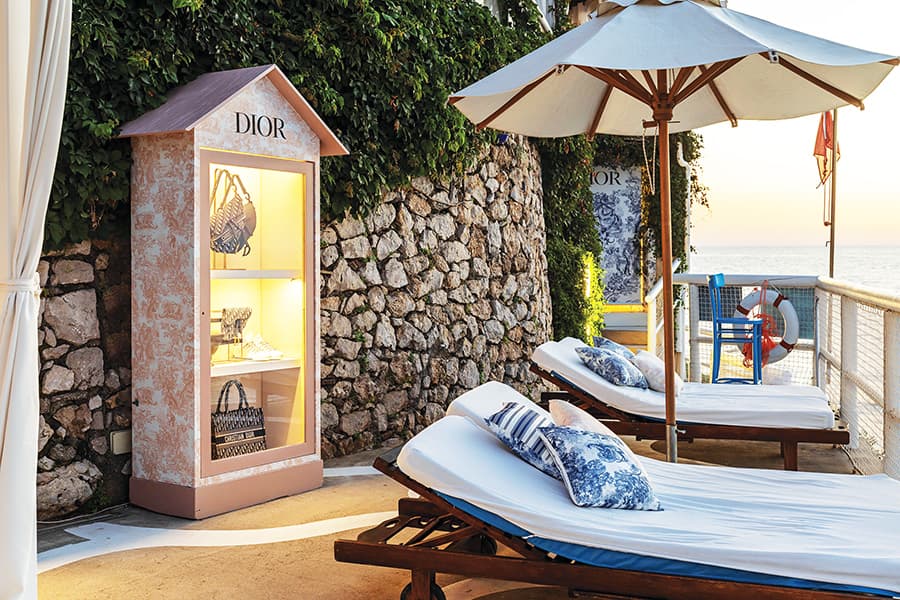 Inside-out malls
When COVID-19 forced the closure of indoor malls for a second time in California, mall owners launched a concept to essentially turn their malls inside out and bring the retailers outside into open-air Pop Up markets.
Westfield Valley Fair in Santa Clara opened its Open-Air Market in July. The market concept came about after a brainstorming session by mall officials explored how they could not only help retailers but also create some kind of energy and excitement around the property for the wider community in these difficult times. The market features branded red and white Pop Up tents, where retailers can display their merchandise and shoppers can also grab food from one of the local food truck vendors. The concept was launched with seven retailers and has since grown to nearly 40 and continues to grow. It is available to any retailer ready to open an outdoor store, and participants range from Shoe Palace to Hugo Boss and Pottery Barn.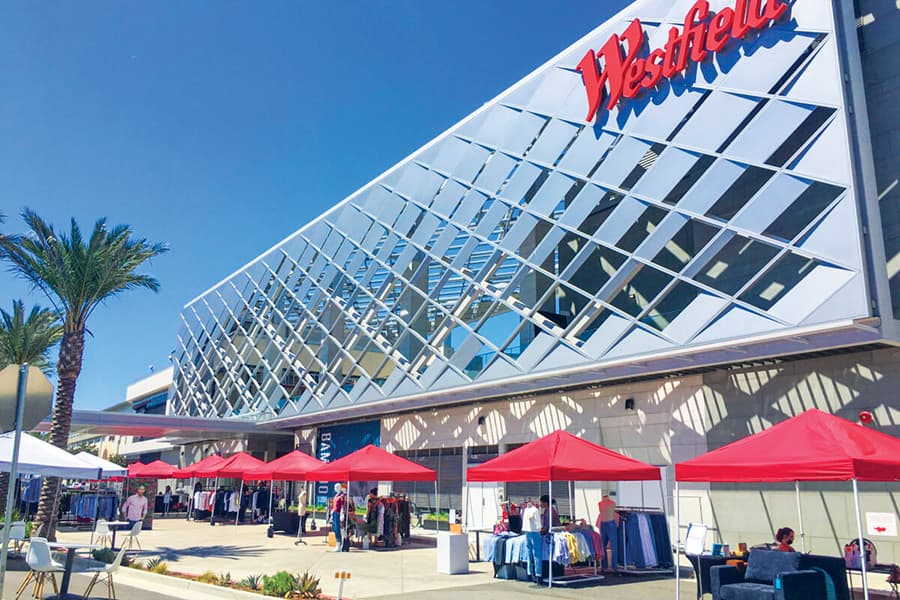 Additionally, their newest program is The Cabanas at Westfield Valley Fair, an outdoor luxury shopping experience open daily by appointment only. Following all COVID-safe procedures, luxury brands, including Cartier, Tiffany & Co and Versace, offer viewings by appointment in private Pop Up cabanas on the mall's outdoor terrace. In essence, they are using bookings-only and invitation-only Pop Ups for hygiene purposes to reward their biggest, most loyal fans.
South Coast Plaza, the largest mall on the US West Coast, launched The Pavilion, consisting of open-air suites on the second level of one of the mall's parking structures. Customers can shop by appointment only at participating boutiques like Cartier, Chanel and Alexander McQueen. Once you are escorted to a private suite, you can browse and try on items from a selection that the boutique has curated especially for you. Other mall operators such as Brookfield's Glendale Galleria have also used their parking garages, but this time to help their restaurants expand their outdoor dining capacity.
With many consumers worried about returning to enclosed shopping malls, this inside-out mall concept has been increasingly seen as a logical way of keeping business going and giving tenants an alternative option to sell their products. Plus, the research also shows that the experience offered by such Pop Up locations is novel and interesting for mall shoppers.
COVID-19 Essentials
While there is a strong argument that Pop Ups are made for the pandemic, some are literally made by the pandemic. US-based aptly named COVID-19 Essentials may be the world's first retail chain dedicated solely to products necessitated by an infectious disease.
With many stores closing, especially inside malls, the chain has seized on the empty space and the world's growing acceptance that wearing masks is a reality that may last for quite a while. Masks have evolved from a utilitarian, makeshift product into a fashion accessory and another way to express one's personality, political preference or sports fandom. Almost every shop, regardless of their main offerings, now sells masks, but COVID-19 Essentials also carries other accessories for the pandemic: beside rhinestone-studded masks are organic hand sanitisers, touchless thermometers, door-openers and other hard-to-find accessories to help people cope with the pandemic.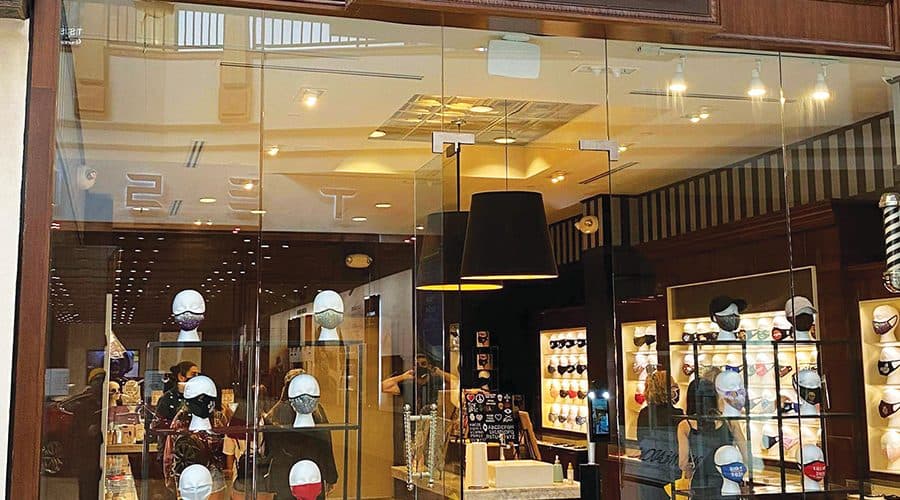 The space, replicated in multiple malls all over the US, has a more established feel than an event Pop Up store, with permanent signage above its glass doors in the shape of the stylised image of a coronavirus particle. What's unusual about this concept is that this business venture is doomed to fail, and that's exactly the plan. Despite soaring sales, the chain's founder does not want his products to be in demand forever. As he put it in a recent interview: "The sooner I go out of business, the better."
Retail reimagined
According to digital retail strategy experts from Accenture, coming out of COVID-19, we will see Pop Ups return, but how they use the spaces will be different. Like the rest of retail, there will be more digital components in the future, and during the pandemic we have already seen a lot of virtual Pop Ups, especially in the apparel and cosmetic brands, such as Ted Baker and Lancôme. As people opt not to shop in stores, we can expect to see more 'stores outside the store', where brands use bricks-and-mortar more like a billboard to showcase product that customers buy online and pick up outside in the street or have delivered to their homes.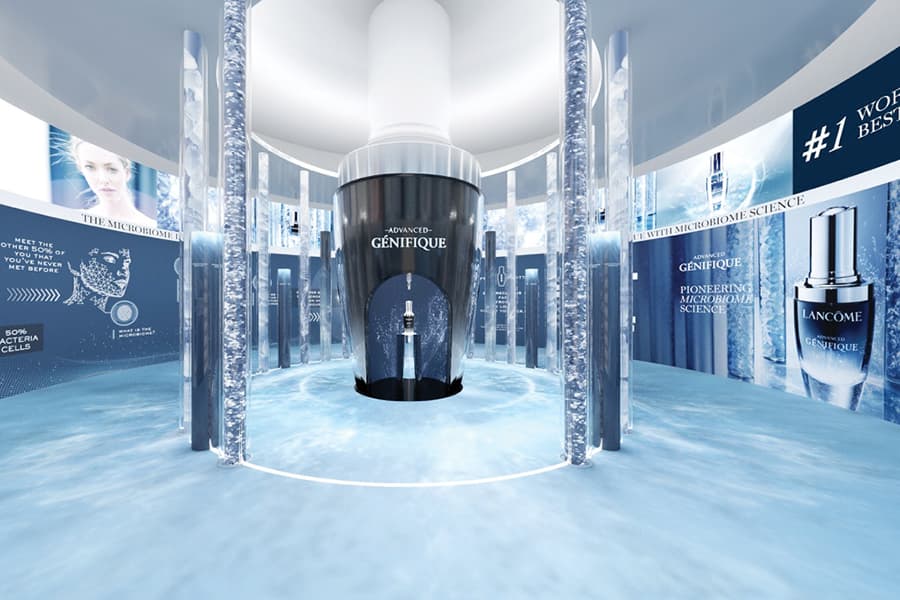 A sign inside a glass window of a shop at the Platform shopping centre in Los Angeles says, 'The Future of Shopping Is Here', and by the looks of it, that certainly may well be the case. Platform, a former industrial site, was converted in 2016 into a very successful retail centre for trendy restaurants and niche and artisanal brands. However, like everything else, most stores shut down. Yet, in the midst of the pandemic, Create & Cultivate brand launched a Pop Up shop offering a solution for shopping in a new retail world order, one in which retailers can still have sales and exposure without compromising shoppers' safety. The concept is allowing consumers to 'window shop' a curated selection of products from several small businesses, as well as their own collection of Vegan Leather Essentials, without actually setting foot in a physical store.
Although the Platform Pop Up is housed in a 500ft2 space, shoppers can't actually go inside the space for a look and browse around; instead, products on offer are featured in the windows. Owners described this shopping concept as being "like a website come to life".
Shoppers can order through an app or by scanning a QR code and have items either delivered or available for pick up from a small entryway on-site. The system was designed to make pandemic-style shopping a breeze in terms of being clean and contactless, offering seamless, cash-free transactions. This unique retail experience is a new way of window shopping and although there is no way to touch and feel items before you buy, brand owners are hoping the products themselves might compensate for this less-than-immersive shopping experience.
Even before COVID-19, retail was already going through a renaissance and needed to find new ways to adapt to customers' changing demands and behaviour. Going forward, predictions are that there will be no one-size-fits-all model, and we are likely to see a surge in the number of landlords offering more flexible, short-term leases.
Brands will be wary of investing too much, and Pop Up shops can give them extremely cost-effective spaces to make mistakes, learn, evolve and test their business ventures. As businesses tighten their belts and bolster their online presence, many might decide they actually don't need year-round stores and instead will adopt Pop Ups as a permanent strategy.
In short, Pop Up shops, as a business model, are highly adaptable. They are fun, they support independent creatives and can provide a clean and safe shopping experience; as such, they are perfectly positioned to weather this storm and place themselves firmly into the future.