South-west Sydney's newest town centre delivers community, retail, leisure and living to one of Australia's fastest growing populations. 
HDR – the design studio behind Ed.Square Town Centre, have described it as an antidote to Australia's car dominated, low-density, dormitory suburbs. Those suburbs once typified the Australian dream, but it's a dream making people unwell, lonely, more anxious and less connected.
Ed.Square Town Centre is the anchor for Frasers Property Australia's new $1.5 billion mixed-use community Ed.Square, located in Edmondson Park. The masterplanned community covers more than 25 hectares and will incorporate 1,884 dwellings on completion.
"The design of Ed.Square Town Centre makes it feel natural and easy to leave the house on foot and connect with the community," says Alex Wessling, director at HDR. "Shaded footpaths leading to community spaces such as shops, town squares and cafés are cues for people to 'walk here'. It is this kind of planning that can tackle obesity, loneliness and growing depression issues."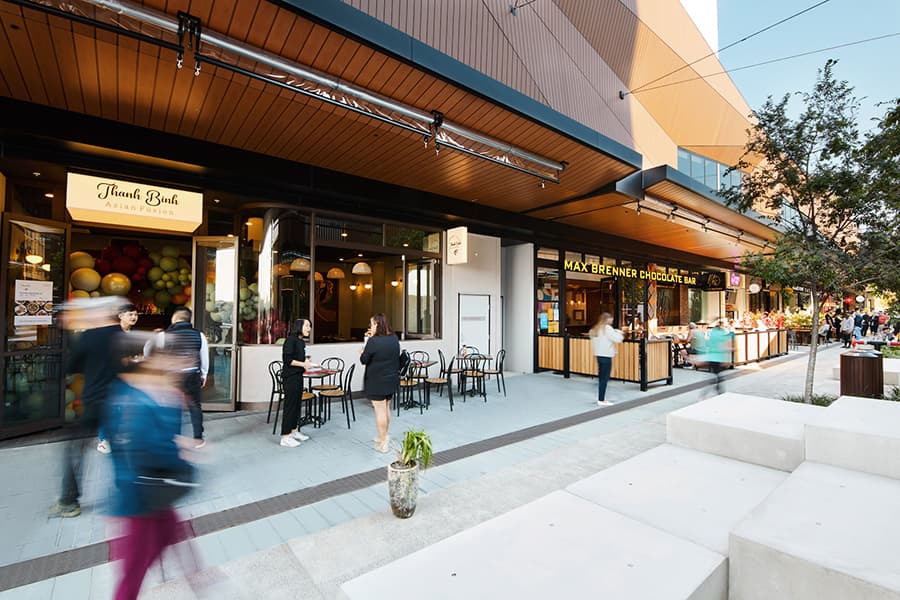 The opening stage of Ed.Square's 25,000m2 town centre is oriented around Edmondson Park train station and features the gathering place, 'Town Square', as well as 'Eat Street', an intimate, yet vibrant tree-lined laneway of retailers, food and beverage providers and entertainment outlets, with alfresco dining. The interplay between these amenities creates a family-friendly meeting place and leisure and entertainment hub. The second stage is anticipated to include an additional 15,000m2 of retail space.
Town Square aims to knit the town centre to homes within the community as well as to the adjoining national park. The community is drawn through a green spine of activity which transforms along its length from civic to communal.
Promoting family play, outdoor dining and community events, Town Square at the spine's centre, becomes the 'living room' for the community.
"The foundation of Ed.Square is the interweaving of social and retreat spaces to suit different people, while also providing the commercial and retail requirements of a healthy social hub," Wessling says.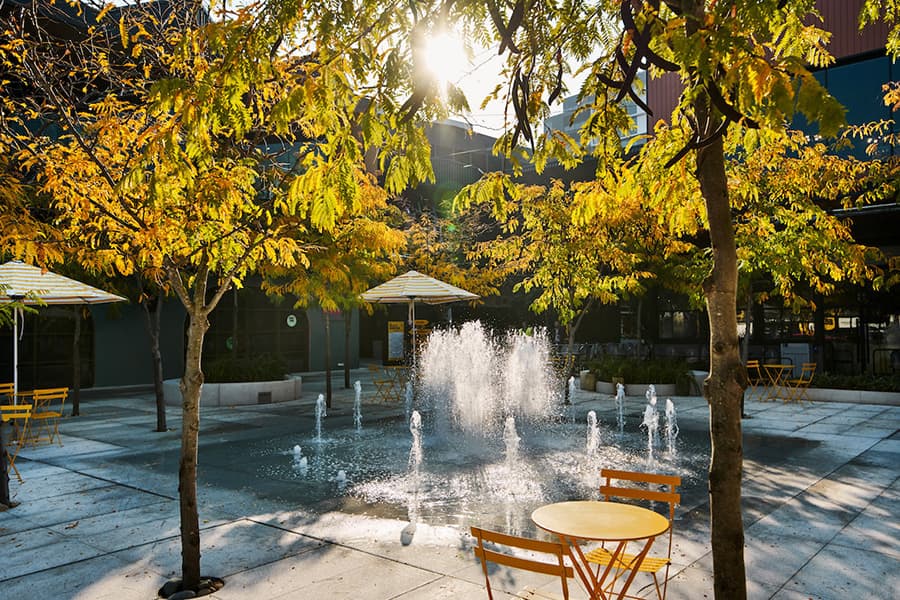 HDR aimed to break away from the common barriers of many new town centres by creating a place where the community felt like it belonged and had a right to be, she adds.
Pushing boundaries
Unlike many mixed-use town centre developments where homes are set back from the retail and commercial components, HDR's design has embedded homes into the overall town centre experience.
Through uniform finishes from the ground floor retail through to the upstairs residential, the design celebrates the town centre residents and the energy they bring.
"We started this project with the ambition to question what makes a successful town centre," Wessling says. "It's not just about shops, housing and public domain, but about how those things are woven together to make a home for people, and in this case, a growing and diverse local community."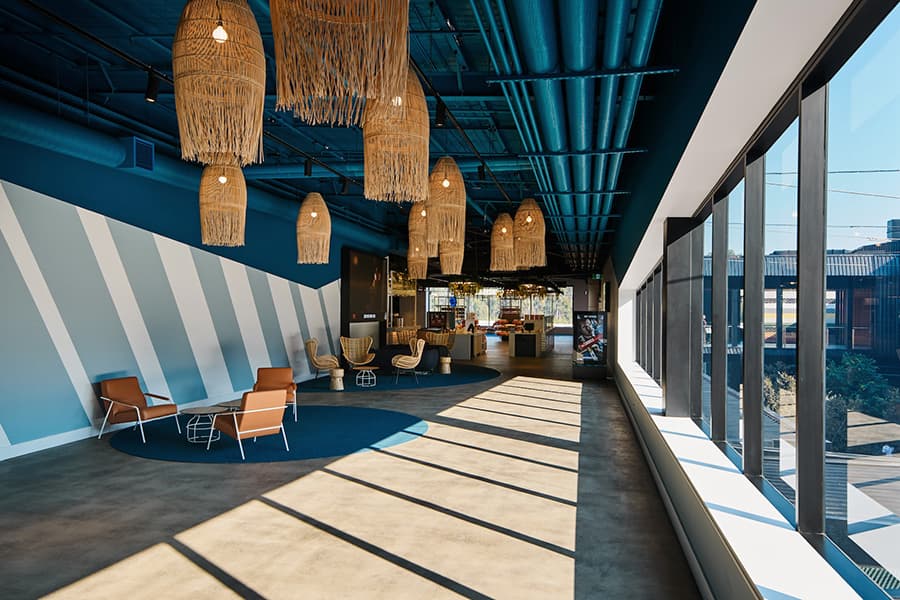 One of the key attractions is the Event Cinemas complex, also designed by HDR, which Wessling says "reclaims the idea of what movies are to the community". It has the feel of a marketplace, with various spaces for visitors to discover. A focus on texture, light, greenery, and attention to detail on fixtures and fittings has helped reinvent the cinema experience.
Ed.Square Town Centre also includes a flagship iPlay centre, Coles supermarket and Liquorland, Anytime Fitness gym, fresh food marketplace, tavern, and a wide range of health, medical and wellbeing services. A childcare centre also is anticipated to open in 2022.
City shaping
HDR collaborated with design practices GroupGSA and HASSELL to integrate the town centre with the precinct's residential component. They formed a treatise to use architecture as a mechanism for change.
"We took the dialogue beyond architecture and beyond city shaping to consider obesity, social isolation, inclusiveness, inter-generational connectivity, loneliness, mental health, and equality by diversity," Wessling says. She notes the failure of urban planning in the past to promote physical and mental health by allowing people to get together.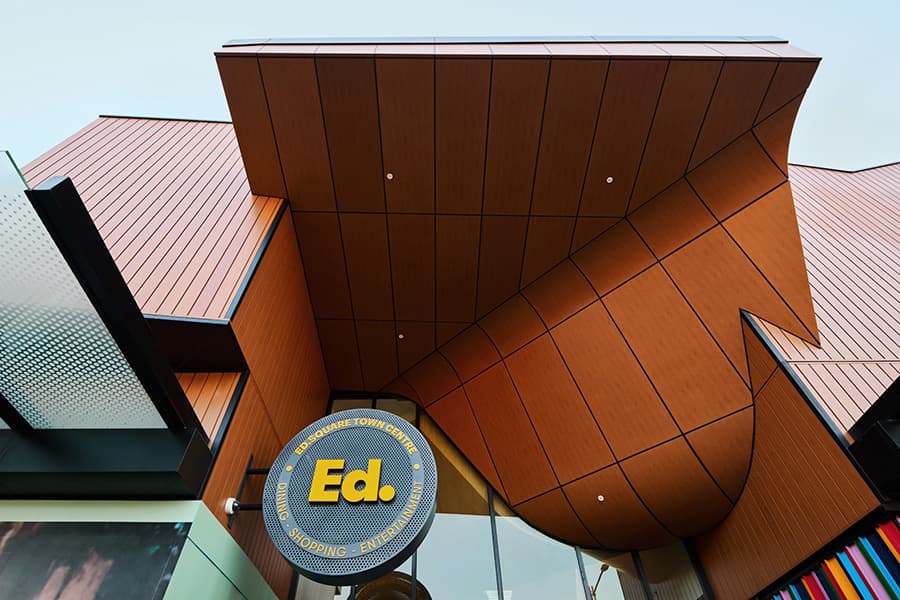 A sustainable regional asset
The precinct has achieved a 6 Star Green Star Communities rating from the Green Building Council of Australia, representing world leadership. It has also achieved 5 Star Green Star Design & As Built for the apartments, and 6 Star Green Star Design & As Built for the retail component.
"The measure of success for the integration of Ed.Square town centre with the surrounding homes, natural landscape and Edmondson Park train station is for the local community to engage with the town centre each day, and for that engagement to become part of their daily routines, says Nigel Edgar, general manager of development and Frasers Property Australia.
"A diverse retail offer, quality amenities and convenient connections in a stimulating, welcoming, walkable environment makes this possible. Achieving this balance enables residents to feel a degree of ownership in their town centre while also optimising Ed.Square's potential as a key destination in the context of a growing southwest Sydney region."
Planning consultancy Urbis has identified Ed.Square as the single most important mixed-use development in the context of this unprecedented growth.