Several of the major players in our industry had a look at the Masters portfolio. A collection of properties spanning the country; some 30 odd massive stores in high exposure, good locations, top infrastructure, surrounded by on-grade parking. It was a portfolio with enormous potential. A brand-new player picked it up and immediately began converting the stores into community oriented shopping centres. In one fell swoop, HomeCo has established itself as a new major player on the Australian shopping centre scene.
When one looks at Home Consortium (HomeCo) – what they've got, what they've done with it and what they're going to do – what strikes us, is how they managed to acquire the portfolio in the first place!
It all began when the highly sought after Woolworths-owned ex-Masters real estate was placed on the market in 2016, following the closure of the business. Woolworths, as an organisation, knows where to locate stores; they know about site selection. The Masters stores were well located – access to the sites was first-class – they were within easy reach of the defined trade area population. Once there, ample parking was uncomplicated and close to the building; the infrastructure was state-of-the-art. The empty stores attracted a lot of attention. Several of the major players were interested and rumours circulated; who was going to get them? Step in David Di Pilla.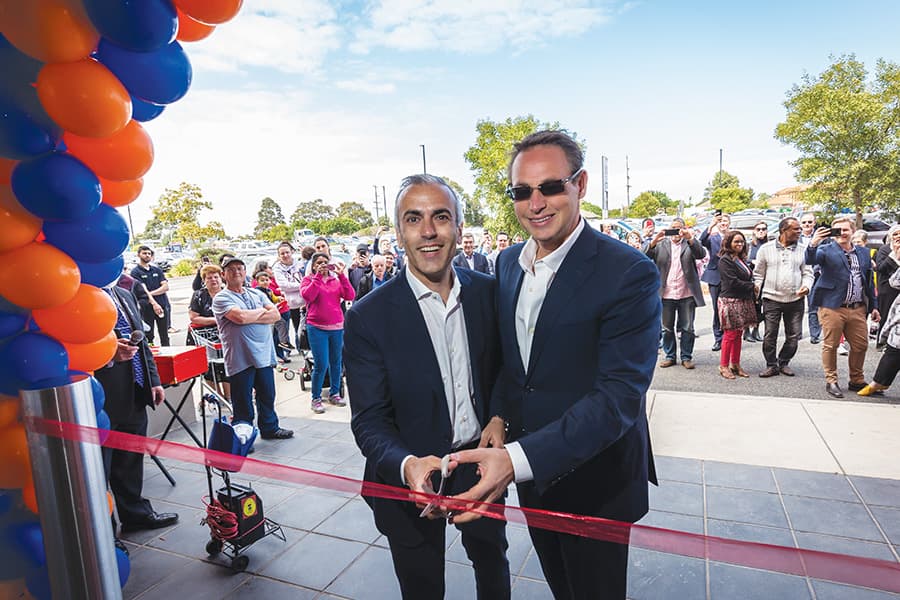 Of course, the value of the properties, as is usual, resulted mainly from a capitalisation of their potential income; 13,000m2 hardware stores don't achieve high rents; about $200 – 400/m2 is about the market rate. But what if you split up the space into smaller units? The rate per square metre rises, yet the capital costs of the subdivision are relatively low. Seems obvious; so how did a first-time player end up with the portfolio?
David Di Pilla was a former UBS Managing Director; a leading figure in the investment banking industry for more than 20 years. Working alongside colleagues William McMicking, Andrew Boustred, Tze-Wei Chong and Andrew Selim as General Counsel, HomeCo was founded.
This team saw the potential of the sites, they had the capability of moving fast and decisively and, what's more, they gave HomeCo a retail dimension – both internal and external!
Notably, to cap the internal team, prominent retailers invested in HomeCo – Zac Fried and Morry Fraid, owners of Spotlight Group and Mario Verrocchi and Sam Gance from Chemist Warehouse. Zac, an experienced developer of property and reputed retailer and President of the Large Format Retail Association, knew instinctively the quality of the portfolio and played an integral role in shaping the deal. Spotlight and Anaconda anchor many properties and also acquired an attractive parcel of Masters' development sites. The insights from leading retailers allowed HomeCo to have a focused approach in putting the customer and its tenants first.
HomeCo's foundations for success were laid – 'a concept designed by retailers for retailers'!
HomeCo knew it had the right facilities – buildings purposely designed for volume retail in locations easily accessible by the trade area population. The question then quickly became; what sort of retail?
If you take fashion, accessories, jewellery, restaurants, perfumes and other 'high rental' usages out of the equation, in broad terms, you're left with larger space retailers and services, in other words, 'lower rent' tenancies. Lower rents, in general terms, translate to inferior locations, but not in the case of HomeCo centres!
What emerged from the research was that the market wanted what it had always wanted, but the difference here, and what placed these centres apart from the rest, was HomeCo's ability to deliver it. With the likes of Bunnings, Super Retail Group, Nick Scali, Woolworths, Coles and ALDI et al already in line for the larger units, and with Chemist Warehouse and Spotlight partners in the deal, HomeCo had the credentials. It also had the buildings, the infrastructure and the parking. Attracting other brands at highly competitive rental rates was not a problem – they were all talking the same language – they all had the same priorities and if they all got together, the whole would be far greater than the sum of the individual parts.

In overview terms, HomeCo's strategic positioning of its centres, divides the retail mix into three major groupings:
1. Daily Needs
2. Leisure, Lifestyle & Education
3. Homewares & Electrical
Add to that, its strategy of attracting the 'best of brands' and the power of these centres becomes self-evident.
In the case of 'Daily Needs', HomeCo's brands are some of the most powerful in the country – Woolworths, Coles, IGA, ALDI, Chemist Warehouse, Dan Murphy's and Liquorland. Move to 'Leisure, Lifestyle and Education', and there's Anaconda, Spotlight, TK Maxx, Decathlon, Rebel, BCF, Supercheap Auto, Petbarn and Pet Stock. The 'Homewares' component is the 'who's who' of Australia's homewares and electrical retailers – The Good Guys, Amart Furniture, Bing Lee, Fantastic Furniture and Nick Scali (see the pyramid chart below).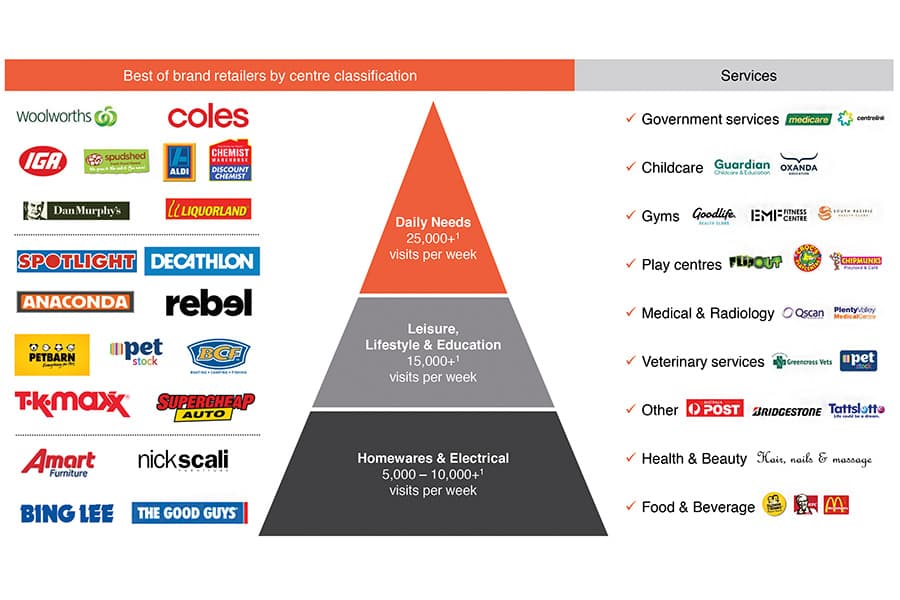 Yet it's a lot more than brands. Today, right across Australia, in highly urbanised locations, many 'local' iconic retailers have emerged. Mostly, they need larger spaces and follow a business model that requires lower rents. HomeCo positions itself close to the market, focusing on individual communities, identifying 'local' favourites; it's the key to the compilation of a market driven tenancy mix.
Relatively unknown outside Perth, a major fresh food supermarket style retailer called 'Spudshed' is making waves. It's a family run Fresh Food Market, a true 'farm to market operation' with a slogan that says it all; "We grow it. We sell it. You save!" It's one of the most sophisticated, vertically integrated and iconic food retail operations in the country. It's powerful and it draws customers from all over Perth. HomeCo Butler, north of Joondalup, about 35 minutes' drive north of the Perth CBD opened recently and the major tenant is Spudshed.
HomeCo Butler is the result of a conversion of a 17,500m2 Masters store. As well as Spudshed, the centre has a large Amart Furniture store, a Living Emporium, Snap Fitness Gym, Repco, Bridgestone and a Pet Stock. What's more, Spotlight has just opened; the three vacancies are all under offer and no doubt will be trading very soon. The centre trades seven-days and has more than 500 car park spaces, and a parents' room, with Wi-Fi provided throughout the complex.
Spudshed had a record opening and continues to trade well above expectation. Although only recently opened, the centre has already established itself as part of the community retail infrastructure. It's easy, convenient and hassle free. HomeCo has a centre at Joondalup where Spudshed will be opening in a few months' time. A third HomeCo in WA, Ellenbrook, will be opening soon, and again, Spudshed will be a major attraction.
HomeCo is just common sense and smart business. This is a 'work-in-progress' and it's refreshing to see a retail property development company, in a full-flight leasing exercise with a product that the market is embracing in spades.
Take for example HomeCo Hawthorn East, in Victoria. The original Masters store had a prime location just 8km east of the Melbourne CBD, bounded by two major arterial roads – Toorak Road and the Monash Freeway. It will be a HomeCo centre with a total GLA of 11,310m2, an estimated foot traffic count of 30,000 per week with an expectancy of some two million visitors a year when stabilised.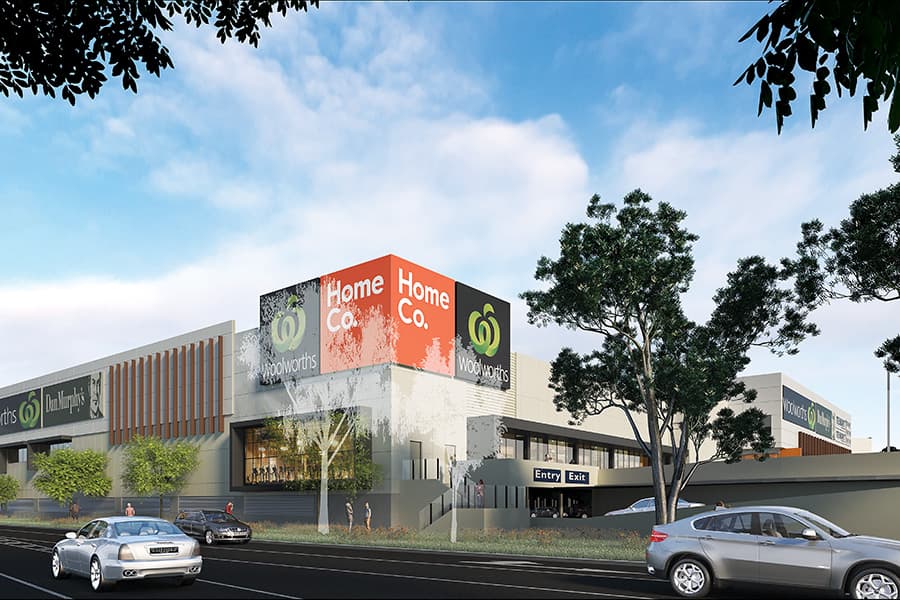 As with most of these new centres, the signage opportunities are excellent. Some 170,000 cars pass daily and there are 276,410 people in the trade area. The layout of the space is a classic example of how HomeCo has approached the subdivision exercise. A simple mall springs from the entry point, forming a 'T' pattern to access the shops. Hawthorn East houses a major Woolworths Supermarket adjacent to a large Dan Murphy's; Anaconda has a store opposite a full-line Chemist Warehouse. There's a proposed gym and half a dozen specialties at the front, which will no doubt target Take Away Food, Services, perhaps beauty/nails/hairdresser and the like. Whatever the final mix, the reality will be that it will trade. More than 420 car park spaces are provided, all within a short distance of the main entry point. Again, as always, it's easy, convenient and hassle free.
The focus on 'the market' is a term that crops up regularly when you talk to the HomeCo team. Their research is detailed and the data is scrutinised to determine the retail mix, the leasing strategies, the promotional material and, ultimately, the centre marketing.
Anything is on the table, according to David Di Pilla – if the market wants it, the market gets it. He gives the example of Braybrook, some 12 kilometres north-west of the Melbourne CBD.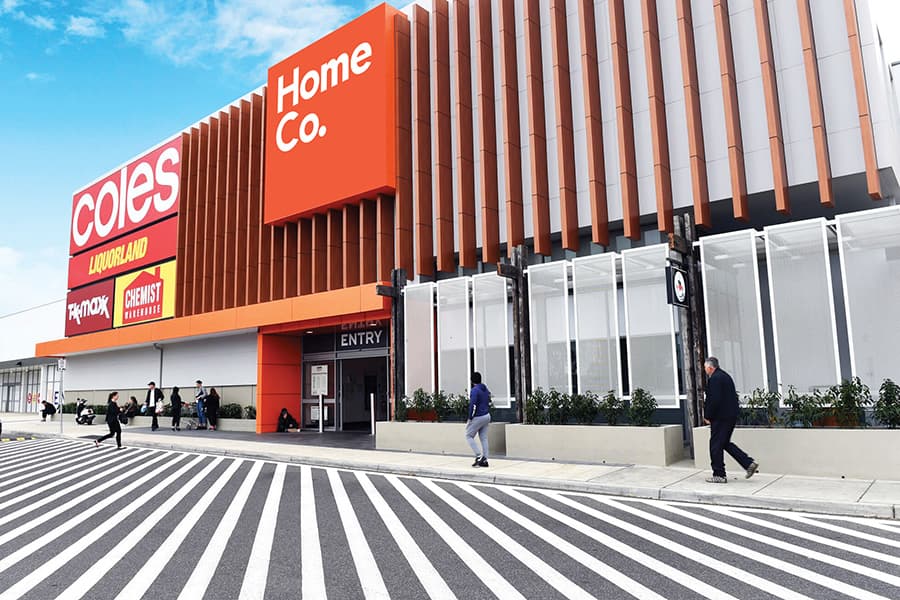 "It's a 'daily needs' centre," he says, "The research showed the usual things – what people wanted in terms of convenience, access and the like, but when we got to the retail requirements we found the name TK Maxx continually coming up. We contacted them, shared our research findings and the data. It was their sort of socio-demographic and they came in. So Braybrook has a Coles, Liquorland, Chemist Warehouse… they're all doing great but the TK Maxx is the icing on the cake. They're doing really well, better than expected, in fact."
Braybrook is another example of the excellent subdivision of these 'ex-Masters' stores; it's just so simple, yet so effective.
A short mall is created at the entry point; it only needs to be small because the major stores are all large. In Braybrook's case, BCF has an external entry direct from the car park; Coles, Liquorland, Chemist Warehouse and TK Maxx front the mall with smaller specialties surrounding them. There's an Australia Post, Burgertory, Tatts, a sushi bar, Thai restaurant take away, beautician, hairdresser and nail salon; one doesn't need to be an Einstein to see how the rental income stream has increased from its former 'single tenant' hardware operation.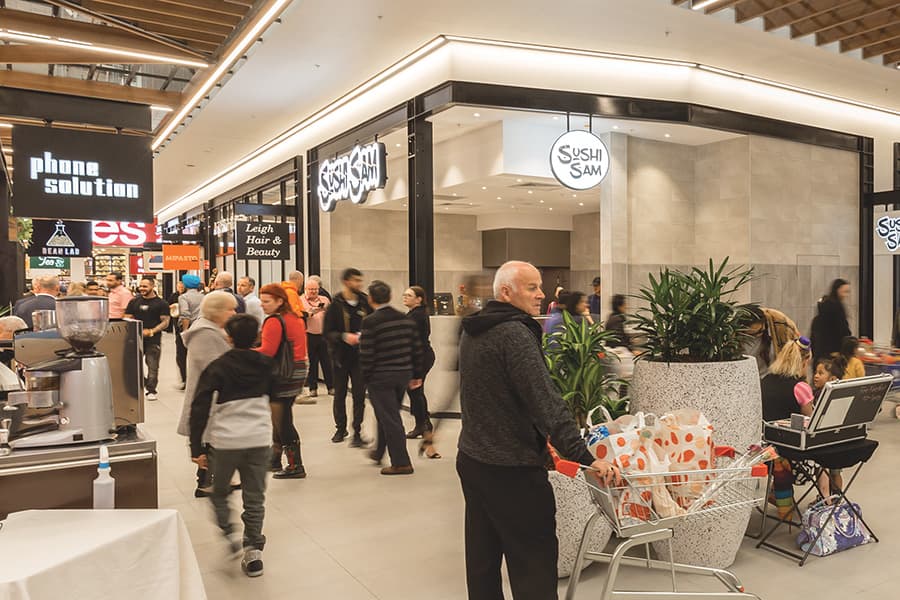 The location is prime – in the heart of the suburb on the main retail strip, Ballarat Road, where some 30,000 cars pass the centre daily. It's a centre with a GLA of 13,368m2 and has 435 on-grade car spaces.
So, you've got all these 'big-boxes', now subdivided into smaller spaces, clean-line architectural façades and well-landscaped parking areas, presenting as super-efficient, convenient centres.
As we go to press, 25 centres are up and trading or in the final stages of redevelopment, with leasing an ongoing progression – and the whole exercise is less than 30 months old!
It is, quite simply, an extraordinary achievement to have redeveloped these centres in the timeframe taken; more to the point, they've secured a rental income stream from some of the best, the most solid and top-rated retailers on long-term leases. The diversity of that income stream, the level of its security, when coupled with the expertise in HomeCo's ownership and executive management is setting HomeCo up for enormous success in the future.
The strength of the income stream is clearly illustrated in the chart below, which shows the percentage break-up of the tenant mix in HomeCo centres as we go to press. Some 28.9% is composed of 'Leisure and Lifestyle' usages – Rebel, Spotlight, Anaconda, Decathlon, Supercheap Auto, TK Maxx to name just a few. Homewares occupies 31.7% – the likes of Nick Scali, Amart and Fantastic Furniture. A further 18.5% includes retailers such as Coles, Woolworths, ALDI, IGA, McDonald's, KFC, Chemist Warehouse, all in the 'Daily Needs' category. It's the who's who of Australian and global retailers that are performing strongly.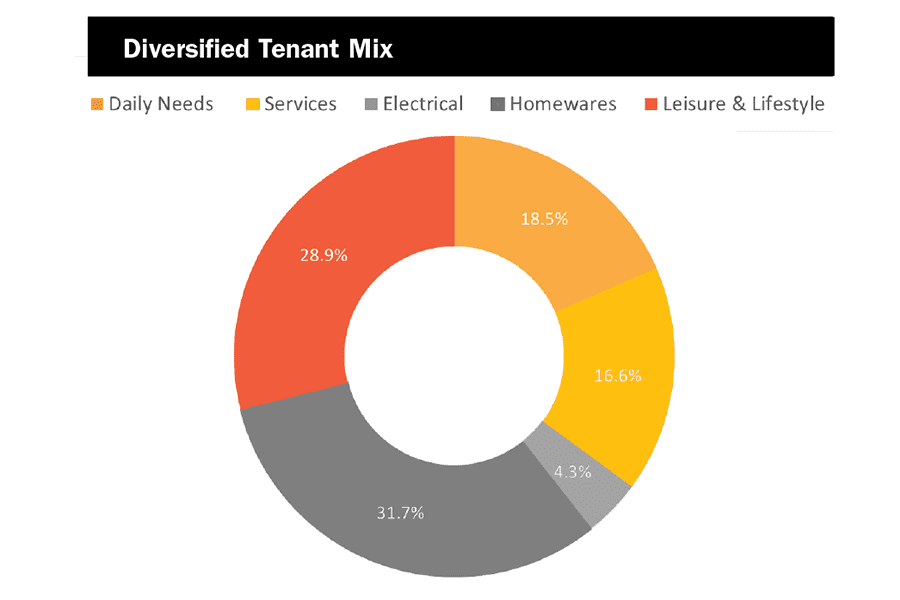 So these 'small' centres (in terms of GLA), differentiate themselves from the traditional with a tenant mix composition diametrically opposite to their 'mini-gun' counterparts. Whereas, generally speaking, centres of this size usually feature one major, supported by a component of 'local' or 'mum-and-dad' retailers, HomeCo's strategy has been to adopt a 'Best of Brands' approach and market it for all it's worth! The group now has some 120 brands as tenants in their centres, of which, over one-third are publicly listed companies.
The 'Services' component, although not exactly the province of 'brand' related retail, in terms of revenue stream stability, is just as impressive. Australia Post, Tatts, Medicare, the Department of Human Services, medical (doctors and radiologists), child care centres, gyms and indoor children's play centres such as Croc's Play Centre, constitute some 20% of the total portfolio.
The HomeCo portfolio is large. This is not some half a dozen retail properties tenanted by a few mini-majors but instead, a nationwide portfolio of 30-odd centres with a targeted shopper visitation of more than 30 million a year that don't conform to any traditional shopping centre category. In terms of GLA, they fall into the 'Mini-Gun' category but that's where any conformity ends. In the main, tenancies are large, but neither, in any way, are they 'discount centres'.
Although 'neighbourhood centres', is not a fitting description; the reality is that HomeCo centres are a new breed of retail development, as yet, without any sort of industry classification. That's an interesting phenomenon.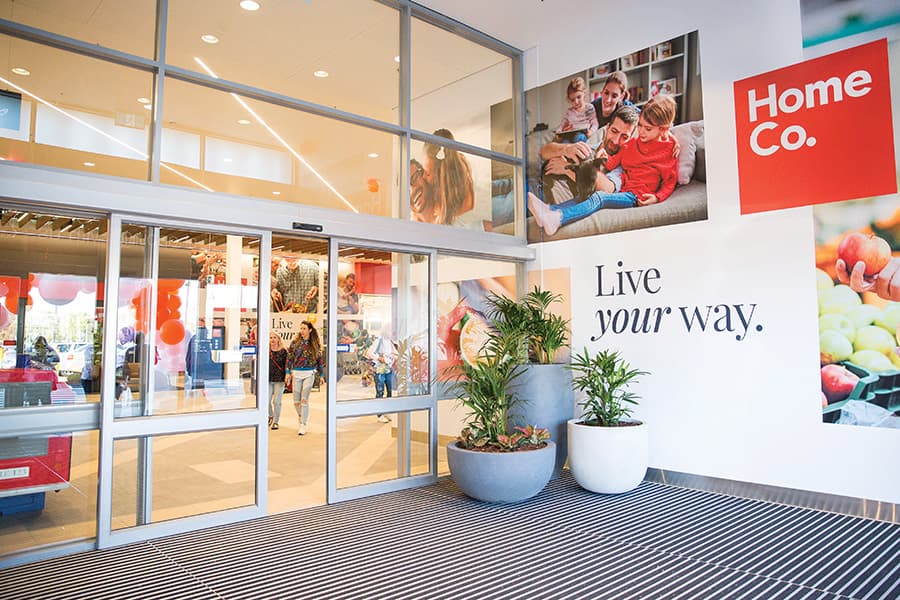 It's interesting because these centres challenge traditional centres and if you consider them as 'ankle biters', you could be underestimating them to an alarming degree. Big, Little and Mini Guns account for some 350 centres in this country, so in terms of numbers only, within a short space of time, HomeCo centres could represent 10% of the total. Shopping habits are changing; the customer is increasingly time-poor and looking for convenience. Add that to the fact that HomeCo centres really focus on their trade area's 'local needs' and formulate a tenancy mix accordingly. If child care is a need, they'll include one, along with a gym, chemist, Australia Post, Medicare and so on. Throw in a major supermarket and liquor store, easy 'on-grade' parking, all in a prime location and the dog is not nipping at your ankles anymore, it's seriously attacking your knees! Of course, the supermarket is not a standard inclusion; many centres simply contain half a dozen or so 'large space' users, yet all have major car park facilities and this is another great opportunity for development. Some leisure and lifestyle centres have more visitations than the Daily Needs centres!
As it stands, the 'retail' or GLA of HomeCo centres accounts for only 30% of the total site area. If you look at HomeCo's total GLA, it only represents 30% in terms of site utilisation. The mind boggles when you think of how the future might pan out!
After a lengthy search, a new Chief Operating Officer has been appointed to lead the company at this vital stage in its development. No stranger to SCN and the industry at large, Sid Sharma, former Chief Operating Officer at Shopping Centres Australasia, (SCA Property Group) is the latest recruit to HomeCo's team. Sharma has been at the forefront of SCA since its spin-off from Woolworths in 2012. SCA has done remarkably well with its massive portfolio of smaller, traditional neighbourhood shopping centres.
HomeCo has a sound development, management and leasing capability; Sid Sharma is a proven leader with the sort of experience gained at SCA that suits HomeCo down to the ground. Andrew Selim, General Counsel, was recruited from the GPT Group, where he had a highly successful career and occupied a number of leadership positions. William McMicking and Andrew Boustred have been there since day one and are now CFO and Head of Development, respectively. The team is now deep with experienced executives recruited from several of the industry's best players; AMP, GIC, GPT, Westfield, Coles, Woolworths and SCA, among others. The retail component at ownership level is more than just solid and successful; it's leading edge.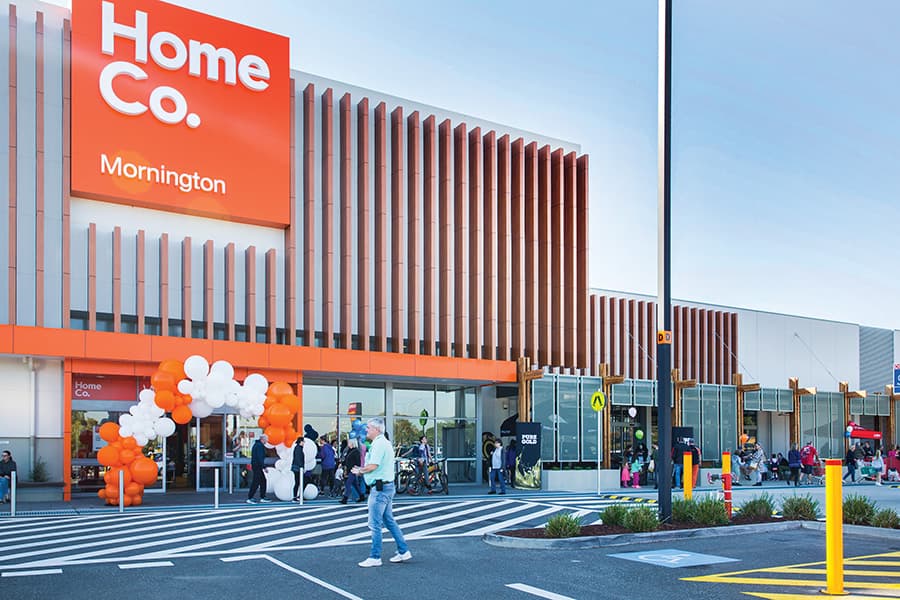 In less than two years, HomeCo has subdivided, leased (ongoing) and opened some 25 odd centres. It's an outfit that reacts quickly; one in which major decisions can be made on a daily basis. It is dynamic, opportunistic, retailer relationship orientated and focused on the local community. HomeCo is the new kid on the block but its innovative way to get back to the basics of retail and real estate is refreshing.
Later this year, HomeCo will have normalised occupancy and a development pipeline on the balance of its sites that will progressively roll out over the next year or so. HomeCo is unconstrained by 'traditional formats'; at the top, they're a group of retailers, bankers, lawyers and shopping centre industry experts. Looks to us like a recipe for success. We'll follow them, so watch this space!