The retail sector across Australia's CBDs has felt the tightening of purse strings throughout the past 24 months, with CBD centres seeing large rental declines and a rise in vacancies. But there has been some resilience in the retail sector throughout this time, with shopping centres standing their ground, as revealed through CBRE research in partnership with Pathzz, which utilised mobility signals to provide analytical insights into consumer behaviours across 50 retail centres in Greater Sydney.
The data suggests that not only did shopping centres, most notably large format retail centres and those in neighbourhood locations, retain robust levels of foot traffic during periods with no restrictions, but some showed an increased level of activity compared to pre-pandemic levels. Between December 2020 and May 2021, visitor numbers rose 61% and 66% respectively when compared to corresponding pre-pandemic levels.
Regional shopping centres including major and super-regional centres have rebounded strongly after restrictions and lockdowns, with foot traffic activity at ~90% of 2019 levels after coming out of the last lockdown.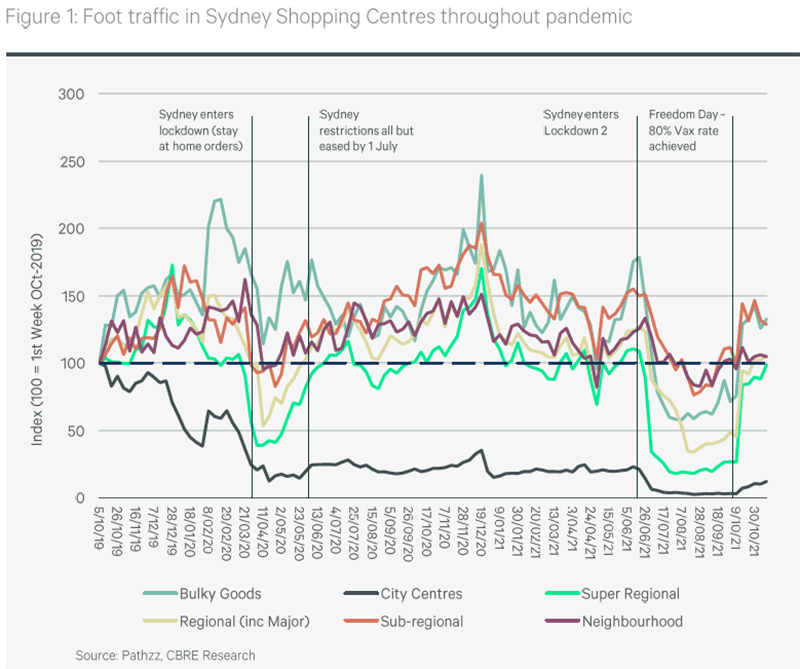 CBRE Research Analyst James Boseley explains why shopping centres have fared better than expected.
"Large format retail centres focused on homewares and electricals have proven to be the winners in retail during the past 24 months, as Australians were inclined to improve their home environments. Additionally, the spikes we saw in visitation throughout the pandemic can be attributed two-fold. In between times of lockdown and eased restrictions, consumers were either one-time bulk buying, between bouts of no visits, or splurging on shopping sprees as a form of 'revenge shopping', celebrating their release from home confinements," Boseley said.
Additional shifts in consumer shopping patterns indicate that weekends are the prime times to visit retailers, (June 2020 – November 2021) with fewer people shopping during the work week, as well as a decrease in retailer visits from younger generations (aged 25-34) due to increased adoption for online shopping.
While shopping centres have shown resilience, they too are having to review their leasing strategies, primarily due to occupiers in the fashion sector being hit the hardest, with many vacating or revising their leasing options. This has meant that some shopping centres, with larger format spaces, needing to identify new occupier opportunities.
To ensure the traffic to super centres and to individual retails continues to increase, brands are looking at a variety of ways to encourage visitation, including experiential activity.
Lewis Torkington, Head of Retail Centre Leasing, CBRE Australia, said: "Experiential retail is providing a clear point of difference versus online retail stores. It gives customers an immersive experience that improves customer engagement, promotes brand awareness and can enhance both in-store and online purchases.
"Retailers that have already put in place experiential activity to encourage visitation includes Parramatta's Rebel Concept Store which features virtual games, advice from athletes on shoes and basketball shooting. The online retailer BuyNatural has interestingly also opened its first concept store, enabling its customers to taste, smell, test and learn about the brand's products, before purchasing online. While shopping centres are known to have always executed experiential activity, they are now also revitalising any vacant shopfronts too, using them as creative places for activity, including pop-ups, artworks or galleries."