Delivering greater accessibility and convenience to next-gen concept stores, Castle Towers unveiled the first stage of its master-planned retail and lifestyle destination today. The first chapter in a multi-year transformation of Castle Towers, the $180 million project brings together Sydney's best providores, mini majors and globally relevant brands across fashion and food, to home and lifestyle.
Managing Director of QIC Global Real Estate, Michael O'Brien officially opened the new retail precinct, an ideal example of its long-term vision to transform its assets into hyper-connected, mixed-use town centres that serve the whole-life needs of the local community.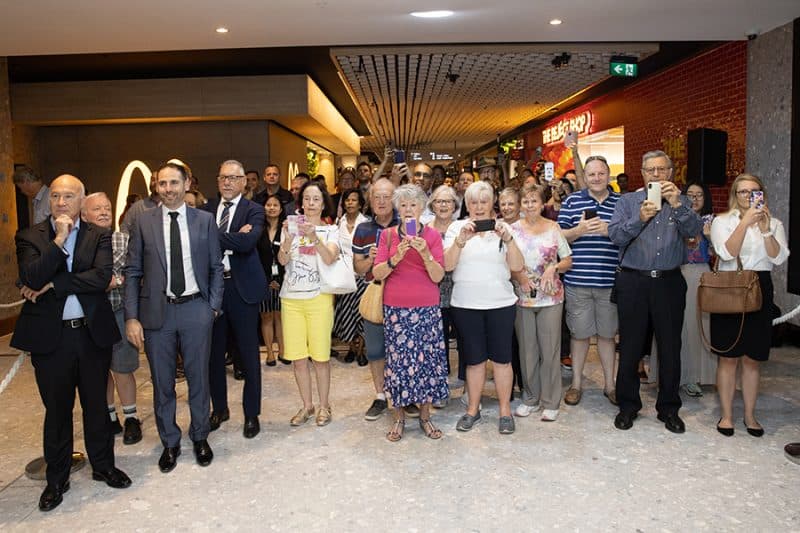 Underpinned by an affluent trade area experiencing significant residential and infrastructure development, the Hills District is a key strategic growth corridor for Sydney with the total trade area spend predicted to increase from $6.4 billion to $12.1 billion over the next 10 years.
"As stewards of this important piece of community infrastructure for almost 30 years, Castle Towers is not only one of Australia's top 10 performing super regional malls, but a town centre which locals can proudly call their own and feel is a key part of the fabric of the Hills community," he said.
Castle Towers attracts more than 18 million visits each year. The current MAT of $727 million and speciality MAT of $12,625 per square metre is 17% higher than the industry average and ranking it in the top 10 nationally.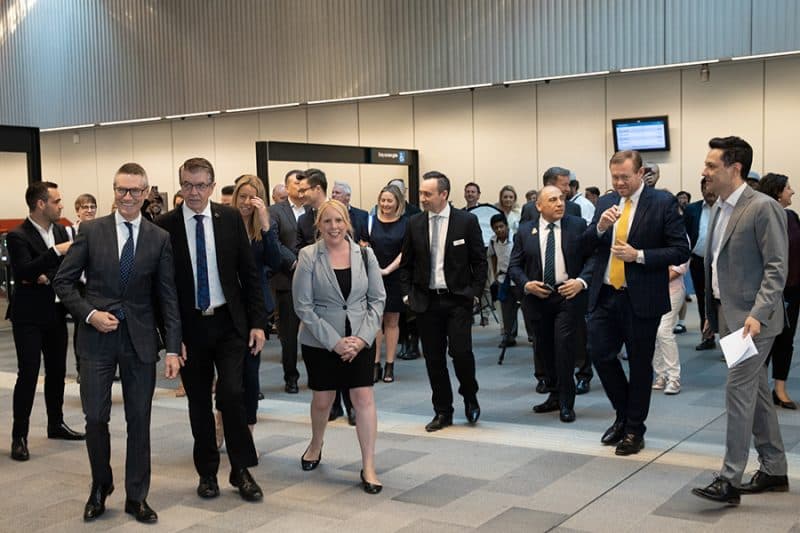 "Sitting in the heart of one of Sydney's most sought-after residential catchments, it was a strategic priority for us to work closely with Sydney Metro to deliver on our vision to transform Castle Towers into a destination with multi-modal transport options for the 18 million customers who visit each year." said O'Brien.
Castle Towers centre manager Eddie Paynter said:  "The underground pedestrian tunnel that connects the new lifestyle destination to the Castle Hill metro station and bus interchange will make it easier for shoppers to access the centre, creating a new level of convenience and accessibility for the community."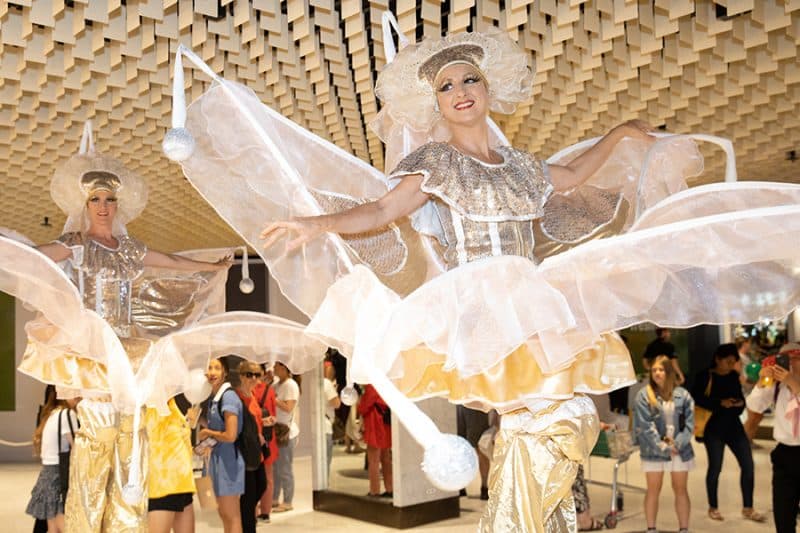 "Recognising and responding to the evolving needs of the Hills district, the new lifestyle hub will offer a best in class selection of brands for our loyal and trusting customers across food and dining, homewares, tech and services, with an improved offering of everyday retail." said Paynter.
The project required considerable co-ordination and co-operation with both the State Government and the Hills Shire Council to deliver a seamless connection from the metro and bus interchange to the new retail precinct.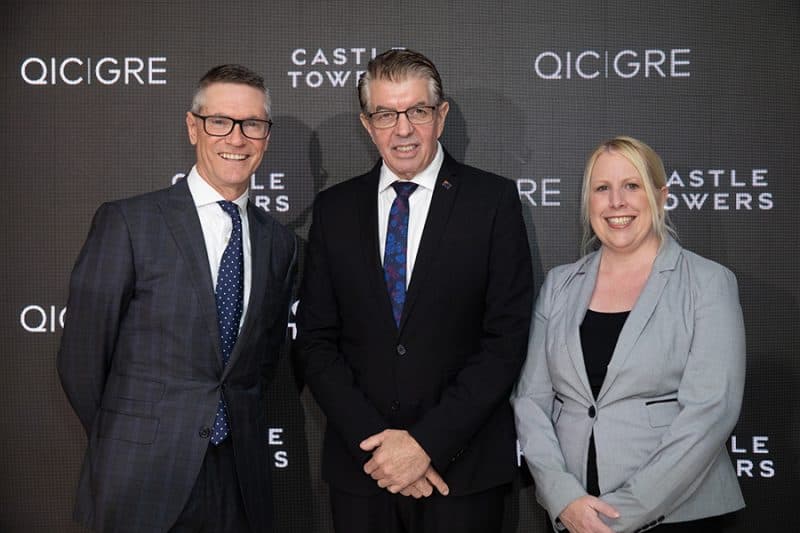 State Member for Castle Hill, Ray Williams MP and the Hills Shire Mayor, Cr Michelle Byrne attended today's official launch as the new $8.3 billion Sydney Metro Northwest line is expected to bring 55,000 new residents to the area in the next decade.
Taking advantage of the convenience offered by the direct pedestrian tunnel, a number of existing retailers have relocated to the new ground floor hub including local favourites Costi's Fresh Seafood, Shepherd's Artisan Bakehouse and Rainbow Organic, as well as major chains Chemist Warehouse, JB Hi-Fi, Sony, The Reject Shop, McDonald's, KFC and Oporto.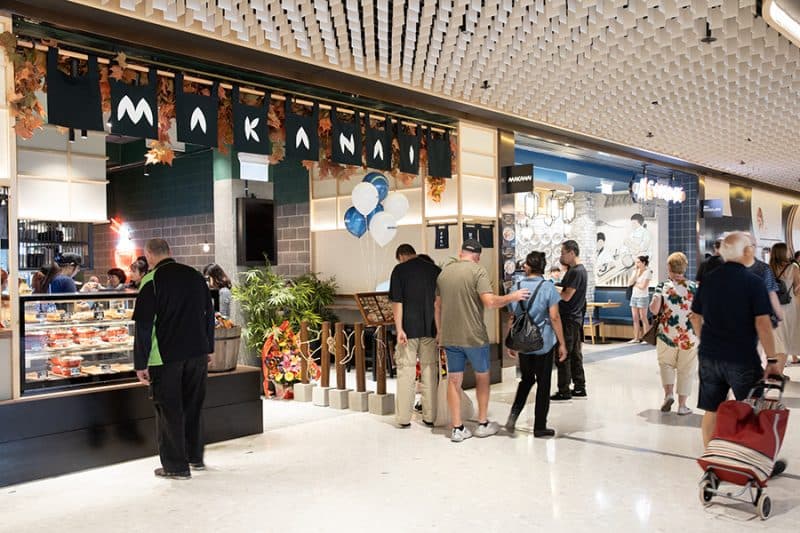 At the heart of the new development is a contemporary fresh marketplace and casual in-centre dining concept with global chains and best-in-class street food operators, giving residents the choice to refuel on the run or take a break from the daily rush and savour an array of new tastes.
Alongside a revamped Coles Supermarket, new brands added to the retail mix include Banana Blossom, Gewurzhaus Herb and Spice Merchant, Délisse French Café, Jim's Malaysian, Makani Ramen Noodle House, Yatai Ozeki, Adanos Grill, Ms Dumpling and Juiced Life. A collection of new lifestyle stores and innovative concept stores also opened today including Price Attack, Gro Urban Oasis, What's Cooking Home, Flower Train, Tribe Lifestyle and Indulge Nails and Spa.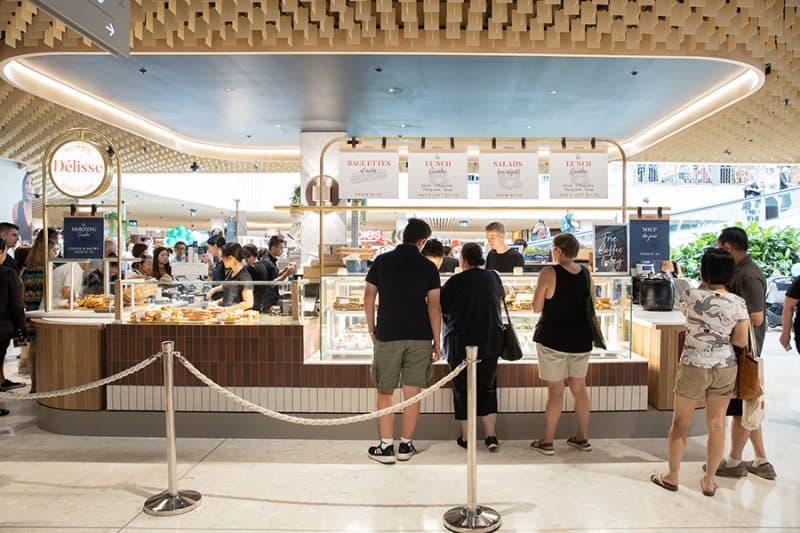 In total 37 retailers opened their doors today with an additional nine stores, including new additions CHOP Butchery, Miracle Supermarket, Wheel & Barrow, Yogurberry and Starbucks, to start trading in early 2020. Stage one also includes a revamped Coles and a remix of existing fashion and lifestyle brands, that have traded during building works, with the addition of Uniqlo to open on December 19.
Tasked by QICGRE to develop a narrative that challenged retail conventions, Sydney design experts Luchetti Krelle and creative consultants Seventh Wave have developed a cocoon-like centralised dining space with a variety of seating options that extend beyond the concept of a food court, tapping into the sensibilities more akin with restaurant dining.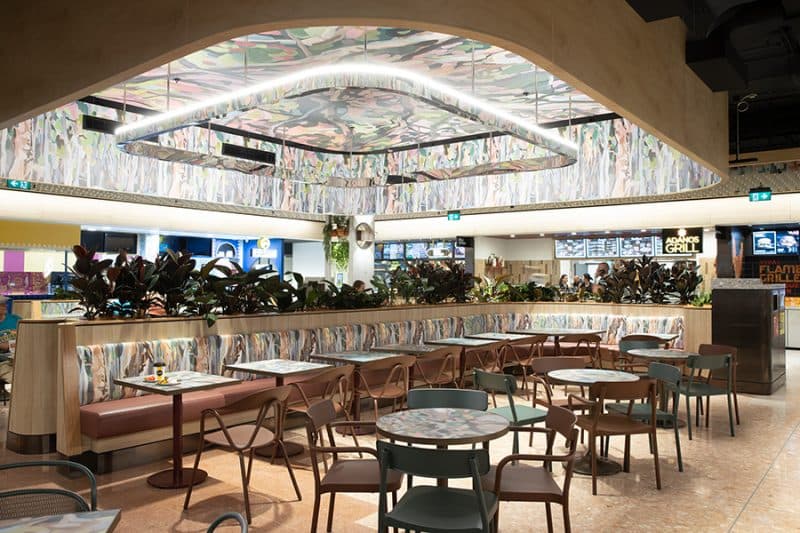 A series of Melaleuca paperbark forest paintings by Oliver Watts were adapted to become an expression of environmental graphic art – an immersive experience and form of escapism under a symbolic tree canopy applied to the over-scaled hoods. The essence of soft pinks, greens and greys found in these Australian natives are extracted into a pixelated play on colour to the surrounding finishes, fabrics and even the ceiling treatments.
Extending out to the fresh food retail areas, a mix of comfortable seating with integrated landscaping – more than 2,100 plants in total – will suit visitors of all demographics. With added amenities such as charging stations, the new hub for local flavours is a welcoming space to eat, meet, work and unwind.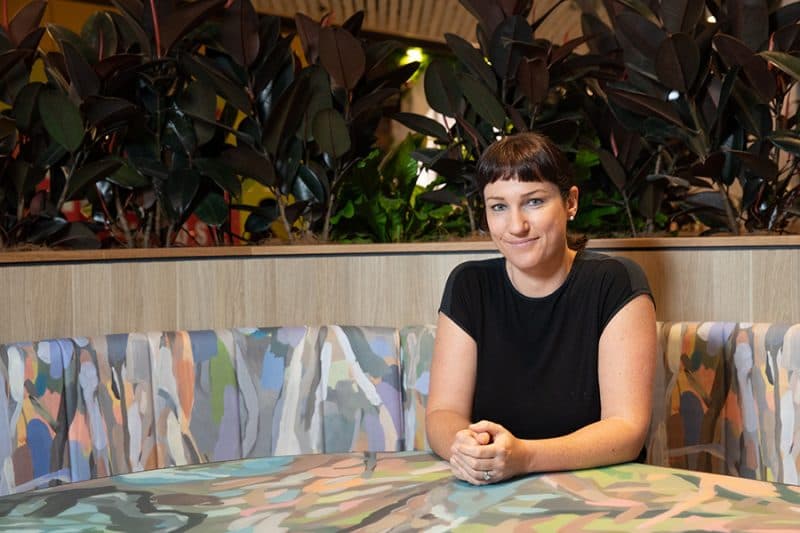 O'Brien said he was also proud that their investment in this project had created around 1,400 jobs during construction and more than 200 hospitality and retail jobs now it's complete.
"As we get closer to marking almost three decades of ownership of Castle Towers, QIC continues to invest heavily to redefine the role of a next generation town centre that the local community can continue to enjoy visiting to meet their shopping, dining and entertainment needs," he added.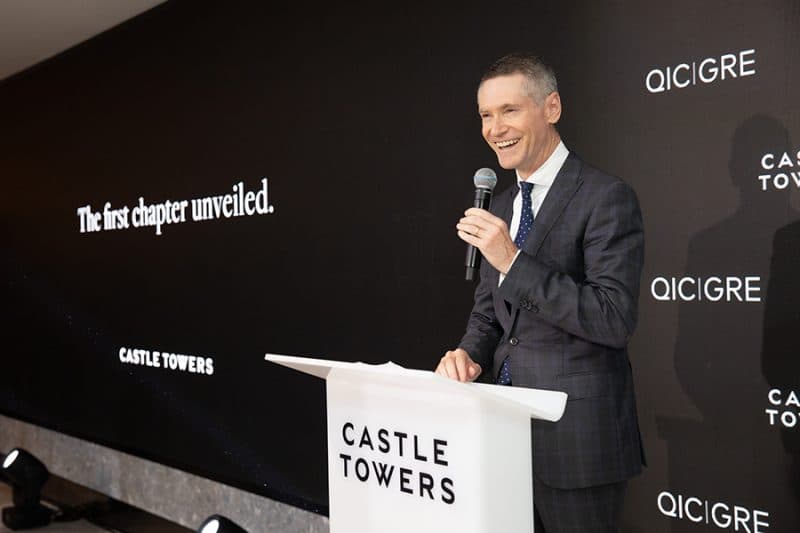 "We will continue to reinvest in and reshape Castle Towers so look forward with great excitement to working closely with our good friends at council in making the centre an exemplar for productive Australian retail." said O'Brien.
The redevelopment of Castle Towers commenced in March 2018 with further works to be undertaken in stages from early 2020, as part of QICGRE's masterplan for the town centre.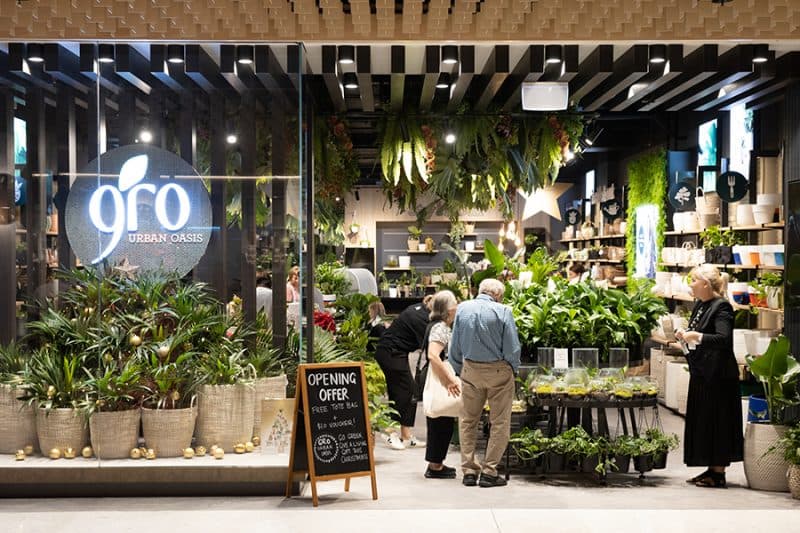 The new $180m lifestyle hub delivers innovative concept stores and globally relevant brands including:
New to Castle Towers, Gro Urban Oasis offers a fresh approach to planting and homewares with a wide range of inspirational plants, pots and contemporary styling. The brainchild of Simon and Anna Ainsworth, founders of Eden Gardens, Hills residents will be able to create a greener urban life with a variety of in-store workshops, including potting and planting demonstrations, in-store terrarium or kokedama design, and advice about growing indoor gardens.
Also new to Castle Towers, Gewurzhaus Herb and Spice Merchant will open its first Sydney store outside of the CBD and only the second in NSW.
Costi's Fresh Seafood have expanded to a larger new format space allowing them to deliver an exciting new concept store.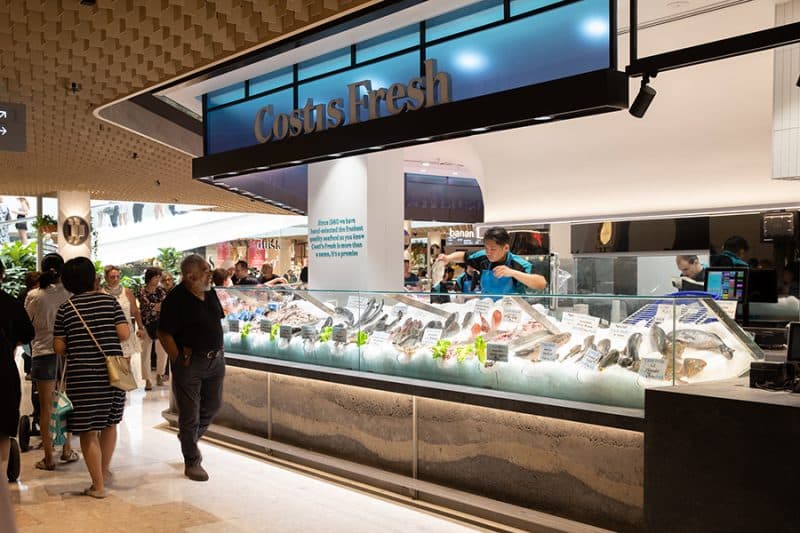 Délisse French Café joins Castle Towers offering authentic French café fare including baguettes, pastries, croissants and crepes.
Global chains: McDonald's, KFC and Oporto have relocated to the new space with Sushi Hub and Cha Time also joined by new retailer Juiced Life – all-natural and nutritionally-balanced cold pressed juices, smoothies, blended juices, wellness shots and superfood bowls.
Flower Train opens its second Sydney store at Castle Towers with owner Rachel Liu promising more than 45 varieties of fresh cut flowers, designed bouquets, potted plants, terrarium's and gifts.
What's Cooking Home is a new concept store from the popular kitchenware retailer. More than double the size of its other eight Sydney stores, the larger space will allow owner George Trittis to stock the best cookware brands and expand into specialty homewares and gifts, including occasional furniture, themed decorations and a huge selection of Glasshouse Candles.
The family-owned Rainbow Organic has become a local icon having operated at Castle Towers for the past 40 years. Moving into a larger space will allow the much-loved health food store to offer a wider range of products including organic skincare and non-toxic natural cleaning products.
Castle Towers will also build on its beauty offering with new retailers, the Aveda hair salon Tribe Lifestyle and Indulge Nails and Spa, joining Allan's Men's Hairdressing to help style and pamper shoppers.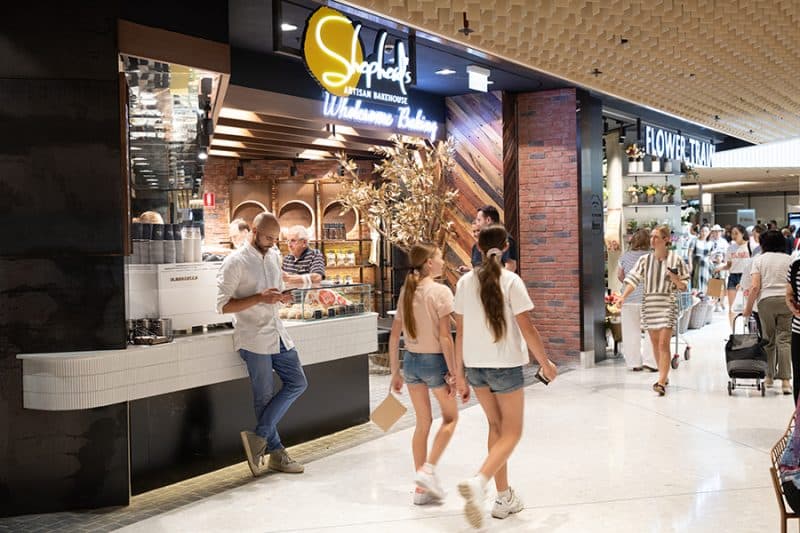 Relocated to the new ground floor hub, major chains including Chemist Warehouse, JB Hi-Fi, Sony and The Reject Shop will expand in size and offer, alongside new addition Price Attack. Access to everyday services will be readily available from Lawrence Dry Cleaners, Mister Minit and Mobile Experts with Nextra due to open in January 2020.
Castle Towers continues to evolve its broader retail mix with the introduction of Australia's leading sneaker destination Hype DC, set to deliver a curated collection of the world's best brands – from premium, short run releases to timeless classics – on Level 2 when its doors open on December 6.
This strong focus on meeting the growing and changing needs of the local community saw a new-format Mecca relocate to a larger store with the arrival of global apparel retailer Uniqlo set for December 19 in time for Christmas.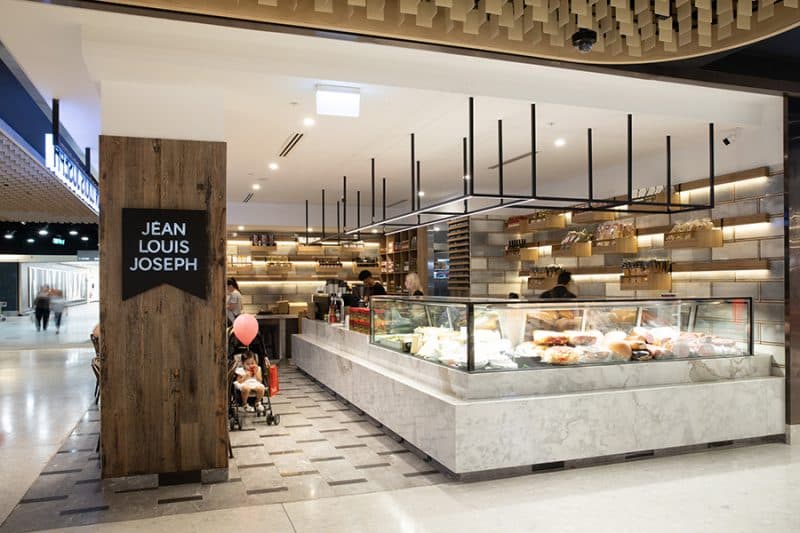 Australian owned homewares retailer Wheel & Barrow is due to join Castle Towers in March 2020.
The upgrade of Castle Towers will continue in 2020 including the delivery of new and improved fresh food retailer partners and restaurants on level one, and significant refurbishment of The Piazza and levels two and three outside of David Jones. The delivery of these works will be staged to minimise impact to customers and retailers and also enable the entry of new and existing brands to Castle Towers