Dog owners now have a brand new space to 'park' their four-legged family members when they visit Perth's Floreat Forum Shopping Centre, with the installation of four bespoke 'Dog Parking' stations, conveniently located at the Forum's entrances and in the outdoor café and restaurant precinct.
Designed and manufactured locally, the custom built units feature convenient clips to secure dog leads and integrated water bowls; making it easier for customers to head to the shops with the whole family.
Floreat Forum Centre Manager, Paula Toshack, said the Dog Parking stations had been popular since they were unveiled two weeks' ago: "Our locals are a community of dog lovers and it's common to see many pups waiting patiently outside the centre. The launch of our new Dog Parking stations makes a trip to the shops with your four-legged friends even easier."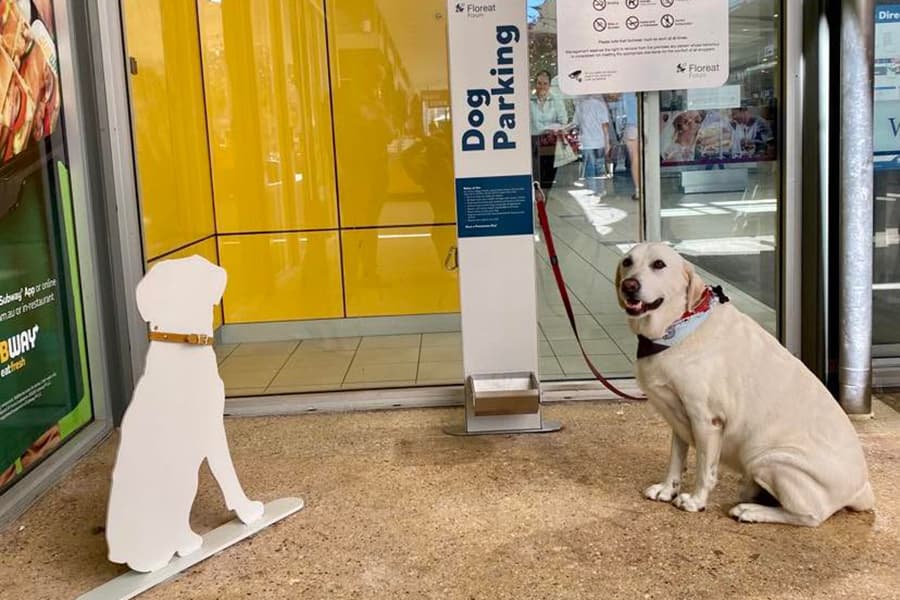 "Our Outdoor Forum area is dog-friendly, visitors are welcome to walk, sit and dine with their dogs provided they are on a leash. All of our cafés and restaurants in that area, including the pub, have alfresco areas that welcome dogs. Some of the cafés even serve up special treats for your four-legged friends, including 'puppucinos'," said Toshack.
Cafés and restaurants that welcome dogs in their outdoor area at Floreat Forum include, BamBamBoo, fave, Flourish Coffee + Juice The Park, V Burger Bar, Subway and ThaiTation.
Customer feedback has been very positive, with many people grateful to be able to tie their dogs up safely and conveniently.
Local customer, Jen Harwood said: "I love that Floreat Forum are keeping our four legged friends safe and happy."
To celebrate the launch of the 'Dog Parking' stations, Floreat Forum hosted a special fun day on Saturday 21 May, the event featured all things dog-related, including market stalls with locally made pet products, dog rescue stands, a pet photo booth and free doggy bags.