MECCA Brands, Australasia's leading beauty retailer, has announced it will swing open the doors of its first flagship, located in Sydney's heritage Gowings building, on Friday 27 November 2020.
The opening of MECCA's new flagship follows the retailer's successful entry into China in August 2020 via a luxury multi-brand flagship on Tmall Global, which brought with it a number of new-to-market beauty brands.
A beauty wonderland come to life, MECCA's transformation of the iconic retail landmark will establish a new beating heart of beauty in the Sydney CBD and be the largest and most immersive dedicated beauty store in the Southern Hemisphere.
Driving the future of beauty and experiential retailing, the new MECCA flagship will extend over four levels and 1,800m2 on the busiest corner in Sydney (corner of George and Market Streets). The store will be filled to the brim with the best in global beauty, consider everyone from the beauty novice to the makeup aficionado and will encompass everything the beauty shopper needs, wants and is yet to discover in a single, ground-breaking destination.
MECCA's flagship is 20 times the size of its very first store on Toorak Road in Melbourne, more than double the size of the business's next biggest store at Highpoint Shopping Centre in Melbourne, and will grow MECCA's Sydney CBD footprint by 250% and feature more than 200 points of innovation integrated throughout every touch point – all cementing its position as the number one beauty destination.
Extending retail engagement beyond products, more than a third of MECCA's flagship is dedicated to world-class, deeply customisable services. The Australian-first proposition delivers a number of exclusive beauty, health and wellbeing service partners including facial aesthetician, Dr Van Park, and naturopath, Anthia Koullouros, who will both take up residence in the MECCA Service Suites. Contemporary jewellery designer, Sarah & Sebastian will offer piercing and bracelet soldering and hair salon, EdwardsAndCo, will bring its cult following to the flagship's Hair Studio.
Injecting even more pure joy and personalisation into MECCA's retail experience is the business's own always-on program of edutainment and brand immersion, designed to help shoppers unearth fresh beauty favourites, experiment with the latest products and learn new techniques. This includes the game-changing MECCA Skin Lab, MECCA Makeup Lab, MECCA Brow Lab and MECCA's largest ever Perfumeria.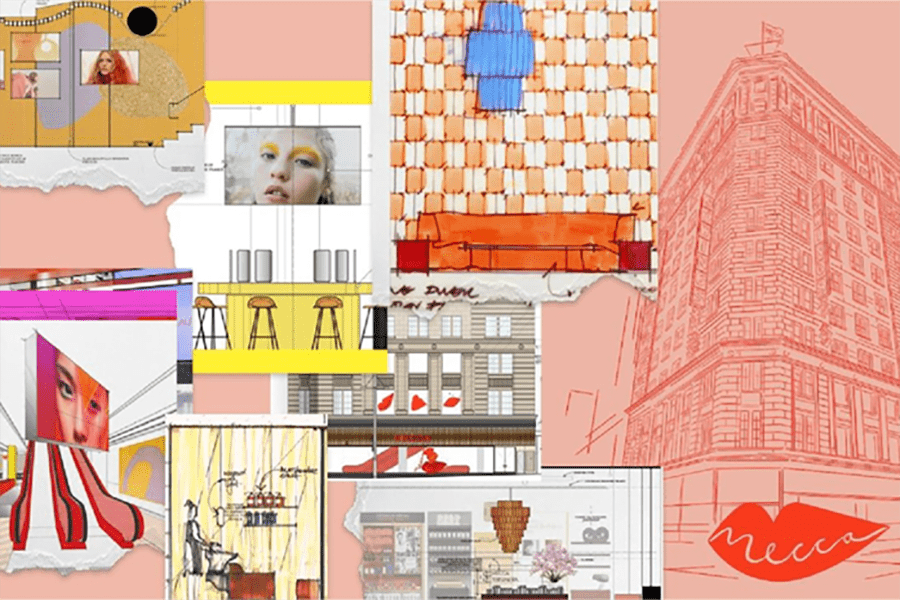 And, if that isn't enough, there is also a MECCA Gift Wrapping Bar with gift wrapping choices designed exclusively for the flagship; MECCA Concierge as a central point to help customers' fulfil their beauty desires within the store; the dedicated event space MECCA Studio; and a Virtual Services Hub where MECCA's expert team members can be seen in action responding directly to our online community, live from our flagship as part of our Virtual Services offering.
Truly pioneering yet more personal than ever with a high energy, colour-fuelled store design; the heritage Gowings building has been restored to its former glory by MECCA's long-time collaborator, Sydney design studio Meacham Nockles. The flagship is embellished with neon yellow lifts, dazzling escalators, mosaic walls, paillette ceilings, digital backdrops, three-dimensional brand installations and a Wonka-esque beauty chute that transports products vertically between the multiple levels.
Get ready to be immersed in MECCA magic and experience the world of beauty as it has never been seen before. This is the future of beauty.