Leading developer Golden Age's SKY SQR project in Box Hill will be home to the suburb's first Build-to-Rent (BTR) offering, following a landmark deal with Melbourne-born BTR business, Local Residential.
Located at 517-521 Station Street, Box Hill, the $360 million deal will see Local acquire the dual towers above Golden Age's three-level retail and food precinct, SKY SQR, via a turnkey acquisition to create 425 BTR apartments.
Golden Age Founder and Managing Director Jeff Xu said Local is the perfect partner to deliver the Build-to-Rent component of the Box Hill project.
"We have spent considerable time exploring and researching the right direction for this project to ensure it caters to the suburb's ever-evolving needs. Box Hill is the perfect location for build-to-rent and we have always seen ourselves as a co-developer of Box Hill; it's important every project aligns with the council's strategic vision and the needs of current and future residents.
"Local's commitment to community aligns closely with ours and collectively, we will deliver an unprecedented and iconic project to Box Hill, continuing to shape this vibrant suburb by providing a fresh offering. We are excited to be working with the calibre of industry professionals of Dan McLennan and Matt Berg who are distinguished in their fields," he said.
Golden Age will deliver the Fender Katsalidis-designed project and upon completion, will retain ownership and management of the entertainment, lifestyle and retail precinct SKY SQR, while Local will own and operate the BTR component.
Residents will enjoy 1,170m2 of outdoor green spaces designed by landscape architect, Aspect Studios alongside a range of exclusive amenities. Residents will have access to an 80-seat co-working space, three private dining rooms, a 20m indoor pool, exercise and wellness studios, games and entertainment rooms, and pet wash and electric car share facilities.
Local Co CEO Matt Berg said, "Golden Age has an exceptional track record in delivering high-quality mixed-use projects in sought-after locations. The growth in the market of Box Hill has been extraordinary and we believe the location will endure through market cycles. We're excited to be partnering with Jeff and his best-in-class team to deliver this project".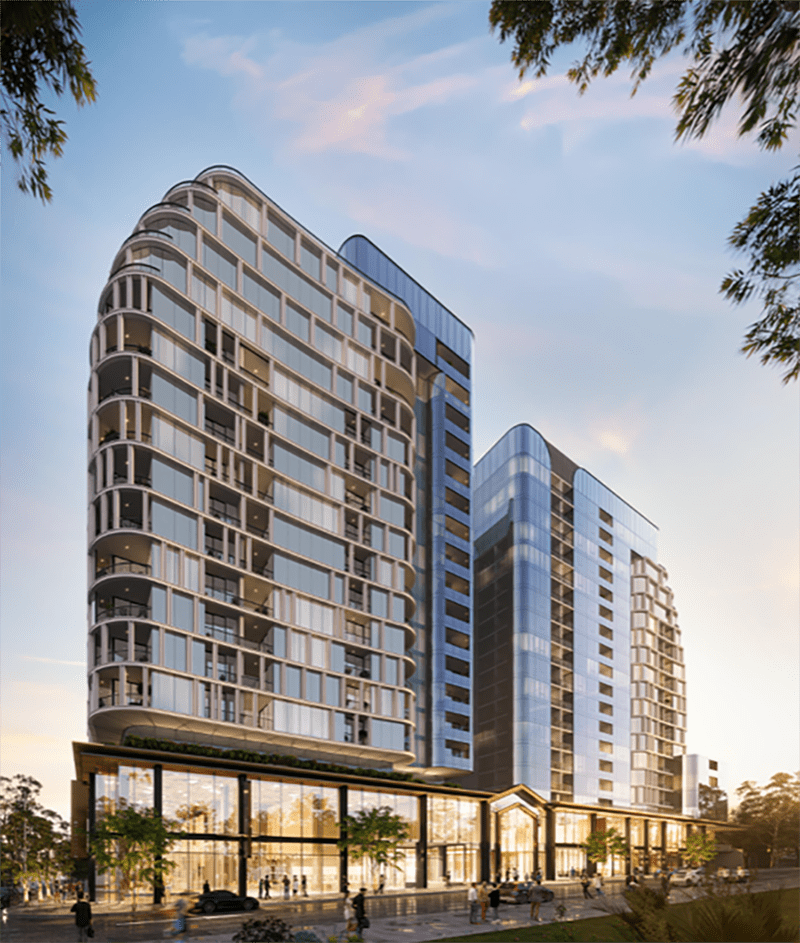 Golden Age unveiled its vision for the retail, entertainment and lifestyle podium late last year, which has been designed by world-renowned Oval Partnership (Hong Kong) and spans approximately 12,000m2, including a 107 place child care centre.
SKY SQR is a true blend of east-meets-west cultures and will include an expansive three-level retail podium and food precinct with tenancies ranging from 16m2 to 2,000m2. Golden Age is currently in talks with a number of key anchor tenants.
The project will feature a distinctive central plaza and laneway concept that is true to Melbourne's street culture – awakening the senses through sight, taste and sounds at every turn.
The Asian-inspired Hawker Lane sets off the journey through Asia with street-style food offerings, crossing over to a European-esque courtyard hosting a restaurant and cafe dining scene reminiscent of the famous plazas of Europe.
The outdoor plaza and entertainment area is the centre stage for exciting events, art installations and cultural activities, while the upper floor will feature lifestyle, retail and services.
Construction will commence in Q1 2024, with SKY SQR retail podium due to open in Q3 2025 and residents moving in late 2025.