Construction is underway on Caddens Corner – a new neighbourhood shopping destination for Penrith City. The development, managed by Kaipara Property Group is due to open in Spring 2020. The four-hectare site owned by Western Sydney University, located on O'Connell Street, Caddens is accessible from the Great Western Highway, the M4 and is close to Werrington Train Station.
Part of The Quarter, Penrith's health and education precinct, Caddens Corner is uniquely connected to staff and students from three of the city's largest employers – Western Sydney University, TAFE Western Institute and the Nepean Hospital.
Caddens Corner will include approximately 9,000m2 retail space with a full-line Woolworths Supermarket and BWS liquor store, approximately 5,000m2 of specialty retail/food outlets, food and dining precinct, a childcare centre, medical centre and gym, and a carpark with over 500 spaces and an EV electric vehicle charging facility.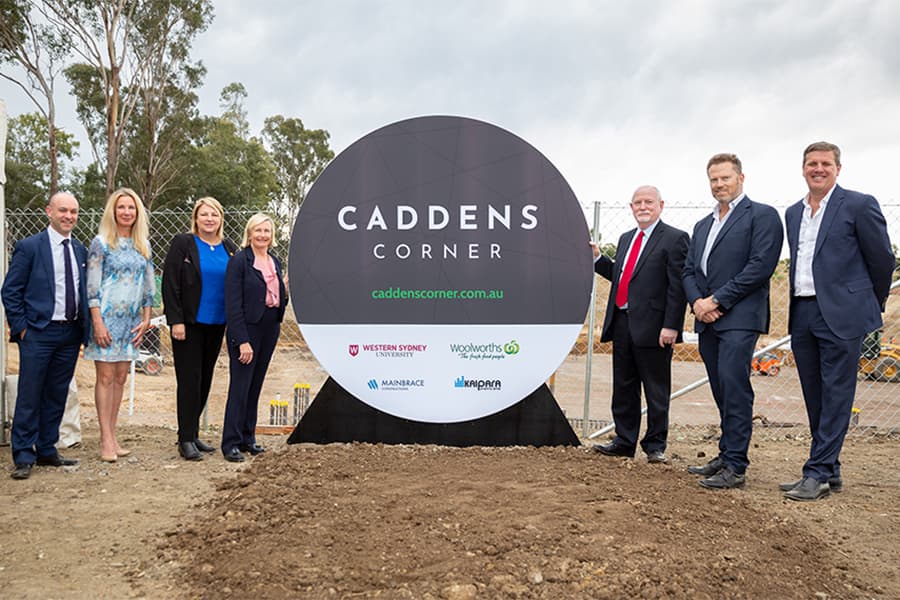 Peter Pickering, Vice-President, Finance and Resources at Western Sydney University, says the Caddens Corner project is part of Western Sydney University's 'Western Growth' strategy – an ambitious program of works that is reshaping the University's campus network, and allowing the University to maximise its investment in the core university activities of teaching, engagement and research.
"The Caddens Corner neighbourhood shopping centre forms part of our broader Penrith campus master plan and Werrington redevelopment. Our Penrith campus is set to become a cornerstone of the Penrith Health and Education Precinct – a place where people can live, learn and work in a community with connectivity, facilities for industry and retail, open space, and a high level of amenity," Pickering said.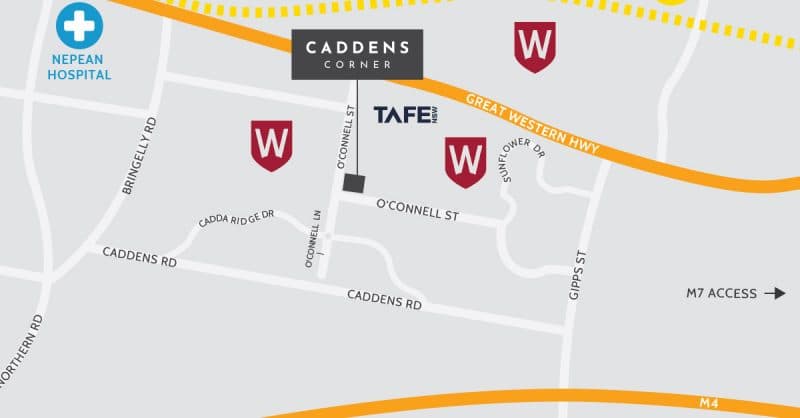 David Hopper from Kaipara Property Group, development managers for Caddens Corner, said Caddens Corner is much more than your average neighbourhood shopping centre.
"The aim is to provide local residents, nearby workers and the broader Penrith community with a centre of activity and an attractive place to meet. It will be a place where you can get everything you need under the one roof. We are confident everyday convenience combined with unique aspects like the natural play areas, water play, the fire pit and the scope for musicians to perform in the dining precinct, will draw people from outside the catchment to Caddens Corner and create a robust night time economy.
A brewery partner is being sought to launch a taproom and restaurant with outdoor seating as the anchor tenant for the food and dining precinct at Caddens Corner, The lay of the land means that Caddens Corner has great exposure from the road to draw in passing traffic," he said.
"And, with cafes and the gym opening early, parents dropping off children at the childcare centre on their way to work and restaurants trading into the evening, the convenience and family friendly all-day trading will add to the centre's appeal", he added.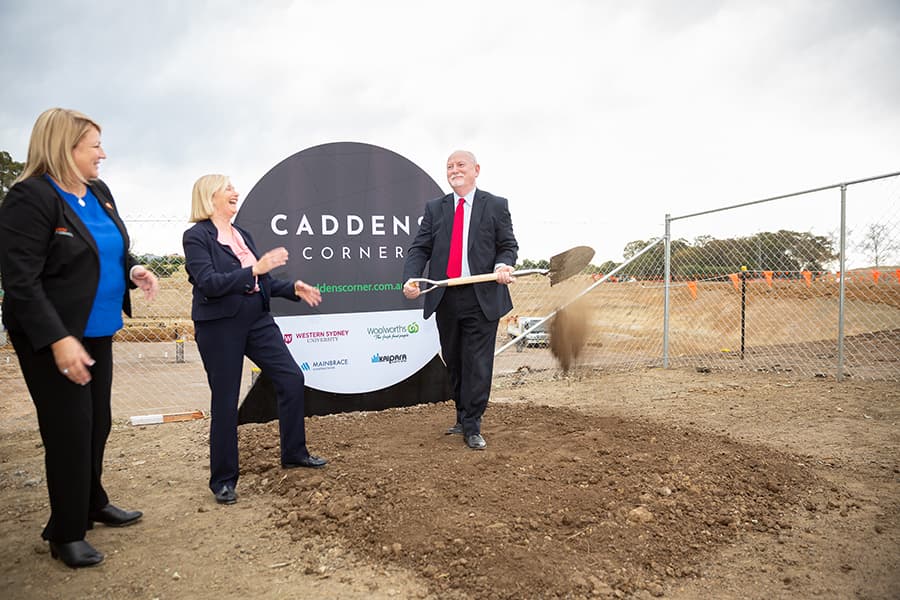 In addition, Caddens Corner's sustainable, 5-Star Green Star – Design & As Built credentials mean the new shopping centre will meet the needs of the growing community.
"This is great news for tenants and the community, the centre will be built from sustainable materials, with power needs supplied by extensive solar panels, aligning with our sectorleading sustainability initiatives", he said.
The design incorporates natural ventilation, allows for rainwater to be harvested to maintain landscaping and includes solar powered lighting in the carpark. The carpark will also include four charging stations for electric vehicles and, for cyclists, bike storage, change and shower facilities.
Hopper said given the growth expected in western Sydney, it is increasingly important that developments like ours meet, and even exceed, sustainability standards.
"Not only does it make sense from an environmental perspective, it ticks the boxes for consumers who are increasingly expressing their activism through where they choose to spend their money, it makes financial sense for tenants in terms of power savings and these benefits will flow on to the owner" he said.
The Caddens Corner project team managed by Kaipara Property Group includes – Mainbrace Construction, Nettleton Tribe Architects, Wood and Grieve Engineers, Henry and Hymas Consulting Engineers and leasing agent Haines Property Consulting.