Frasers Property Australia's Burwood Brickworks shopping centre in Burwood East, Victoria opened on Friday 6 December. To mark the occasion an official ribbon cutting ceremony was held, with proceedings hosted by Peri Macdonald, Executive General Manager Retail at Frasers Property Australia, Neil Angus MP Forest Hills, and Joost Bakker, Burwood Brickworks Creative Consultant.
Located 19 kilometres from Melbourne's CBD, Burwood Brickworks is designed by Melbourne-based NH Architecture with support on the interiors by North Melbourne-based Russell & George, and set to become another pulsating community hub, where visitors are encouraged to relax and unwind within the centre, on the rooftop or at the adjacent urban plaza.
Anchored by Woolworths, Dan Murphy's and Reading Cinemas, the centre has a gross lettable area (GLA) of approximately 13,000m2 offering a mix of flagships and localised speciality stores across food and dining, entertainment, retail services and health and wellbeing.
The opening event was both an educational and exciting affair with a focus on sustainability and the rigorous criteria of the Living Building Challenge™ (LBC™) at the forefront.
"The journey we have undertaken in pursuit of delivering an actual living building, something that has never been attempted in the retail space, is an achievement in itself that we are truly proud of, as we continue to work toward accreditation over the next 12 months," said Macdonald.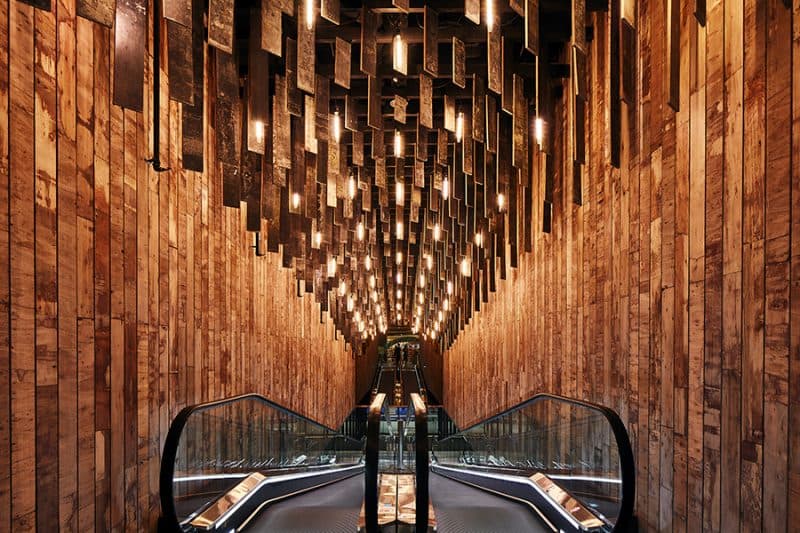 "When we look at the LBC™ petal requirements, there is so much more that is required than just technical sustainability. We are looking at things like beauty and spirit, biophilia, urban agriculture and equitable investment which are all factors that challenge the normal procedures and operations of shopping centres globally and align with Frasers Property's vision to create greener hubs for local communities," continued Macdonald.
A traditional welcome to country was performed by Wurundjeri elder, Uncle Colin Hunter Jr, acknowledging the land in which the centre has been built.
The focal point of the centre, the expansive ceiling covered by a permanent art installation by Mandy Nicholson, a Wurundjeri, Dja Dja wurrung and Ngurai illum wurrung woman draws the attention of all who visit.
On the ground floor, a living plant installation by Burwood Brickworks Creative Consultant, Joost Bakker will continue to flourish throughout the month of December, made up of vibrant red smoke bush arch.
I am thrilled to see the vision and foresight in Burwood Brickworks coming to fruition. Creating a pathway through the LBC™ where human connection to nature is at the forefront is not without challenges, however it is truly something special for customers and retailers alike". said Bakker.
Burwood Brickworks launches the first urban agriculture project in a shopping centre environment in Australia, a 2,000m2 rooftop farm run by acre Farm & Eatery, combining architecture and agriculture, connecting people to the food they eat. 
The opening event launched three days of family fun, retailer offers and live entertainment. Opening weekend, anchor tenants Woolworths and Dan Murphy's along with Reading Cinemas, acre Farm & Eatery, Cannings Butchers, Choice Pharmacy were all trading.
With a big focus on the local community and families opening weekend included food trucks, free gelato, carnival style activations including face painting, stilt walkers and a magician as well as live music. Free kids' interactive sustainability focused workshops will be on offer including Pot & Grow and Reusable Present Wrap.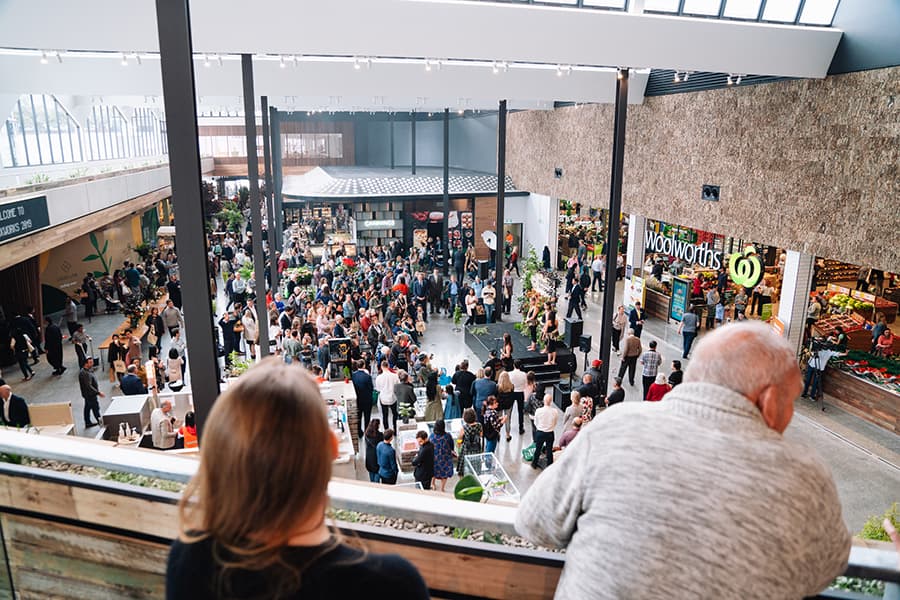 Rob McCartney, Director of Format Development at Woolworths said the company was delighted to have secured a key retail tenancy in the world-leading sustainability project which aligns closely with Woolworths' own environmental commitments.
"As Australia's largest retailer we recognise the environmental impact of our operations and understand we have a responsibility to lead in this space. The opening of Woolworths Burwood Brickworks is a further step in our long-term ambition to reduce our impact on the environment and operate our stores more sustainably. We look forward to welcoming customers into the store and their feedback to the initiatives we are rolling out", McCartney said.
Post launch weekend, a progressive opening of stores will see Little Mandarin Yoga & Pilates, Dogue Pet Store, Glossed Nails and Norwood Cafe open across December, with Insight Early Learning and a plethora of café and restaurants set to open in the new year.