The Shopping Centre Council of Australia (SCCA) has awarded Pam Wilson, National Community Experience Manager, Scentre Group as its 2023 Frank Lowy Fellow.
The Frank Lowy Fellowship was established in 2016 in recognition of the contribution made by Sir Frank Lowy AC to the Australian shopping centre industry and is awarded to an emerging leader who has demonstrated distinction in their professional field and a commitment to industry excellence.
2023 Fellow Pam Wilson's role focuses on forging closer connections between communities and their Westfield destinations. This has included the genesis of the Westfield Local Heroes grassroots recognition program and a partnership with Lifeline Australia.
Wilson also developed and delivered mental health first-aid training for customer experience teams in Westfield destinations.
Anthony Mellowes, Chairman of the SCCA and CEO of Region Group said: "I congratulate Pam on being awarded the 2023 Frank Lowy Fellowship. She is an outstanding leader and deserving of this recognition.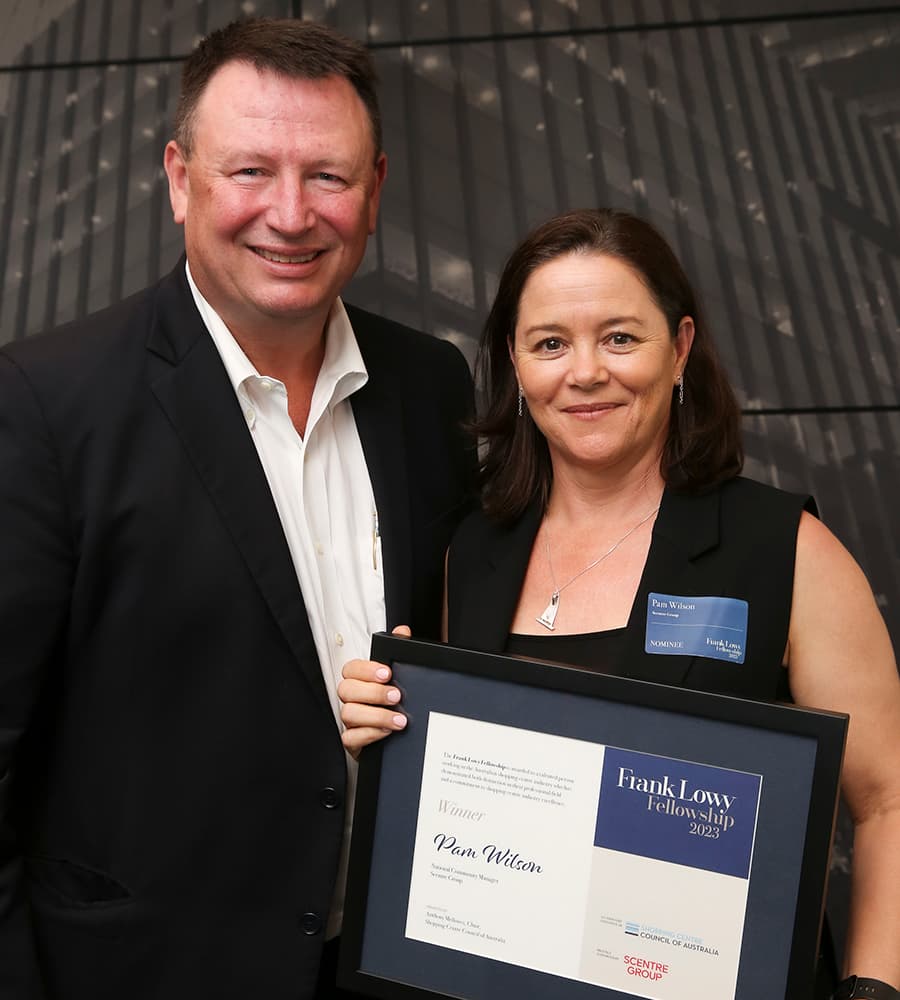 "Pam's work in ensuring staff have access to mental health first-aid training is proving to be an overwhelming success, with 98% of participating staff stating they are more confident identifying and supporting customers in crisis," Mellowes said.
Wilson commenced her role as National Community Manager at Scentre Group in 2017 and prior to this role, served as the Community Relations Manager at Westfield Warringah Mall for more than two years.
As National Community Manager Wilson's role is to understand the opportunities and challenges local communities face, and develop solutions that create shared value for customers, community, and the Scentre Group business and partners.
Elliott Rusanow, CEO of Scentre Group, SCCA Deputy Chair, and Fellowship Sponsor said: "Congratulations to Pam on this well-deserved and important recognition. Fostering deep and meaningful connections with our customers and communities underpins our strategy to create the places more people choose to come to, more often and for longer. Pam has been instrumental in forging key partnerships and delivering programs that support and benefit our communities."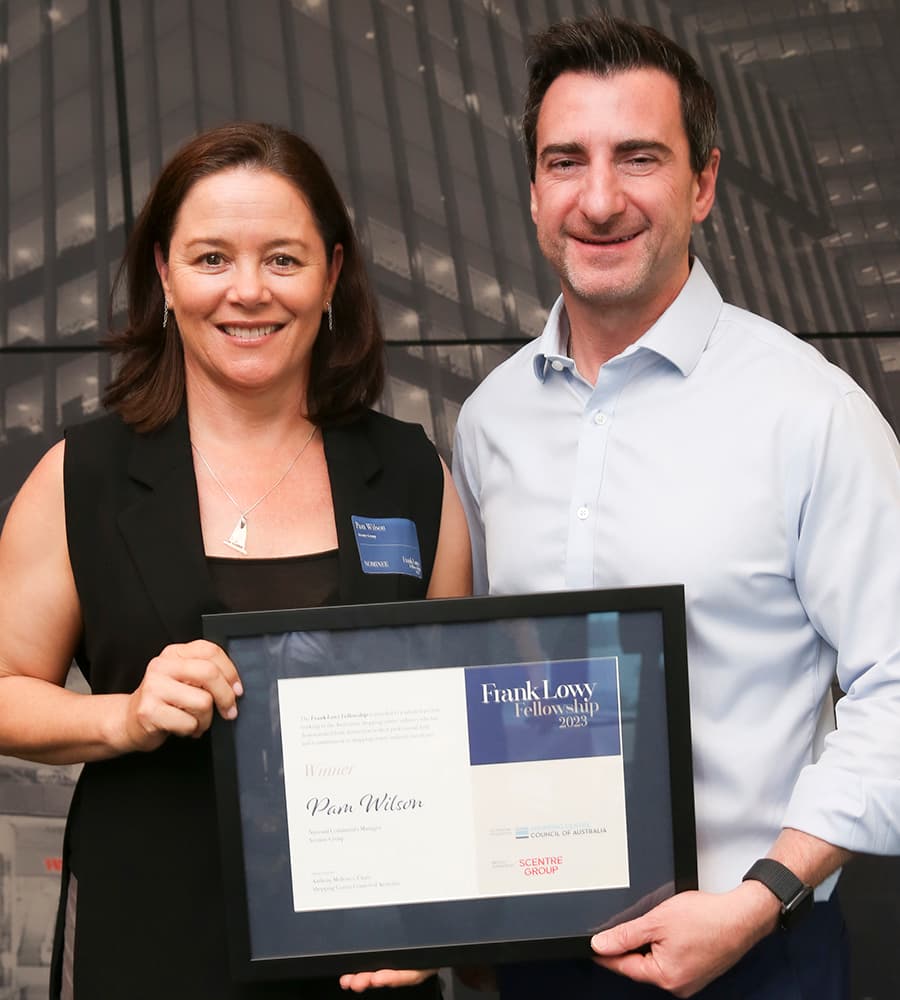 This year, the Shopping Centre Council also awarded a High Commendation under the Fellowship.
"I also congratulate Phoebe White, National Commercial Manager, Scentre Group, on being awarded Highly Commended in this year's Frank Lowy Fellowship", said Rusanow.
"Phoebe has championed a number of initiatives that ensure an inclusive environment for people of all abilities, including Quiet Time. Quiet Time supports Westfield customers with Dementia, Autism and other sensory and processing challenges by dimming the lights, turning down the music and limiting announcements throughout its destinations at a set time each week."
The Frank Lowy Fellowship is an industry initiative of the SCCA and proudly supported by Scentre Group. The 2023 recipient, Pam Wilson, will receive $20,000 towards a professional development pursuit or industry event of choice.
Wilson has selected to attend two multi-day social innovation conferences in the US and Australia, including the Social Innovation Summit 2024 in Chicago and the Australian Social Impact Summit in July 2024. Wilson also intends on undertaking a study tour of US and Australian businesses who are leaders in placemaking, social infrastructure and experiential business models.
Angus Nardi, Chief Executive of the SCCA said: "We are once again proud to run the Frank Lowy Fellowship, in recognition of Sir Frank Lowy AC, one of Australia's most distinguished business and community leaders, and a founder of the Shopping Centre Council."
Nominees for the 2023 Frank Lowy Fellowship were evaluated by a judging panel comprised of Anthony Mellowes, CEO, Region Group and SCCA Chairman; Elliott Rusanow, CEO, Scentre Group and SCCA Depuy Chair; Michelle Abbey, Head of Retail, Stockland; Andrew Byars, General Manager, Property Investment, Perron Group and Ben Finger, Managing Director and Co-Founder, Haben.
Previous winners include: (2022) Deb Palmer, Managing Director, QIC Real Estate; (2021) Elizabeth Craig, Digital Solutions Manager, Charter Hall; (2020) Carl Woodward, Group Manager Engineering, Scentre Group; (2019) Dennis Michael, Head of Commercial Brand iQ and New Business, QICGRE; (2018) Genevieve Elliott, General Manager Data Science and Insights Vicinity Centres and; inaugural winner (2017) Sidone Thomas, Head of Digital and Marketing, The GPT Group.