Leppington Town Centre is one step closer to being realised with construction on a new $72 million neighbourhood shopping centre commencing earlier this week.
The new Woolworths' Leppington Village Shopping Centre will be home to more than 8,000m2 of retail space including a state-of-the-art full-line Woolworths Supermarket with Direct to Boot and Pick Up facilities, and more than 20 speciality stores including restaurants and cafés, retailers, and community services.
The development will bring significant employment opportunities to the Leppington area, creating more than 200 jobs during construction and 200 ongoing retail when the centre opens in 2022.
Woolworths General Manager Property Development Andrew Loveday said: "At Woolworths, we're always looking to make it easier for customers to shop for fresh food and everyday needs in ways that work for them.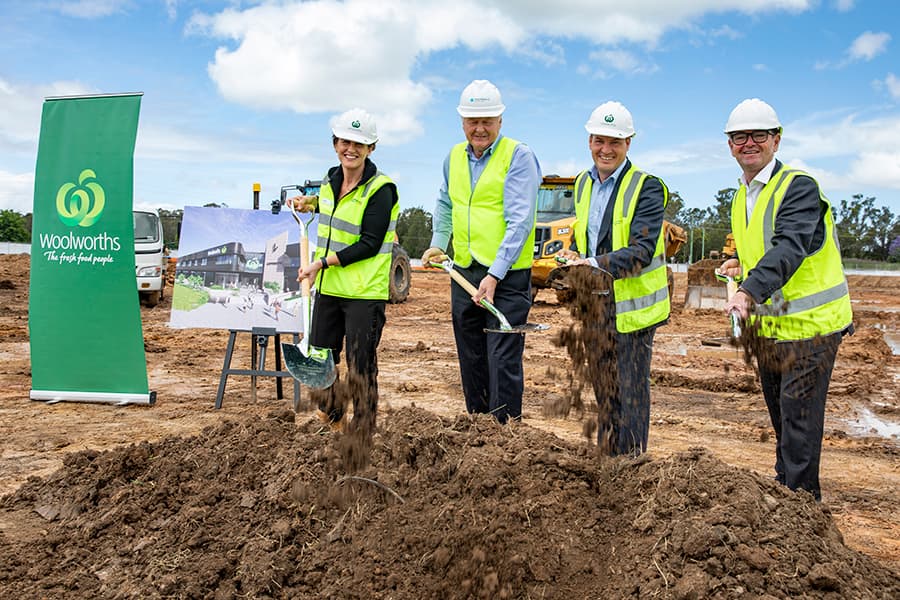 "The development of Leppington Village Shopping Centre is an important part of our ongoing investment in high-quality shopping experiences for Western Sydney residents.
"As one of the first major developments to turn soil in this area of Leppington, we're proud to be at the forefront of the transformation of the Leppington Town Centre, to support this key growth centre.
"We understand the key role shopping and community hubs can play as people seek places to come together, shop, connect and interact.
"We're confident we can deliver a high quality and convenient shopping destination that will meet the needs of the growing and evolving Leppington community, and support new small and medium-sized businesses to set up for their future in this area."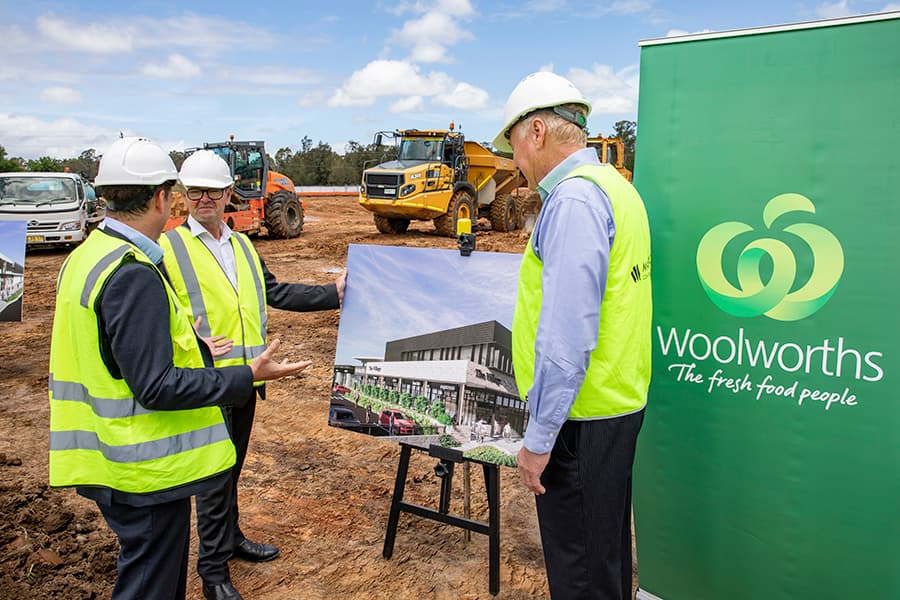 State Member for Camden, Peter Sidgreaves said: "This retail space will be a vibrant place for our community to shop, eat, socialise and access community services close to home.
"It is encouraging to see Woolworths' commitment to the community of Leppington and the confidence the presence of Woolworths' will lend to businesses to invest into the new growing major centre of Leppington, right on the doorstep of the Western Sydney Aerotropolis – Australia's next global gateway.
"I commend Woolworths for their dedication to reducing the shopping centre's environmental impact and welcome Woolworths and the benefits the Centre will bring to our wonderful community."
Federal Member for Macarthur, Dr Mike Freelander MP said: "It is wonderful to see businesses continue to invest in our region, creating local jobs for local residents.
"With such rapid growth in our region, I congratulate Woolworths on their efforts to future-proof our developments and ensure local residents have access to the services and amenities that they need. As a catalyst for job creation – this project will benefit our community for many years to come.
"It is critical that all levels of Government come on board to ensure our region's growth is sustainable, and to support our local residents and businesses with critical infrastructure."
Greg Scott, Operations Director of Mainbrace Constructions said: "Mainbrace Constructions is excited to be Woolworths' construction partner delivering Leppington Village — vital community infrastructure in the rapidly expanding South Western Sydney corridor.
"The Mainbrace team is ready to bring Woolworths' vision to reality for the convenience, amenity and enjoyment of the Leppington community."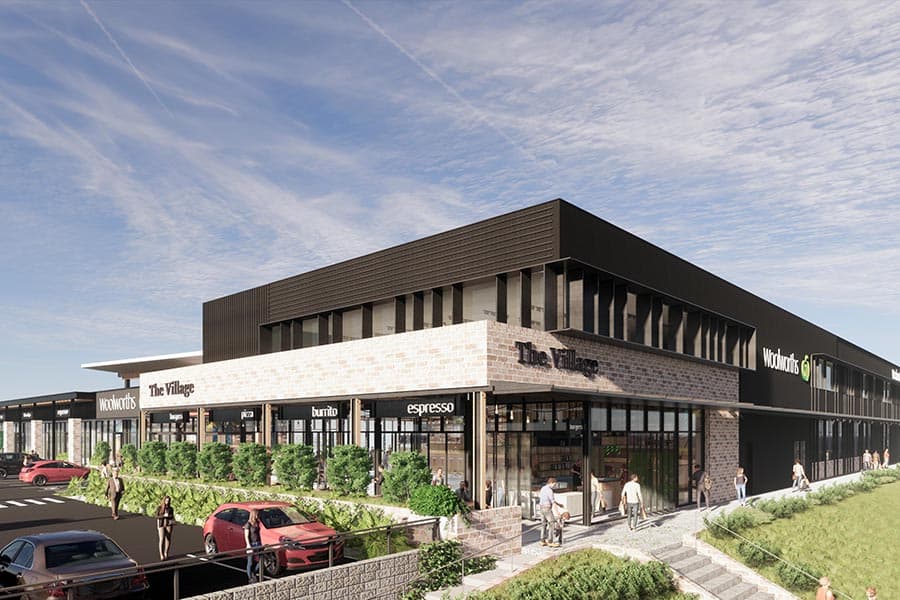 To reduce the environmental impact of Leppington Village Centre's operations, the building will incorporate a range of sustainability features, including about 650 solar panels on the roof. The system will have the capacity to generate more than 400-megawatt hours of electricity each year – the equivalent of more than 70 Australian households' annual energy consumption.
There will also be six electric vehicle charging bays and up to 30 new cycling bays for team members and customers to encourage the use of low-emission transport.
Andrew Loveday added: "We're working to build more sustainable supermarkets and shopping centres with investments in initiatives to optimise our energy use.
"The solar panels will help offset 25% of the supermarket's energy consumption and is another step in our efforts to cut our emissions by 63% by 2030 and to reach net-zero before 2050.
"We're very proud to be targeting a 5 Star Green Star certification for the entire shopping centre development, which, if successful, will be one of our first 5 Green Star certified buildings in New South Wales.
"These efforts are not only good for the environment, but will also help us keep operating costs down so we can continue to offer great value to our customers."
To enhance the local streetscape and creatively engage with the community, an artwork depicting the traditional owners of the land, the Darug people, will be designed by Dalmarri Group and applied to a 70-metre facade on Rickard Road.
Woolworths will undertake a series of upgrades to improve traffic flow and access to the Centre including works to the service lanes at the rear of the development at Ingleburn and Rickard Roads.
With the shopping centre's close proximity to Leppington train station and the inclusion of more than 30 new cycling bays, there will be further opportunities for active transport for the community.
Loveday concluded: "We've worked closely with Camden Council to ensure we align with their priorities including enhancing the liveability of the area through early activation of retail.
"We're proud that our shopping centre will help energise the area's transformation and create a vibrant place for the community – and we look forward to welcoming customers into our centre in 2022."