This article by Harold Perks and Dr. Emil Jonescu of Hames Sharley is published in the latest edition of Shopping Centre News magazine.


Generally, there are three elements to modern-day life – personal life, work life and lifestyle. Retail takes place firmly within the lifestyle element, becoming our 'third space' commodified as an experience rather than a product transaction. It's now a highly contested space – online and virtually – as there are more ways to choose how to invest our time and money on lifestyle. The challenge is how we strengthen the role of retail in these choices. And how we move towards more personalised, considered experiences to provide better spaces for our future communities.
Retail as therapy
Think about the act of going shopping as akin to a 'health pill', where in exchange for spending money consumers receive time away in a pleasurable place. The air replenished via natural ventilation, ambient music plays, and greenery and plantings combine to create a microclimate with health benefits. For retailers, stores that enhance the overall retail experience will foster positive consumer emotions and engagement.
For example, the recent Highpoint Shopping Centre project in Victoria features a new Atrium cafe court, within a naturally airy internal location, amid cascading planters and a central playground. Another is Thailand's Mega FoodWalk shopping centre, further blurring the natural line between inside and out, enhancing linger time and opportunities to stay and buy meals.
Retail as play and recreation
Play is not only immersive, explorative and social but also deeply personal. It allows people to choose their definition of how much they wish to 'play' in a space, as a process of discovery. For retailers, the opportunity is to 'dial up' or 'dial down' the act of play in their spaces so that people can enjoy being part of a collective while deciding how far their participation goes. Centre owners too offer greater experiences for their customers to become immersed in, the likes of Westfield Knox's basketball court, library and other exciting community amenities.
For example, we know that playful experiences for families of children keep people more engaged than otherwise utilitarian visits. Increasing the opportunity for physical activity is also a way to increase linger time, such as entertainment precincts and common gathering spaces through to sport and recreational spaces. Examples include the Marina Bay Sands shopping mall in Singapore, which features its gondola ride along a built-in river, and the Hep Five Ferris Wheel in Osaka.
Retail as mental health reprieve
Another opportunity for retail to play a more diverse role is by intentionally designing spaces for people with neurodiversity. With 20% of all Australians identifying as neurodiverse, along with conditions such as anxiety, ADHD and Aspergers, retail experiences that are better optimised could become almost a mental health check or reprieve for consumers, hugely impacting their experience.
Stimuli, such as music, scent, colour and lighting, along with retail fit-outs in general, could support these variabilities in a more personal way, creating a more inclusive environment and embracing the different ways we all experience the world.
For retailers, stores with greater sensitivity to sensory design, more space, fewer products, shelving and staff could allow for greater flexibility at different times, which could strengthen dwell time, or offer self-guided options for how customers wish to explore the store or product – rather than being prompted.
Retail and technology
In recent years, the evolutionary advancements in technology have been unprecedented in scope, speed and scale. We can now be in more places at once, and our retail spaces have become layered, complex and contested.
Retail and virtual retail environments can harness technology to encourage the right consumer behaviour, for example, using eye-tracking technology to monitor the way consumers experience a retail environment. This could apply to broader shopping centre design by guiding the eye from a smartwatch or phone towards a public space or tenancy, using tactility, materiality and other static elements.
Retailers could also find cut-through for the mobile-savvy millennial market, using new and personal ways to attract their attention.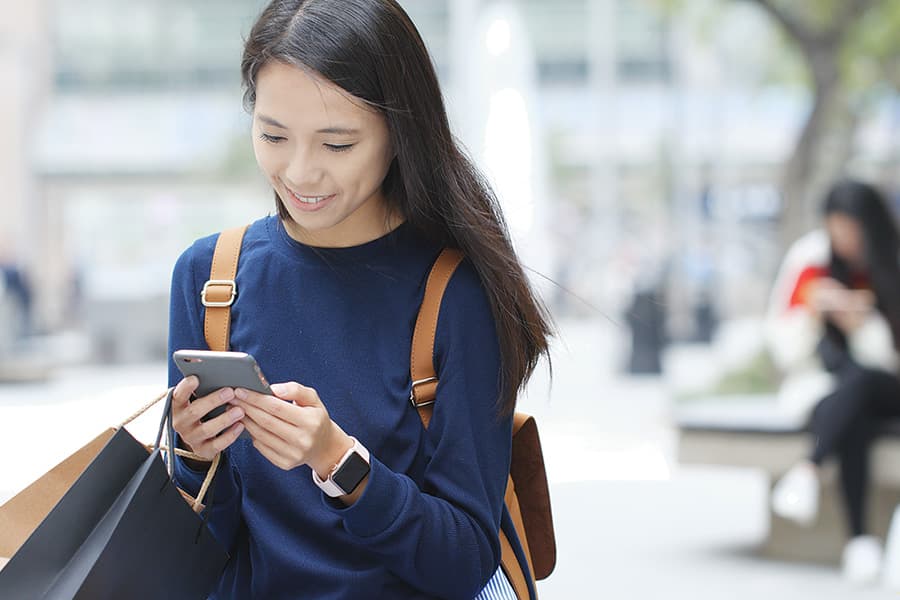 M-commerce is proving popular in China and South Korea, which enhances a consumer's relationship with their device and the retail environment's high desire for attention.
Again, we need to be considered and design for this rapid change as consumers continue to interact with retail content on smaller screens. As our shopping spaces continue to evolve, we must continue to forecast the future and commit to evolutionary change. After all, these changes historically have long been associated with the retail industry. The challenge is to do better by recognising what behavioural changes we need to respond to – and how – to create flexible, personal spaces that not only allow consumers to spend more time and money in their 'third space' but which in turn, also create long-term value and social significance.
This article by Harold Perks and Dr. Emil Jonescu was written in conjunction with Hames Sharley's research team, which includes Soobeen Jo, Paris Jacobs and Gingi Engloner.