As solar car parking systems become more prominent across Australia with the ever-increasing demand for energy independence, coupled with the obvious benefit of shaded parking, Paul Nealgrove, Senior Project Developer at Sydney-based Solar Car Parks (SCP), discusses how Solar Carparks could assist shopping centres in the transition to clean energy produced onsite, creating a green network for charging electric vehicles.
Solar car park arrays provide shade from the elements, giving customers a more comfortable parking experience where the users can benefit from protection from the sun, rain and hail. Given Australia's typically hot summers with high solar radiation it's a perfect solution to harness the clean energy potential and improve customer experience.
The duel benefit of shading parking for customers is always well received. Solar car parking allows asset owners to utilise their car parks to generate significant levels of solar energy whilst providing customers shaded parking. Solar car parks can be built on any above ground parking scenario, including ground based and multi-story buildings and is particularly well suited for shopping centres.
Solar Car Parks has launched its range of solar car ports in Australia and New Zealand under the Heliopark brand. SCP was approached by the international solar racking company Schletter to integrate their solar racking system into Heliopark resulting in a more efficient installation and an aesthetically improved product. This improved product combined with SCP's experience in the solar car park market provides an expert design and installation service for this modern car park solution.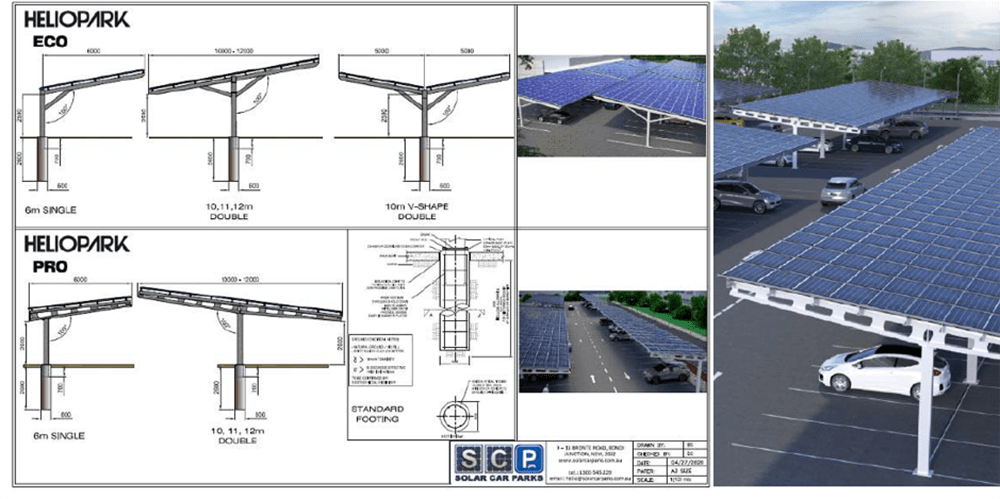 Additional advantages of solar carports include allowing facility operators to expand existing rooftop solar systems, providing a strong visual impact of a company's action on sustainability and the comfortable parking experience for customers and employees. It provides clean energy production and reduced peak demand costs and 'future-proofs' for customer Electric Vehicle (EV) charging demand.
Installing bifacial solar panels, extra light reflected off the cars can be absorbed by these solar panels which also increases system performance. The design also offers the flexibility of modular design which can support single row or nose-to-nose parking.
Charging Electric Vehicles 
Attracting EV users to charge their car's while shopping will soon become a very competitive drawcard for shopping centre owners and operators.
With increasing levels of Electric Vehicle's and demand for charging, solar parking allows shopping centres to harness the expanse of their car park areas to generate clean energy. Many shopping centre car parks could replace petrol stations for many users in years to come with the energy being produced 'on site' with zero emissions.
While shopping, customers can charge their electric cars, and the energy demand is offset by the clean energy produced that gets transported to the main switch board on site thus offsetting grid consumption and energy bills.
Installed systems
To date, Solar Car Parks installation team has installed more than 30,000m2 of solar car shades around Australia such as the: Leichhardt Marketplace 330 kW system in Sydney's Inner West and 4 MW combined system in Castle Plaza and Elizabeth Shopping Centre's in Adelaide.
Contact SCP for a review of your site.