With Stage 4 lockdown restrictions in place across metropolitan Melbourne, people are only allowed to go out and travel up to 5 km for necessary goods and services like supermarket, pharmacy, medical, bottle shop, petrol, post office. GapMaps, a mapping and network planning tool, has launched a free platform for all Victorians to find essential services within 5 km of their address. 
The platform allows people to browse supermarket, pharmacy, hospital, fast food & takeaway, liquor and petrol station within the permitted 5 km radius of their address. The platform is called GapMaps Essentials.
The platform is very easy to use and has limited steps:
Simply enter your address and select a category (or categories) you are looking for
Adjust the distance from 0 to 5 km range. (The default setting is 5 km)
Choose to see the results in a list form or a map form
The data for the platform is gathered from a variety of public sources and open datasets.
Anthony Villanti, MD & Founder of GapMaps, said, "We are offering this platform as a free service to support the Victorian community. All Victorians can use the platform to quickly and easily identify the addresses of all essential services which are located within a 5 km radius of their home or work. We have also provided access to the Victorian Government Department of Health Services for their online support."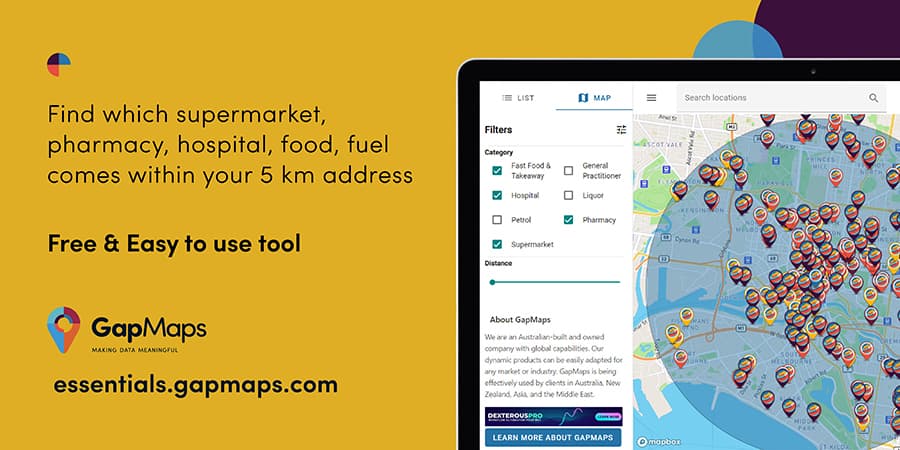 GapMaps is a cloud-based and easy-to-use retail mapping platform. The platform specialises in location intelligence, mapping and data analysis. GapMaps enable retail businesses to build and apply census, industry and digital data to network planning processes.
The platform was conceptualised and built in Australia but can be used globally to establish and refine physical networks locations. Businesses obtain powerful, cost-effective insights about their industry, competitors and customers by using this platform.