Could a retail-led mix provide the perfect next generation use for important light industrial sites, which through gentrification and proximity to the city now find themselves sitting among new communities?
Although the manufacturing industry in the Western world has declined dramatically in the 20th century, in the forward thinking cities around the globe there has been a renaissance during the past decade with some cutting edge urban initiatives evolving in the former industrial heartlands keen to preserve and renew their industrious spirit in bringing change to life.
Cities of Making
Looking at Sydney, an exemplar one can't get past arguably the city's most well-known brunch spot, the social media poster venue, The Grounds of Alexandria. Located in an old pie factory in a former industrial precinct, The Grounds of Alexandria is an innovative indoor-outdoor space combining retail, science, industrialism and organic gardens into a hugely popular, thriving urban sanctuary. Designed as a welcoming hub to bring people together, the vintage, cool aesthetic reflects the area's industrial roots, with beautiful bare brickwork, concrete floors and exposed beams, making it a magnet for Instagram feeds.
Remaining true to the site's heritage of organic industries, the owner calls The Grounds "our little city" because it has everything from multiple eateries, weekend markets, event spaces and florist through to a large sustainable garden complete with a petting zoo. There is also an on-site bakery and patisserie, a coffee roasting research facility as well as a cooking school.
Close by, Eveleigh Railway Workshops precinct in Sydney's Redfern has been already partly converted into a creative arts precinct including both cultural and residential components together with the successful weekly farmers' food market. The next stage will see the area become a world-class technology and innovation hub also featuring retail, sporting facilities and public spaces, in addition to keeping the working blacksmith workshops active.
The industrial will take on new dimensions, as per Mirvac's (developer) website, "from the revival of a valued heritage site, to new economy advances and the latest in artisanal food manufacturing experiences".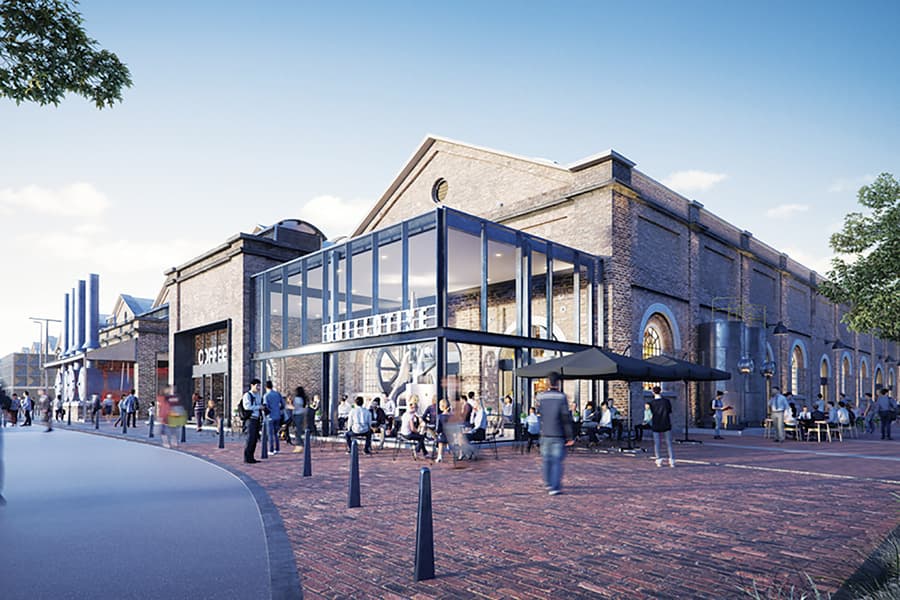 The former locomotive workshops will be transformed into a food market similar to New York's Chelsea Market, home of the former Oreo cookie factory, while still keeping its heritage characteristics. The Grounds of Alexandria will also open a new mega café/restaurant, called The Grounds Roastery, continuing with its successful model from the original Alexandria industrial site. According to the press, there is a talk of a distillery going in as well.
Over to US, reborn from the former NYC shipyard, Brooklyn Navy Yard mixed use development aims to create and integrate retail, commercial, valuable public space and amenities, multi-modal transit options and state-of-the-art vertical manufacturing spaces. The versatile hubs combine small and medium industries with white collar offices, design and art studios, biotech, media and film production, restaurants, coffee roasters, whiskey distillery, grocery stores and bakeries, all topped up by the rooftop gardens with edible greens and the first rooftop winery in the city.
Another former Brooklyn's industrial building complex retrofitted to drive New York's creative economy is Industry City, a part of the city investment toward a Made in NY Campus. This dynamic maker-retail community is already a home to 500+ creative companies with a healthy mix of artists, designers and makers as well as exciting dining and retail options. Apart from shopping, there are also outdoor film screenings, sunset yoga classes, and co-working spaces. Unsurprisingly, millennials make up a majority of the population in this neighbourhood, paving the way for further retail and commercial openings.
Evidently, urban industrial zones such as this one, are becoming attractive places to visit and Industry City has been recently named by Lonely Planet as one of the World's Top 10 Coolest Neighbourhoods.
The Source Hotel + Market Hall occupies a former 1880s brick foundry site in Denver's industrially focused River North District. Opened in 2013, The Source is the city's first modern market hall, boasting a mix of independent retail outlets, restaurants and some of Denver's best food artisans. The most recent addition to the hip complex is the angular, glass-and-steel, eight-storey Source Hotel tower, built to house all those art fans and foodies. Where the original Source has a culinary focus, the intent with the adjoining hotel was to bring in more shopping and experience-centered businesses. The hotel features a street art inspired art gallery, as well as a record store kiosk and listening station as part of its experience-driven retail focus. The Source actually belongs to a bigger, community empowered, RiNo Art District that includes a remarkable concentration of creative businesses, such as galleries, furniture makers, media artists, sculptors and an array of studio spaces. The area also boasts live music venues and numbers of distilleries and microbreweries, giving a formerly blighted industrial zone a new lease on life.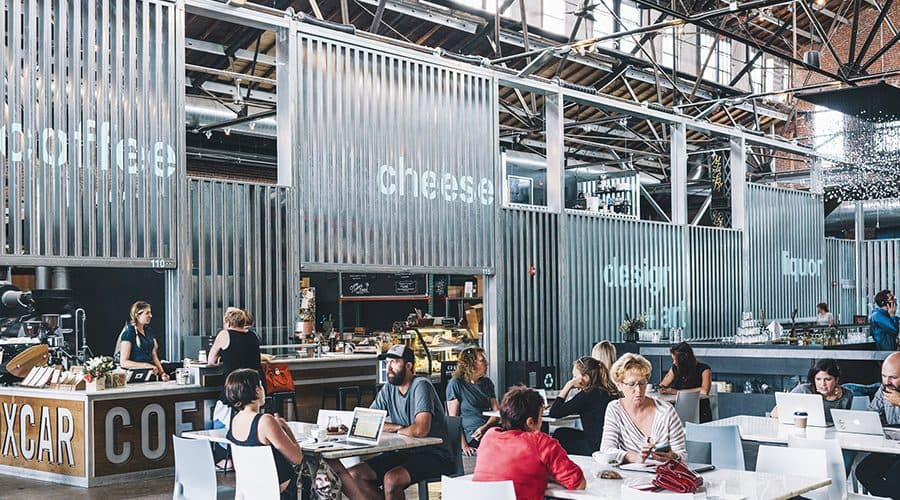 Work Live Play
Land use zoning in the 20th century has largely been used for separate activities, often based on the idea that residential, commercial and manufacturing activities are inherently incompatible. In the new economy, however, this no longer holds true and many cities are starting to approve rezoning to allow the mix of residential and retail uses with light industry. Light Industry is usually defined as production, distribution and repair activities, such as creative spaces for artists and designers, small industrial start-ups, general manufacturing, food production, craft brewing as well as cafés, restaurants and local services and retailers.
This new wave of industry is clean, more flexible and bears no resemblance to the hard worn image heavy manufacturing has inscribed in the collective mind. There is no pollution, no oil on the floor; instead we see space-sharing models and mixed use with retail, residential, commercial and industrial, all coexisting inside the new hubs. The reason, explains Deloittes' report The Future of Manufacturing, lays in the fact that consumer demands, the nature of products and the economics of production and distribution are all changing.
Even the scale and nature of manufacturing has begun to shift from large scale to a small scale distributed system and from mass production to personalisation. Making things is cool again!
Furthermore, boundaries are blurring between makers and sellers and many of the new economy jobs actually thrive on mixed use, diversity and amenity, hence there are far fewer reasons to separate where we live, work, shop and play than there was in the past industrial days.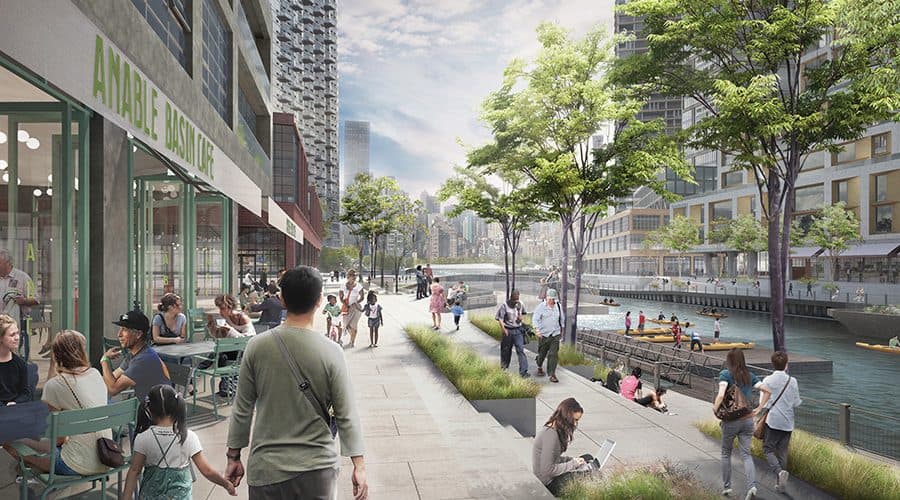 Once an epicentre of heavy manufacturing in New York, Long Island City's booming waterfront is nowadays dotted with late 19th- and early 20th-century industrial buildings that have been transformed into galleries and museums as well as hip restaurants, shops and performance venues.
Long Island City has also emerged as one of the fastest growing centres of New York's economy, especially when it comes to innovation and modern industrial jobs. In a pioneering revitalisation move that shows the changing nature of the workplace and urban development, the area's latest $925 million mixed-use project is a first of its kind work-live-play structure, a new model for urban mixed-use development will combine light industrial and commercial space with apartments, ample retail, a new school, a number of cultural institutions and open public spaces. According to the official press release, one of the primary goals of this project is to support the retail, commercial, technology, artisan and industrial businesses of Long Island City, while also balancing that work environment with housing.
In London, during the past decade or so, many of the small essential industries such as car repairers, small trade suppliers, brewers, bakers and other manufacturers have rapidly been pushed out because their land has become desirable real estate. Caxton Works in London's east seeks to reverse this trend, combining apartments above light industrial spaces designed to attract businesses in need of affordable workshops. Located at a 2-acre industrial site, the project embraces densification while creating an authentic identity that is defined by the synergy of previously conflicting uses. According to the architects, the result is successful and innovative "employment-led mixed-use neighbourhood", based on the idea that new communities should be providing places for people to both live, shop and work in.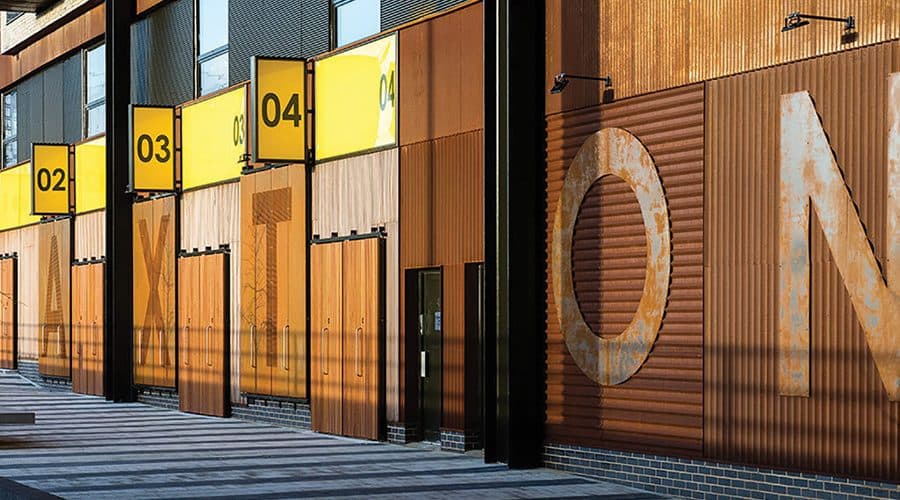 Caxton Works, which won the "Best Built Mixed-Use Scheme" at the 2018 New London Awards for its integration of housing, retail and light industry, adopts a placemaking-driven approach to improve the quality of industrial land.
The attentive design has ensured that the main street, which runs between the high-quality residential buildings, has been reinstated as a market style pedestrian working alley, lined with workshops, commercial units, local retail outlets and eateries creating a vibrant atmosphere for the new community.
Iceland Wharf, a new development also in East London, seeks to provide an exemplar of how to intensify sites in order to deliver sustainable high-density mixed-use developments. Comprised of almost 200 apartments over new light industrial units, retail and workspaces, the mixed-use scheme challenges the density guidelines and, as described by the architects, it seamlessly blends "the former industrial area with the new material approach and facade treatment in the city context, while providing a much more porous way of living" in a dense housing environment. The distinct structures are cleverly linked by shared yards and amenity spaces where makers can build community with each other and the local neighbourhood. The scheme has been praised by the UK Quality Review Panel (QRP), which "…commends the depth of thought applied to creating a genuinely mixed-use development – a little community within a community" – that is entirely appropriate to the character of its locale.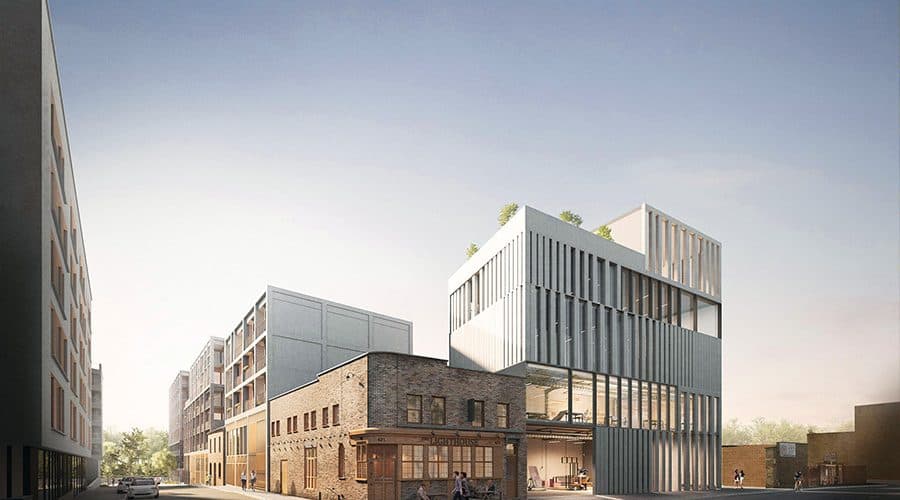 Just like the urban thinker Jane Jacobs wrote in her 1961 book The Death and Life of Great American Cities, it is a good mixture of primary uses that makes great cities work. Living, working and entertaining locally has multiple benefits such as shorter commuting times and a more active and engaged social life. However, while the urban industrial revival seems somewhat nostalgic, this isn't only longing for the manufacturing of yesteryear; this new wave is also actually driving 21st century city jobs and the new innovation economy. In other words, a major opportunity is emerging to redefine the role of industry in the city, making it as vital a part in the urban ecosystem as housing or commerce. The policy makers, citizens and businesses ought to realise that the modern industry interface ultimately creates jobs, contributes to livability and invigorates local communities.