We're in unchartered waters. This is an entirely 'new' situation. It's never happened before. All valid statements – in the 'macro' sense. But in the 'micro' sense, it has previously occurred and lessons are there for the taking.
In 2001, the UK encountered the 'foot and mouth' disease epidemic – an extremely virile airborne disease, which as the COVID-19 pandemic has done to our retail industry – completely ravaged an already fragile agriculture industry. The first case was reported in mid-February, the last in October and, during that period, strict measures were put in place that ultimately resulted in the culling of more than six million cows, sheep and pigs. Coordinated by more than 2,000 British Army troops, these animals were disposed of in mass graves and burning pyres in an attempt to halt the disease. 466,312 of those animals are buried less than 1,500m from our family farm on a disused WW2 airfield at Great Orton in North Cumbria, just south of Scotland. 
An industry which at that time employed almost half a million people, ground to a halt and, as we experienced with COVID-19, strict restrictions on movement were imposed to reduce the rate of infection in an attempt to save farming and tourist businesses and to protect the lives of animals. The epidemic is estimated to have cost the UK AU$16 billion and is one of a succession of crises to strike the British food and farming industries.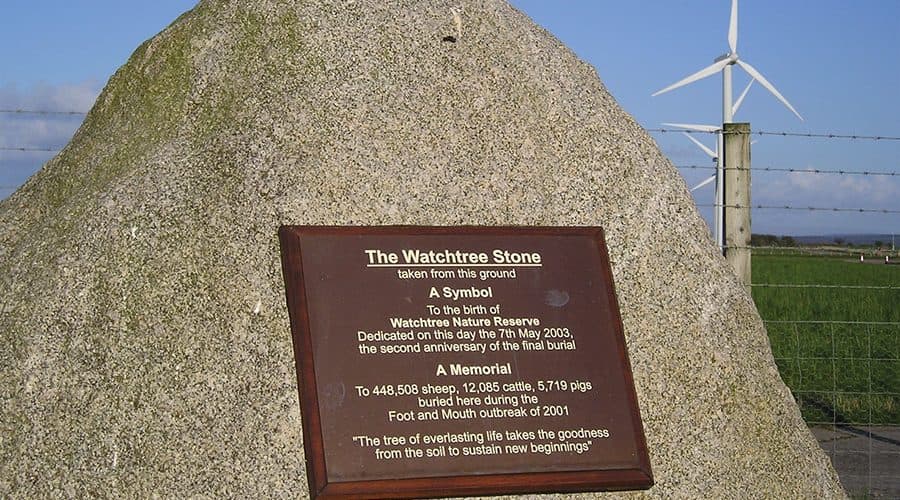 At that time, I was 17 years old, entering the last weeks of high-school and my final exams before going to university, yet the restrictions on movement and living in Cumbria (the worst hit area with more than 3,500 farms affected by the disease) meant that I had to leave the farm for three months and conclude my studies away from my family, while staying with a friend. My parents and eldest brother were in self-isolation and confined to the farm premises for 103 days and, in the absence of online supermarket delivery services at that time, were completely reliant on grocery drop-offs from friends and family in order to get by. 
Sound familiar? 
There are lots of similarities between that situation and the one we currently find ourselves in today – disease, death, restrictions on movement and huge impacts to businesses and the economy – but lessons can certainly be learnt regarding how the agriculture industry took stock, pressed the reset button and came back stronger than ever. 
With their livestock and source of income literally dead and buried coupled with the loss of some of the finest stock resources in the world, many farmers took the opportunity to sell up or retire, others struggled to adapt to the new landscape and were forced out of business. However, many took time out, re-strategised and bounced back with a renewed optimism and outlook as to how they could improve facilities, diversify and invest in technology to increase efficiencies in what was generally perceived at the time as a largely non-progressive industry. 
Those associated with the retail and shopping centre industries find themselves in a very similar situation today whereby faced with a real crisis, retailers and landlords alike must take the opportunity to reassess how they operate, how they utilise assets and be advocates of technology and generally reinvent themselves to ensure they can continue to operate sustainable businesses that deliver what their ever-evolving customer base demands. As the UK farming community did in the early 'noughties', most will step up to the challenge/opportunity and come back stronger than ever, but others will unfortunately struggle to adapt, fail the resilience test, or simply make the decision to 'tap out' and close their doors for good. 
A close friend of mine runs a successful dairy farm in Cumbria and is a fine example of how adopting a diversification model and utilising technology and digital marketing platforms, can result in excellent financial outcomes.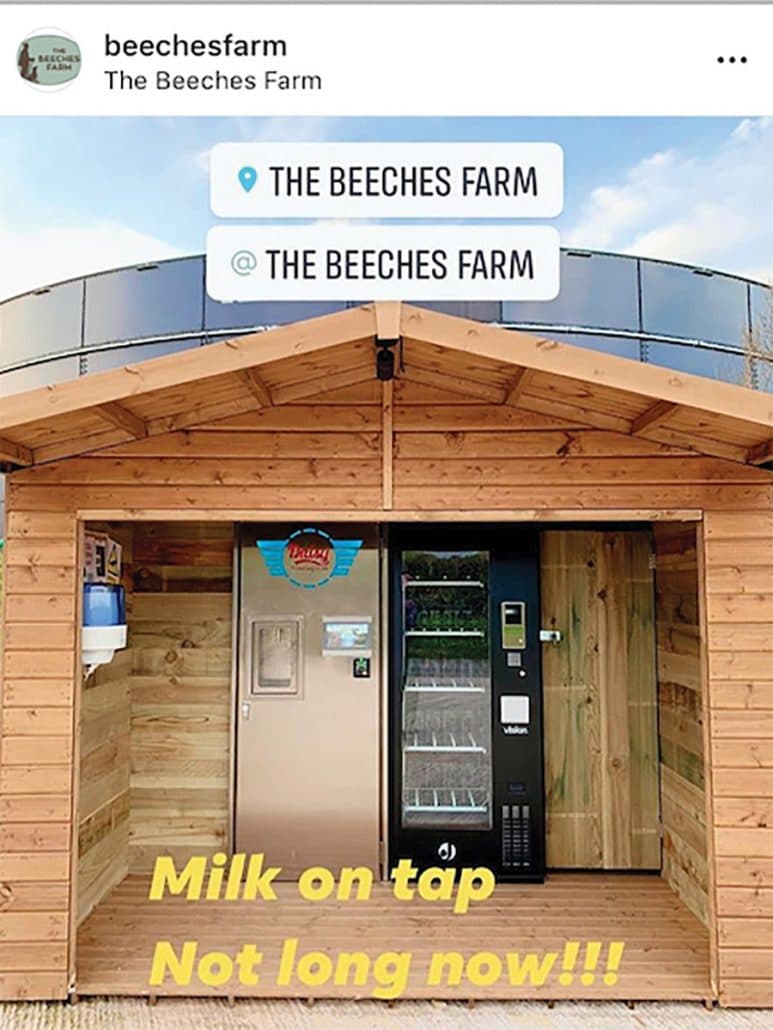 Recently, the business invested in an on-site pasteuriser, enabling the farm to supply chilled, supermarket grade milk directly to customers via a vending machine facility located on the roadside next to the farm premises. Through making this investment and by selling each litre of milk for just one pound, this innovation has allowed the business to realise an upside in revenue by an additional 72 pence per litre, versus what is received from the dairy. Presently 10% of the total milk production is being sold via the vending machine, which will see a ROI within 70 days. Impressive. 
Further additions will include 'access' to farm animals in the field immediately behind the milk station, creating a unique 'customer experience'. This will drive weekend traffic to the site by attracting parents looking to occupy their children and seeking a different type of experience to the usually mundane task of purchasing milk! 
How successful retailers and shopping centres in Australia change the way they deliver products to their customers will be key and the best will make those changes fast.  
We've already seen some impressive results from some of our leading landlords when it comes to launching new online delivery services to customers. In response to social distancing measures, Scentre Group launched its 'Westfield Direct' Click & Collect facility after a huge collaboration by its staff in only a matter of days. Brisbane Airport Corporation brought 'BNE Marketplace' to people's devices with a digital platform allowing customers to enjoy the benefits of terminal shopping from the safety of their own homes, which has reported excellent early sales figures.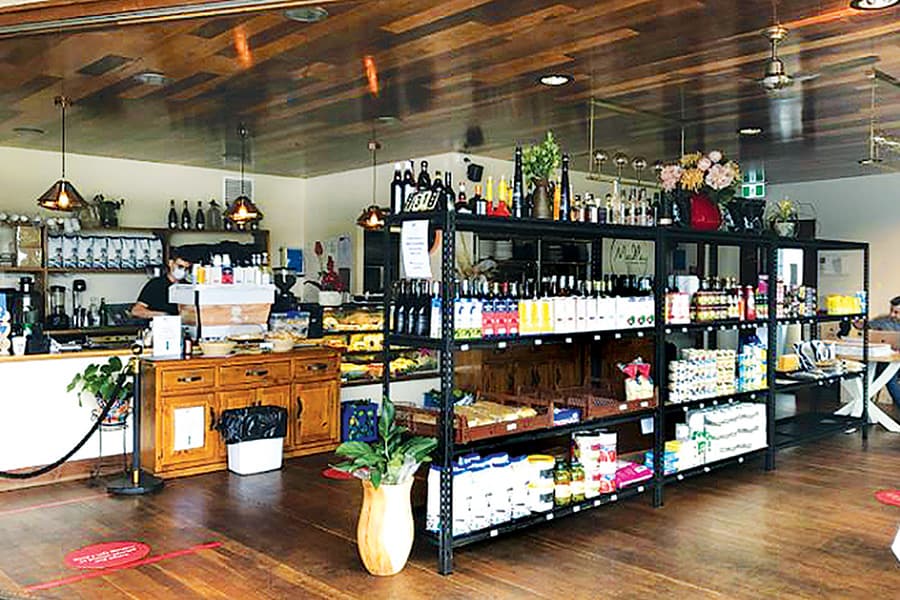 On an individual retailer level, the image, above, crudely sums up how retail can and will get through to the other side of this pandemic and it's initiatives like this that should give the industry confidence that there are retailers out there that will prevail and set the benchmark for success and sustainability in the future.  
This restaurant in Brisbane diversified its service offering away from coffees and dine-in options almost immediately and transformed the same space into a market-style, fresh food and grocery store featuring fruit and veg, breads, pastries and a special menu of both pick-up and delivery options with fresh cold cabinet pasta dishes and other cook-at-home options for customers. 
This has completely transformed the way this business has been operating and taking products to its customer base and there are many similar great examples out there that should instil confidence in the industry that the retail sector will recover from the current downturn and come back stronger than before. 
Just as the UK farming industry did almost 20 years ago, retailers and shopping centres must now accept that the landscape is different, that challenges certainly lay ahead and that unfortunately there will be casualties. However, rather than fearing the unknown and trying to survive by doing what they did yesterday, the reset button must be pushed. Instead of fearing the change, change must be embraced and new ideas and technologies harnessed and shared as we enter a new era of how shopping centre landlords use their assets to bring products and services to their customers.