The food court as we know it – a mass of seats, surrounded by fast food outlets on the perimeter – is very ill, dying or, according to Suzee Brain, dead already! But don't despair; it can be resurrected – although in a different form; perhaps we should have said 'reincarnated'.
A common theme bandied around in these COVID times is how the pandemic expedited change. It expedited telehealth over GP visits, Zoom meetings over interstate travel and getting groceries delivered rather than going to the shops. It got behind 'old ways' that were already declining and pushed them right off the cliff. One of the old ways of doing things that was already in decline pre-COVID was the food court.
Invented in the 1970s, the food court is a 50-year-old concept that was being rejected by Millennials and the iGeneration as they migrated more towards casual dining and quick serve options that provided 'freshly cooked' and potentially healthier options in a curated space.
Compared to a food court, the casual dining concepts provided higher levels of customer experience, often incorporating entertainment, a strong social media profile and generally supported some sort of good cause. They offered liquor, home delivery and an element of customisation as opposed to the pre-prepared and on display bain-maries of a food court.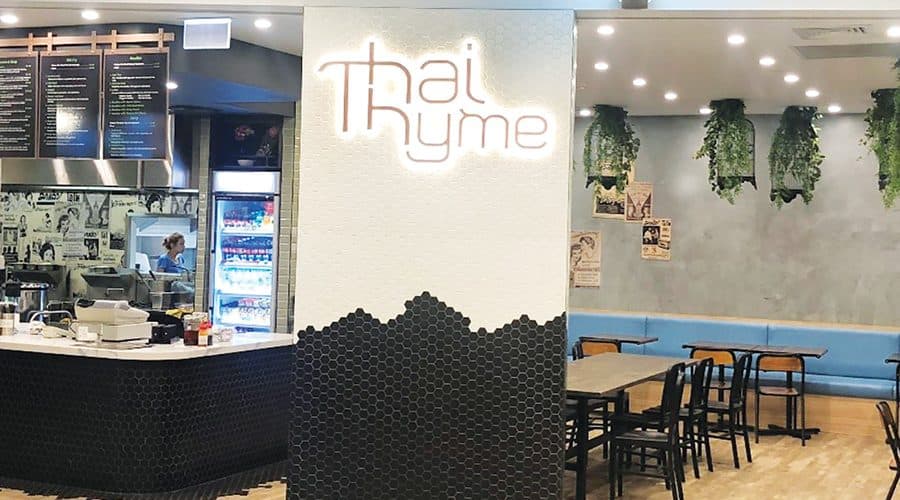 When COVID-19 restrictions were implemented, the food court was one of the first hospitality concepts to be shut down. There's nothing like a food court as a hot bed for transmission of germs – think about those 500 – 700 common seats with about one square metre per person of space, the self-serve cutlery and sauces, the serve yourself buffets, the trays, the busy bathrooms… you get the picture.
And a funny thing happened psychologically too – customers didn't feel 'safe' eating pre-prepared food from a bain-marie. It had the perception of too much human interference. Instead, they preferred food to made out of sight and served to them all wrapped up – 'contactless' in the customer's mind.
So food courts have been dealt a triple whammy by COVID-19 that has expedited their demise… or should we say, metamorphosis. The reason they won't disappear completely is due to the need for quick service. Low price point food hasn't gone away, even if the method for delivering that experience is dead.
For landlords considering where to next, for any food court not reaching previous sales and productivity levels, here are our Top 3 recommendations on how to re-purpose that 1,500m2 – 2,500m2 of space in a shopping centre.
1. Design
There are some imminent changes to food court design that could make customers feel much more at ease in engaging in this type of densely populated, large format space;
Attached seating – Instead of a centralised 'mess hall' seating approach, we suggest attaching a high proportion of the food court seating to the actual tenancies and having the tenant take over the fit out and management of the seating areas. Attached seating is easier to control and clean. B&P did this recently where we took a U-shaped food court and removed every second shop front and made it attached seating to a tenancy and then replaced a large chunk of the common area seating area with kiosks so that the overall tenancy numbers were retained (see below).
Protective dividers – While no one wants to eat in a cone of silence, adding screening/greening between seats does assist in physical distancing while maintaining seating density.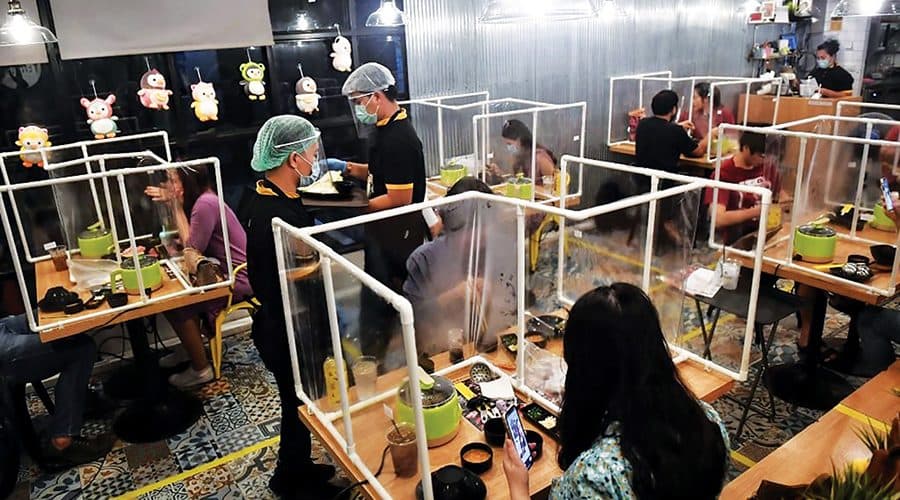 2. Technology
Digital – In order to allay customers' fears of exposure and transmission of COVID-19 it is imperative for all F&B operators to move from cash to contactless payment. It's also beneficial to add contactless ordering and delivery as an option. But rather than letting a third-party provider like 'boppl' or 'me&u' take charge of providing the ordering and payment platform (meaning they also get to take charge of the customer relationship and the data), we would urge landlords to become omni-channel in their management of the centre and provide the tenants with a centre-wide ordering and payment platform. We have some great app providers ready to craft bespoke and white label solutions for centres to help landlords retain the role of generating traffic (even if it's not physical traffic) and, importantly, maintain the direct relationship with customers and the data that they generate to help market the centre and stores more meaningfully.
Automation – It's not just advancements in digital technology that are revolutionising the hospitality industry. With labour being the highest cost of any hospitality business, the advancement in robotics – with machines replacing floor staff and kitchen staff – is a game changer for the food-service sector. Expect to see the use of robotic wait staff explode in the coming years, while machines replace chefs and take centre stage as a theatrical element to the dining experience.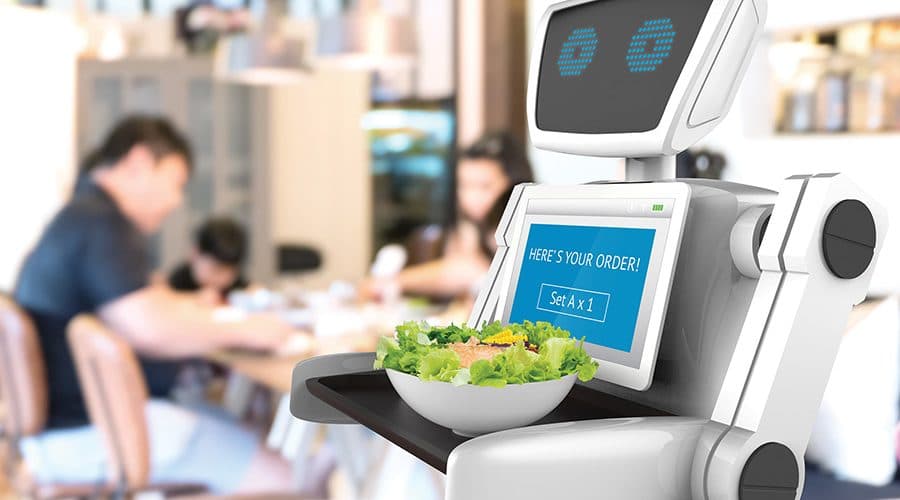 3. Additional income streams
To replace income lost from either a reduction in dine in/food court patrons or the physical distancing restrictions making it impossible to accommodate as many customers as in pre-COVID times, operators need to be encouraged to implement replacement income streams. This can include creating a limited time or bespoke 'online only' restaurant and using the food court kitchen real estate to act as a 'dark kitchen' to produce the menu items. We've had reports of some US restaurants having up to six separate online restaurants operating from the one kitchen. Other ideas include working with local food and beverage suppliers to wholesale their products in 'boxes' on a subscription service, retailing popular components of menu lines such as stocks and sauces, online cooking schools and creating a merchandise line. We recommend operators create several different income streams for their hospitality business to overcome the impact physical distancing is having on dine-in revenues.
Re-invention is key to resilience

Finally, there comes a time when a lick of paint, a change of furniture or the addition of plants will not be enough to save the food court.
We have been working on food court exit strategies for some time now, re-distributing the food catering quantum throughout the centre in different formats allowing for the food court to be re-purposed as a new mini-major. This re-distribution can generate higher food catering engagement than retaining the food court if the food court was in a poor location originally or there is opportunity to extend the F&B trading hours by being in better locations or with more complementary adjacencies.