As part of a Pop Up special feature – this article was first published in Shopping Centre News Vol. 38 No. 5 – Little Guns issue, written by Courtney Ross, General Manager, Commercial, Retail, AMP Capital.
Pop Up retail often comes with the historical stigma of short-term activity spanning anywhere from days to weeks and selling weird and wonderful gadgets such as pots and pans and everything in between…
With the client mix evolving now more than ever before, client needs and the various categories of spaces and locations available, in recent years, Pop Up has a far more interesting story to tell. There is a huge drive from all angles – landlord, retailer, client and customer – to shift the market perception of Pop Up retail and demonstrate the endless possibilities and benefits this strategy can provide to all parties.
Towards the end of 2019, there was a willingness from both large and small brands and retailers to trial Pop Up retail, a category and offering that has been around for quite some time within shopping centres – it was finally starting to evolve again. Throughout recent months, this willingness and direction has remained consistent with a portion of online retailers continuing to look towards Pop Up sites to further develop their brand within the market.
Pop Up retail has traditionally been seen as a short-term option to potentially incubate new retail concepts and products, 2020 has seen us all adapt again with Pop Up proving to be a solid option for brands and retailers looking to respond to the current market and quickly.
Experiential and key moments
In response to the current market, some retailers are also considering how curated experiential programs can complement their current business strategy and support in sales driving activity. Landlords remain focused on offering unique products and experiences to customers, to provide a promising pipeline of brands with conversion potential for future leasing conversations. Pop Up retail remains successful, tried and tested strategy to launch first-to-market events, industry leading events and activations. There is a common goal, to enhance opportunities to surprise and delight customers while in-centre. The event held by Grey Goose with the resort precinct in the summer of 19/20 was a perfect example of this. Dubbed the 'Fountain of Goose', the installation was decorated with bottles of Grey Goose's current limited-edition release (a collaboration with Parisian fashion label Maison LaBiche) and was designed to bring a French-style escape to Pacific Fair customers.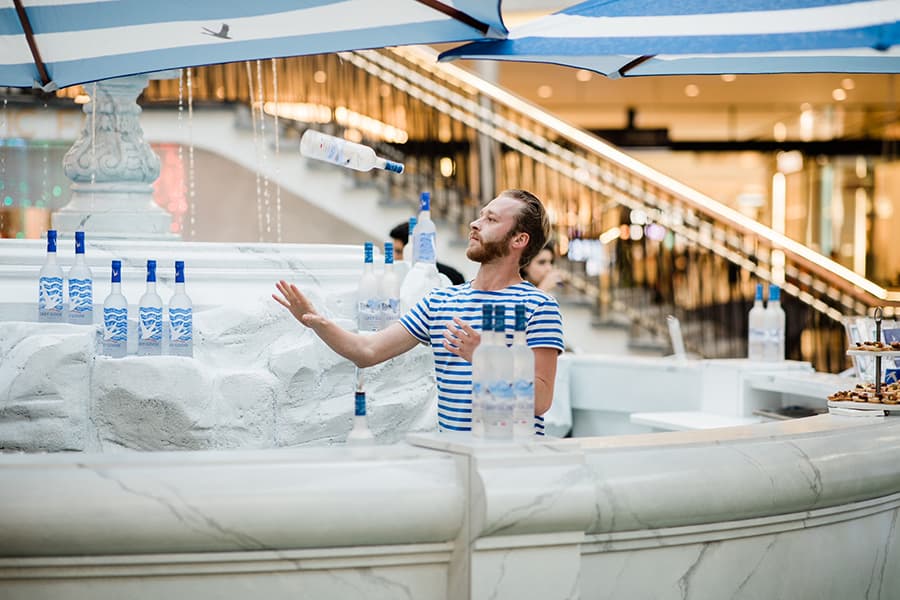 In addition to delivering a curated experiential program that's aligned to a brand's objective, key moments of relevance also exist in our customer's lives. This presents yet another exciting opportunity to deliver experiences to delight our customers across these moments throughout the year. In the world of Pop Up retail, key elements of collaboration, curation and creativity allow these partnerships to work seamlessly between landlords, retailers, brands and our customers.
This year, more so than ever before, Pop Up retail will play a huge part in supporting and adding to the Christmas moment in shopping centres. Not only an opportunity to surprise and delight, but an opportunity to provide something unique, offer a moment of relax and respite or something to make the moment a little easier will be key.
As one of our most valuable client groups, retailers are often looking for ways to amplify their openings, relocations or in-store marketing campaigns. The benefits of Pop Up retail are becoming more evident, with several existing retailers across our portfolio now exploring this option to promote their business and increase brand awareness. Pop Up opportunities are also becoming increasingly common across both large retail brands and sole traders, as the traditional retail landscape has dramatically changed during the past six months. Pop Up stores provide retailers with the desired level of flexibility at key moments, and the opportunity to retain a standalone physical presence in shopping centres or secure additional footprint in key times. Stop by Macquarie Centre this Christmas to visit the Chanel Fragrance & Beauty Boutique or as in previous years, pop into their Pop Up located adjacent to their boutique.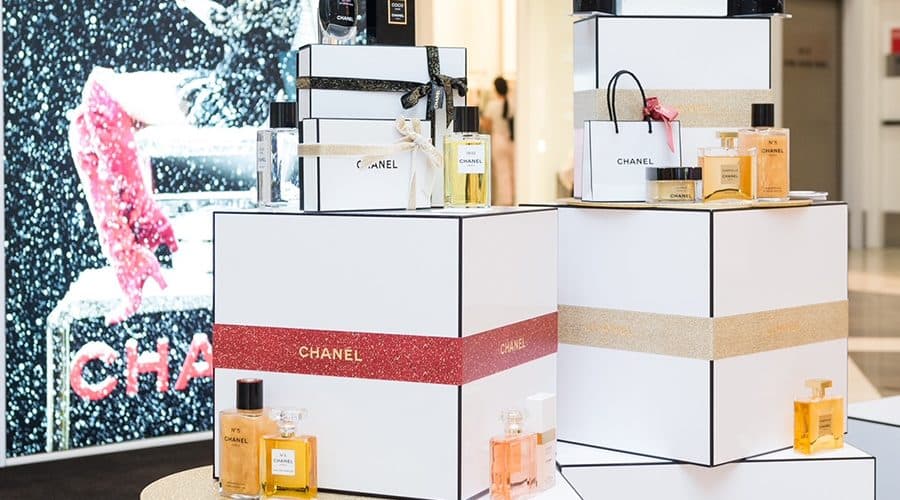 Pop Up stores
While strong relationships externally are needed to deliver these exceptional experiences in all of our shopping centres, there are a number of internal relationships and partnerships teams need to develop and rely on that are vital in supporting and growing this retail strategy. Throughout the AMPCSC managed portfolio, key to this success is support from our Place & Design teams. The collaboration between teams allows for creative product displays within vacant stores, innovative and adaptable solutions for these stores in very short turn-around times, providing the best solution for Pop Up retailers. These benefits attract retailers who are looking for an established Pop Up site as an entry point into the market. Over the years, we have seen a number of successful Pop Up stores utilise the space creatively to drive foot traffic, build a strong customer base and transition over to a stable lease. There are consistent themes across our most successful stores, where we can clearly see elements of creativity across impactful branding and product displays. We often see the best results across Pop Up retailers who push the boundaries, think outside the box and deliver an experience for customers who enter the space.
Cheep Clothing is one of Australia's largest private vintage resellers currently in the market. Cheep Clothing is an exciting and relatively new Australian Pop Up shop brand, known for its eccentric pink theme and merchandising, and operates out of both the WA and QLD markets. The company's strategy is simple and attracts crowds upon launch days right through.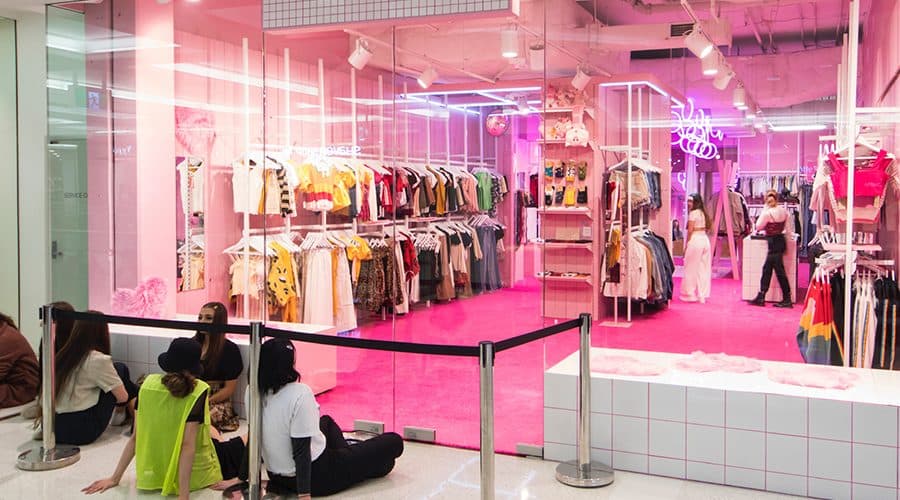 There is now more than ever a growing list of brands and new retailers that are unique, exciting and provide a point of difference to shopping centres ready to experiment and launch into the world of retail via Pop Up stores.
Pop Up Retail, Short Term Leasing, CML – whatever we all choose to call it, offers an agile solution for brands and retailers to consider when launching a business, expanding a product line, testing and trailling a new market or providing an experience within the retail environment. We are anticipating this space will become increasingly popular, with brands and retailers leveraging sites across centres to remain agile and nimble, showcase creativity and innovation, setting themselves apart from competitors in the current market.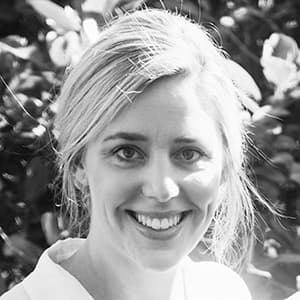 Courtney Ross is responsible for the delivery and execution of commercialisation strategies across all AMP Capital retail assets within the Australia and New Zealand portfolio.
In her current role as General Manager, Ross and her team are focused on connecting brands with audiences, delivering experiences designed to engage the customer across the retail portfolio while understanding the commercialisation expectation of all stakeholders to deliver investment returns for the business. Ross joined AMP Capital in 2016 as a Divisional Manager from Scentre Group where she grew her media and retail sales career from 2011.