Sidone Thomas was the inaugural winner of the Frank Lowy Fellowship Award. Part of her prize was to attend the World Retail Congress in Madrid. She extended the trip and looked at retail in Spain and Portugal and gives her impressions on what makes a unique retail operation.
When people used to speak about their sabbaticals, I always used to think how nice that would be and that it was something other people did, not me. However, after some planning and great support from GPT, I recently took off to Europe for four-and-a-half months. Like any passionate property person, much of my time was spent wandering streets looking at architecture, retailers and watching people!
My first stop was Madrid in Spain, where – as the winner of the Frank Lowy Fellowship Award – I was given the opportunity to attend the World Retail Congress. The conference brings together retailers from across the globe, from established market leaders to a number of start-ups that are transforming retail. With more than 130 speakers, delegates have the opportunity to tailor the three-day event to their interests.
The key theme for this year's conference was 'Innovate to Win', which focused on how retailers need a new approach to taking risks and must shake up their current business models and rediscover how to connect with customers through great product experiences and services.
Some of the key trends identified at the conference included:
1. Online goes beyond just selling: it's a place for customers to research prior to purchasing in-store.
2. People are seeking out services, not just more 'stuff'.
3. Discounters are shifting the discussion on price through value, quality and unique brand promises.
4. Physical spaces are being reimagined to inspire and service customers.
5. Retailers need to take a stand on something through sharing their values or points of view with the customer.
6. Sci-fi is the new reality with augmented reality, virtual reality, chatbots and robots now emerging in retail.
While in Madrid I also had the opportunity to take a retail study tour, seeing and getting to hear from the people that run some of Spain's most successful retailers. The tour included Primark, Mango, El Corte Ingles department store, the Mercado de San Miguel food market and a tour of one of Inditex's (Zara) logistics centres.
It provided the opportunity to see first-hand how Spanish retailers are really innovating by investing in the store experience and focusing on the services offered to their customers.
After the World Retail Conference, I spent several months in Spain before heading across Europe to finish my trip in Scotland. When you have the opportunity to travel extensively, it really does open up your eyes to how global we have become. Identifying the points of difference whereby retailers inspire and excite customers are harder and harder to come by.
Here are my top ten retail concepts I saw on my travels.
Some of them you would have heard a lot about and others are emerging concepts that have found a niche position in the market. What they all do consistently is understand their customer and create a unique and compelling experience that really resonates. Each of these concepts memorable and, for someone who has seen a lot of retail over the years, that is pretty special.
1. El National, Barcelona
Barcelona is a city that enjoys and celebrates food, and has done so for centuries. El National, located on Passeig de Gràcia San offers an innovative concept that creates a culinary experience for diners. It's one restaurant with four different eating areas and four specialised bars, each with its own theme but clearly part of the same family.
There's a meat restaurant, a seafood restaurant, tapas of course and a rice restaurant. The bar areas include a beer and preserves bar, a wine and cured meats bar, an oyster bar and a cocktail bar. It's a multi zone offer where each area presents something different all under the one roof. It's food theatre that oozes style and celebrates fresh produce from the local region.
The décor is brilliant; large windows and metal pillars create a retro theme with pockets of uniqueness. The total area is 2,600m2 and has the capacity for more than 700 people. The space is full of history, initially housing a café-theatre, a fabric dye factory, a car dealer and, more recently, a parking garage. Reinvention and celebrating tradition is a way of life in Spain, which in this case has created an extremely interesting and unique space for locals and tourists alike to gather and dine together.
2. Pangea The Travel Store, Barcelona
Welcome to the largest travel store in the world and unlike any other travel store you have ever seen before. Over two levels, it's really impressive with stunning design and lots of integrated technology.
Pangea is a place for travel enthusiasts to come together and immerse themselves in everything about travel; travel experts who have been there and done that are on hand to help you plan a unique holiday (no package holidays here), a book store, travel gear for sale, a coffee shop and a massive digital screen combine to provide inspiration for your next destination. If you can dream it… they can plan it!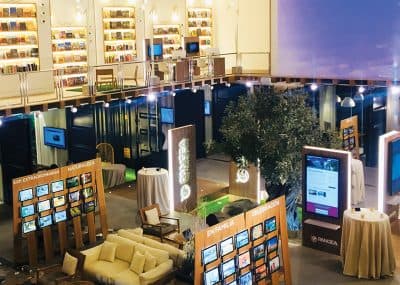 You can use the digital touchscreens to book your own holiday or visit one of the travel consultants that have their own offices built in shipping containers on the ground floor. If you can't afford that overseas experience you can also book some really unique local experiences.
The store is focused on converting people from online travel bookings and providing a place to immerse, educate and explore new destinations.
3. Fantastic World of Portuguese Sardines, Lisbon
When you think about giving someone a gift from your travels, sardines are probably not the first thing that come to mind. Mundo Fantastico Da Sardinha Portuguesa (translated to Fantastic World of Portuguese Sardines) is located in the heart of Lisbon and has taken an iconic export product and not only created a unique gift for tourists but also a really interesting customer experience.
It is just like the sardines you buy at a supermarket but with one difference: incredible branding. It's bright and colourful and you can buy sardines with the year of your birthday or a special occasion with some interesting facts about that year for €7.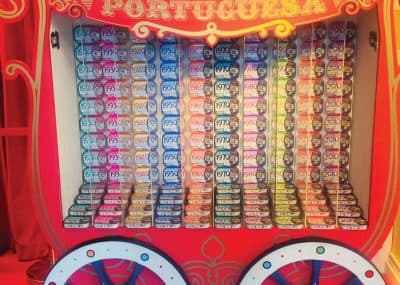 The store design is fun and playful, featuring a carnival theme with staff dressed accordingly, and music playing throughout the store adds to a truly wonderful atmosphere. It's an interesting and unique way to entice people into a store that sells only one product. Sardines have never been so much fun – that's for sure.
4. Mercado de San Miguel, Madrid
If you ever get the opportunity to visit Mercado de San Miguel, it's a food experience that you will remember for a long time. An icon of Madrid, the historic wrought-iron-and-glass building is one of the liveliest culinary spots in the city. It reopened in 2009, after nearly a six-year restoration program – in my opinion, time well spent.
Alongside stalls showcasing fresh produce are tapas bars offering seafood, jamon, desserts and bars. It's busy from morning to night and certainly a mecca for tourists to experience a little taste of Spain.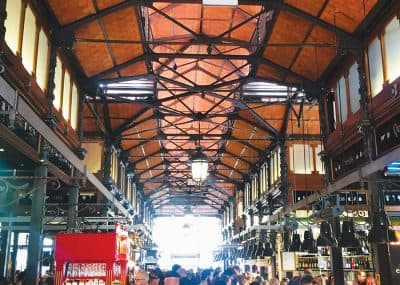 The place is buzzing as people queue for tapas, tasting a bit of this and a bit of that – certainly there's something for everyone and no one is going hungry when you visit Mercanto de San Miguel.
5. Rialto Living, Mallorca
It's known as a 'Lifestyle Emporium', which is the perfect description of Rialto Living. It's easy to wander by this store located in the back streets of the old town of Palma De Mallorca and miss this shining example of an amazing customer experience.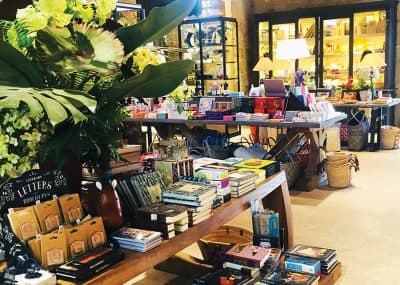 The store is located in an old cinema that has been refurbished, maintaining many of the original details. It's difficult to know where to look first when you enter the store, at the architecture or the visual merchandising.
The product range is extensive and features luxury brands such as Mulberry, Max Mara, along with a large number of exclusive Spanish brands. The store houses fashion, linens, ceramics, lighting, stationery, fresh flowers, gifts, books, an art gallery and a café. On the top floor you can also experience their interior design service, bespoke sofa and mattress manufacturing or a seamstress who can turn your favourite fabrics into everything from curtains to cushions.
Located in the centre of the ground floor in the original courtyard of the building, the café has a distinctive glass atrium and lots of greenery. It makes you feel like you're sitting in your own little oasis and offers a great menu serving Mediterranean dishes using local produce.
6. Ecoalf, Madrid
Ecoalf is the future of sustainable fashion. Its goal is to create the first generation of recycled products with the same quality, design and fabric appeal as the best non-recycled products in the world.
The company opened its first store in Madrid in 2012 and recently opened a second store in Berlin this year, where the store design is entirely sustainable. Fabrics are made from recycled plastic bottles, fishing nets, post-consumer coffee, used tyres, post-industrial cotton and post-industrial wool – pretty impressive.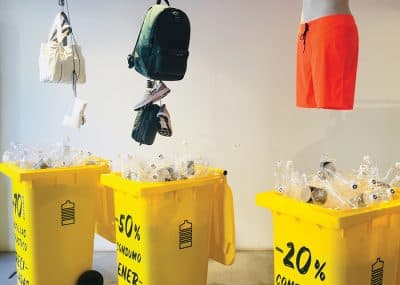 Ecoalf has its own foundation and in 2015 launched the Upcycling the Oceans (UTO) project, which collects garbage from oceans and turns it into a thread of the finest quality to make fabrics and products. The program is now operational in both Spain and Thailand and sees the brands collaborate with fishing trawlers and ports to encourage the recovery of marine garbage, which is then recycled to make their fashion ranges.
The products feel great and are very stylish, definitely not what you would expect from recycled materials. Through innovation, this brand has created an interesting and unique product that is loved by people all over the world.
7. Time Out Market, Lisbon
You may have heard of the Time Out (yes, the magazine) Market in Lisbon, a food hall located in the Mercado da Ribeira, which opened in 2014. From the outside, it doesn't look like much, but step inside and it's buzzing. The atmosphere is electric as people, both tourists and locals, enjoy the local food, wine and listen to the live music.
This is not just any food hall; it features 35 kiosks selling regional specialities including ham, chocolates, custard tarts, sardines and wine. The concept by Time Out celebrates the best of Lisbon (the best steak, the best Portuguese tarts and the best live performances).
The other half of the building is occupied by the original market stalls offering fresh fish, fruit and vegetables and many other local delicacies. Five of the top chefs in Portugal have restaurants here as well, which are located on the outside of the building, offering the finest in traditional Portuguese dishes.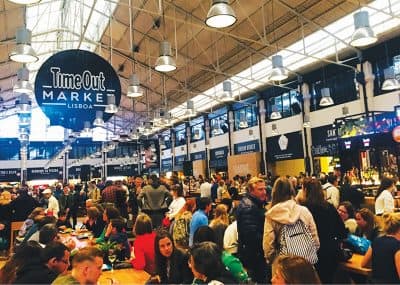 The market has been such a great success for Time Out that it is now looking at replicating it around the world, with New York, London and Miami on the agenda.
8. Primark, Madrid
I've seen plenty of Primark stores throughout my travels, but never one like this. Today, the company has more than 345 stores in 11 countries and the Gran Via store in Madrid is the second largest in the world, stretching more than 12,000m2 over five floors. The concept includes clothing, homewares, cosmetics and technology.
The store is in a building dating back to 1910 (another former cinema) and maintaining its history was critical to the retailer. The new concept opened in 2015 after a four-year redevelopment project and, due to the building's heritage listing, all stock must be loaded through the front doors after hours. That's no mean feat, given it's Madrid's second-busiest street with some 9,000 people walking past per hour.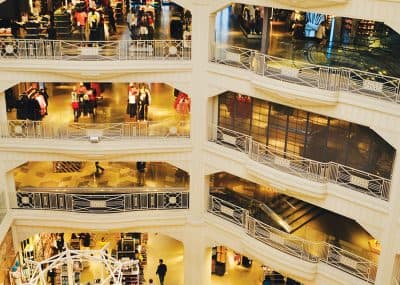 More than 800 people work in the store and each level has its own manager who manages the whole level, allowing it to operate as its own business unit. They empower their teams to make decisions, with up to 60% of all store ordering undertaken by staff on the floor.
With 124 tills and 91 fitting rooms, this store operates like a well-oiled machine. The aisles are wide, the stock immaculately presented and the store one of the cleanest I have ever seen. Free wi-fi is available and ten new seating zones were recently installed with phone charging stations that they say are never empty.
The Madrid store is extremely unique in that it features 12 large digital screens that are all see-through and play a continuous story with music –creating an amazing in-store experience. And a barometer of its popularity: it's the most Instagrammed store in Spain.
With no online store and no loyalty program, Primark believes its success is because it provides reasons for customers to continue to visit. Its fashion changes every day, it creates a great store experience by continuing to invest, it never sacrifices on quality and its customers are provided with the best value every day.
For Primark, the future is bright as it continues to grow sales and evolve the concept, like the introduction of a blow dry bar in Dublin and cafés in a number of locations throughout Europe. Primark certainly understands its customers and is responding rapidly to their ever changing needs.
9. Natura, Barcelona
Natura is a brand that stands by its commitment to society and the environment by offering a range of clothing, books, perfumes, accessories and wellness products that help to create a better world. Its expansion has been rapid during the past several years with stores now located throughout Spain, Portugal and Mexico.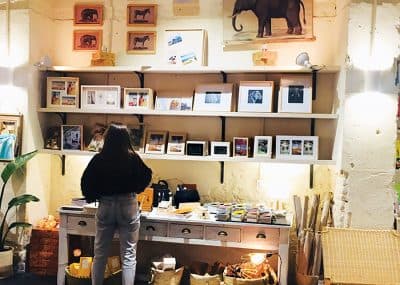 Its brand is focused on reducing the ecological impact on the world and to do this the company sells sustainable products and supports key humanitarian or protection of nature projects. The Natura Prize launched in 1994, has seen the company support more than 70 projects across the world from helping to supply drinking water in Ethiopia to healthcare in Mozambique.
The founders developed Natura to create a fusion of cultures and a journey for the senses for their customers. The store in Barcelona does just that, with dim lighting, big windows, thick curtains and sofas throughout, it feels relaxing and homely, allowing you take your time browsing to find the perfect gift or personal treat.
10. El Corte Ingles, Madrid
El Corte Ingles in Madrid is Europe's biggest department store with 200,000m2 spread over three separate buildings. The store offers everything from luxury fashion to technology, restaurants and even its own supermarket. The company has more than 1,000 retail stores in its portfolio including department stores (94 in Spain and Portugal) along with supermarkets, optometrists, fashion brand Sfera, hardware, travel agents, insurance and a technology company.
I could have spent all day walking around, but was fortunate to have Carlos, the International Customer Department Manager take us on a tour and show us the highlights. With 1.5 million customers per month, El Corte Ingles has a significant customer focus; its five customer promises are to provide the best range, specialisation of products, the best service, the best quality and a money back guarantee.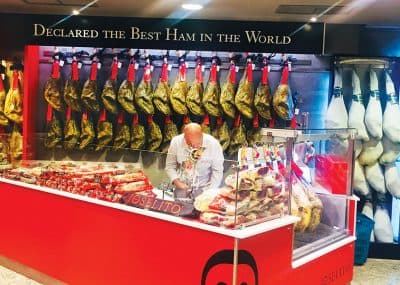 As an aggregator of luxury brands, each retailer has its own store-within-a-store concept – offering everything from international brands like Tiffany to local luxury brands. The store is 100% focused on tourism, with China and South America the most significant regions of growth for the business. To cater to these markets, a range of services have been introduced including personal shopping, hands-free shopping, deliveries anywhere in the world and direct tax refunds within the stores. In addition to the retail offer, the department store offers a dining precinct with a range of eat-in and takeaway options, bars, a gourmet food market and a wine cellar selling everything from a €10 bottle of white wine up to €1,200 for a local drop, catering to locals and tourists alike.
Supermercado is the supermarket concept on the ground floor, offering everyday items for the local consumer, along with some specialist ranges. It prides itself on its fresh food with fruit and vegetables, fish (Madrid is the second largest supplier of fish in the world behind Tokyo) and meat being key focuses for the business. One of its biggest exports to China is jamon, where the price of a leg of jamon can go for €1,500, slightly more expensive than one in this supermarket which was only €737.
It's very obvious that although El Corte Ingles is the only department store in Spain and Portugal, it has continued to reinvest and reinvent itself by focusing on its customer and their ever changing needs.
What is really evident from my travels is that the retailers that are focused on understanding their customers are those that are creating interesting and unique experiences. They are very respectful of the heritage of the buildings they operate in and use this to their advantage to create interesting spaces that connect with their customers. These brands know what they stand for and what they don't and are delivering on this promise to customers in a way that is authentic and meaningful. It is these elements that are allowing these retailers to create a point of difference and stand apart from the rest of the market. SCN