Over 125 years at Chas Clarkson, we've witnessed a lot of changes in the way shopping centres present Christmas. We now design, produce and install Christmas decorations for approximately 60% of Australia's largest shopping destinations and are witness to all of the major trends affecting the sector on a day-to-day basis.
Technology is sometimes described as the 'electricity of the 21st century' and at Chas Clarkson, we feel the current of it running right through the Christmas season. Advancements in technology drawn from the digital age are now seen in the illumination that is integrated into shopping centre displays. These advancements provide a means of interaction with visitors, which in turn impact how in-centre experiences are shared and related to the wider world.
As the digital landscape in centres becomes more pronounced, the need for organic décor to incorporate that form is becoming more apparent at Christmas time. While the digital space is key to producing the message of the retail season, it is essential to combine this seamlessly with organic and immersive 3D spatial design in order to produce a stronger customer experience and clear message.
The goal is to evoke not only a visually stimulating experience, but also an emotionally-centred experience.
As greater pressure is exerted on bricks-and-mortar retail from the likes of e-commerce and the ease of online shopping, the focus on customer experience is at the forefront of shopping centre group strategy. The opportunity to decorate and transform spaces by creating immersive experiences during festive seasons is becoming more critical to business.
Throughout the year and the apparent retail seasons, we now know that there must be unique experiences waiting for customers in-store to encourage visitation. The aim is to create an experience that is awe-inspiring for customers to share with their social networks.
Our mantra is still about making Christmas magical, but also about thinking 'outside the tree'. Times have changed, and digital integration is now more prevalent in retail than ever before. The advent of new technology is pushing Christmas beyond where it has ever dared to fly before.
We find the best outcomes occur when the Christmas experience communicates a precise point-of-difference for the brand or elevates the customer to the next level of immersion – when people literally lose themselves in the moment.
One of the immersive activations that we are currently developing is a combined application of modern technology and organic execution. The resulting experience will be dynamic through technology, yet the technology will still be subtle enough to evoke an emotional response of wonder and amazement from the customer.
We know from experience that Christmas decorations increase dwell time, encourage spending and boost the general emotional connection consumers have to a retail destination. Increasingly, they are also the medium that helps to promote a destination's brand via social media and online.
In terms of pure, traditional Christmas fare, Santa experiences are still essential for shopping centres. But Santa has shifted from being a department store affair (where they were hidden away next to shelves of Christmas decorations), to becoming a main focus in the Centre Court or as an Entertainment and Leisure Precinct activation.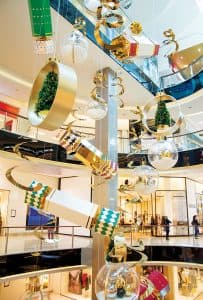 Christmas trees have also now gone to the next level. Customers can now 'message' the tree, walk through the tree, take selfies with the tree, and be in complete awe of the tree and the statement it stands for. Christmas is a traditional time of year and customers crave that bold, organic reminder of this tradition, as well as the opportunity to engage and share it with others through social channels.
For example, the interactive, personal message tree for the City of Sydney was an unprecedented success. And the iconic QVB Swarovski tree continues to wow shoppers and draw crowds from all over Australia with its timeless and elegant design, coming alive through the integration of modern lighting technology.
These days, shopping centres that are focused on modern trends and customer engagement know that social sharing of positively impactful in-centre experiences is priceless PR. Creating moments that can be shared on social media is an essential part of the marketing mix.