As part of a Pop Up special feature – this article was first published in Shopping Centre News Vol. 38 No. 5 – Little Guns issue, written by Nick Gray, Group Sales Manager, and Neil Carrasco, Retail Sales Executive, Scentre Group.
Pop Up retail is no longer just about moving product – it's about brand building, customer acquisition and marketing, and that creates a huge amount of opportunity for category growth. While the transactional relationships facilitated by conventional Pop Up activations may be convenient, they are less likely to inspire, educate, and build loyalty. The short-term, fast-paced, high sales volume benefits of Pop Ups are appealing for businesses selling frequent, low-investment purchases. This emphasis on conversion, however, limits the potential of Pop Ups to play a powerful role for higher involvement purchases, such as cars and homes.
These businesses have traditionally relied on their own showrooms and dealerships as destinations for brand building, product display, customer education and engagement. With the acceleration of digital technology and platforms in recent years, consumers now have more information than ever in the palm of their hands, which means they have less of a need to visit these showrooms in person.
For these organisations, shifting their entire marketing effort online is not realistic for such high involvement purchases. Customers still need to physically experience the product. So, if customers won't come to them, how do business owners bring the showroom to the customer?
Earlier this year, the BrandSpace team worked with Kaplan Homes to launch its first ever Pop Up store in Westfield Parramatta. The idea of bringing the showroom to the customer paid off for this home builder. By having a physical presence in-centre, Kaplan Homes has been able to increase consideration and become a leading expert in the home building space.
What Kaplan Homes did particularly well was to recognise that the design of the Pop Up store was an important consideration. Pop Up design should drive interest but also make people feel safe – a set that allows for non-confrontational, self-led discovery is a good start. Having an expert on set, available to respond to and answer questions, also really helps to establish that emotional connection and find true value for both brands and customers.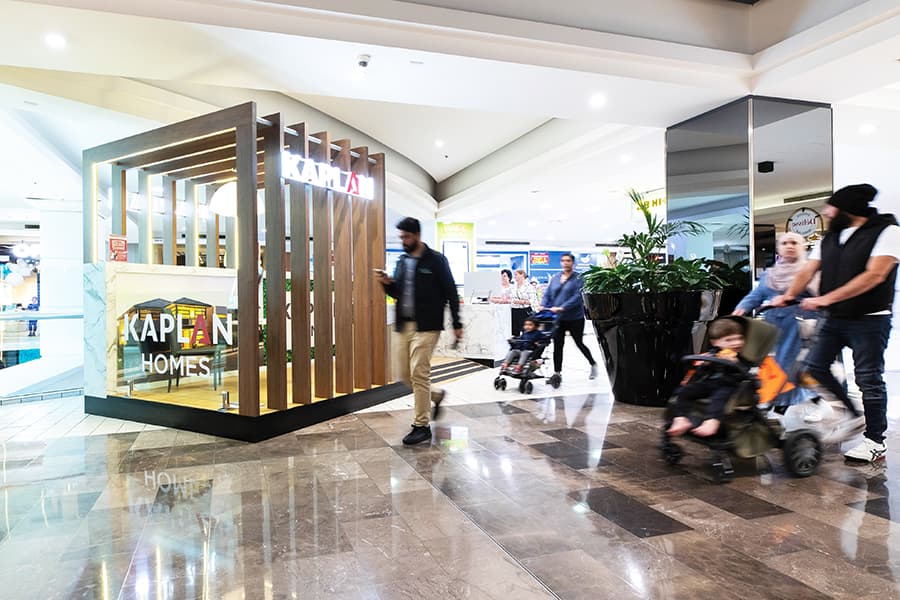 Having the opportunity to commence an in-person customer relationship from the beginning of the client's home building journey – rather than digitally or anonymously – meant that Kaplan was able to establish emotional ties in the process and was considered partners, having held the customer's hand throughout the whole discovery-to-delivery journey.
The way that people build connections and relationships with friends and family is the same way we build relationships with brands. People expect to have an emotional two-way relationship, delivering both tangible and intangible moments of satisfaction. People enlist all of their senses to establish whether or not they feel comfortable and to decide whether they want to be a part of something. They want to be enticed and excited by a moment that impresses them enough that they want to share their experience with friends, family and followers.
This gives the physical environment an advantage over online, as explained by Martin Lindstrom, whose multinational study entitled Broad Sensory Branding claims that physical environments provide the "greatest likelihood of forming emotional connections between consumers and their product". (Source: Journal of Product and Brand Management, Vol.14. Issue 2).
While online plays an important role in the research phase for products like cars and homes, Pop Up retail can also assist at this point in the customer journey. Extending the physical experience into Pop Up enables brands to attract customers who wouldn't necessarily make a trip to a showroom, but may come across the activation in their local shopping centre, and feel inclined to take a look.
Attempting to drive growth through online channels only while completely neglecting the offline strategy, results in a trade-off between engagement and effectiveness for scale and efficiency. Scentre Group believes there is a role for both and we need to have a balance, as brands and businesses realise that both online and offline are essential to each other but there isn't a more manageable, tangible or measurable form of marketing than physical. In other words, forget about where the final purchase takes place – just make sure it does.
Director of Strategic Analytics at Scentre Group, David Lamond and his team have found that there is a correlation between sales occurring online and physical stores.
"Exposure to physical stores leads customers to 'see now and buy later', so the impact of stores extends beyond the immediate sales in the store. In fact, roughly half of online transactions can be attributed to recent exposure to physical stores."
This was something that Kaplan Homes understood. Kaplan wasn't just buying space – the company understood that there was a media value to its set and it could attribute spend in the surrounding area back to the Pop Up catchment or 'halo' around the set.
It's worth remembering that you can't just measure success on the number of people who are ready to purchase. Sell-through is something that usually determines success in the store, however, it's like trying to determine your overall health based on what you ate for breakfast. It's so incomplete.
Kaplan Homes is just one of the many non-traditional retail categories that is benefiting from the physical retail channel, using Pop Ups to proactively engage with potential customers in a place where they habitually visit and feel comfortable. More and more 'showroom-based' brands are discovering that inherent barriers or misconceptions can be removed and/or changed when a customer has an opportunity to view a brand or product unexpectedly in an environment that feels familiar.
Nick Gray is a retail futurist and thought leader who has worked for more than 20 years with innovative brands including Sneakerboy, Nike and adidas. Gray has a rich and diverse set of skills across strategy, omni-channel sales, brand management, marketing and consumer experience.
Neil Carrasco has accumulated almost 30 years' experience working in the real estate and retail industry as a sales professional and as a franchisee. His first-hand experience as an owner/operator/marketer enables Carrasco to provide genuine consultation and guidance to BrandSpace partners.