COVID-19. When it's 'over', what will be the new norm? Will tenancies mixes be different? Will rents be reduced? How long will recovery take? Questions people in our industry are asking could fill this edition! James Turnbull has narrowed it down to three…
When a phenomenon as unprecedented and instantly disruptive as COVID-19 arrives on the scene, the past effectively ceases to be a reliable indicator of the future.  
Government restrictions are playing heavily into both the demand and supply side of the equation and no one truly knows when, and by how much, these will be lifted. 
With access to granular real-time transaction data, a world-class analytics capability and a breadth of industry coverage, Quantium is in a unique position to understand how Australian consumer spending could unfold in the near future. 
1. How much money do consumers have to spend and what will be the impact on retailers? 
What's happening now? 
From a savings perspective, COVID-19 has impacted some Australians negatively, some positively and others by not much at all.   
An analysis of Quantium spending data shows a multi-layered story on the spend side, depending on life stage and affluence. In the low affluence segments, total retail spending is actually up compared with pre-COVID levels, as non-discretionary spending comprises a much larger share of this cohort's wallet. 
High affluence consumers are spending significantly less across the board, by a magnitude of 10 – 15% on the latest data (more than 20% at the peak), with significant reductions in discretionary spending.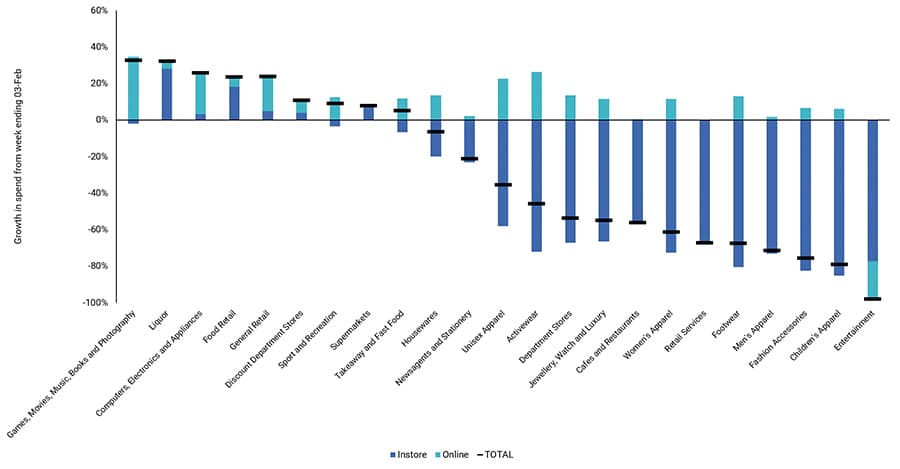 What to look for next… 
Panic buying has potentially left many households with excess grocery supplies to cycle through (or not, if 60 nights of pasta loses its appeal), while pent-up demand in other categories could be released upon the relaxation of social distancing rules. 
Total consumer spending will not recover to pre-virus levels for some time yet and a few months of well below average sales will be difficult to recoup for many retailers. In categories like cafés and restaurants or out of home entertainment, much of the revenue lost to date is likely gone forever, while spending won't just bounce back to normal upon the lifting of social restrictions either.
Yes, consumers starved of social interaction and retail therapy will be inclined to indulge again, but we expect softer economic conditions and lower consumer confidence to be a more powerful influence. 
Australians recreating their rituals at home and taking up new hobbies delivered a huge spike in demand for household goods, office supplies and exercise equipment, although this might just be spend brought forward, possibly at the expense of other categories. 
Retailer collapses have been common over recent years and we expect accelerated retailer attrition throughout the year ahead, even with landlords providing flexible rental terms. However, we're confident that quality retailers, with good balance sheets in affected categories will be able to absorb the impacts of the crisis and, in some cases, even look to expand store networks.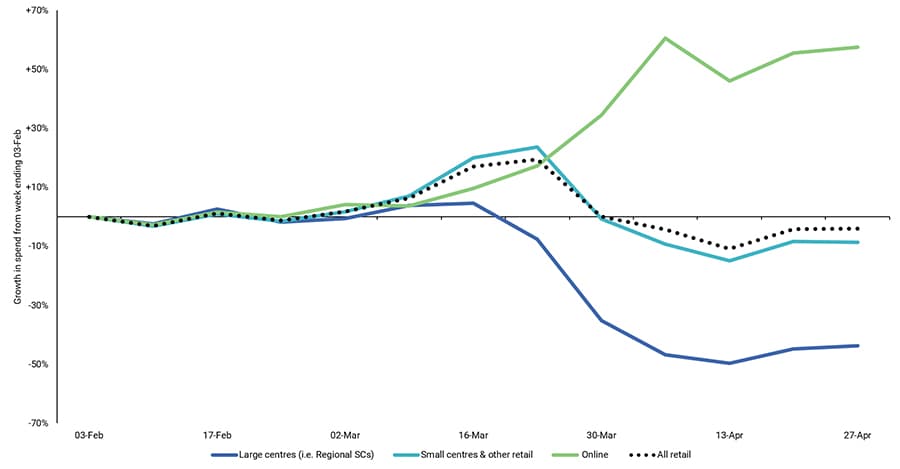 2. Which centres will bounce back and which will struggle?  
What's happening now? 
Large (regional) shopping centres have borne the brunt of social distancing rules given their skew towards discretionary retail, with sales down about 50% at the nadir of the crisis.  
Smaller centres grew initially as locked-down families shopped closer to home, stocking up on staples, pharmaceutical supplies and alcohol (or is this a staple?), however, but by late March stockpiling fatigue meant that sales had dropped to pre-COVID-19 levels. Interestingly, the sub-regional asset class has proven to be resilient during the COVID-19 crisis underpinned by DDS, supermarkets and other non-discretionary retail. 
CBD centres have been particularly hard hit given their exposure to fashion and food catering and the composition of their customer base, (ie. CBD workers, domestic and international tourists, and city-wide day-out shoppers). Indeed, apparel, luxury, services and entertainment sales are close to non-existent in many CBDs; however, in some CBDs with a reasonable local resident population some non-discretionary categories have managed to trade reasonably well. 
What to look out for next… 
As social distancing rules are relaxed, we expect regional locations geared towards domestic tourism may enjoy a boost as families and friends visit loved ones and holiday-makers choose to stay in Australia, driven by a lack of options and a civic duty to support hard hit regional communities (don't forget the bushfires). Suburban shopping centres might also return to some semblance of normal, relatively soon. 
However, it will be tougher for our metropolitan CBDs. While we expect office workers to seep back into our CBDs over the coming months, although not at pre-COVID levels, a recovery in international tourism is a long way off, excepting New Zealanders of course.  
On balance, even a surge in the domestic tourism market has not offset the loss of demand that international tourists drive in some of our bigger CBDs.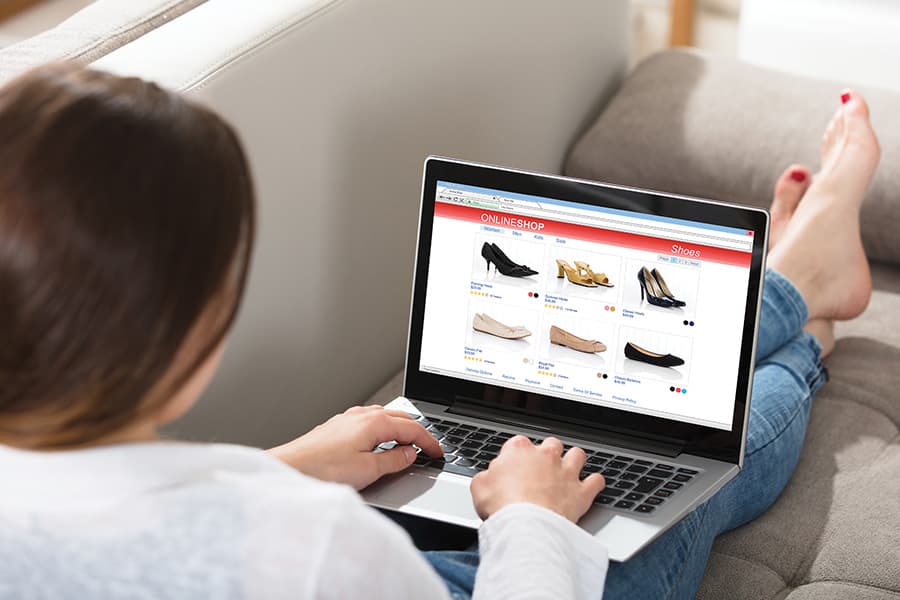 3. Has COVID-19 fast-forwarded online sales? 
What's happening now?  
Online retail sales were up by about 60% in late April compared with pre-COVID levels, a function of supply side constraints but also the improved online capabilities of many retailers. 
Indeed, online sales are significantly up in apparel (90%), DS (+200%) and DDS (+300%), although we are seeing a plateau in apparel and a decline in DS and DDS in recent weeks. Food catering online sales grew less rapidly, as many operators needed time to catch-up their systems and processes to enable greater online ordering.  
In most categories though, significant online growth has not been anywhere near enough to offset the loss of in-store sales.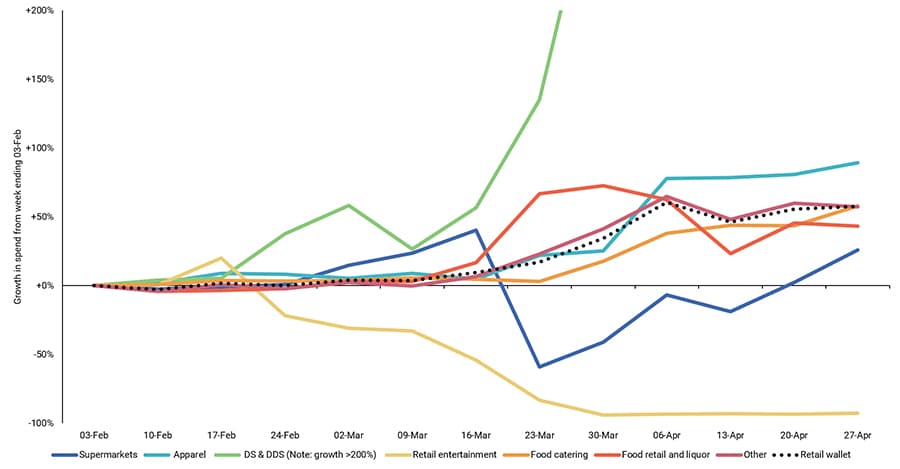 What to look out for next… 
We believe anyone espousing the death of physical retail has got it wrong. Yes, some categories will see a fast-forward in their online trajectory, however it is important to note that 60 – 70% of retail sales in Australia are generated by bricks-and-mortar retailers and these sales are facilitated by the physical store (either by way of inventory or by way of showrooming or both).  
While some pureplay online retailers have thrived during COVID-19, it has really highlighted the importance of being truly omni-channel.  
COVID-19 will play out differently across different retail categories, different centre types and across different geographies. Consequently, its impact will differ for each individual shopping centre.