What's the most popular 'retail asset class' in the current market? A Big Gun? A Little Gun? A department store building in the centre of a city? A row of shops in an inner-city suburb? Wrong. It's a neighbourhood centre anchored by a supermarket. Put a block or two of apartments over it and now you're really talking!
With the demise of Jeans West, Harris Scarfe and Kaufland all pulling out of Australia, and consumers no longer shopping, it appears all gloom and doom for retail. But one retail typology that remains on the rise is the small neighbourhood centre topped with apartments. They generally fly under the retail radar as they are typically built by residential developers, not the big retail players. While not entirely new, these apartments are growing due to the cost of sites and, in a lot of cases, are driven by ALDI, Coles and Woolworths seeking a footprint in various neighbourhoods. The fact they are more flexible now with store sizes and will trade over two levels, even down in basements, has dramatically changed the game. 
A lot of residential developers don't understand retail planning and, often, their development is a reaction to Councils wanting active street fronts at the ground plane. Considering this, developers will plonk a bit of retail around the base of their apartment without realising its true value.  
Developers who understand the important role retail can play in 'place making' and amenity are investing the time and money in careful planning and design long before a sod is turned to ensure they capitalise on all the benefits offered by mixed-use projects. 
Stockland's Cammeray Square in Sydney sold late last year to Fortius, the project was developed back in 2007 and was a forerunner of the retail podium typology. Anchored by a Harris Farm and 15 specialty shops, it also included childcare and medical centres on level one, all centred around an internal landscaped courtyard.  
Down the road at the former site of the Leighton Construction headquarters, the St Leonards Square project has delivered 527 apartments in two towers sitting above a podium with ground floor retail and three storeys of commercial premises including offices and a Virgin Active gym fronting the Pacific Highway. The project is stage one of a precinct masterplan that integrates the ground level retail plaza with the adjacent Friedlander Place public open space that is being refurbished.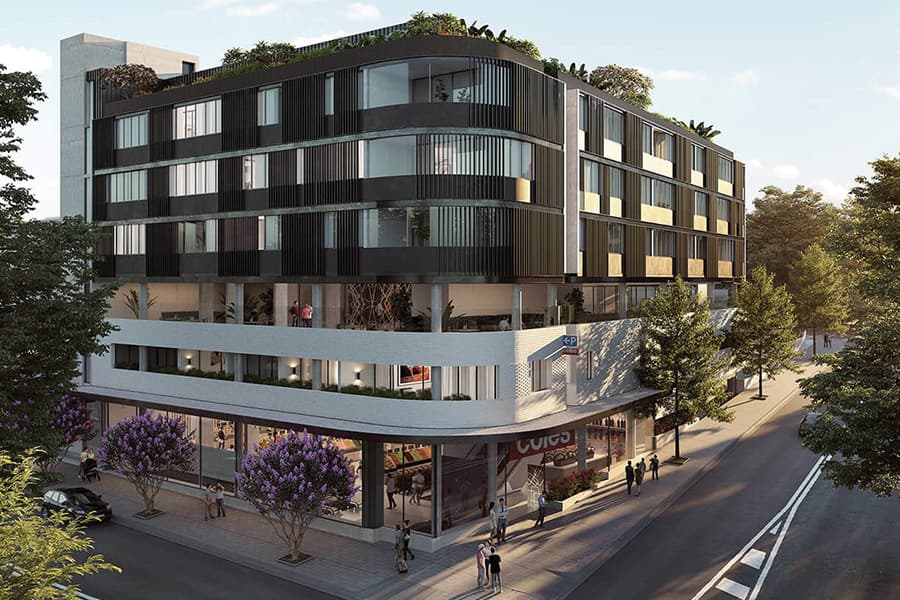 A recent mixed-use development by Payce in Sydney's Crows Nest known as 'The Albany' comprises of 60 apartments set above a public space with a Coles supermarket, Montessori childcare and various restaurants at its base. The development was a 2019 UDIA finalist in excellence in mixed-use, as well as a silver medallist in the Sydney Design Awards. Payce were the original developers behind Sydney's East Village in Zetland and South Village in Kirrawee, both mixed-use developments, with the retail now purchased by Mirvac. 
Another example is the Pottery in Sydney's Kingsgrove, which includes 96 apartments, a 3,000m2 Woolworths in the basement, 980m2 of specialty retail and 150m2 of commercial space, all around a public plaza. The site was originally a disused pottery factory previously zoned for industrial use. 
A fine Victorian example of this genre is the Brighton Bay Street mixed-use development, 380 Degrees, which is a $110 million project comprising a 4,800m2 Coles supermarket topped with four levels of apartments and three levels of basement parking. 
Another in Victoria in Highett is a 130-apartment development above a Woolworths and 17 specialty retail shops. The project won the PCA 2015 Best Mixed-Use Award, UDIA Victorian Excellence and Urban Taskforce Awards. Opposite the Highett train station, the development is an excellent example of infill in a suburban high street context.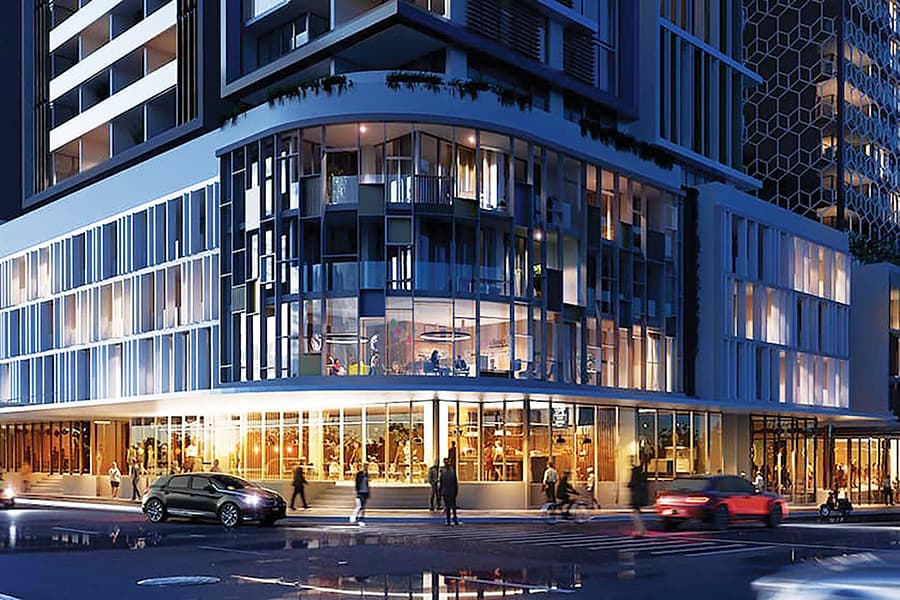 Back in Sydney and still under construction is Granville Place, comprising of a supermarket, specialty shops and restaurants, with an 80 plus space childcare, medical centre and gym located on level one. Above the retail/commercial podium will sit three towers of 617 apartments in total with a podium landscaped rooftop providing an amenity for the residents. The development is also adjacent to Granville train station, an easy 35-minute commute to the city or just four minutes to Parramatta, adding to the revitalisation of this aged town centre. 
Single-stage and stand-alone developments are common and can deliver highly successful mixed-use outcomes. Less common are precinct projects like the recently completed Central Park or Barangaroo. The Park Sydney Erskineville project by Greenland Golden Horse is a five stage 1,400 apartment precinct over 7ha within the Ashmore Precinct on the southern edge of the City of Sydney LGA. In addition to residential, the project will deliver circa 9,000m2 of retail and a 7,400m2 public park featuring high quality hard and soft landscaping and major public art installations.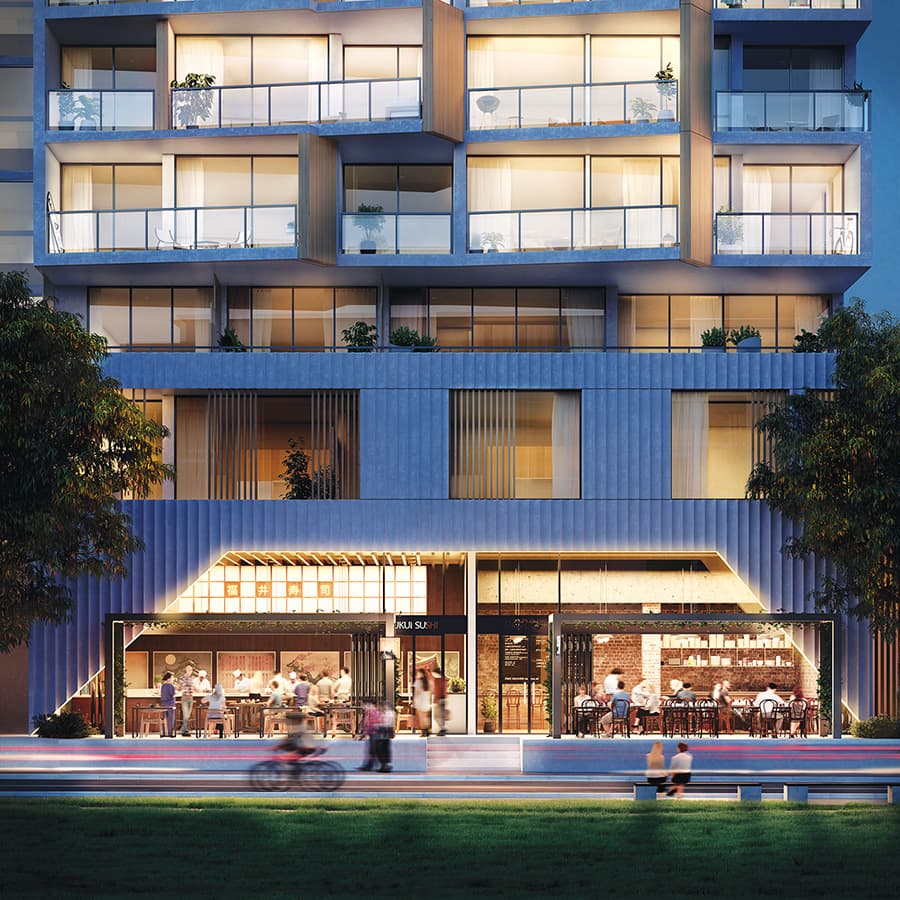 Stage 1 is due for completion in late 2020 and will comprise 330 apartments, 4,500m2 of retail including a Woolworths metro supermarket, childcare, specialty shops and restaurants. The retail centre will be expanded with one of the future stages by a further 4,500m2 that will incorporate a full-line supermarket and specialty shops. The public park will be the centrepiece of the precinct, ensuring that residents, retail customers and the surrounding community all benefit. 
Over in Perth, One Subiaco is a development located on the site of the old Pavilion Markets. It will (once complete) create a vibrant ground floor that breathes life back into the heart of Subiaco by incorporating a mix of alfresco cafés and restaurants, permanent and pop-up market stalls, boutique and artisan retailers and cultural space at the ground plane of 2,570m2. The development is topped with three residential buildings each with their own unique personality housing 250 apartments. The development will also be near the train station.  
Another in Perth, Essence is a mixed-use development with 1,900m2 of retail space at the ground floor and 148 apartments above in the heart of Claremont. The recently completed project has everything the community needs within walking distance, including Claremont Quarter, a golf course, tennis club, swimming pools, parklands and train station.  
Meanwhile in Brisbane, a new development known as Lamington Markets has had a development application lodged with the City Council for two towers comprising 134 dwellings and a hotel, cinema, respite, healthcare and retail at ground level. Also, with an urban farm on level 2, Soho type housing and commercial space in addition to the abovementioned program, the development will become the heart of Lutwyche. The project has been described as "one of the first integrated future thinking developments" by Urban Developer. 
The tighter and more densely populated our cities become means this typology has huge growth potential. 
Furthermore, according to Savills' research, the most popular retail asset class in the market remains supermarket anchored neighbourhood centres.