What a difference! A Big Guns issue without any rankings. Just over one year ago, that was, quite simply, inconceivable. This year, SCN made a decision not to publish any MAT figures; individual companies will publish various reports on their performance but to show them collectively in order to indicate some sort of comparison, would have been erroneous.
How things have changed and how COVID has changed us. But enough of the pandemic. We've more or less dealt with it and it's time to move on. We now live in a different world with COVID's major effect being to accelerate changes that were already in the pipeline. Changes in our industry are dramatic and the drama will increase during the next few years.

This year's Big Guns Lunch will feature a panel discussion with some of our industry leaders; its theme will be along the lines of, 'The Big Guns of 2030 – what will it be like?' The year 2030 is only eight-and-a-half years away; but what's going to happen in that time? For a start, it's highly unlikely that cash will be around in any major form. On that subject, it's also likely that credit cards will be a thing of the past. Will we pay with our wristwatch, our phone, a ring, a piece of jewellery (major jewellers such as Cartier and Bulgari have been working on this for years) or will it just be facial and eye recognition? Already in China, one can walk into certain cafés, order a coffee and a sandwich, a camera records the transaction, recognises you, and the money is transferred. What 'payment systems' will be like for day-to-day retail transactions in eight-and-a-half years from now, will have no resemblance to those of today.
It's London to a brick that 'check-outs' in supermarkets will have long disappeared. But that's not even the beginning. Walking through a supermarket and putting goods into a trolley in eight-and-half-year's-time, is highly questionable. Will you walk through the store and point a camera (in some form) at the baked beans, the washing powder, the chicken fillets and simply walk out to find the whole of your purchases already in the boot of your car?
And what will our tenancy mixes look like? Will F&B, entertainment and leisure constitute 80% of the total GLA? Will DDS stores be converted to day surgery units treating a few hundred patients a day?
Much of the discussion in our industry regarding future trends, centres around technology and omnichannel retailing. Of course, it's important but we must not lose sight of who we are. We are property people first and foremost; we control property.
Yes, we form what may be termed as strategic alliances with retailers; we often call them partners. Yes, of course we need to mould our properties to suit our tenants' requirements, but we're not retailers and cannot consider ourselves as a major influencing factor on the retail industry. Or can we?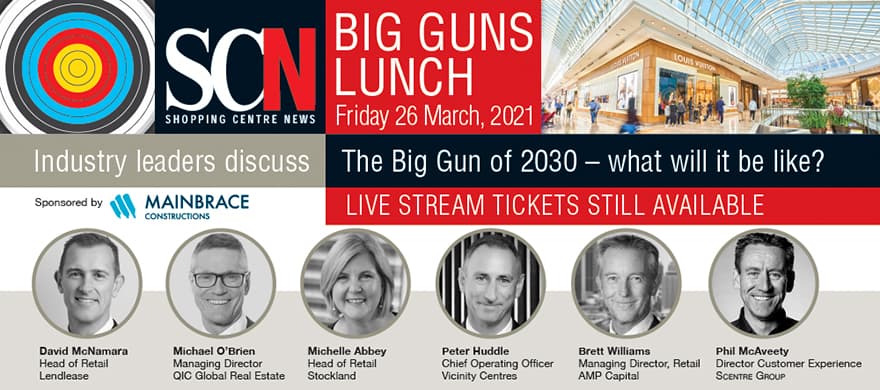 An item leaves a factory and is sold for $1; sometime later a consumer buys it for $2; the gross profit therefore is a dollar. In between those times, a variety of interests handle it and they all look for as high a percentage of the profit dollar they can get. The transporter, the wholesaler, the distributor, the retailer, the retailer's landlord, all want as big a slice as they can get; they may have all the dialogue of the 'politically correct' – the terms such as 'partner', strategic alliance, win-win, 'shared commercial interest' – but the fundamental reality is that they all want as much as they can get. And the tax man wants his share too – and he wants as much as he can get! That's the nature of capitalism; it's competitive and it's ruthless. In some countries, it's a real life and death issue. We're more fortunate; in Australia, it's about who gets the chocolate biscuits or the plain crackers, who drives the car and who gets the bus, or who holidays in a caravan park in Terrigal or at the Ritz resort in Tahiti.
We are property people and we rent to the highest bidder. Traditionally, shopping centres have always been about retail – they (retailers) paid more for top locations than anyone else. But the last two decades have seen massive changes and they'll occur even faster during the next one. Prime locations may well be the province of 'day surgeries' who may well pay twice as much as the traditional DDS. Health Care services could well outbid some fashion outlets for prime space and conference centres could replace department stores!
Those in our industry who've thought that descriptive terms for our product such as 'Community Focal Points', 'Living Centres', or the 'Modern Village Green', were just some clever marketing or 'politically correct' adjective phrases, will learn that their cynicism has left them behind!
Almost without exception, our Big Guns, over the years, have completely morphed into some of the most important and significant pillars of community infrastructure of our time. Our Big Guns have thousands of car parks, public transport interchanges, are connected to buses, trams, even rail systems. They are leisure and entertainment centres as well as retail conglomerations. They are reflections of societies' needs and wants so the questions for us, are not "how will retailers trade in the future?" but "what will the public want in the future?"
Yes, retail will undergo massive change in the next ten years or so, but so will property. We are custodians of property and, in the main, it's public property – owned by pension funds, superannuation managers, private wealth funds and the like; the commonality of those owners is that they are, fundamentally, 'long-term investors'.
Our properties are flexible, supple, adaptable; we've made them that way. They link directly to the community; they are accessible, convenient, familiar and welcoming. All of the above is what traditional retail has demanded. But as we approach 2030, they are not only 'retail' requirements; other commercial interests want them as well.
The 'value' of our properties will always be determined by achievable rental levels. By focusing on omnichannel retail, ecommerce, online sales and digital connections, we might miss the opportunity to attract some other top rent payers who are not remotely connected to retail. For hundreds of years, even millennia, the highest rent payers have been retailers. Times are changing!