We recently spent a day at the tennis as a guest of MasterCard and saw the young Korean, Chung, beat Sandgren. It was a great day, coupled with quite a fascinating presentation (just before the tennis started) on the future in respect of credit cards, payment options and things that interest MasterCard!
How about a watch that doubles as a credit card? OK, so that's already here; but what about other 'consumer wearables' – a ring or another piece of jewellery? Well, it's already designed and about to hit the market within the short term! Could be bracelets, even a necklace. Perhaps we'll see Bulgari, Gucci, Cartier et al all getting into the credit card (or credit ring) business? Actually, the word 'perhaps' is a little too vague – they've already got preliminary designs!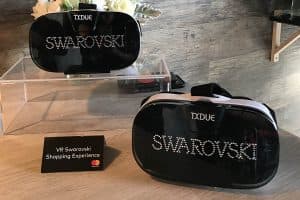 Most there, however, opined that QR codes would be the preferred method of payment: just 'tap' your mobile to the POS and all done. That already happens in China, and service there (in the main cities, of course) is much faster at the small-item takeaway places – cafes, fast food outlets and the like – than it is elsewhere.
Big data was a subject covered, and it looks like it has lessons to teach us. For example, they tracked the purchase of baby foods; only 50% of the purchasers bought nappies! There's got to be something in that.
'Augmented Reality' (AR) was very interesting. You took a photo of your lounge room, looked at a Chesterfield you might be interested in purchasing and 'placed' it in the room! You could move it about, contrast the two-seater against the three, change colours, and so on.
'Biometrics' or 'Digital Identification' got a good mention. When you answer your phone, how you hold it, what you say at first, how you talk, and more to the point, your eye print – scanned as you blink to distinguish it against a photograph – will all be used in the future to identify you, the payer, the user, just to make sure it's really you!
All of this, of course, could be obsolete sooner than we think. Already there is a supermarket that operates without check-outs – manned or unmanned. You walk the aisles, select your purchases and you're charged for them using face-recognition technology. When you've finished, you just walk straight to your car; the 'purchase' is separated from the 'experience'. Read about it in Caillin Howard's piece in the 'Design' section.
There's so much in this issue. The 'CEO Outlook' is required reading, but our articles on Design, Food, Trends and more, are all totally consuming.
And of course, it's Big Guns time – and what a torrent of information that comes out of the numbers! Vicinity's Chadstone has a $2 billion MAT in its sights, and in just a decade from the time we presented the very first SCN Award for a centre with a $1-billion MAT, five out of the Top 10 have now hit the mark with Number 10 knocking on the door of $900 million!
Our Cover Story features Lendlease's Sunshine Plaza, and it demonstrates the range of expertise in our industry that we have in Australia. This redevelopment, as with so many others, is no longer just some extension, but a massive and complex exercise in urban planning. The Sunshine Plaza redevelopment is a significant contributor to the changing face of the Sunshine Coast, to the growth and future of the region as a whole, and more to the point, to the wellbeing of the community itself.
On the subject of 'expertise', our Industry Profile features Colliers International, telling the story of a remarkable transition. The Retail division of the company in Australia has morphed itself from a traditional 'Estate Agents and Valuers' outfit into an extremely sophisticated, fully integrated property services group.
This issue, the feature stories, the stats in the Big Guns tables, the submitted articles, are all testimony to the level of expertise in our industry in this country. It's why, without any doubt whatsoever, in the business of shopping centre development and management, Australia is not just the undisputed world leader, but a long way ahead of its nearest rivals.
It's a great issue with so much in it for everyone. Enjoy reading!