As 2019 draws to an end, Francis Loughran and Ashley Cooke share the newest trends and sustainable concepts in food, hospitality and entertainment in malls and retail centres globally – 2020 is looking very hospitable.
The idea that shopping centres are now viable entertainment destinations, lifestyle centres and modern dining precincts is a realisation that has taken some of the public a while to acclimatise to. The steady shift we have seen within small, medium and large centres are changing the way we perceive shopping centres, as they are now able to adequately deliver your mid-week, post work and weekend lifestyle, entertainment and F&B needs.
Shopping centre managers know that to maximise their centres' revenue potential, they must present an appealing and all-encompassing retail mix to all members of their communities – singles, couples, children, adults and families.
The vision of creating dedicated clusters such as rooftop dining and food precincts, entertainment and cinema zones, health and fitness hubs including gyms, health food stores and juice bars, has allowed a disassociation from the traditional purposes of the shopping centre and the valuable creation of destinational precincts aligned to user preferences and need states.
While some demographics such as young children and young adults have historically been well catered for with the traditional entertainment anchors such as bowling alleys, laser hunt, cinemas and play centres, the new interpretations of these provides a whole new look into the standard and quality of amenity provided within these modern centres.
New entertainment hubs such as Archie Brothers' 'Cirque Electriq' in Melbourne, Sydney, Brisbane and Auckland provide a more refined and encompassing entertainment destination with ten-pin bowling, arcade games, virtual reality, XD Theatres and dodgem cars plus the addition of a full-service cocktail bar, gourmet kitchen and function spaces to cover a much wider demographic range. Creating an all ages concept that is as appealing to corporate work events as it is to children's parties ensures wide market appeal and relevance to the many user groups within the centre.
The industry shift is also seeing new-to-market concepts taking up residence within modern malls such as interactive and immersive experiences including art exhibitions, virtual golf courses and adventure sports centres as seen in Starfield Goyang and Hanam, South Korea.
Where it was once enough to just provide convenience, general and specialty retail across a centre, there is now a substantial shift towards non-retail entertainment and, in some centres, it makes up a significant portion of the centre's floor area, giving the centre more relevance within the competitive landscape.
Dining and entertainment precincts now seamlessly interface with each other and in doing so provide a new range of reasons to visit and stay longer. 
Food and hospitality as part of the customer experience goes hand-in-hand with modern entertainment options and across the industry, we are seeing continual increases in allocated GLA to these two uses.  
The importance placed on activation of the evening economy across centres has seen a greater connection with licensed venues to deliver not only adult friendly but also family friendly entertainment and dining options. With greater emphasis placed on more food and beverage across most major shopping centres we have seen a relatable increase in affiliated licensed entertainment offerings. First it was Gold Class and LUX cinemas, then Strike and King Pin bowling, Holey Moley mini golf and now arcades like B.Lucky & Sons and Archie Brothers providing fun and entertainment for all customers.
Customers are seeking memorable, remarkable and unique customer experiences that provide a combination of fun, entertainment, food and drinks.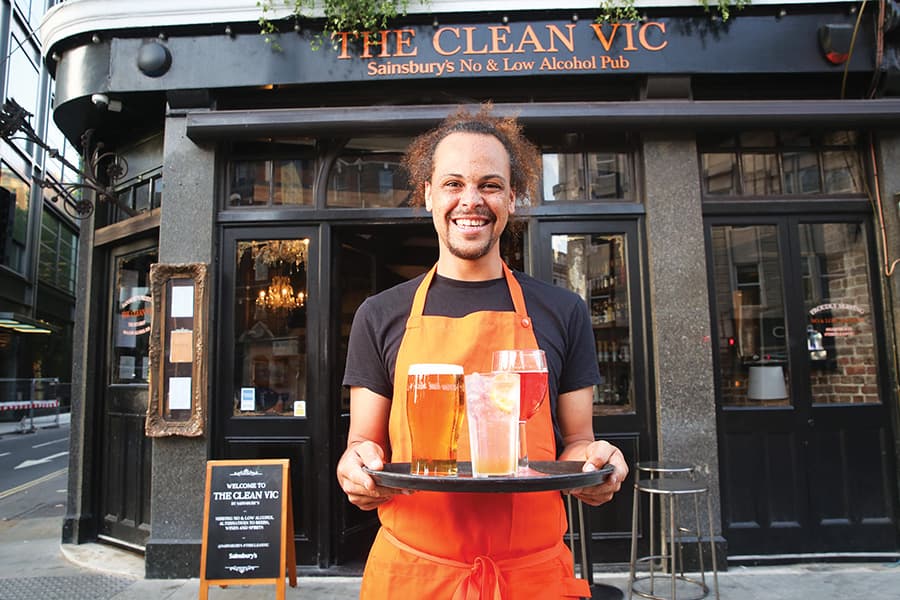 For those that prefer the no or low alcohol lifestyle, we see the launch of 'alcohol free bars' such as at Sainsbury's in London, which is activating a pop-up pub called 'The Clean Vic', which has been created to cater to the ever growing community who are in search of non-alcoholic or low alcohol options.
"Those who want to hold off on alcoholic beverages don't need to miss out on the experience of enjoying a beer with friends or even a mocktail made with a delicious non-alcoholic distillate," said Anne Cooper, Buyer at Sainsbury's.
The modern emergence of Food Halls and Food Markets is continuing to resonate with experience seekers and with origins firmly stamped across North America and Europe, these food and dining destinations are gaining greater traction and interest here in the local market.
GPT's Melbourne Central has recently launched ELLA as the latest example of the modern food hall emergence, which has curated its F&B offering to meet a diverse CBD demographic while simultaneously fashioning a point of difference for the centre.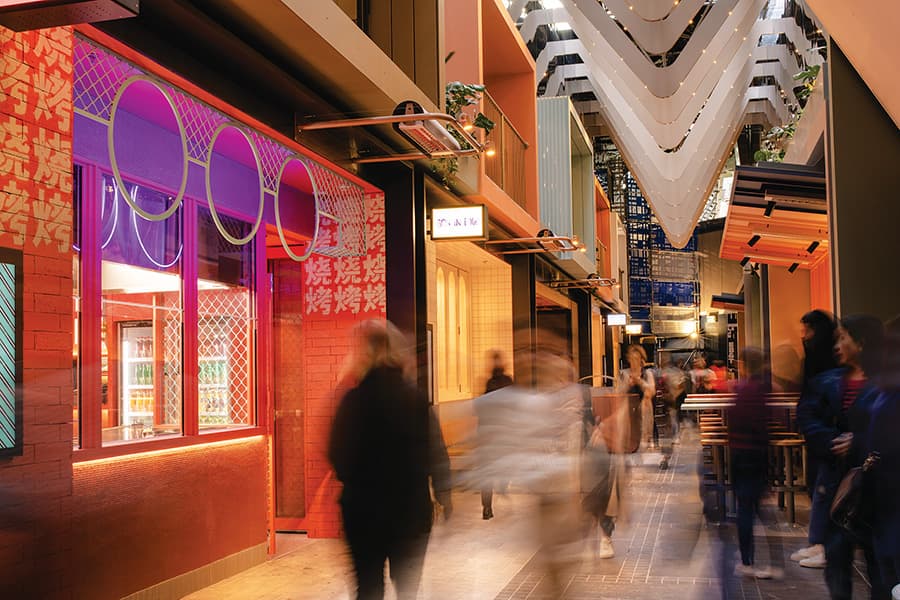 Unique experiences, unique spaces and unique flavours are what is driving the modern food scene, with authenticity and relevance sought over price and convenience.
The global push towards bespoke and artisan produced goods has seen a shift in consumer preferences and, in turn, an evolution in retail trends across the world. On a more localised level, we have seen the strength of the 'craft beer' market gaining a foothold, not only in alcohol retail sales but in the full-service food and hospitality dining and entertainment sector.
With craft breweries opening in suburban, industrial, regional and metropolitan areas, we have also seen them move into shopping centres, airports and mixed-use developments and their successful integration into existing established F&B mixes.
Brew pubs like Whitfords Brewing Co at Westfield Whitford City, Perth, and Urban Alley Brewery at District Docklands, Melbourne, offer the full craft brewery and pub experience, focused on handcrafted beer and food in a modern family friendly setting.
Future Centres like Caddens Corner in Penrith City, and Melbourne's iconic Pentridge Precinct, are both factoring in the inclusion of a craft brewery within their curated F&B mix. Other venues such as Tapworks at Westfield Chermside and Coomera in Brisbane, and The Suburban at Eastland in Ringwood, are alternative examples of where artisanal beer, wine and food take centre stage and become the face of modern dining and entertainment within a shopping centre backdrop.
For craft brewers like Josh Uljans from Moon Dog Brewery in Preston the brewery experience is "absolutely crucial" as customers want a connection to the story and to put the origins of the product into context.
Bringing together people, produce and provenance completes the circle and meets the modern-day consumer expectation, delivering credible experiences, comparable to those available on the 'high streets' and CBDs across Australia.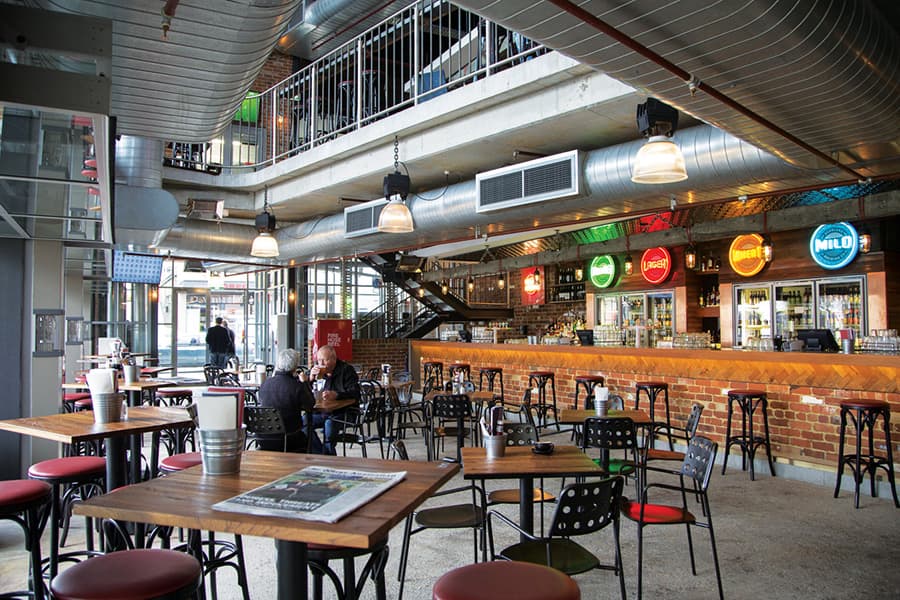 As customer demands continue to increase in search of the next big thing and truly unique experiences, shopping centres across the country, large and small will need to continue to enhance their entertainment and food and beverage retail offer to remain competitive and exciting.
Food and entertainment remain the social glue that brings the community and families together. Modern shopping centres that provide a diverse range of destinational appeal will be the centres that will continue to excite and attract people in the future. 
What is your point of difference? How does it meet the future demands and expectations of its customers? What are its strategies to remain relevant in the ever-changing competitive hospitality landscape?
A successful centre is one that meets the needs of the community by understanding who their customer is and what it is they want.