The Government, Retail Associations and the SCCA, have all tried to reduce the stress being felt by stakeholders in the Shopping Centre industry. Certain retailers have suffered; others have done well, but there is no 'one size fits all' when it comes to assessing the effectiveness of Small and Medium Enterprises (SMEs) in the retail business. In this article, SCCA's Head of Research, Simon Hemphill, provides a thorough overview on how the Rental Assistance programme is working.
In late March this year, as part of the COVID-19 response, the Prime Minister announced a strategy for the economy to go into hibernation. The idea was that certain businesses would need to go into hibernation, close their doors, and be able to come back and grow on the other side of the pandemic. 
This 'hibernation strategy' came shortly after the announcement of restrictions in mid-March, including 'indoor gathering' restrictions. Of note, these restrictions did not apply to shopping centres as, along with other activities such as pharmacies, supermarkets and public transport, our industry was deemed as being an essential activity. 
However, the restriction had a heavy impact on retailers such as cafés and restaurants. As part of the hibernation strategy, and an edict that landlords must 'share the pain' of the pandemic, the Prime Minister announced a mandatory Code of Conduct for commercial tenancies, including retail tenancies, which provided a framework and provisions for shopping centre owners and retailers to negotiate temporary leasing arrangements. The Code specifically applied to Small and Medium Enterprises (SME) – in other words it is an 'SME Code' – with an annual turnover of up to $50 million.
Another key principle of the Code was that the SME tenants had to have suffered a reduction in turnover in order to qualify for rental assistance under the Code, including via eligibility under the JobKeeper program.
The SCCA worked with Australia's other key national retail groups to produce a set of retail leasing principles and proposed a national Code of Conduct to guide and assist both SME retailers and owners during the period of economic turmoil.
With groups such as the National Retail Association (NRA) and Pharmacy Guild of Australia (PGA) we announced a shared commitment to ensure business continuity.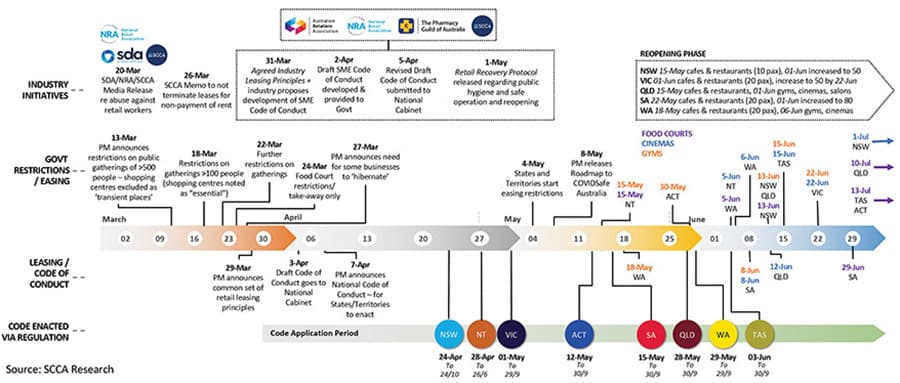 At the time, NRA CEO, Dominique Lamb, said: "We sat down immediately after the Prime Minister's announcement to come together in good faith and continue our ongoing discussions to ensure landlords and tenants are working together."
Shopping centre owners and their retail partners have a mutual interest in business continuity (in spite of what you might read by certain commentators) and it was a positive to have a unanimous and timely approach to tackle the pressing challenges to be confronted in the retail environment in a way that is fair and balanced for all concerned.
The idea of the industry's proposed Code of Conduct was based on existing successful industry Codes, where our industry has time and time again proven to work collaboratively and effectively, including the Casual Mall Licensing Code (authorised by the ACCC) and the Sales Reporting Code. Both Codes have oversight administration committees that are currently independently chaired by Mark Brennan, a former Victorian Small Business Commissioner and also Australia's first Small Business Commissioner.
Following an unparalleled level of expedited collaboration, the draft Code of Conduct prepared by our industry was submitted to the National Cabinet on 3 April 2020. The finalised Commercial Tenancy Code of Conduct (the Code) was announced by the Prime Minister on 7 April 2020, which included some government changes. It was then down to each jurisdiction to enact their own version of the Code at the state or territory level (see Timeline below). 
From here, states and territories had to legislate the Code, which took about a month in total, with NSW being the first to regulate the Code in late April through to WA in late May. The Code's application period is generally across the April to September period. The SCCA has monitored the implementation of the Code, including to ensure it is effective and as a basis for ongoing engagement with policy-makers and regulators.
So, is the Code working for our industry and the SME retailers? Are all parties reaching practical solutions to address the recent challenging economic circumstances?
To answer these questions, the SCCA has been regularly surveying its members on the rental assistance provided to SME retailers under the Code throughout this period. The data for this piece of research covers offers, in-principle agreements or agreements reached in relation to short-term rental assistance under the Code across a nine-week period, from 30 March to 31 May 2020. To date, we have publicly released two sets of data but for the purposes of this article, I will look at the dataset as a whole.
The data and analysis focuses on our members' obligations under the Code to make an offer of rental assistance to an SME retailer, which then progresses to an in-principle agreement (ie. terms are agreed) and then an agreement in the form of a legally-binding amended lease.
Key findings
• SCCA members have offered or reached agreement on rental assistance for 6,473 SME retail stores, which is 45% of SMEs that have requested assistance. 
• 80% of all SMEs have requested assistance, highlighting 20% have traded well. SME retailers in shopping centres represent 63% of total stores.
• The top three retail categories being offered rental assistance are: (1) Cafés / food catering / take-away (26% of total), (2) Retail services (eg. hair-dressing, key-cutting, shoe-repair) (21%) and (3) Clothing, footwear and accessories (14%).
• The top two retail categories being assisted were those affected from Government gathering / trading restrictions, covering almost 50% of all offers and agreements, noting that restrictions have now started to ease and that recent ABS Retail Data for May indicates the largest ever rise in Retail Trade.
Analysis of key findings
Given that 80% of SMEs have requested rental assistance, it would appear to indicate that some SMEs have traded well during the period.
Feedback from our members highlights that some SMEs are not providing the required documentation under the Code to support requests for assistance. And further, some SMEs are requesting assistance despite having no reduction in turnover.
A total 6,473 (45%) offers/ in-principle agreements / agreements have been provided to SME retail premises on a case-by-case basis during the analysis period. This amounts to approximately 151 agreements being reached per day, noting each requires formal lease / legal documentation to be completed consistent with the Code.
Disappointingly, some SMEs (including franchisors acting on behalf of franchisees) want assistance well beyond what is entitled under the Code and are hence not coming to an agreement.
The top two categories: Cafés / food catering / takeaway and Retail services (eg. hairdressing, key-cutting) account for almost half of agreements reached (47%). Trading for these two categories were highly impacted throughout the analysis period by government directed closures and restrictions.
ABS Retail Turnover data for May 2020 indicates the single largest monthly rise in seasonally adjusted Retail Trade on record, increasing by 16.9% on a month-on-month basis and by an equally impressive 5.8% year-on-year.
New South Wales and Victoria accounted for two-thirds of rental assistance – noting these are larger markets and the Code was enacted earlier relative to other jurisdictions.
SCCA member centres
Shopping centres have remained open throughout the COVID-19 period, as they were classified by government as 'public transient places' and 'essential activities' and were exempt from specific government gathering and trading restrictions.
Care needs to be taken interpreting the results of this research, noting that (for instance) there are higher numbers of retailers in some categories (eg. clothing versus pharmacy), and higher numbers of retailers in some jurisdictions than others (eg. NSW versus Tasmania). 
SCCA member centres / portfolios have the following differing characteristics:
• Located across all jurisdictions, and include metropolitan, regional and rural areas.
• Comprise small neighbourhood centres through to CBD and large 'regional' centres.
• Have a mixture of discretionary / non-discretionary retailers, including 'essential services' retailers such as supermarkets, pharmacies that have not been impacted by government trading restrictions.
• Comprise different trade catchment characteristics (e.g. low to high median household income).
Conclusion
Rental relief is getting through to those who need it most and the Code is working for its purpose announced by the Prime Minister.  
We are currently in the process of collating the data to include negotiations that took place during the month of June and will continue to update our research in due course.