As coronavirus fears boosted grocery sales and the stockpiling of essentials, many local shopping centres experienced an unprecedented increase in foot traffic. Ben Walker of Shopper Media Group shares data insights into shopper visitation during the pandemic and the importance of community messaging. 
The world as we knew it has radically shifted since 11 March 2020 when COVID-19 was classified as a pandemic. But things were changing well before that in our communities, and most notably in our local shopping centres.  
Modern-day shopping centres are very much the heart and soul of local communities. These vibrant hubs are places where people can engage with brands as well as socialise, work and, of course, shop. But all that has changed, and seemingly overnight. 
Since February, coronavirus fear has significantly boosted grocery-centric sales – and this has rapidly increased as stockpiling and social distancing became the new norm with a 20% sales growth recorded across 100 product categories.  
Consumers quickly reassessed the value they placed on commonly available products, making it hard to imagine living without them – the great toilet paper stockpile saw shelves stripped bare. Many consumers also began snapping up products such as hand sanitiser and hand wash to mitigate the risk of infection, and focus quickly moved to products such as pasta, rice and tinned goods as we prepared for potential quarantines and lockdowns. 
This change in purchasing behaviours by Australian shoppers saw local shopping centres shift from social sanctuary to lifeline, where consumers converged to secure their household essentials. We called it 'Essential Retail'. 
Local shopping centres have experienced an unprecedented increase in foot traffic, in many instances surpassing Christmas crowds. Data collected from Shopper Media Group centres revealed a 36% spike in foot traffic on Christmas trading in 2019 and has seen dwell times increase by 11% and repeat visitation rise by 8%. This phenomenon has been replicated in shopping centres across the country. 
By April, the foot traffic started to soften in line with the changing social guidelines. However, the mode of 'living locally' and regularly visiting local shopping centres for supplies is not set to abate, with frequency of visitation holding firm. We're now seeing many centres hit their peak trade for the day far earlier than pre-COVID-19 trading as people seek to get to the centre for the opening of stores. Peak trading is lasting far longer than before, often lasting most of the day rather than just a few hours during the centre of the day. 
A recent Shopper Study showed panic-buying had eased by 63%, with shoppers feeling calmer and under control during their shopping visits, and relieved to be out and about. We've found that 73% of shoppers are now opting for a top-up rather than stock-up, and more than half of all shoppers are back to selecting a wider range of groceries, including fresh produce.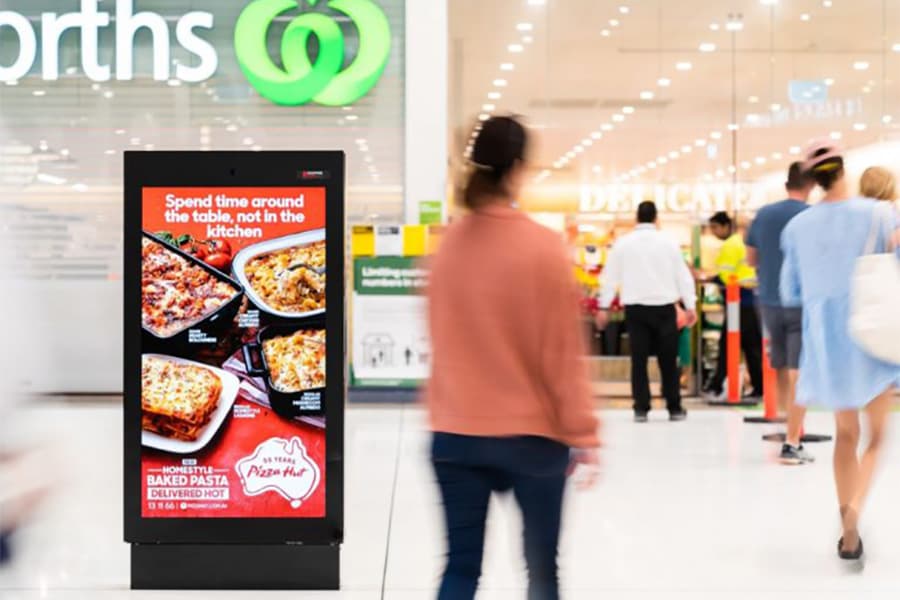 As Australians have adapted to the impact of COVID-19, local shopping centres have cemented their role as a vital community hub and resource for essential goods. This community focus was further illustrated through prioritising shopping hours for the elderly and those with disabilities, opening later for health workers, and now allowing supermarket and pharmacies the option of being open 24 hours to minimise mass gatherings through queuing. 
The important role local shopping centres play in our lives is not lost on Shopper Media – our network of Smartlite panels has always been a key communication channel for local communities. In fact, we see our 100% digital Out-Of-Home network as Australia's national noticeboard, with the ability to relay messages across more than 360 retail centres, targeting key metro and local communities across the country, and reaching more than 11.3 million Australian shoppers a month. 
During times of uncertainty and turmoil, Australians want to be reassured, and the presence of brand advertising provides a level of normality and comfort. Certainly, the type of messaging they are exposed to needs to be authentic and sympathetic of the conditions and lockdown restrictions. 
A Shopper Study undertaken in the last weekend of March revealed one in three Australians want to see "Community announcement messaging such as social distancing" as well as "Inspirational ideas as how to entertain ourselves at home", and one in four Australians are keen to see "Supportive and helpful messaging that help with ways to get life back on track".  
For shopping centres, it's important to have brands prioritise messaging that helps demonstrate how their products and services help consumers adjust to the "new normal".  
Shopper Media recognised early on that we were in a unique position to share important messages about the pandemic with local communities, and we were the first Out of Home company to create its own community campaign. Our 'Kindness is…' campaign aims to help shopping centres by reminding Australians that community spirit and healthy hygiene practices are the best form of protection against coronavirus.  
The campaign's first inception reminded shoppers of three simple acts of kindness and courtesy – washing your hands, sneezing into a tissue and buying only what you need – as we combat the challenges of coronavirus in our communities. We have gone on to develop further versions that address social distancing, being grateful for frontline staff, the need to remain connected via our phones and online, and many more.  
We'll continue to communicate important, supportive messages to our local shopping communities via our national noticeboard as we work to allay fears and amplify hope during this difficult time. 
Community is at the heart of the battle we face, and it's the power of our local communities that will bring us out the other side. In the meantime, let's be kind to each other – especially as we visit our local shopping centres.