Westfield Penrith's Riley Street Dining Precinct is aglow with a series of interactive night-time lighting installations and activities for the whole family.
Riley Street is being transformed into 'PenReef', an underwater oasis with immersive lighting, roaming performers, and glow-in-the-dark activities for everyone to enjoy.
Light projections create a dazzling walk-through experience welcoming customers to the precinct, adopting the theme of 'PenReef' as a nod to the nickname for the local area.
Westfield Penrith Centre Manager, Matilde Princiotta said: "We're thrilled to be welcoming customers to 'PenReef' to enjoy this transformation of our Riley Street Dining Precinct into a kaleidoscope of light, colour and fun activities. We're continuing to focus on delivering innovative and immersive experiences for our Western Sydney community, and we hope 'Lights on Riley' provides a new and unique adventure during the school holidays."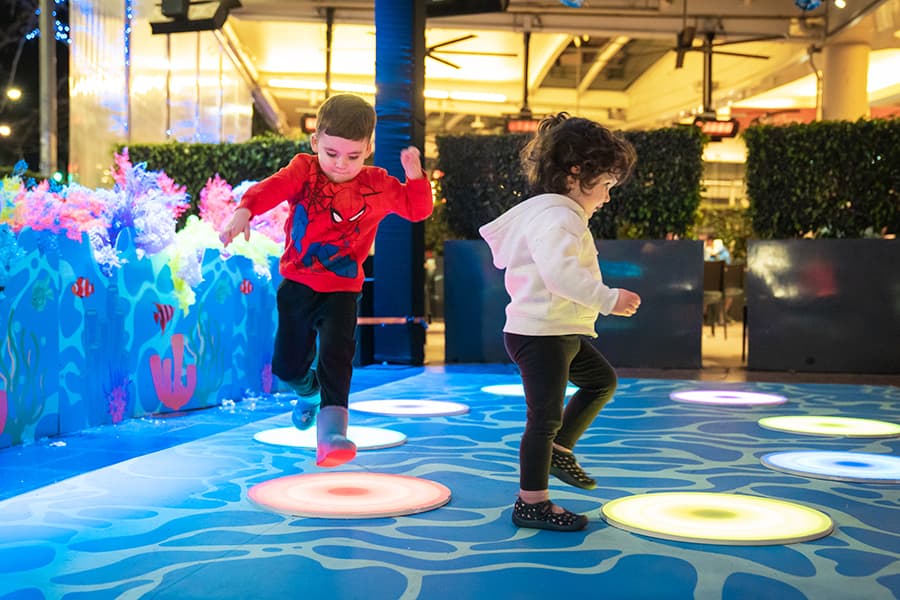 While customers enjoy the eclectic artwork and glowing jellyfish illuminating Riley Street, on Thursday and Friday evenings, Westfield Penrith will also be offering up glow-in-the-dark fairy floss, and face painting.
For the duration of 'Lights on Riley', customers can enjoy limited-edition treats from Riley Street Dining Precinct retail partners including the 'Lights on Riley' exclusive Ben & Jerry's Shake available at HOYTS and the San Churro 'PenReef' Sundae.
Customers can visit the free, glow-in-the-dark underwater experience at Westfield Penrith's Riley Street Dining Precincts from 30 June to 17 July from 5pm – 9pm daily.