As Sydney's CBD continues to navigate the impacts of COVID-19, three of its most iconic shopping destinations, managed by Vicinity Centres – the QVB, Strand Arcade and The Galeries – are promoting a fun and novel message to encourage health and hygiene among the community. 
With help from social media's favorite 'battlers' – "The Inspired Unemployed" – the team has produced a series of clout-worthy dance videos with music from New Order's Blue Monday, using the Sydney centres as the backdrop to support a health and safety message.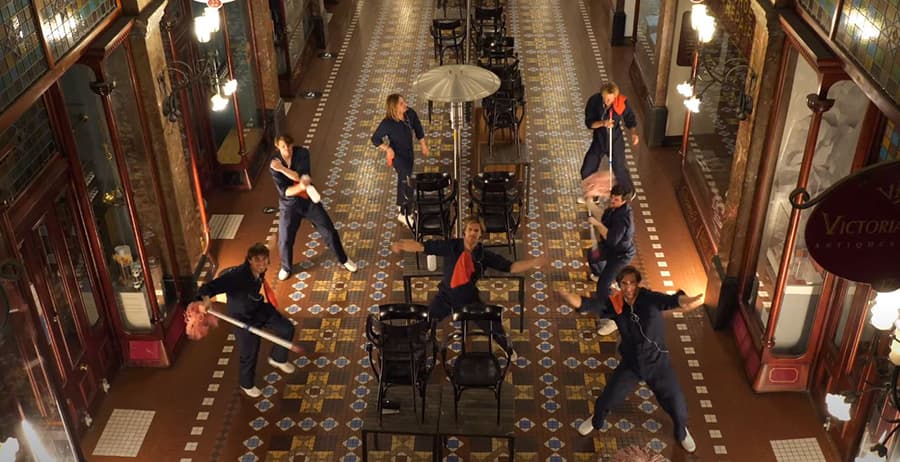 Vicinity Centres Director of Premium Assets, Fiona Mackenzie, said: "We wanted to communicate our health and hygiene message in a way that resonated with our community, especially younger people. 
"We were thrilled to have The Inspired Unemployed guys visit the QVB, Strand Arcade and The Galeries and get creative with this message, as this was a way for us to have a little fun with a serious situation which has become our new normal. We know that our centres are community hubs and we wanted to reinforce the important role that we all have to play to keep our community healthy and safe," Mackenzie said. 
The Inspired Unemployed content launched this week on YouTube and via the centres' social media channels.
The clips star the comedic duo and friends, posing as cleaners, armed with cloths, mops, buckets and hand sanitiser at the centres. The concept is borrowed from classic '90s music video tropes and features Night at the Museum-esque visuals. 
"We know our CBD has been significantly impacted by COVID-19, and we hope the new and fun safety videos will help people feel comfortable visiting our centres safely, when the time is right for them. We're also enjoying sharing behind-the-scenes clips from inside our centres after dark," Mackenzie said. 
The Inspired Unemployed have gained popularity and 'street cred' through their unique, tongue-in-cheek collaborations with high-end fashion brands including Louis Vuitton, Dior and Vogue. 
Jack Steele and Matt Ford – The Inspired Unemployed said: "It was a thrill to be involved in this campaign and work with a team that embraced our ideas and creativity to bring the brief to life – we had a lot of fun working on this project. We're in a lucky position that we can use our platform to support local businesses and the community, and we're honoured that brands like Vicinity Centres see value in our work and want to reach our like-minded audience."
The light, social content lands at an important time as retail continues to remain open across the state, encouraging everyone who visits and works at the centres and the broader community to do so safely and with confidence.