The Galeries has unveiled the first piece in its new Artist in Residence public art series, an initiative proudly supported by the City of Sydney that both enhances creativity in the public domain and strengthens the sustainability and capacity of the city's cultural and creative industries.
Located on the ground floor, the Artist in Residence series complements The Galeries' renowned curation of contemporary retailers such as Incu, Gorman, and Spring Court, along with cult foodie destinations including Black Star Pastry, Fishbowl, Ichi-Ban Boshi, Lotus and The Grounds of the City.
Vicinity Centres' Corrine Barchanowicz, Head of Marketing and Brand Experience said: "From food to fashion, The Galeries has long been a destination for the contemporary and unique, so it's fitting it has been chosen as the home for the Artist in Residence series."
The inaugural piece of the series, 'Shake the Dust Off Your Wings' was created by highly acclaimed Australian contemporary artist, Leila Jeffreys and director and writer Melvin J. Montalban, and provides a free, immersive experience for visitors to the shopping precinct.
Jeffreys and Montalban's 'Shake the Dust Off Your Wings' evolved as a response to the lessons learnt during 2020, a time when the world was forced to pause and reflect. The work encourages a meditative state, and frees its audience from the urge to relentlessly 'do', rather than reconnect us with the present moment. It demonstrates how the natural world can slow our internal rhythms while delivering the gift of peace and awe. The phrase 'shake the dust off your wings' is a metaphor for swapping old ways of living for those that reflect the cycles of nature. As the Chinese philosopher Lao Tzu put it in the 6th century BC, "Nature does not hurry and yet everything is accomplished".
'Shake the Dust Off Your Wings' is a unique combination of part sculpture and part motion picture, creating a spectacular optical illusion of birds entering a bird bath, washing and graciously taking flight, creating a sense of escapism amid the bustling backdrop of Sydney's CBD.
The motion picture, featuring Gouldian and Zebra finches, captures the arrival and playful bathing of the feathered creatures in slow motion, using cinema-quality cameras to document their swift movements at 1,000 frames per second to play across a multi-screen display.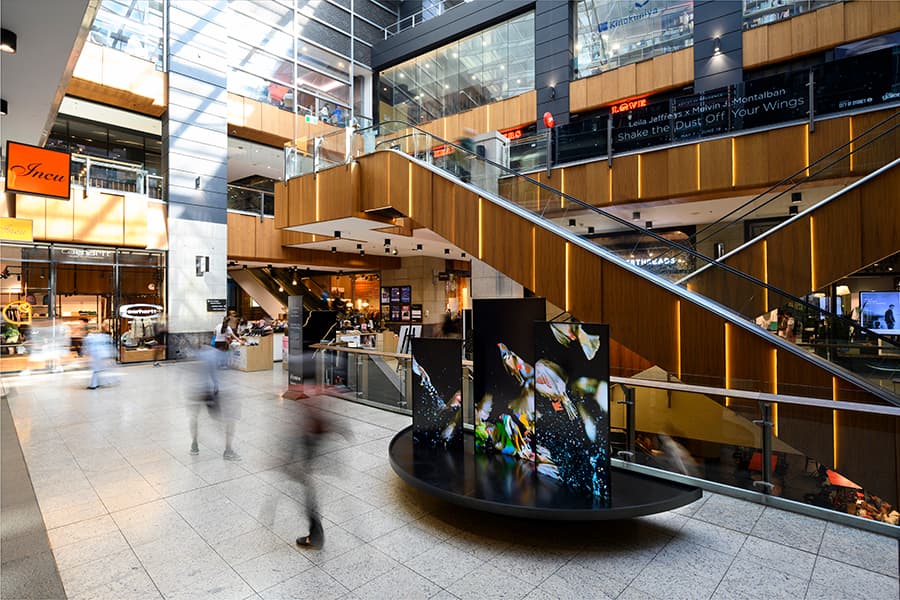 The sculptural form comprises a birdbath crafted with a matte black alupanel creating a misty watery reflection, mirroring the slow-motion imagery from the three displays mounted above. Music is played via induction speakers adhered to the inside surface of the pedestal, using its hollow form as a resonating chamber.
A rewarding experience for those visiting the CBD, customers will be able to enjoy 'Shake The Dust Off Your Wings' art until 18 June, free of charge while visiting The Galeries' leading selection of brands.