There is no doubt that 2020 has been unprecedented (that word again) and no one could have predicted what Christmas would look like in shopping centres following major lockdowns and industry disruptions this year. Despite the challenges of the Victorian lock-downs, restrictions across the industry and many operational issues, the year is set to deliver a successful Christmas season for the retail and shopping centre industry as retail sales figures track well.
According to Deloitte Access Economics' latest quarterly Retail Forecasts subscriber report (Q4 2020), retail spending has weathered the COVID-19 storm remarkably well, with volumes surging 6.5% over the September quarter.
Retail Forecasts principal author, David Rumbens, said "Our recent Retailers' Christmas Survey indicated this year's Christmas trading period would be a polarised one. While 39% of retailers expect over 5% growth in Christmas sales, up from 21% in 2019, a further 24% expect a fall in sales of over 5%.
The report said despite the difficult conditions for many retailers, the number of insolvencies in the sector has actually dropped significantly in 2020 so far. In 2019, nearly 500 retailers entered external administration by October, while in 2020 this dropped to around 300. This also indicates that the early half of 2021 will be challenging as JobKeeper finishes and businesses return to no-subsidy levels.
Shopping Centre News explores some of the fantastic activations happening at shopping centre across the country under two main themes this year 'COVID-safe' and 'Community'.
A COVID-safe Christmas 
As an industry we had to change our ways, our events and marketing direction whilst maintaining our commitment to provide a safe environment for retailers and customers. As such, the industry has created spaces where customers can still experience the joys of Christmas whilst being Covid-safe.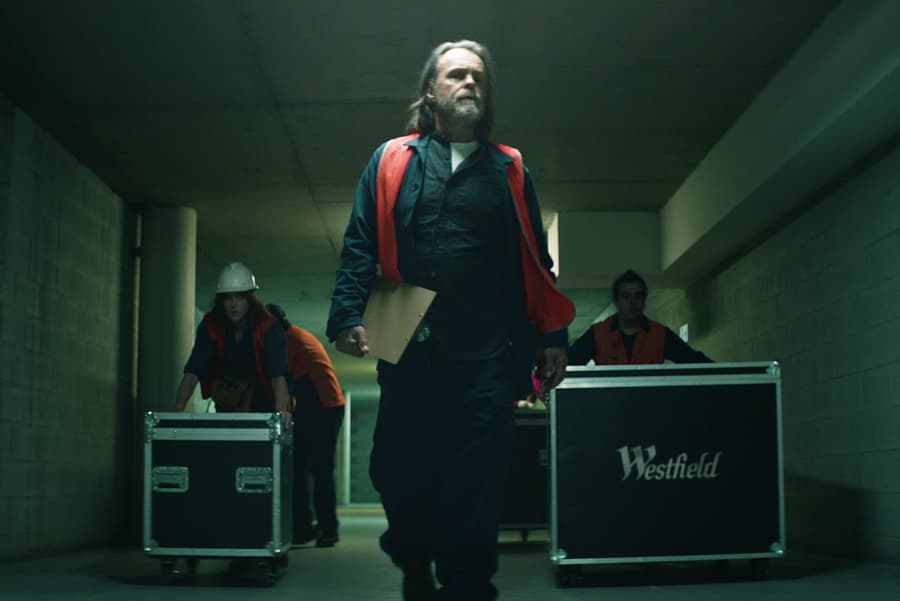 Santa is safe at Scentre Group centres
About two months ago, Scentre Group announced their Christmas program would be COVID-safe, bringing the joy of Christmas to thousands of customers this year.
Phil McAveety, Scentre Group Director Customer Experience said "We know young families are already counting down to the arrival of Santa. Online bookings and contactless payments will be critical to our delivery of Santa, Sensitive Santa and Pet Photography," he explained. "We've redesigned the Santa photo so families are sitting at a safe distance from Santa, with more decorations and props to make it fun and memorable."
Macquarie Centre delivers Australia's only living Santa Set
The set made from over five tonnes of native plants, Santa's Secret Garden takes families on a journey from the bush to the beach, encompassing a lush green set with tropical plants and coastal pathway.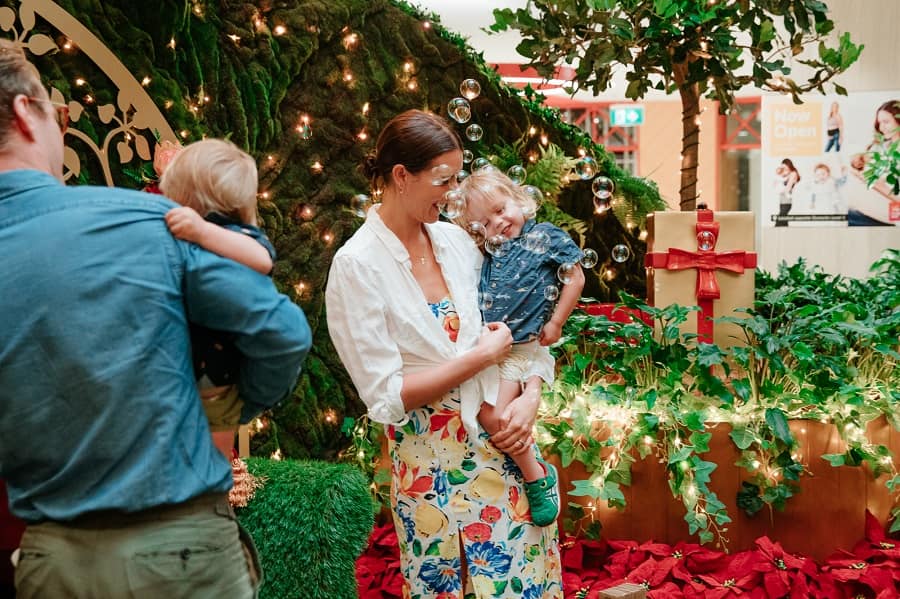 The experience was a little different this year, complete with a socially distancing Santa to ensure the experience is safe and in line with COVID-19 practices. Macquarie Centre introduced a brand-new experience through the use of augmented reality, visitors were able to spot native animals as they roam Santa's Secret Garden. Every child received a free personalised video message from Santa following the experience.
The landscaping by Outhouse Design, in 2019 was awarded the coveted Landscape Design of the Year for Commercial Design.
Virtual Santa drops in for Christmas at Eastern Creek Quarter (SQ)
The festive season at ECQ was headlined by a Magical Christmas Cave featuring an augmented reality Santa and a '12 Days of Christmas' competition. The novelty of the cave created instant Instagrammable opportunity and customers had fun with the new concept.
ECQ Centre Manager Amanda Whittle says that, given the importance of social-distancing, Santa's agreement to appear in augmented reality brings a novelty factor to festive photo opportunities.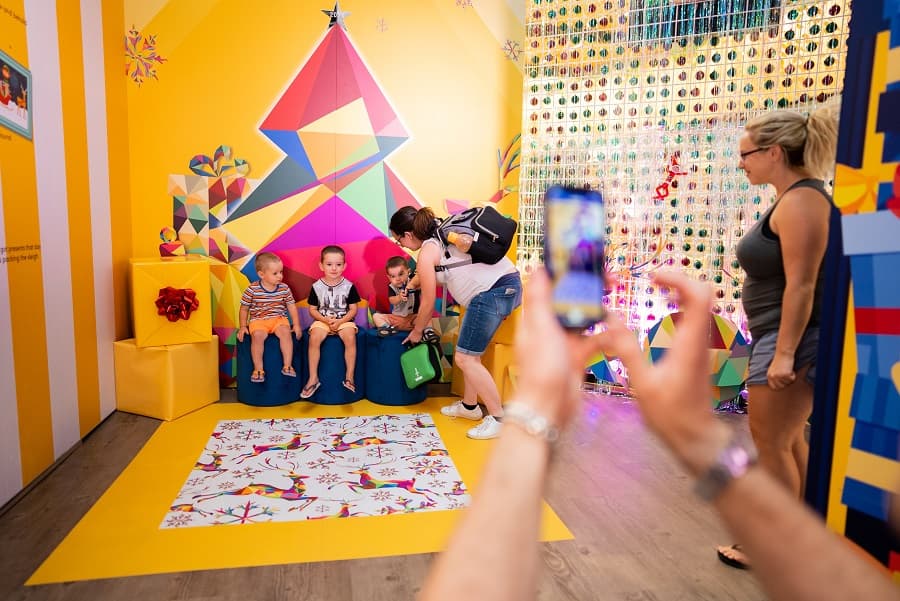 Brookside Shopping Centre design sleigh to keep the distance
Santa is keeping everyone safe at Brookside by bringing his beautiful wooden sleigh to help with social distancing. The unique design angle of the sleigh means that the photo gives an impression of the kids being closer to Santa than they actually are.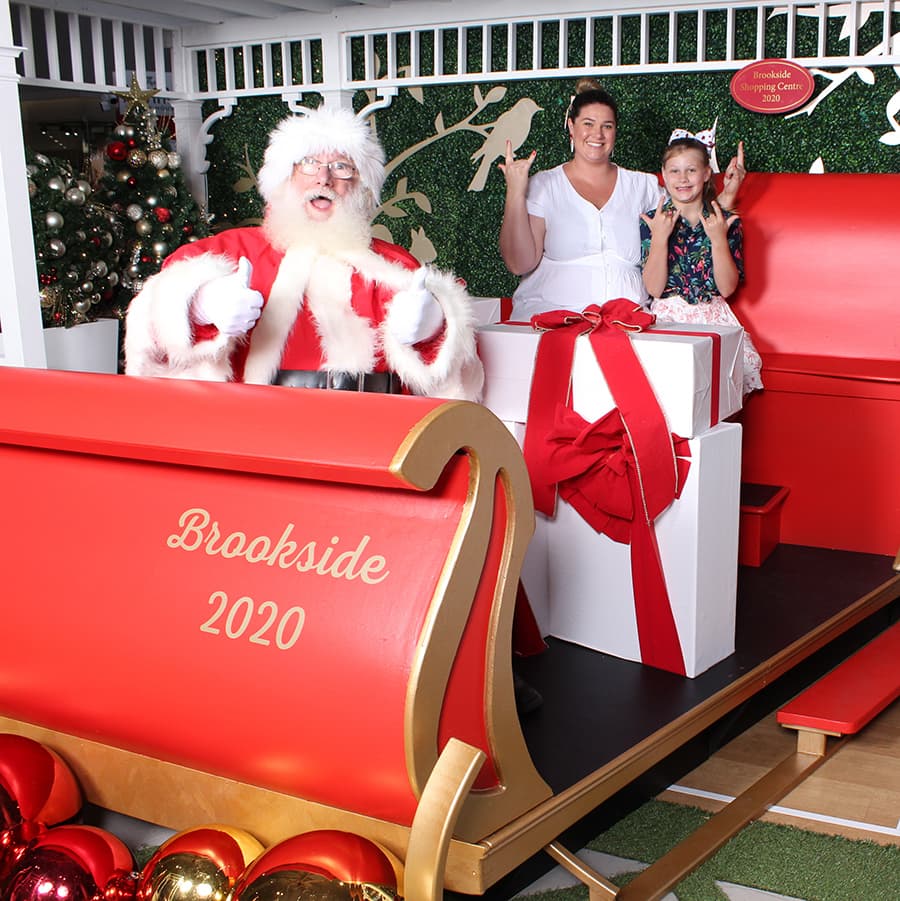 Brookside Marketing Manager Christian Polglase says that the families who have already visited our 'real' Santa have loved that the photos don't "scream COVID" and the new online booking system has meant that parents are seeing no lines and therefore no stress.
"Santa engaged some industry experts when designing his sleigh so that he could be as close to the kids as allowed under current rules", Polglase said.
QV Melbourne revives with pop-up bar
Alfresco dining expanded across QV Melbourne with increased outdoor seating under the sun and stars, where shoppers can enjoy a festive urban picnic with a difference.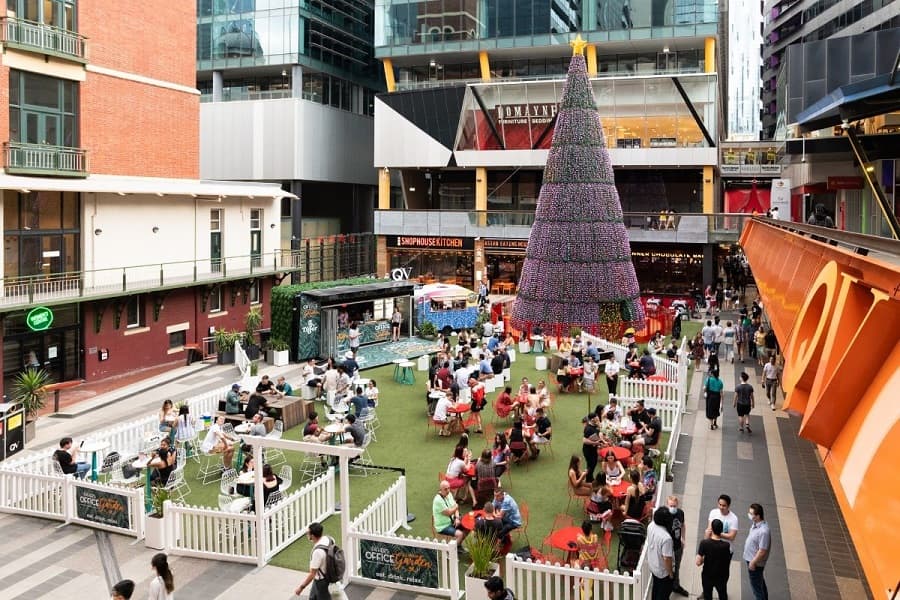 "We're so happy to be able to put on a festive celebration for Melbourne, at a time when it has never been more deserved! In addition to our stunning Christmas tree, we've transformed our outdoor Square with extended alfresco seating, which is already proving to be a popular meeting spot for city visitors," says Arabella Richards, Centre Manager, QV Melbourne.
A new dining initiative from the precinct also launched called the QV Marketplace which is an all new dining experience, providing a fuss free, queue free, contactless way to order from any of the participating QV Melbourne restaurants, bars and cafes directly from their phone.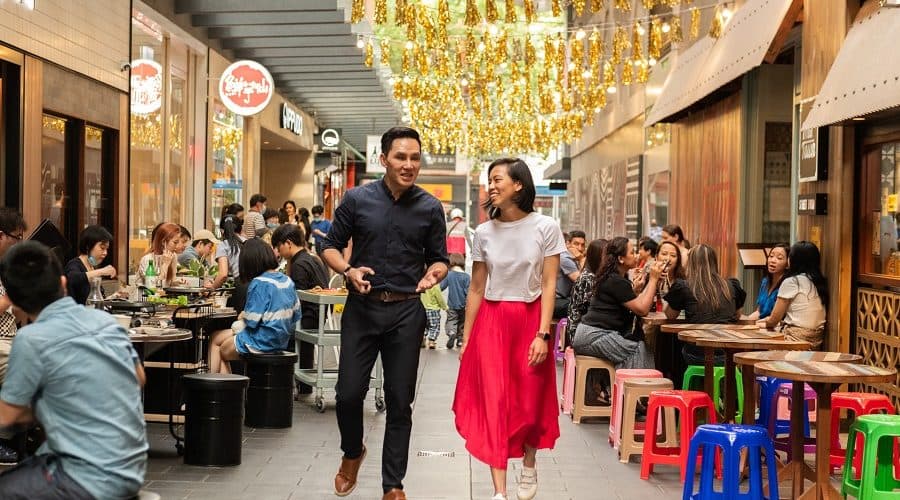 Made possible by a partnership with local Melbourne start-up Mr Yum, the QV Marketplace means groups can order from a range of restaurants: no more agonising over which spot suits the whole squad.
Barkly Square Shopping Centre creates sparkly windows to bring on cheer
The centre owned by ISPT, transformed into an adventurous Christmas story about local loveable bear 'Sparkly' and his special mission from the North Pole.
Sparkly Bear – adopted from the locals' nickname for the nearby Barkly Square shopping centre – will set off on his bicycle to deliver Christmas gifts, bringing plenty of Christmas cheer along the way. The journey will see Sparkly travel to iconic Brunswick locations including Sydney Road, The Retreat Hotel, Lawn Bowls and even Melbourne Zoo as he carries out his special mission to help save Christmas.
The Sparkly Bear Christmas Windows will be merchandised by students from RMIT University and will lead shoppers on an adventure through Barkly Square.
"We hope the Barkly Square Christmas Windows bring some much-needed fun and adventure to the community as locals shop for Christmas. We are so proud to partner with RMIT University students as they bring their diverse creativity to this community project, helping to bring this adventure to life", said Gabriella Bowman, Marketing Manager, Barkly Square.
Christmas arrives to the newly re-furbished Level 2 & 3 at Castle Towers
Following the completion of Castle Towers' Level 1 at the end of 2019, Levels 2 and 3 bring the design and ambience of the new precinct up to the above levels in time for the holiday season. The completed works include new bathroom and parents room amenities and features and the perfect space for exciting seasonal activations.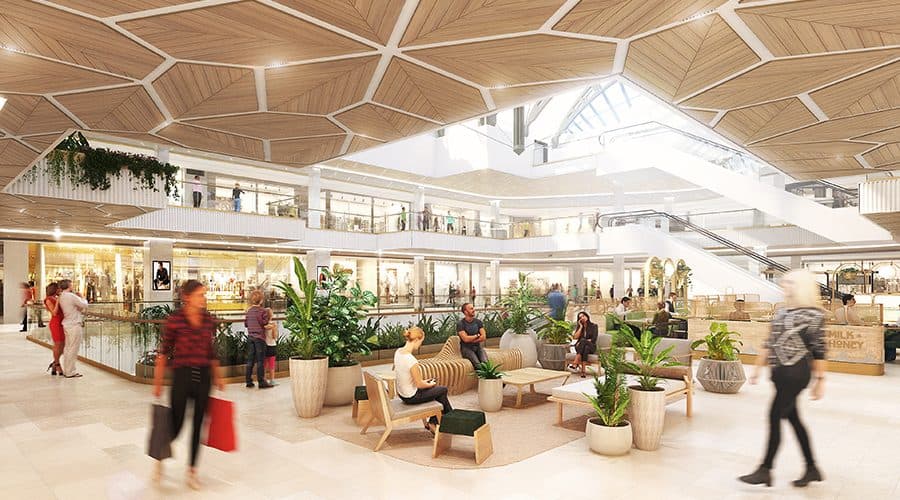 Castle Towers' Centre Manager Eddie Paynter said this time of year is exciting for the Centre and its community. "Christmas is always a special time of year for Castle Towers, and although it will look a little different this year, what won't change is our commitment to the safety and wellbeing of our entire community," he said.
"As part of this commitment, this year we're keeping Santa, his elves and your family safe by adhering to social distancing measures.  We've reimagined the traditional portrait image – this will be replaced with a landscape shot, making sure we can fit you all in the frame, with Santa on his throne, and families positioned on separate seating 1.5 metres away.
"Although children won't be able to sit on Santa's knee this year or give him a 'high five', we love creativity at Castle Towers, so feel free to bring along some festive props and have some fun to create a one-of-a-kind Christmas memory for your family."
Highpoint opens for 32 hours for last-minute Christmas shoppers
While Highpoint will not be hosting a 32-hour non-stop trade marathon this year, the centre will be open for a total of 32 hours from the 23 December, until Christmas Eve, with a 3-hour rest in-between for retailers to rest, rejuvenate and restock for their final rush. Highpoint will also undergo rigorous surface cleaning, as an additional COVIDSafe measure facilitated by GPT Group during this time.
For those still waiting to meet the big man himself, Santa's Village is where where shoppers will be able to visit him for COVIDSafe photography. The modified photography model includes families sitting 1.5m distance from Santa and receiving photos in 'landscape' format.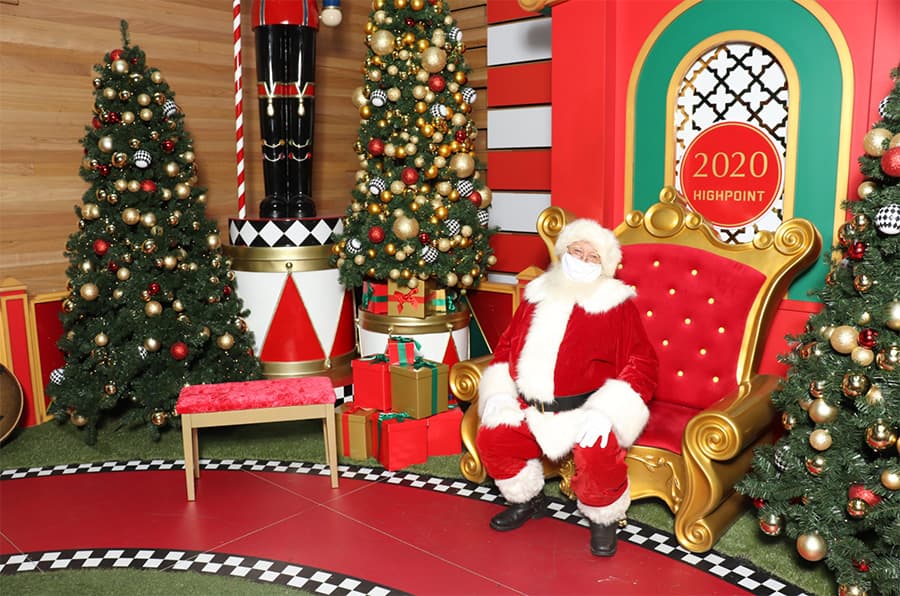 Santa's Mailroom will also remain open until Christmas Eve, with the opportunity for shoppers to go into the draw to win a $500 Highpoint gift card simply by posting their letters to Santa at the Mailroom. Limited Hey Santa parcels containing everything families need to welcome Santa to their home on Christmas Eve may still be up for grabs. The parcels include a milk bottle (to fill with milk), a biscuit in the shape of a carrot (for the reindeer) and a Christmas-themed place mat.
Community at the heart of Christmas 
A strong message this year has been to support businesses. If you can take any positives from a pandemic, is that the sense of community is everyone's responsibility and as an industry we have facilitated many community activations to celebrate the Christmas season. Marketers have had to change their 'traditional' campaigns have demonstrated high levels of innovation – probably not possible if we hadn't been forced to think differently.
Marrickville Metro delivers recycled decorations
The AMP Capital managed centre partnered with Design Centre Enmore TAFE NSW and Reverse Garbage to create artworks that are unique to Marrickville. Reverse Garbage is Australia's largest creative reuse centre, committed to diverting resources from landfill – approximately 40,000m2 or 100 football fields worth per year.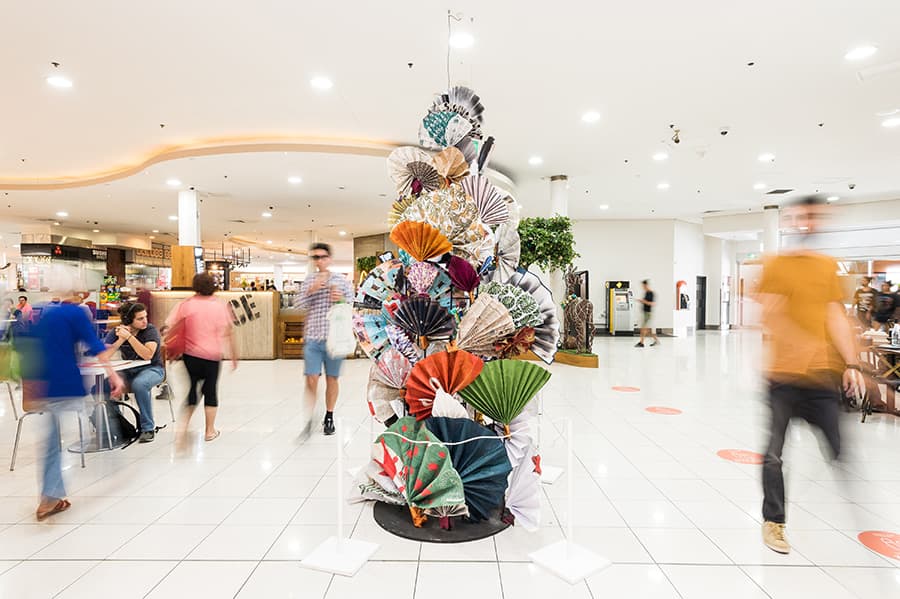 More than 90% of materials used for Marrickville in Summer were sourced from Reverse Garbage. Seven bright and life-size artworks can be found throughout the centre.
This collaboration is a fantastic example of how with a little bit of creativity, reuse resources can be given new life – and hold their own against brand new installations," said Kirsten Junor, Creative Director, Reverse Garbage.
Again this year, the centre will host a free Christmas Day BBQ with the Salvation Army. This is a particularly special event for members of the community who may be feeling isolated and alone on Christmas Day and is open to everyone who enjoys a happy, carb filled start to their morning.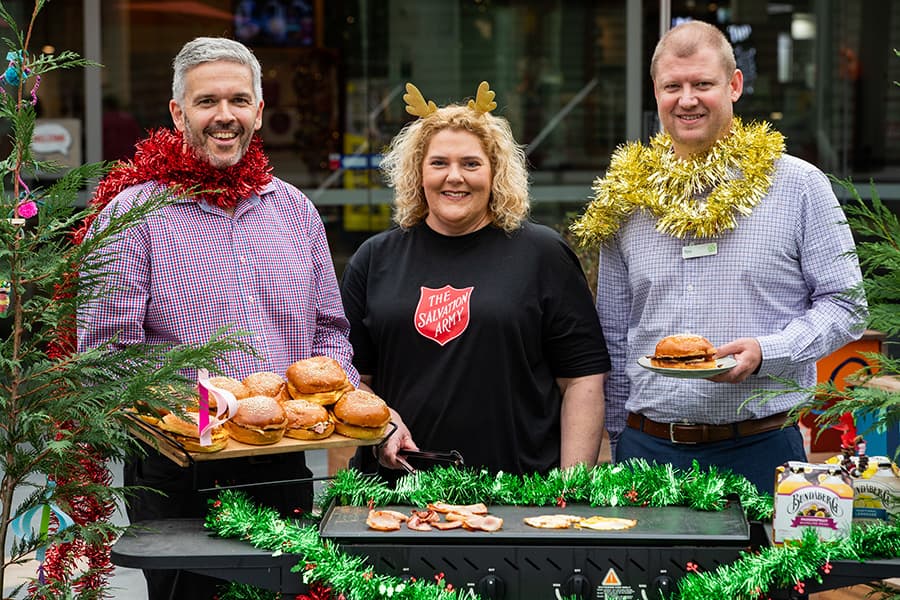 Centre General Manager Dean Young says, "Here at the Metro, we love to be at the heart of the Marrickville community and to celebrate all that we are and all that we hope to be. We all know that the year has been tough, and we are so delighted to share some Christmas joy and magic with all our shoppers – those who are new and those who've been coming here for years. We look forward to welcoming everyone over the festive period."
Cook with Love this Christmas at The Square Mirrabooka
Christmas is well underway at The Square Mirrabooka, and this year shoppers can discover free Christmas recipe inspiration. In collaboration with local Perth food authors and digital influencers, Judy and Jen from beetrootinmycake.com.au
The Square Mirrabooka have created an exclusive Christmas Recipe Book, featuring 10 festive recipes that highlight the fresh produce, ingredients and accessories available from The Square Mirrabooka retailers. From Christmas tree cheese boards to chocolate shortbread stars, there is something for every festive spread! The FREE recipe books are available in-centre for shoppers to take home, while stocks last.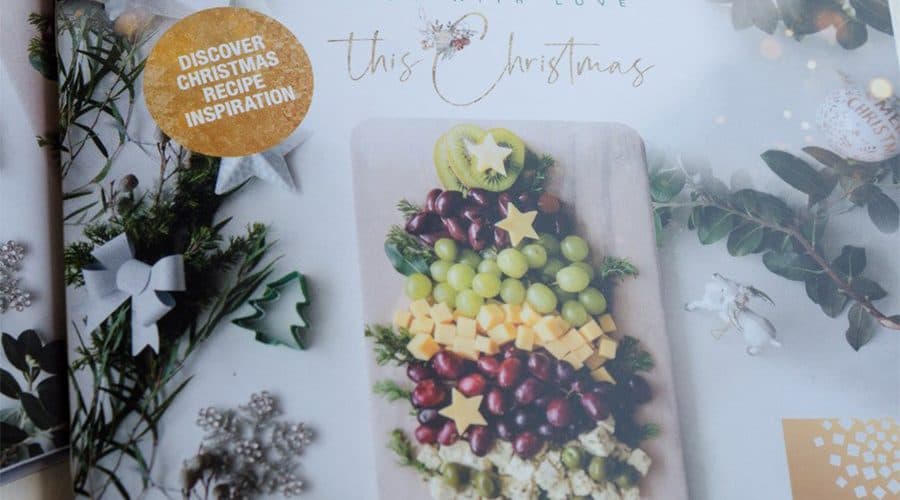 Melbourne Central Gift Terminal gives back
Melbourne Central's Gift Terminal is an interactive space complete with an infinity mirror tunnel, set with florescent green lights and bespoke terminals for the Fashion Forward shopper, the Beauty Boss and the Festive Foodie in all of us. Customers who spend $30 or more at any Melbourne Central retailer can simply scan in to complete a short 'gift detector quiz' to instantly score a gift card of up to $500 – what a treat!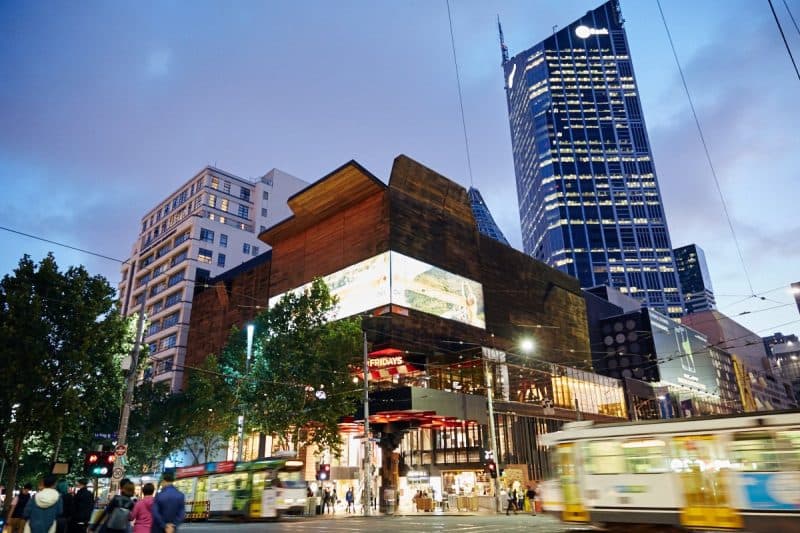 Ryan Ling, Centre Manager, Melbourne Central said: "We've experienced so much positive buzz and excitement across the precinct already following Black Friday and in the lead up to Christmas. At Melbourne Central we are always looking for new ways to elevate retail experiences for our shoppers and the Gift Terminal brings vibrant colour, energy and excitement to the centre. We want to unite friends, families and spoil one another after a difficult year, but most importantly continue to create that sense of magic that is felt at Christmas time by incentivising and rewarding our customers."
Eastland and Glen Park Community create Community Emergency Donation Centre
Glen Park Community Centre provides emergency relief to some of our most vulnerable Victorians. Christmas is a time of year where many families struggle to meet the daily demands of life whilst also providing some of the luxuries that many of us see simply as "tradition". 2020 is a year like no other, the impact of the pandemic on our communities will be felt for years to come.
"Our partnership with Eastland has given us the opportunity to continue to maintain contact with people in need and reach out to new people, in a year where interactions were virtually non-existent," CEO of Glen Park Community Centre Heidi Butler-Moore said.
According to Foodbank's latest hunger report, it is believed that 25% or 1 in 4 residents in Victoria are accessing food relief at least once a week, and 29% of food insecure residents in Victoria had never gone hungry before the pandemic.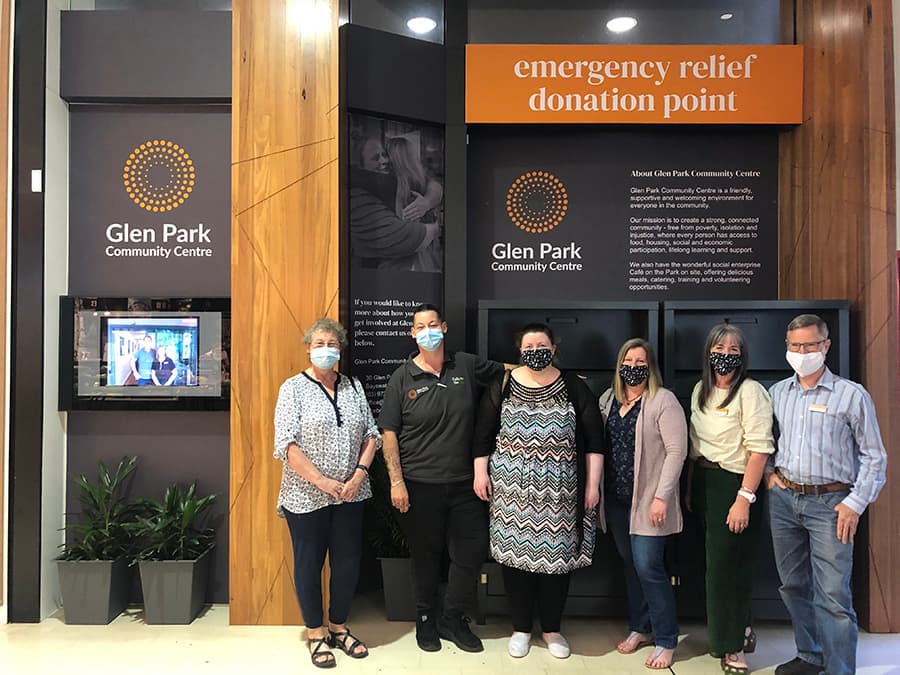 Charities in Victoria report that the demand for food relief in 2020 has increased on average by 47%, which is why Eastland are asking for donations to Glen Park's Emergency Relief program this Christmas. Glen Park already provides up to 1250kgs of food per month to the community, but without the community's support they can't meet the increased demand at this time of the year.
Bunbury Forum and Bakers Delight join forces to bring Christmas joy
The team from Bunbury Forum and Bakers Delight took to the streets of the near by Woodstock West Retirement Village, to share some Christmas Joy and delicious treats from Bakers Delight. The team delivered more than 100 goody bags and Christmas Cards to over 160 residents.
Feedback from a prominent community group cited Bunbury Forum as an iconic location for the city's elderly, as a place to seek connection when struggling with loneliness. Multiple residents mentioned they visit Bunbury Forum, with the sole intention of bumping into someone they know.
"After hearing that Bunbury Forum serves such an important role for many of our elderly residents, creating connection and community with them has been a priority, especially after such a difficult year" Ashley Hastie, Bunbury Forum's Marketing Manager.