Ranfurlie Asset Management (RAM), developer and operator of a successful stable of suburban Melbourne shopping centres, is harnessing the power of digital engagement platform, Komo Digital, to take community engagement to the next level.
The platform utilises the Komo 'microsite' as a dedicated community engagement hub, accessed via QR codes and URL's. Creating user first interactive digital campaigns, such as consumer opinion polls, live trivia games, personality checklists, videos and 30+ plug and play games, tools and competitions quickly, as well as instant rewards for customers via retailer digital coupons. These features can all be utilised to incentivise community participation and drive post-activation sales.
"With traditional channels becoming less effective and the new commercial reality of a post-covid environment, our centre marketing wanted to find new ways to drive footfall, support retailers and build strong direct relationships with customers," says Ranfurlie Asset Management GM Marketing, Lisa Charter.
"Komo's dynamic community engagement platform, named HQ within the Ranfurlie portfolio, will allow us to create and launch interactive and gamified digital campaigns quickly and reward instantly, facilitating communication, interaction, involvement and exchange between our shopping centre and its community."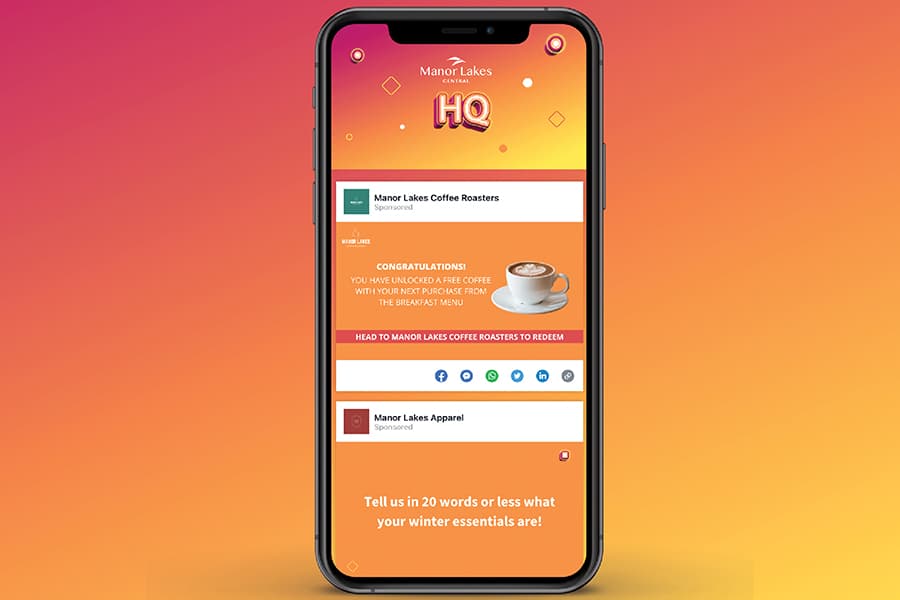 "We believe HQ is the first of its kind in Australia in this asset class, in providing constant value, interactive content, competitions and rewards to our shoppers and is 'always on' – while at the same time learning about the consumer to provide a more personalised shopping experience."
"HQ's trackable digital coupons deliver personalised offers based on user preferences to selected cohorts and result in a higher consumer uptake rate on prize offers and therefore an improved ROI for our retailers, Charter continues. "The platform builds customer loyalty while also delivering tangible benefits and value for centre tenants."
Komo's offering is a self-service offering built to be used on an ongoing basis and can utilise existing domains, strengthening brand familiarity. Different modules can easily be added or removed from the platform, and it has the capacity to feature elements of augmented reality (AR).
Analysis by RAM's marketing team revealed the HQ site to be much faster and more cost effective to set up than an app. It also has the capability to deliver more engaging content.
"Loyalty programs built on apps in Australia tend to be under-utilised and labour intensive," Charter said. "Apps are also expensive to set up and maintain, requiring a long-term obligation. The impact of discontinuing an app can be significant and must be carefully planned and managed."
"The HQ engagement hub is an 'instant' loyalty program – It can be put up or taken down without any notice. It is also costing us around a quarter of the price that it would cost to build and manage an app."
Ranfurlie will be launching Manor Lakes Central HQ and Tarneit Central HQ, both in Melbourne's outer western suburbs, in July 2021.
According to Komo Founder and CEO, Joel Steel, the Komo platform has been built with five key measurable deliverables in mind:
Enhance community engagement
Grow the community database – first party data
Drive foot traffic in centre
Increase dwell time in centre
Increase sales for tenants
"The HQ engagement hub effectively becomes the shopping centre community's one stop shop for fun, interactive customer, retailer and community content. We equate it to a personalised Facebook page, without any external noise from the thousands of other people, brands and organisations trying to get that community's attention," says Steel.
Charter concurs, "We believe HQ will integrate seamlessly into our marketing channels to enhance both campaigns and day-today communications across our sub regional centres. Cross pollination can occur between Facebook and HQ, operating in real time to broaden community reach organically."
"Everyone talks about connecting to the community. We wanted something tangible that would deliver real outcomes and a real point of difference for our centres."