The COVID-19 pandemic affected all of us in one way or another – some more than others. Now, after 18 months of uncertainty, there is light at the end of the coronavirus tunnel. For small businesses, this is a huge cause for celebration. The team at VMO wanted to help small Aussie businesses as they prepared to open up again by launching an initiative to give these businesses the opportunity to win in a share of $1 million worth of out-of-home advertising across its network.
Small businesses have felt the full brunt of the pandemic through forced closures and limited trading over the last year and a half. The brave new world small businesses face is a whole new game that no one knows the rules to.
The VMO network has always played an essential role in the local community environment, which is why the group wanted to provide small businesses with some much-needed assistance to open back up as successfully as possible after such a difficult period.
VMO and HOYTS Group Chief Commercial Officer Anthony Deeble said the company was highly engaged in supporting the industry that has always, and continues to, support VMO.
"The impact of the pandemic on small businesses is something that I am sure will be felt for a long period. We know how difficult and devastating this time has been for a lot of small Australian businesses, which is why we launched this Open For Business initiative. We want to help get businesses back to their best and especially see small businesses come out of the pandemic surviving and thriving," said Deeble.
The major campaign touchpoints were through Shopping Centre News as a supporting media partner in the competition, VMO commercial partner channels, advertising clients, social media, and on-screen advertising across the VMO retail, health club and petro and convenience screens.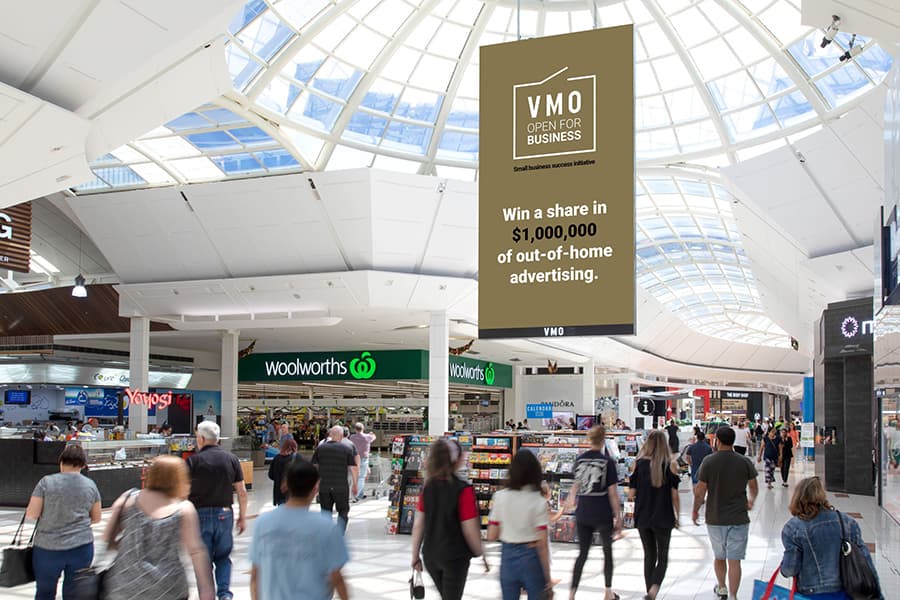 VMO Managing Director Paul Butler said: "This year has been hard for small businesses across the nation, particularly those in New South Wales and Victoria, and we're very proud to launch this initiative Australia-wide. As most of our screens are placed across local communities within shopping centres, at health clubs and petrol and convenience store locations, it makes sense for us to support these small local businesses in their recovery."
The campaign was incredibly successful, surpassing all expectations. VMO received hundreds of enquiries about the promotion through the campaign website, and word of mouth through media outlets and VMO commercial, operations, sales and marketing teams. The list of entries to the competition continued to grow each week, with overwhelming momentum up until the final day.
While there's no denying every small business that entered deserved a share of the $1 million prize pool, there were 20 successful winners. 
Below are just some of the responses VMO received from small businesses who did it tough during lockdown:
"We are a new small business that has been prevented from opening during COVID and has still had rent, fit-out costs and other expenses to pay for, helping us get on our feet will be instrumental to a successful business launch."
"We had launched a trial in Woolworths five weeks prior to the pandemic. We appointed a field sales team and have not been able to grow the business and manage the account. Advertising would help create brand awareness and drive sales to stores."
"As an owner of an Australian promotional merchandise company with no staff, revenues fell by 60-70% during the worst times of lockdown. I would put the advertising towards showcasing my Australian Made and corporate merchandise products, to show that small businesses can succeed and compete when given the opportunity."
The domestic travel industry has been ravaged by the lockdowns around the country and consumer confidence for travel is at an all-time low. As Australia re-opens, we really need some help to get Aussies travelling again and getting vital funds flowing back into tourism-dependent communities around the country.
VMO is proud to throw its support behind the businesses that help support the local communities – and support its network, too. VMO continues to stand behind small businesses and hopes to see its full recovery in 2022 and beyond.