Two prominent shopping centre owners have selected oOh!media to enhance their appeal with new and upgraded out-of-home (OOH) assets designed to engage consumers and support tenants across all retail categories.
Sydney-based 151 Property, owner of Top Ryde City and several other assets across the country, along with Perth's upmarket Claremont Quarter shopping centre, have both committed to long-term contracts with Australian market leader oOh!media.
151 Property has renewed its contract to include the addition of two new shopping centres, meaning that oOh! will now extensively upgrade all assets across 151 Property's seven centres, transforming them into an exclusively digital offering to deliver maximum flexibility and creative opportunities to advertisers.
These centres include the popular Top Ryde City in Sydney's north-west, Forest Hill Chase in Melbourne, Strathpine Centre in Queensland and Rundle Place in Adelaide.
Gary Jones, GM Portfolio Management (Retail) from 151 Property, said the existing long-term relationship and oOh!'s ability to reach audiences at scale both in and out of the shopping centre environment made the extension a compelling proposition. "We have been working with the team at oOh! for several years, and have benefited from their expertise in engaging our customers and offering viable commercial models. Out-of-home advertising is an important component of our offer, and the digital upgrade across all the assets will boost our centres' appeal."
Noel Cook, oOh!'s Chief Commercial and Operations Officer, said the renewal built on a mutually beneficial relationship between the two companies that maximised commercial opportunities.
"The 151 Property team has a clear strategy to enhance the retail experience and drive audience engagement in their centres, which are quality performers with high levels of Moving Annual Turnover," said Cook. "The wholesale digitisation of our out-of-home signage across all their centres will support this strategy and help deliver ongoing revenue streams, especially as increasing confidence sees consumers returning in large numbers."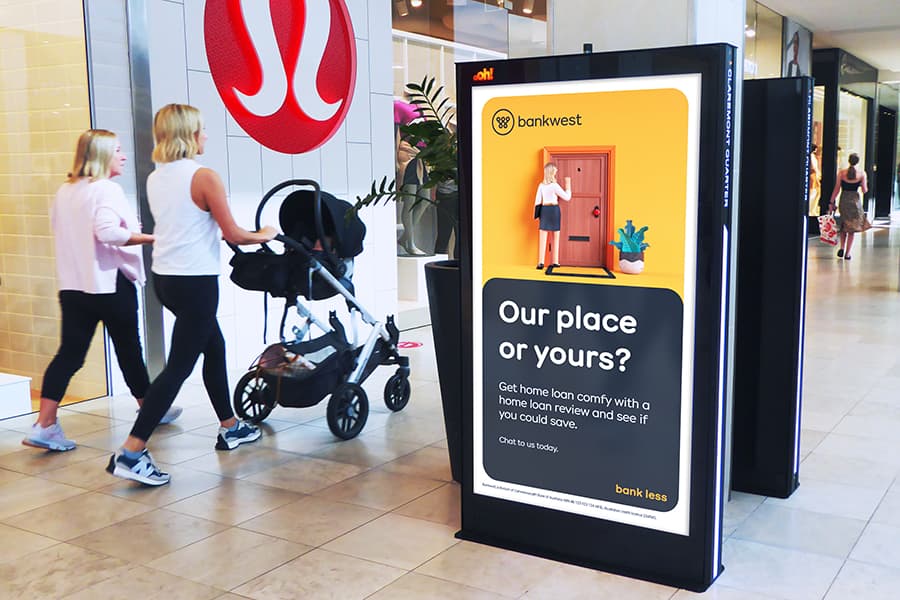 The 151 Property contract follows closely on the heels of the move by Claremont Quarter co-owners Hawaiian and QIC to introduce out-of-home signage into the upmarket Perth centre for the very first time.
Via a long-term contract, nine new premium digital screens have been installed in the centre, and a large-format, full-motion Evoke Portrait panel is scheduled to be unveiled in the coming months. Combined, these will give advertisers the opportunity to reach affluent professional audiences in a fashion and luxury-focused environment comprising more than 120 retailers, and help Claremont Quarter enhance its appeal to shoppers and tenants, while continuing to build engaging connections with its customer base.
According to Scott Greenwood, General Manager Shopping Centres at Hawaiian, the digital screens were a great addition to the centre's offering and would help build brands and support retailers.
"As a top tier centre, providing an exclusive experience for our shoppers is of the utmost importance. The screens will bring a contemporary digital solution to the centre, which is important as we support our retailers and enhance the Claremont Quarter experience for our customers," he said.
Cook explained that the assets will provide brands with strong reach to connect with Claremont Quarter's customer base, helping support marketing campaigns at a time when confidence is generally on the rise, despite recent COVID restrictions.
"Our partnership with Hawaiian and QIC is an exciting move for our business, expanding our extensive retail network. This quality centre complements our existing retail network, which provides advertisers access to more than 60% of all shoppers and spend in shopping centres across Australia. With the centre housing some of the world's top brands, working with our clients we have the opportunity to engage local audiences with targeted messaging using our world-leading data analysis and campaign planning capabilities."