Last night, the Shopping Centre Council of Australia (SCCA) hosted one of the most popular industry events on the annual calendar in a spectacular night at Doltone House in Sydney, compered by the vibrant Zoe Naylor of Home & Away and McLeod's Daughter's fame… and for the finalists, runner-ups and winners it was a night to be remembered.
The Awards Gala dinner saw the crowning of the 'best of the best' shopping centre marketing campaigns – Compelling Experiences, Retailer Marketing, Brand & Partnerships, Innovation and Community Award categories.
After looking at the finalists this year you can certainly see some common themes. Firstly, as we are in the midst of a fast-paced digital world, the down-to-earth community campaigns shine through with goals of helping local communities with common cause. Secondly, in a competitive retail environment, marketers are actively supporting retailers by focusing on driving retail sales and thirdly, technology has changed the way marketers think and do – evident in the campaigns that use technology to engage with customers.
"It's always pleasing to hear about how far and wide our nominations come from, such a Smithfield in Far North Queensland, down to Bayside on the Mornington Peninsula and all the way across to Bunbury in Western Australia.", said Peter Allen, Chairman, Shopping Centre Council of Australia and CEO, Scentre Group.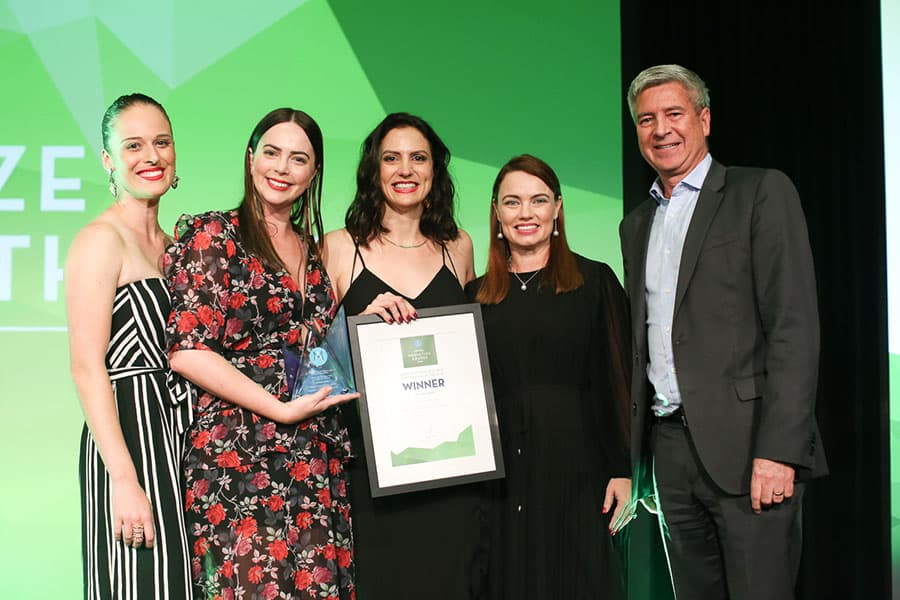 This years' Sabina Rust Memorial Prize for Campaign of the Year went to Indooroopilly Shopping Centre, owned by AMP Capital and Commonwealth Super Corporation. AMP Capital is a two time winner of the Sabina Rust Memorial Prize (last won in 2016) the award shows its commitment to marketing excellence.
The Indooroopilly Shopping Centre campaign dubbed 'The Indro Games' used technology together with the hype of the Commonwealth Games to create this award-winning campaign.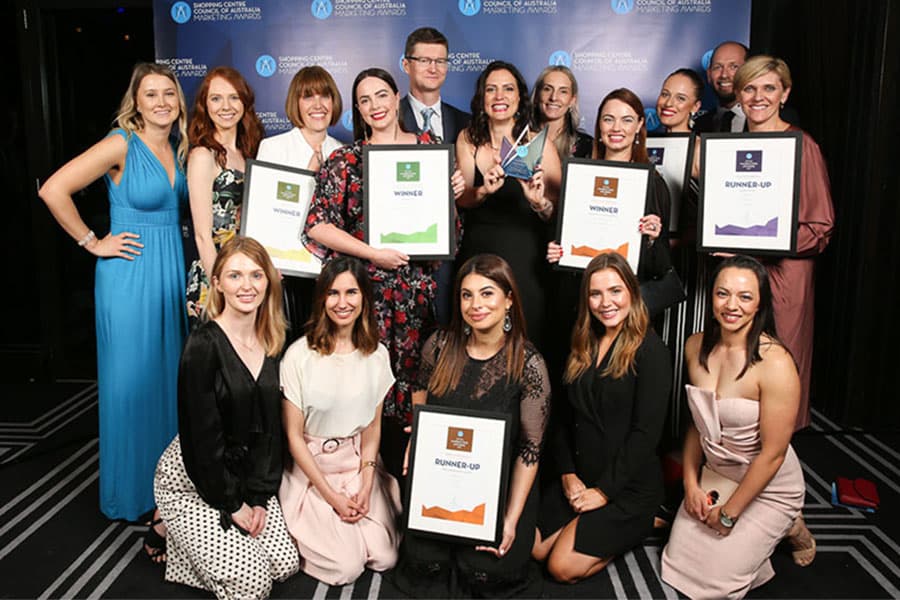 The Indro Games was one of Brisbane's key family events in 2018; a convergence of virtual and augmented reality technology with real life 'child's play' to create an innovative, accessible version of the Commonwealth Games. This pioneering activation saw over 16,000 people entering the virtual reality sports 'arena' in the ultimate 'battle of the burbs'. With compelling VIP incentives, Indro Games drove over 9,000 database subscribers over the two-week period and attracted the attention of national broadcasters across the state.
As a Brisbane-first, Indro Games delivered strong results, driving an 8% increase in foot traffic, while sports, kids' fashion and food retailers experienced a 20% uplift in sales and media about the event reached over 2.7 million people, providing Indooroopilly Shopping Centre with a media budget stretch of over 600%.
The award classifications changed this year to include smaller shopping centres as well as renewed award categories reflecting today's marketing techniques. Over 179 entries were received this year, which was the second highest number of entries the Shopping Centre Council of Australia has ever received.
Shopping Centre News would like to congratulate all the finalists and award winners for 2018.
2018 winners are listed below. Full brochure can be downloaded here
SABINA RUST MEMORIAL PRIZE FOR CAMPAIGN OF THE YEAR 2018
Winner: THE INDRO GAMES
Indooroopilly Shopping Centre
Owned by AMP Capital and Commonwealth Super Corporation
Managed by AMP Capital
Laurie Tennant
Runner-up: UNICORN FESTIVAL
Melbourne Central
The GPT Group
Melissa Polglase, Tenisha Greasley, Linda Julyan
COMPELLING EXPERIENCES – Small (75 stores or less)
Winner: 2017 MELBOURNE DUMPLING FESTIVAL
206 Bourke Street
Owned by ISPT
Managed by JLL
Danielle Sita
Runner-up: CHEERS TO THE HOST
Mirvac Tramsheds
Owned and managed by Mirvac
Bella Brant
COMPELLING EXPERIENCES – Medium (76 to 149 stores or less)
Winner: QV LANEWAY SERIES
QV Melbourne
Owned by DOTA and Victoria Square QV Investments
Managed by Dexus
Sarah Hynes
Runner-up: TASTE OF RHODES
Rhodes Waterside
Owned by Mirvac and Perron
Managed by Mirvac
Pauline Pham, Brett Riley
COMPELLING EXPERIENCES – Large (150 stores or more)
Winner: UNICORN FESTIVAL
Melbourne Central
Owned and managed by The GPT Group
Melissa Polglase, Tenisha Greasley, Linda Julyan
Runner-up: HILLS ILLUMINATE
Rouse Hill Town Centre
Owned and managed by The GPT Group
Kate Stone, Dave Morton
COMPELLING EXPERIENCES – Multi (150 stores or more)
Winner: SHOP THE CITY, BRISBANE
QueensPlaza, The Myer Centre and Wintergarden
ISPT, Perpetual, JLL and Vicinity Centres
Amber Carroll, Emma Wharton, Sarah Nolan
Runner-up: THE PETER RABBIT EXPERIENCE
Owned and managed.by Scentre Group
Anita Tasevski, Elena Petroska
RETAILER MARKETING – Small (75 stores or less)
Winner: KNOW YOUR LOCAL
Pennant Hills Market Place
Owned and managed by Banna Property Group
Nicole Bondoc
Runner-up: GOURMET SUNDAYS
Northbridge Plaza
Owned by Parangool
Managed by AMP Capital
Sandra Stern 
RETAILER MARKETING – Medium (76 to 149 stores or less)
Winner: MAKE YOURSELF A HOME
Rhodes Waterside
Owned by Mirvac and Perron
Managed by Mirvac
Pauline Pham, Brett Riley
Runner-up: PARK POINTS REWARDS PROGRAM
Capalaba Park Shopping Centre
Owned and managed by Trondage United/Retail First
Christian Polglase
RETAILER MARKETING – Large (150 stores or more)
Winner: RETAILER ENGAGEMENT STRATEGY
Indooroopilly Shopping Centre
Owned by AMP Capital and Commonwealth Super Corporation
Managed by AMP Capital
Laurie Tennant
Runner-up: SNEAKER PARTY
Highpoint Shopping Centre
The GPT Group
Samantha Carr
BRAND AND PARTNERSHIPS – Small (75 stores or less)
Winner: SEASON OF STYLE
St. Collins Lane
Owned by JP Morgan Asset Management
Managed by Colliers International
Renee Work
Runner-up: ADELAIDE MADE
Rundle Place
Owned by Private Entity/151 Property
Managed by JLL, Koula Di Biase
BRAND AND PARTNERSHIPS – Medium (76 to 149 stores or less)
Winner: REINVENTING AN ICON
Toombul
Owned and managed by Mirvac
Chloe Nevin
Runner-up: CINEMA AND CASUAL DINING PRECINCT LAUNCH
Smithfield Shopping Centre
Owned by SAS Trustee Corporation Pooled Fund
Managed by Dexus
Danielle Tait
BRAND AND PARTNERSHIPS – Large (150 stores or more)
Winner: 'COME ON IN' REBRAND
Indooroopilly Shopping Centre
Owned by AMP Capital and Commonwealth Super Corporation
Laurie Tennant
Runner-up: DINING AND ENTERTAINMENT CAMPAIGN
Macquarie Centre
Owned and managed by AMP Capital
Rio Nassar
BRAND AND PARTNERSHIPS – Multi (150 stores or more)
Winner: UNEXPECTED JOY
Stockland
Eliza Hodgson
Runner-up: WESTFIELD WOMEN IN CONVERSATION
Scentre Group
Anita Tasevski, Elena Petroska
INNOVATION – Small (75 stores or less)
Winner: ARTQUARIUM
Stockland Riverton
Owned by Stockland and Willeri Trust
Managed by Stockland, Alyce Woodrow
Runner-up: BE YOUR OWN YOU
Rundle Place
Owned by Private Entity/ 151 Property
Managed by JLL, Koula Di Biase
INNOVATION – Medium (76 to 149 stores or less)
Winner: WORLD SQUARE LUNAR NEW YEAR 2018 IN AUGMENTED REALITY
World Square
Owned by Arcadia and ISPT
Managed by JLL, Suzannah Nicholson
Runner-up: ARTISAN MARKETS AT FLOREAT FORUM
Floreat Forum
Owned by Australasian Property Investments
Managed by JLL, Julianna Debreczeni
INNOVATION – Large (150 stores or more)
Winner: THE INDRO GAMES
Indooroopilly Shopping Centre
Owned by AMP Capital and Commonwealth Super Corporation
Managed by AMP Capital, Laurie Tennant
Runner-up: FESTIVAL OF LIGHTS
Westfield Chermside
Scentre Group, Caitlin Lye
INNOVATION – Multi
Winner: ECOCADDY SHUTTLE SERVICES
Westfield Marion and Westfield Tea Tree Plaza
Scentre Group, Lucy Andolfatto
Runner-up: THE JELLYFISH BLOOM
QICGRE
Kelly McGufficke, Kylie Webster, Ellie Daly
COMMUNITY – Small (75 stores or less)
Winner: RIDE
Barkly Square
Owned by ISPT, Managed by JLL
Katrina Cheung
Runner-up: TOO BRIGHT TONIGHT
QICGRE Hinkler Central
Kaitlyn Harnell
COMMUNITY – Medium (76 to 149 stores or less)
Winner: LET'S GROW TOGETHER
Cranbourne Park
Owned by Vicinity Centres and ISPT
Managed by Vicinity Centres
Maggie Harrison
Runner-up: FITKIDS!
Campbelltown Mall
Owned and managed by Charter Hall
Anastasia O'Hara, Jarryd Tierney
COMMUNITY – Large (150 stores or more)
Winner: POSITIVE EXPOSURE EXHIBITION –REDEFINING BEAUTY
Sunshine Plaza
Owned by APPF Retail and The GPT Group
Managed by Lendlease
Mandy Poynton
Runner-up: NORTHLAND EMPLOYMENT WEEK AND JOBS FAIR
Northland Shopping Centre
Vicinity Centres and The GPT Group
Chantelle Clark, Jenny Pike
COMMUNITY – Multi
Winner: RE-GIFT FOR GOOD
Mirvac, Fran Windon
Runner-up: DELIVERING GOOD
Charter Hall, Jessica Pagano