Ripley Town Centre recently partnered with Ipswich City Council to deliver Little Day Out — one of Australia's first music festivals aimed at little ones under the age of 10.
A headline event as part of SPARK Ipswich – an 11-day city-wide festival that celebrated the people, places, arts and culture of Ipswich – Little Day Out was a sell-out, attracting 3,000 festival goers from the Ipswich region, south-east Queensland and beyond.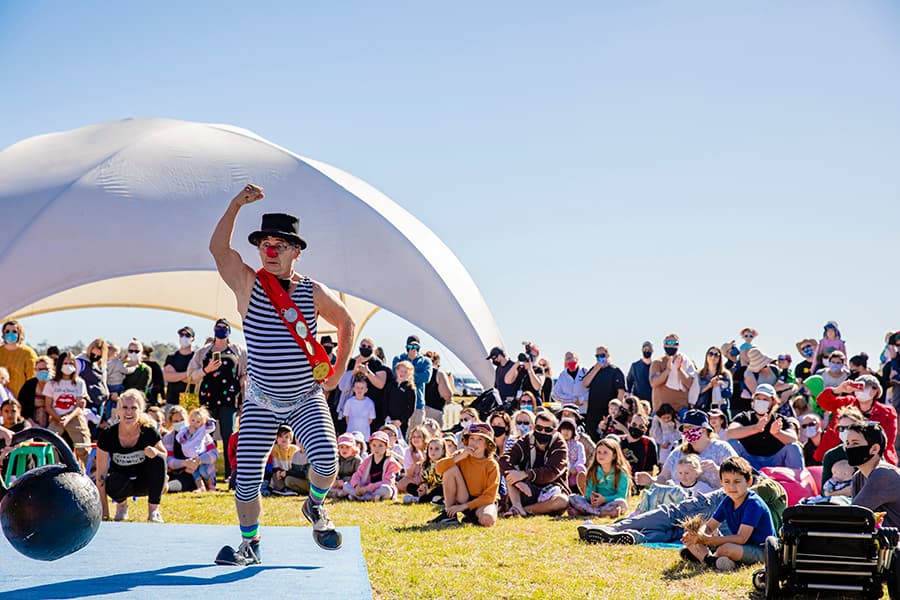 Ripley Town Centre, a masterplanned community development by Sekisui House Australia located approximately 10 kilometres south-east of the Ipswich CBD in one of Australia's largest Priority Development Areas, was proud to co-organise and host Little Day Out, in what was a truly collaborative partnership with Ipswich City Council event organisers. Being a greenfield site, a flat piece of land directly in front of the existing shopping centre provided the ideal space to deliver the innovative event – a space which will ultimately be transformed into the community's Central and Civic Heart, featuring cultural institutions, education, entertainment, and leisure and retail experiences upon completion.
With the feel of a traditional music festival, and a layout and format tailored for the enjoyment of children, Little Day Out featured a host of activities including main stage performances, circus skills workshops, musical instrument making and music creation, reverse garbage workshops, mural painting, seedling planting and more – ensuring it was completely interactive, educational and experiential.
On the main stage, Party Playground played their high-energy cabaret show, while high schoolers The Feral Cats of Tokyo brought their electrifying concert by children for children – both acts delivering interactive and entertaining shows that had kids, and their parents, up on their feet and joining in.
Regurgitator's POGOGO show was also due to headline the main stage with their witty, silly attitude and musical mash-up, however unfortunately was not able to travel due to COVID-19 restrictions at the time.
Local artist Hanna Jones (19) created the festival's unique artwork used across all creative outputs and was available to guide youngsters with a paintbrush in hand on the day to recreate the exclusive piece.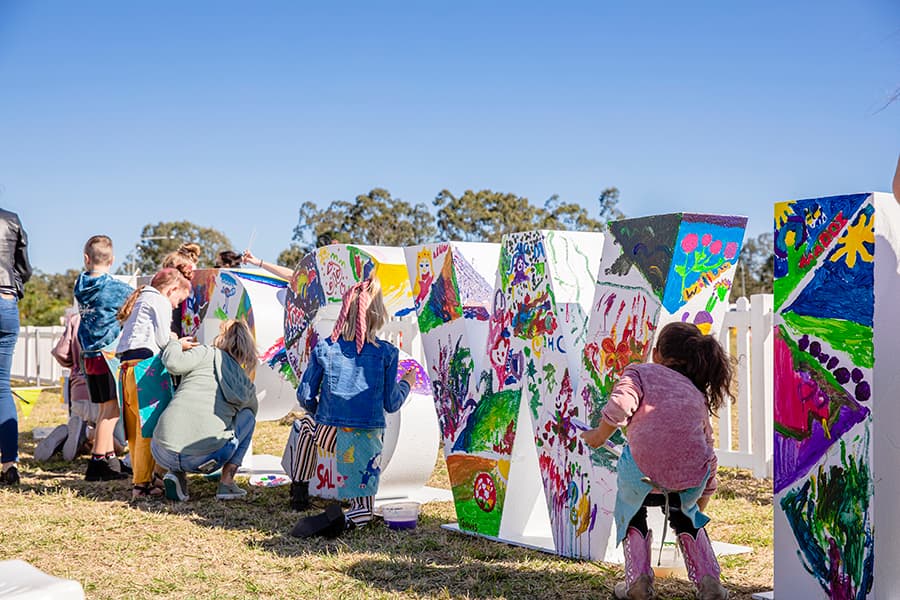 Ecco Ripley — Sekisui House Australia's adjoining residential community — provided festival goers a hands-on experience with an earth arts workshop run by Flourish Children's Collective, where children decorated wearable items using the traditional Japanese art of transferring pigment from flowers and leaves onto fabric.
City of Ipswich Mayor Teresa Harding said Little Day Out was a fantastic addition to Ipswich's premier cultural festival. "SPARK tells our city's story with a tapestry of unique events," Mayor Harding said.
"We were thrilled to bring residents of all ages together to see some of the world's best family friendly performances. Thank you to Ripley Town Centre for hosting Little Day Out with a fantastic venue."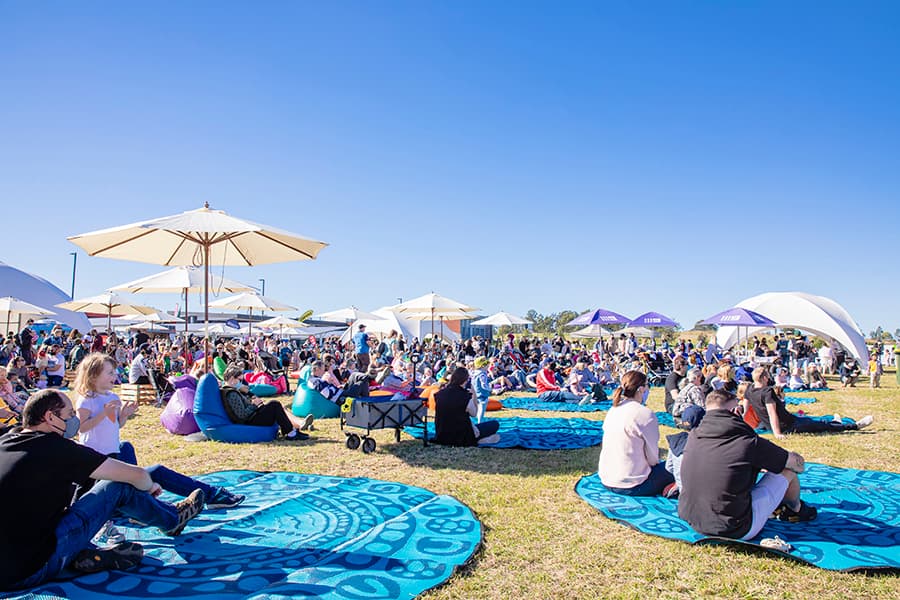 In partnering with Ipswich City Council, it was important for Sekisui House Australia to ensure Little Day Out aligned with its key corporate principles of happiness, connectivity and sustainability across its communities. By hosting this region-first event at Ripley Town Centre, it further cemented the high-growth area as a central community hub for families to enjoy now and in years to come.
Sekisui House Australia Project Director Taku Hashimoto said Ripley Town Centre's partnership with Ipswich City Council is important to ensure the long-term success of the community by investing in its early stages of development and delivering positive community outcomes.
"As a community developer, Sekisui House Australia is committed to ensuring Ripley Town Centre is a place where locals and visitors alike can access cultural and community experiences in keeping with our 'Love for Humanity' philosophy, so it was fantastic to partner with SPARK Ipswich for Little Day Out and bring this defining philosophy to life," he said.
"It is wonderful to see a large regional event like Little Day Out, Ipswich's first contemporary music and arts festival bring people together, and showcase sustainable practices and demonstrate the Ipswich region's leadership in this area."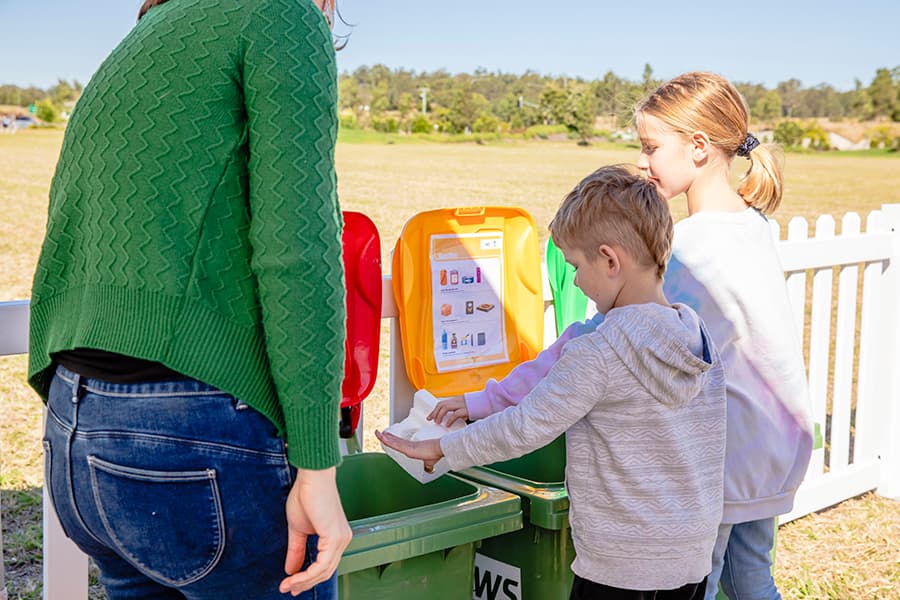 With sustainability a key focus for the festival, Little Day Out was free from single-use plastics and encouraged families to fill-up reusable water bottles at the two free water 'monster' stations throughout the showgrounds. There were child-friendly recycling and green waste bins for use, and educational professionals teaching children important skills to dispose of their rubbish correctly. All food packaging was recyclable and infrastructure required for the festival had been repurposed from existing materials.
"Little Day Out was such a great event. Congrats to all who created the event, it was well organised and the kids had a ball."– Alicia Forsyth
"Loved it so much. Loved that it was fenced and lots to look at! Will definitely support this event again!" – Margaret McNeill
If families needed to recharge, Ripley Town Centre provided a 'recharge lounge' to take time out to relax and have a free iced tea before returning to the festivities.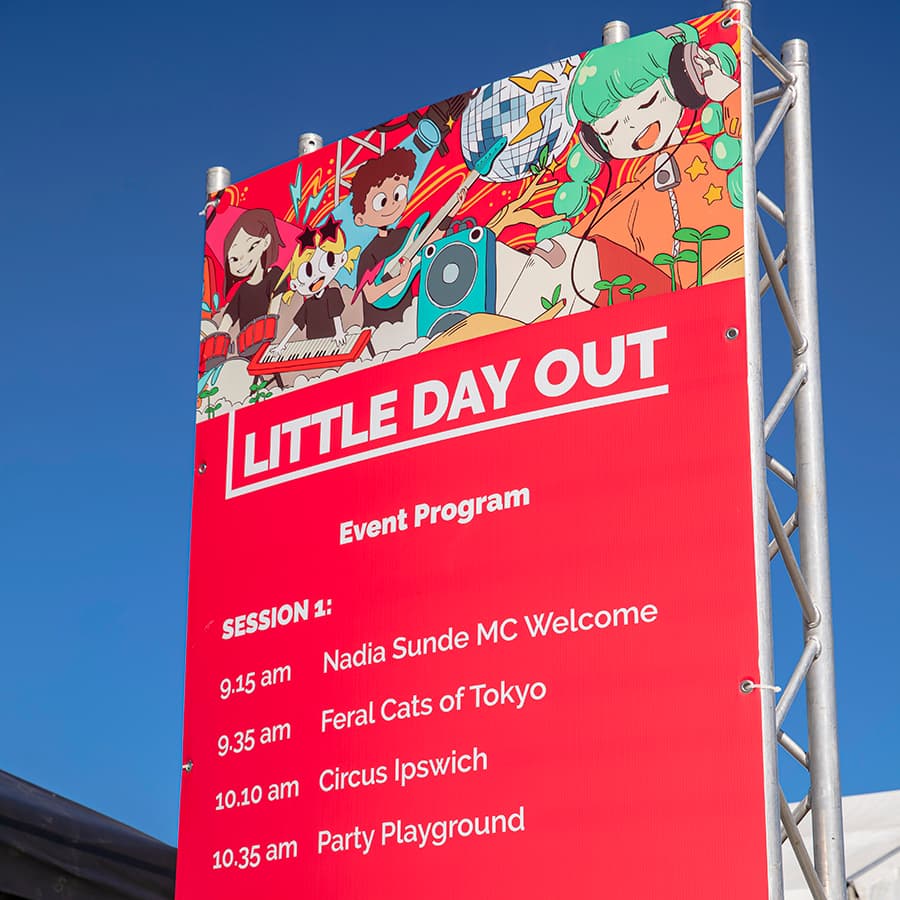 Festival producers worked hard to ensure Little Day Out was a COVID-safe event, with adequate space outdoors to accommodate social distancing, capped numbers at each session with ticketed entry and easily accessible sanitisation stations throughout.
"We had a rush in the morning. It would be great to see the event at Ripley Town Centre again as it will draw more people to the Centre, and I am excited for it." said Jenna Le, Little Piggy Café owner, Ripley Town Centre.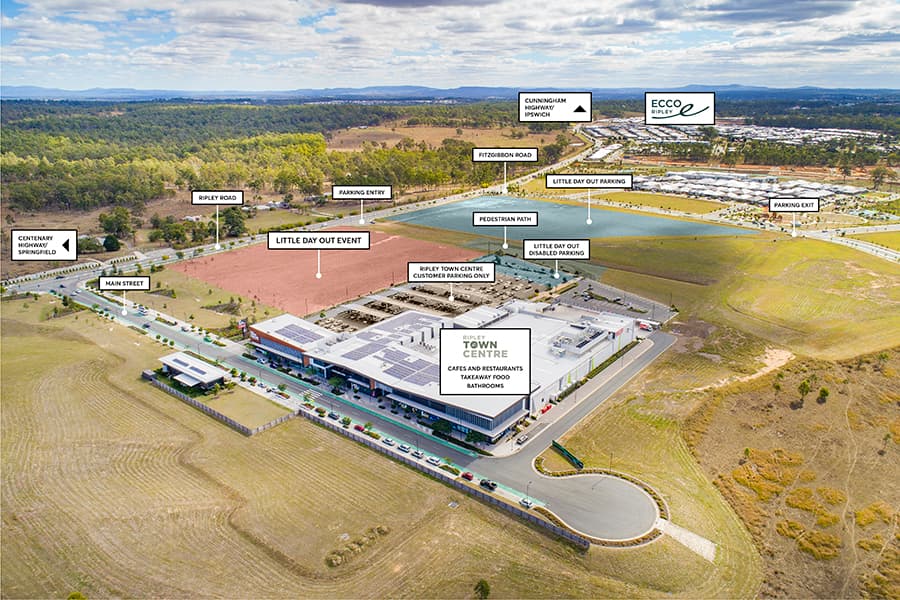 Stage One of Ripley Town Centre was delivered in May 2018 and is home to a Coles Supermarket, BWS, Anytime Fitness, Medical Centre, and approximately 20 specialty stores across café and casual dining, health, beauty, services and business. Support for these retailers was further boosted by Little Day Out with almost 3,000 people on their doorstep, driving increased awareness to the Centre to those outside of the primary trade area. A creative workshop was also held at Ripley Town Centre prior to Little Day Out, where local children created artistic pieces in partnership with Ipswich City Libraries which was on display at the entry of the event.