For centres, determining which retail out-of-home formats influence shoppers best can be challenging. With screens and placement options varying enormously, it can be a frustrating process. But what if there was a way to determine and prioritise quality formats? Debbie O'Hara, Director of Commercial Partnerships at VMO, explains why quality matters in retail out-of-home.
We all know the old adage; you get what you pay for. You pay for the best tickets to see your favourite gig; in exchange you get the greatest comfort and visibility for the event. You pay for first-class tickets and you get an experience like no other.
The quality of your seat counts. Especially so when you travel, for sporting events and entertainment. We want the best quality experience for the budget we are willing to spend. Retail out-of-home should be no exception.

This quality mindset should be brought to consideration when implementing retail out-of-home (OOH) screens into your centre. Premium, strategically placed digital screens in high-traffic locations command your shoppers' attention.
Until now, most retail out-of-home screens have been evaluated on an equal basis, but this is simply a missed opportunity. Your all-important centre messaging, informative content and advertising deserves to be seen. How can you ensure that the advertising screens in your centre are maximising the right audience, in the right mindset, in the right moment?
Well, all screens in retail just aren't equal – their ability to attract attention is largely dependent on their visibility to shoppers and their positioning within your centre.
We've based our strategy on delivering next-gen, commercial quality screens to centres, with positioning designed to enhance the centre, not to clutter. Retail out-of-home screens are often a centre's most important and only means of direct communication with their shoppers – therefore attention and cut-through must be addressed as a priority.

Audience measurement in real-time
Screens are just a part of the puzzle. At VMO, we've implemented real-time audience measurement devices built into our screens – we call this DART. Our screens, combined with these first-party audience analytics, deliver powerful insights for our partners and clients. DART provides a deeper understanding of your shoppers' demographics and visitation, and can assist partners when considering in-centre marketing and leasing plans.
With a significant investment into screens and data, VMO wanted to better understand the value placed on individual retail screens. To do this, we've spent the past three years gathering data across retail OOH environments with the objective to finally determine which screen types and placement are most fundamental to shopper engagement. The findings would be the key to delivering impactful messages with cut-through to your shoppers.
The research was developed from a combination of 200 million data points. These were fused from VMO's proprietary audience measurement system DART, with Eye Tracking data from leading software-tech company Access HQ helping us further understand shopper attention.
The results were clear – across all screen formats, quality and placement drive increased attention in retail environments – proving, quality counts.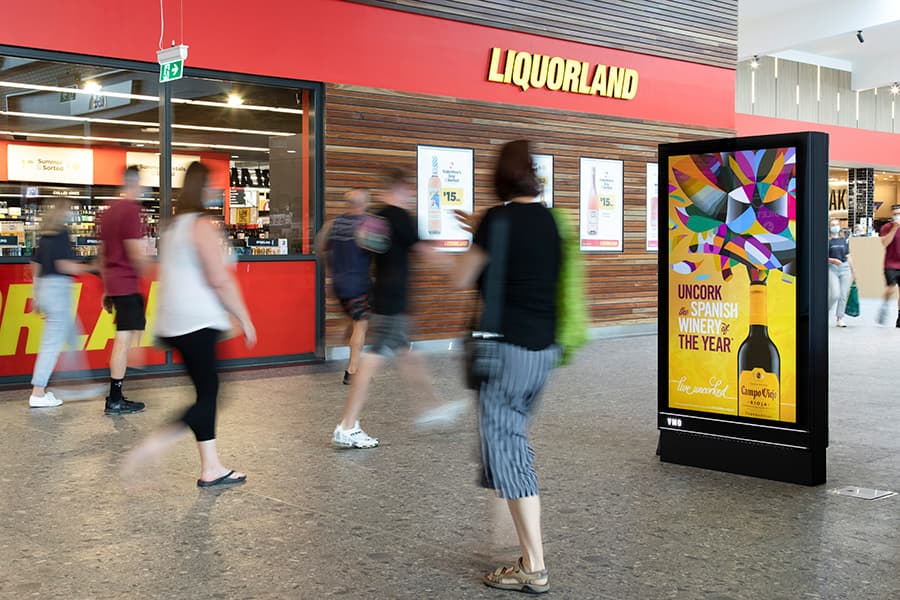 Our research discovered six main attributes that had a positive impact on shopper audience attention in retail OOH environments:
In-centre screens have more audience engagement than screens outside the main shopping environment (eg. carparks etc).
Portrait, front-facing screens clear of obstruction are more engaging to shoppers than portrait parallel screens.
Ceiling mounted screen formats deliver more attention time than floor mounted formats because they can be seen on approach by shoppers without any obstructions.
High dwell-time environments such as food courts and escalators offer increased screen attention time.
Digital screens are more engaging than static panels.
Screens in main shopping thoroughfares and on the path-to-purchase are the best locations to capture maximum shopper attention.
Without a doubt, front-facing digital large-format screens were revealed as the first-class retail OOH format, closely followed by both in-centre front-facing ceiling mounted and floor mounted digital screens. Unsurprisingly, screen assets that fall outside of these formats result in messaging that will have less chance to influence and impact your shoppers.
Every single retail OOH screen placed in your centre should be quality. It should deliver the best attention and therefore the best chance to impact your shoppers. Take a moment to consider the screens placed in your centre's environments – because quality counts.