Advertisers and brands today require greater agility and speed to market to adapt to the ever-changing conditions of 2020. This is leading to an increase in demand from media buyers to transact their Digital Out-Of-Home (DOOH) campaigns programmatically. Shopper Media is perfectly positioned to support advertisers to be more nimble with its 100% digital Smartlite® network in local shopping centres Australia-wide.
Programmatic Out-of-Home offers unprecedented ability to stop, start and adjust campaigns. Shopper Media's Head of Programmatic, Laura Wall, says the need for flexibility in advertising is at an all-time high as brands react to localised outbreaks of COVID-19. One constant throughout the pandemic has been the need to visit local shopping centres for essential groceries, further cementing retail DOOH as a critical channel for media.
"Australians spent $94.6 billion in supermarkets in the year to March 2020. By March 2020, as the pandemic took hold, only 3% of the nation's total supermarket spend was taking place online. Our own first-party data show that visitation across our national network of over 370 centres has undergone a few changes, from spikes due to panic-buying in the early days of the pandemic, to softening of numbers during lockdown, but visitation remained robust and returned to growth in recent months, confirming that local shopping centres are the home of essential retail and an essential destination for Australians", said Wall.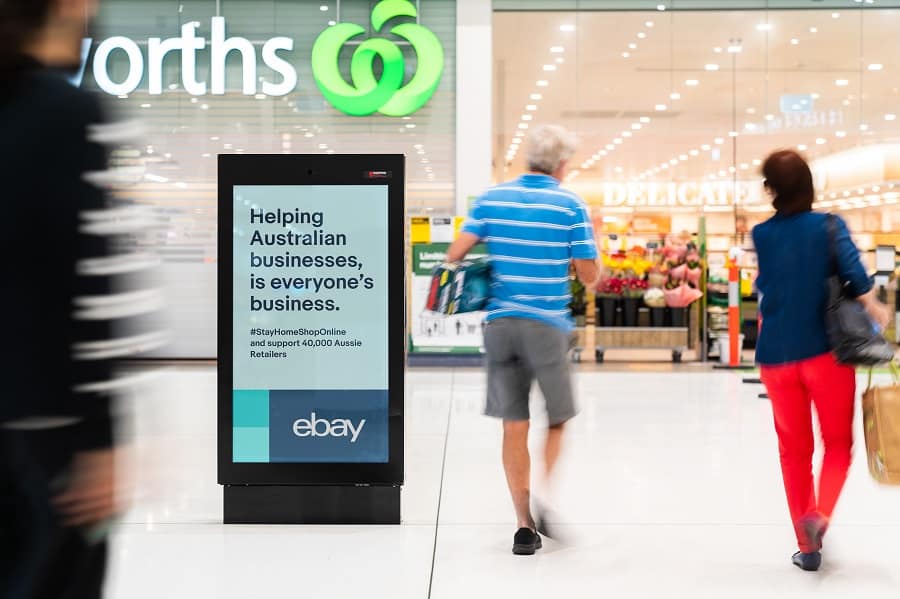 With its 100% digital network, ongoing investment in market-leading technology and technology partners such as Vistar and Hivestack, Shopper Media is able to deliver significant advancements in data analytics and commercially relevant consumer insights to offer a programmatic buy that caters to its clients' changing needs. At a time when marketers need to do more with less, programmatic technology offers greater flexibility and efficiencies. With the introduction of programmatic DOOH brands can now use a single platform to connect brand and performance outcomes – and deliver on more strategic objectives utilising the same data strategies across all channels.
Wall continued, "Programmatic allows buyers to pause, delay or reassign allocations to different markets with an immediacy that, until now, has not been available in traditional methods of buying OOH," says Ms Wall. "Our programmatic offering allows clients to target consumers via digital OOH in the shopping centre environment, where Australians are buying their essential groceries."
Shopper Media's programmatic capability automates the buying and selling of digital OOH, giving the buyer greater control, and allows for a scalable and data-driven approach. Buyers can use data-driven audience strategies to understand the best environments in which they want their ads to appear, as well as targeting capabilities (time of day, day of week, weather conditions etc), offering brands a way to deepen personalisation and deliver highly targeted campaigns and messaging at scale in a brand-safe and relevant environment.
Retail DOOH is ideal for building brand awareness of fast-moving consumer goods as well increasing conversion. The introduction of programmatic gives DOOH the same advantages as other digital channels, but, unlike other digital media, DOOH is unskippable and unavoidable.
"Shopper Media, together with MiQ, delivered a DOOH campaign for a leading online retailer and the results showcase the power of OOH and online. MiQ technology was used to identify Shopper Media locations, and track online and offline behaviours of our shoppers, allowing us to directly attribute the audience exposure to the DOOH campaign, as well as measure the impact. The campaign increased conversion rate of shoppers exposed to the campaign by 2.4 times and increased the average spend by 1.5 times," explains Wall.
"Programmatic is now an essential media offering, and Shopper Media's 100% digital inventory means it is best positioned to enable programmatic trading across our network as the specialist in retail DOOH. Brands can now seamlessly roll their data strategies into our Smartlite® network to deliver the most flexible, efficient and effective campaign outcomes possible," adds Wall.