One of south west Sydney's largest shopping centres is bringing sand, sea and summer vibes to Campbelltown this September and October with its very own beach club.
Kellicar Lane in Macarthur Square will transformed into the  'Macarthur Beach Club' from Saturday 29th September and will continue through to Sunday 14th October 2018, where visitors to the centre can take part in a host of fun activities 'beyond the expected'.
"We couldn't wait to see Macarthur Square's Kellicar Lane transform into a beach oasis. We're celebrating all things summer and just in time for the school holidays. Offering something for everyone, the beach club will certainly be more than you can imagine and a great opportunity to discover, explore and enjoy your local shopping precinct in a unique and fun way." said Chelsea Milne, Acting Centre Manager.
The first 100 visitors to the beach club on opening day received a complimentary beach towel – handy for diving into the giant sand pit, the perfect activity for adults and children. If it gets too much, cool off by taking a plunge in the epic blue 'sea' ball pit. The Kombi DJ van will be pumping out the tunes and creating an electrifying atmosphere while visitors enjoy the array of activities on offer.
In partnership with The Scoop Gelato, the Macarthur Beach Club will be home to an ice cream ATM, dispensing signature gelato treats for all those lucky enough to receive a credit card. We will be giving away 200 credit cards every weekend that can be inserted into the ATM for a free ice-cream. On weekdays 100 cards will be available at 'Happy Hour' from 12-1pm, providing the perfect treat to cool down at the beach.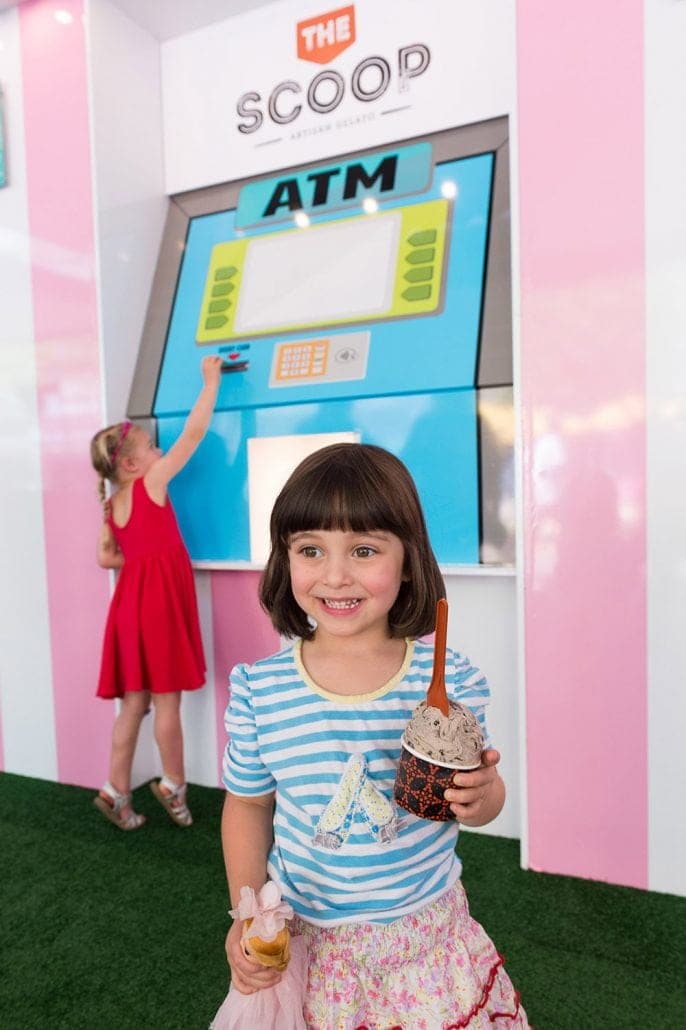 Visitors' Instagram moments at the Macarthur Beach Club could bag them 'the ultimate summer holiday escape', with thanks to Flight Centre, for the most creative post on the custom-built giant deckchair.
For those looking for summer beauty inspiration, influencer Michelle Crossan will be hosting an exclusive 'how to' event on  Saturday 6th October from 3pm – 4.15pm. Michelle will share her top tips including makeup bag must haves, summer essentials and skin care, as well as prizes and giveaways. Registration is essential as this is sure to book out.
On closing weekend, a grand reveal of the exclusive Macarthur Beach Club Sand Sculpture will take form from Thursday 11th October for completion on Saturday 13th October. Visitors to the center can see the sculpture being carefully curated by hand over two days.