With the number of Chinese tourists entering Australian shores reaching more than 1.4 million (an average of 151 flights per week) and spending $11.5 billion annually (Tourism Australia 2018) there is no wonder Australian shopping centres are maximising on the tourism dollar. Lunar New Year for the 1.2 million Australians with Chinese ancestory (ABS 2016 Census) has always been a big celebration in Australia and the surge of Chinese tourism has created this major effort by shopping centres to appeal to this lucrative market.
This year it's Year of the Pig and will be until 24 January 2020.  Occupying the last position in 12 Chinese Zodiac animals, Pig is mild and a lucky animal representing carefree fun, good fortune and wealth. Personality traits of the people born under the sign of the Pig are happy, easygoing, honest, trusting, educated, sincere and brave. The possible dark sides the Pig people are stubbornness, naive, over-reliant, self-indulgent, easy to anger and materialistic.
Shopping Centre News takes a look at some of the best activations and campaigns driving traffic to centres across the country to celebrate the Lunar New Year and Year of the Pig:
WESTFIELD GARDEN CITY, BRISBANE
To celebrate Lunar New Year, Westfield Garden City is inviting everyone to witness its spectacular fireworks display, lion dancers, drummers, fire dancers and kids' workshops. The Lunar New Year celebration at Garden City are extensive and a way to bring the Chinese community to the heart of this shopping centre.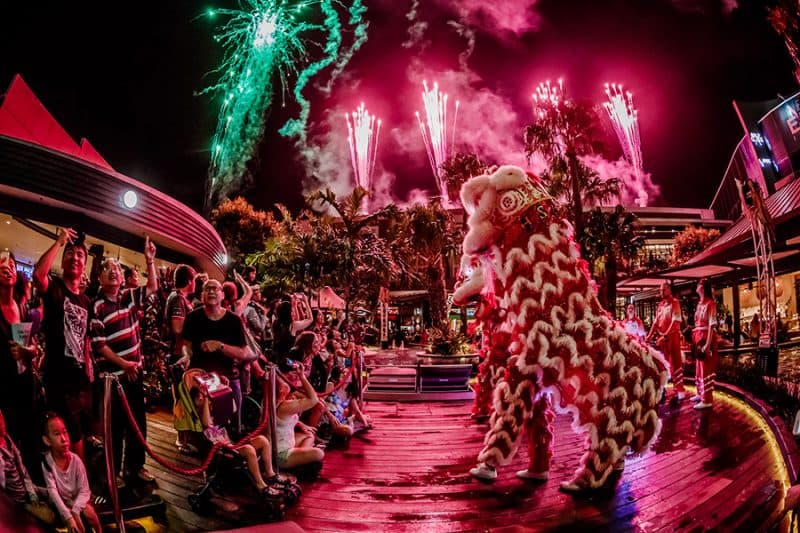 BOX HILL CENTRAL, MELBOURNE
A 3D illuminated pig will be installed to delight visitors. The statue will be tinted in red – the lucky colour in Chinese culture. Decorated with intricate gold details, it makes a perfect backdrop for you and your loved ones to create your own 2019 Chinese New Year memento! Rumour has it, rubbing the pig might bring you a year of good fortune.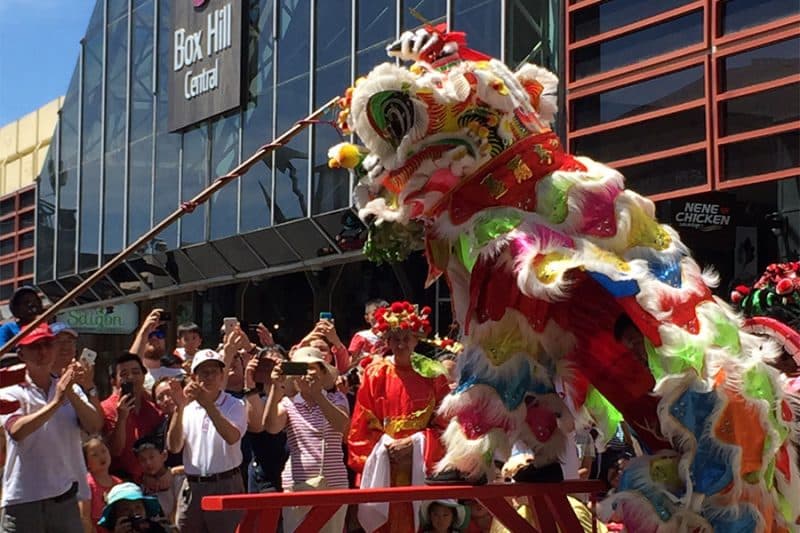 In addition, Box Hill Central will host a 3D Chinese New Year photo booth. Inspired by traditional Chinese interiors, this festive set-up will transport you to another world where is packed with cherry blossom and twinkling lights.
A bespoke Chinese New Year vending machine will be in-centre  for a chance to win one of the 1,500 prizes.
WORLD SQUARE, SYDNEY
Every year, World Square puts on a spectacular show, and this year is no different as they celebrate the Year of the Pig with dancing pigs in augmented reality and traditional lion dance on poles from renowned Lion Dance troupe Jin Wu Koon Dragon & Lion Dance company. The centre is located near Chinatown and benefits from a light-rail stop right near its doorstep.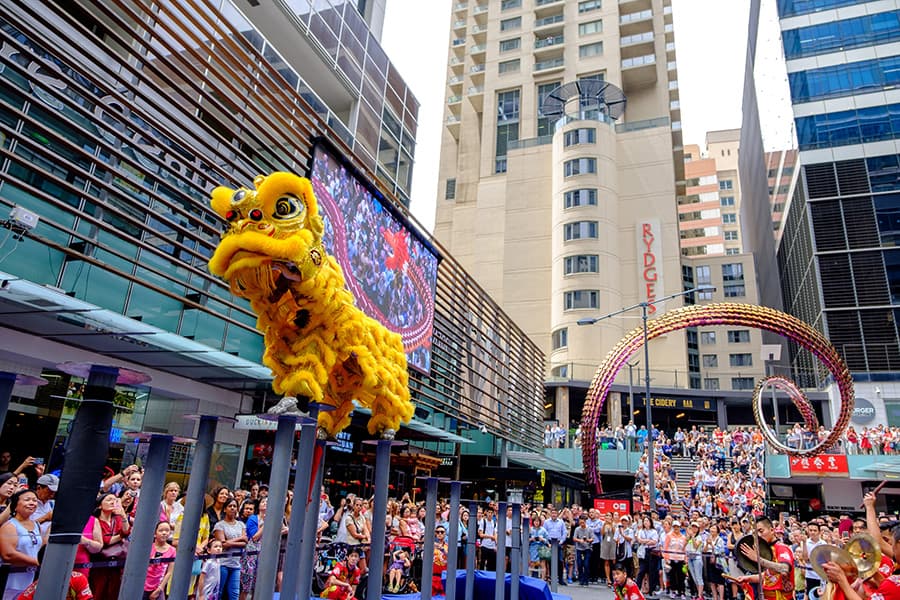 The events have been carefully curated by internationally acclaimed cultural ambassador, Claudia Chan Shaw, who's worked with the City of Sydney over the past three years on their Lunar New Year activations. 
Augmented Reality

Year of the Pig

"Our programme at World Square will allow visitors to immerse themselves in the traditions of Lunar New Year, celebrating the Year of the Pig. We've brought to life the cheeky, fun nature of the pig zodiac with our augmented reality creating an entertaining activation for visitors to the square," says Claudia. 
A highlight of the week is the stunning two-metre tall installation of three whimsical pigs in the centre of the square, who come to life through an augmented reality experience. Visitors can watch the pigs perform a traditional fan dance across the big screen daily. 
World Square is an associated event of the City of Sydney Lunar Festival.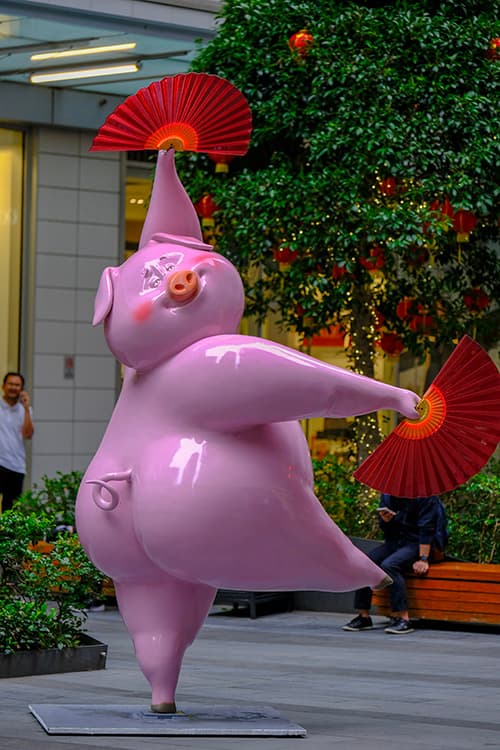 BIRKENHEAD POINT, SYDNEY
To add to their extensive tourism offer including the newly opened Guest Lounge, Birkenhead Point will celebrate the Lunar New Year in a big way  with international contemporary artist Guan Wei.
Guan Wei will hand-paint a bespoke piece of art to welcome the Year of the Pig. His handcrafted installation will be showcased at Birkenhead Point on a giant 22-metre-long mural featuring existing iconic images from his previous work with the flying pig as the central theme.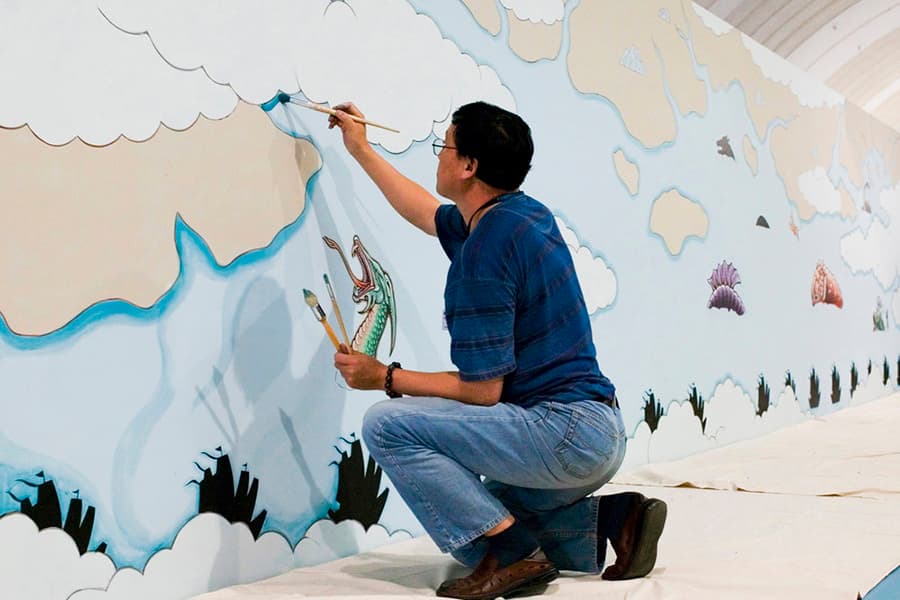 Guests will have the opportunity to witness a live signing of his work on 9 February plus participate in an exclusive meet and greet at Birkenhead Point.
Media who attend the exclusive meet and greet will also receive a goodie back from Birkenhead Point which will contain items from Australian leather Designer, The Daily Edited and a gift card to spend at Birkenhead Point on the day!
For our International Chinese guests who book their online travel through Ctrip (Chinese largest online travel agency) can redeem the current centre offer of a complimentary visitor passport booklet, a complimentary coffee card and the 1% rebate on all their shopping transactions.  If these customer spend over $150 they will receive a $20 gift card to spend back in centre or if they spend over $300, they receive a $50 card to spend back in centre. Campaign running until February 20th 2019.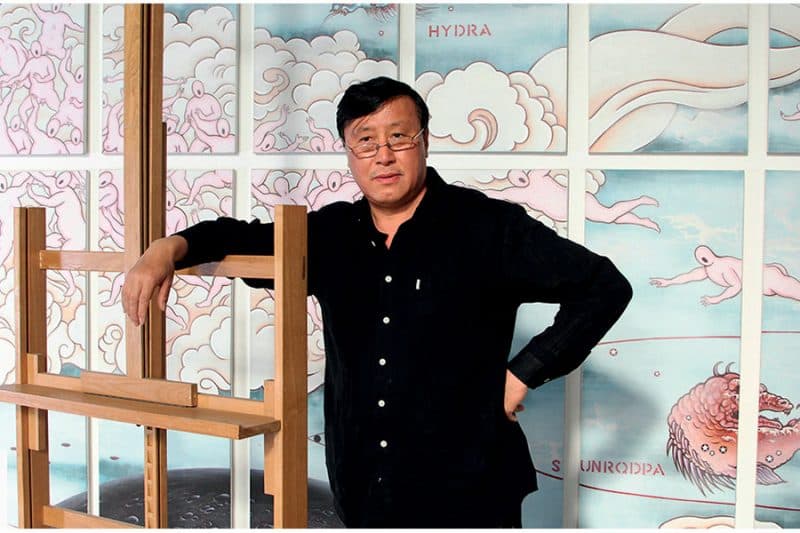 WESTFIELD DONCASTER, MELBOURNE
Westfield Doncaster has collaborated with acclaimed artist and engineer, Mond Qu, for the second year in a row in this exclusive collaboration for Lunar New Year. In the spirit of the season, Westfield Doncaster will be celebrating the 'Act of Giving' through a stunning lantern installation in partnership with UnionPay. Beginning as 64 closed lanterns, each day eight lanterns will be opened in the garden to reveal the lucky winners who will be given Westfield Doncaster Red Envelopes with each envelope revealing a mystery gift. This unique art installation can be viewed from 28 January until 6 February.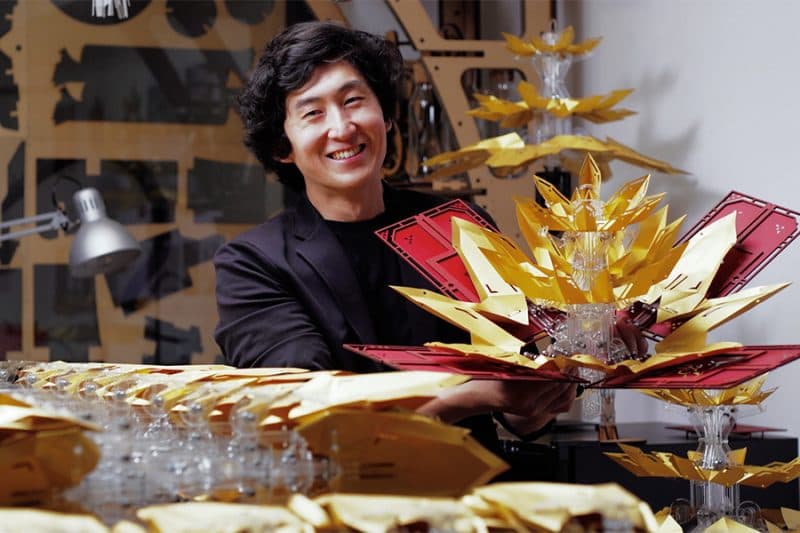 RHODES WATERSIDE SHOPPING CENTRE, SYDNEY
The centre will be dubbed the 'luckiest shopping centre in Sydney'. The calendar will feature a free gold piggy banks and extra hour parking gift with purchase campaign, a UnionPay partnered exclusive Lunar Lounge, lion dance performances, Tai Chi lessons and a red packet hunt. A partnership with Rhodes Communities for Communities will create a Lunar New Year festival in the park with a moonlight cinema and fireworks.
SOUTHLANDS BOULEVARD, MELBOURNE
Lendlease's Southlands Boulevarde is celebrating the Lunar New Year with acrobatic lion dancing, stilt walkers and arts and crafts workshops including lantern making, opera mask painting and calligraphy. During the two weeks of celebration, the Centre will be beautifully decked out with Chinese lanterns and a giant inflatable pig for those instagram selfies.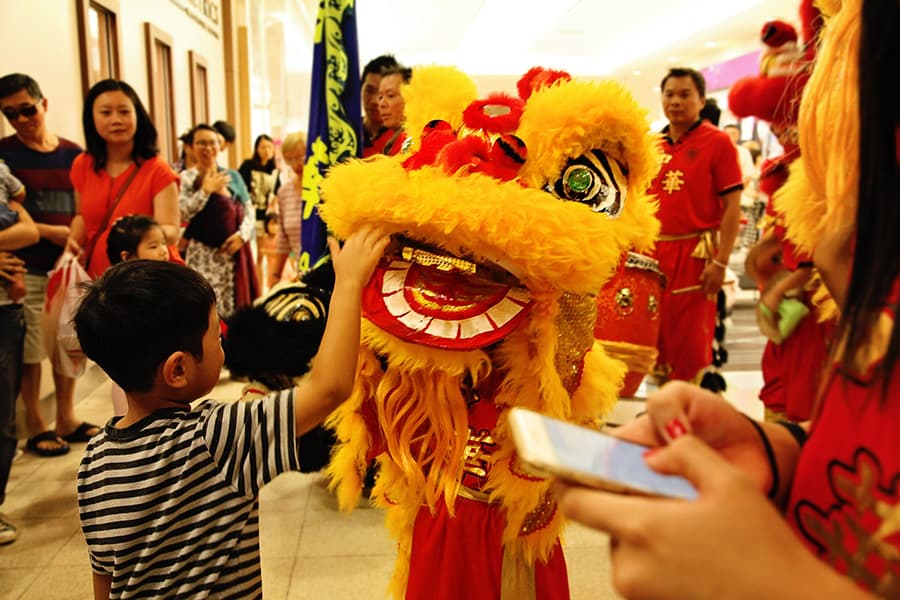 "We love celebrating Lunar New Year. It reflects our pride of being part of this diverse community. We'll have something to delight our customers almost every day for the next two weeks including gifts of mandarins, oranges and fortune cookies. There will be lots of craft workshops and entertainment including a cultural dance performance and lion dancing, which is always a great spectacle for the senses.", said Centre Manager, Quentin Dennis
EMPORIUM MELBOURNE
To celebrate Emporium Melbourne wants you to 'Find Your Fortune' – people can pick-up an envelope that matches their zodiac to reveal their fortune in love and luck. There are over $10,000 of prizes to be won include a $888 Emporium Melbourne Gift Card.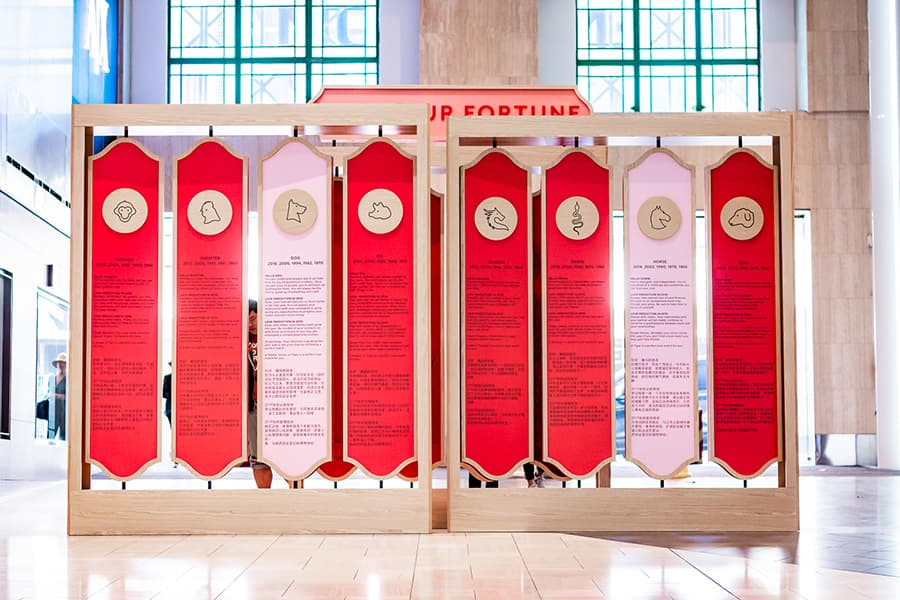 WESTFIELD CHATSWOOD, SYDNEY
A bespoke in-centre display featuring 88 Golden Pigs and Prosperity trees to welcome wealth and health for 2019 can be viewed at Westfield Chatswood until 19 February. And in a first of its kind, Westfield Chatswood are excited to host a display showcasing and representing the 12 different Chinese Animal Zodiac signs featuring members of the local community. The curation will feature 12 Chinese Zodiac Animals with suggested fashion style advice based on characteristics of each zodiac and fortune for 2019.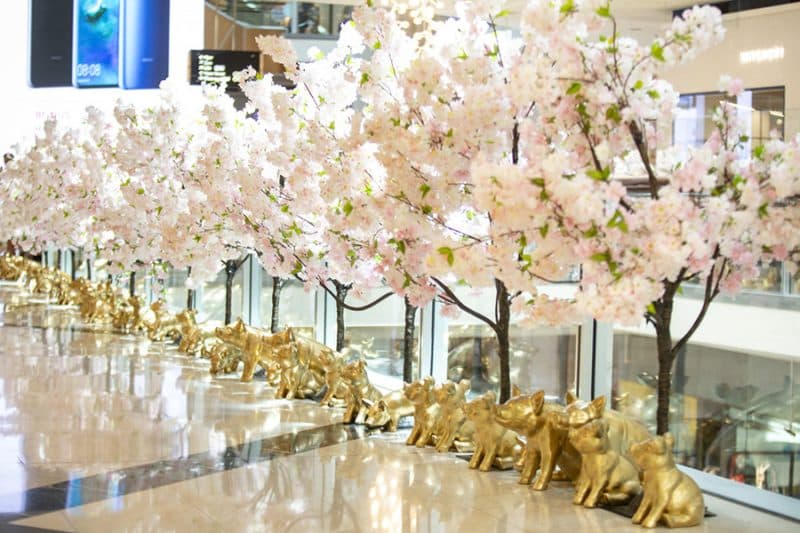 Westfield Chatswood will also be hosting Sydney's largest Prosperity Salad Toss on 2 February with the salad toss being one of the dishes that most Chinese anticipate and look forward to during the Chinese New Year. Guests will be invited to participate in the Prosperity Salad Toss and they will each be given a red envelope upon arrival (Ang Pow). Masterchef finalist Sarah Tiong will give a short description of what the Prosperity Salad Toss is, its significance and how to do it.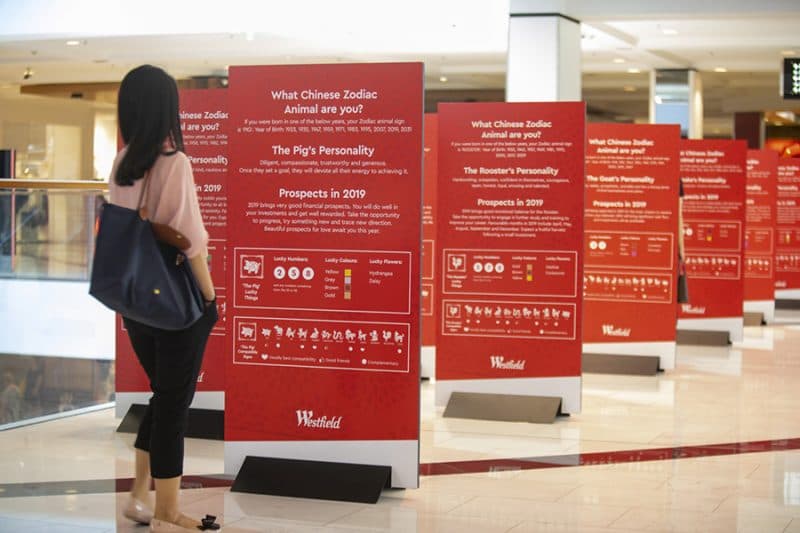 CHADSTONE – THE FASHION CAPITAL, MELBOURNE
One of Australia's most renowned centres for fashion and luxury will blossom this Lunar New Year which is presented by UnionPay from Friday 25 January to Thursday 7 February. The Fashion Capital will celebrate with traditional lion dancing, lucky Dim Sum and roving rickshaws over the weekend leading up to Lunar New Year.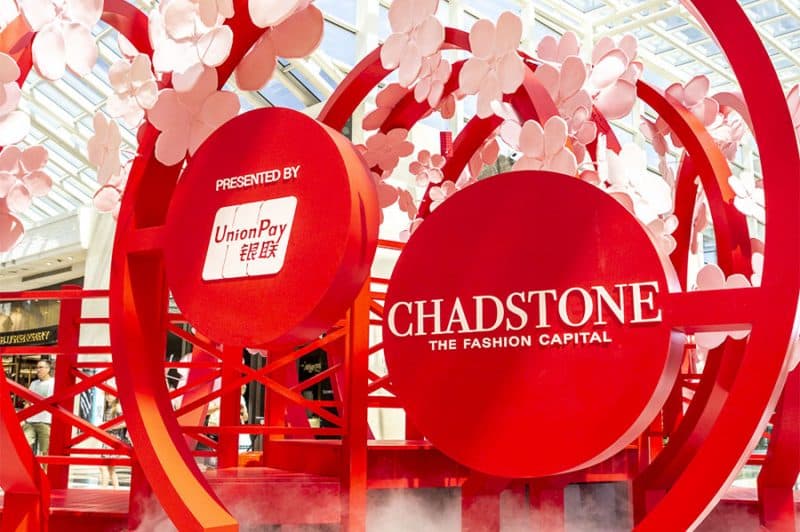 Customers will be in luck with a variety of in-store competitions and offers from a range of retailers including Herschel Supply Co, Moncler, Swatch, Mecca Cosmetica and more with the chance to indulge in the tranquility of the Blossom Garden, a landscape made for relaxation and reflection.
Chadstone consumers who spend $288 or more at participating retailers, can sign up as a Chadstone First Member and make their way into the Blossom Garden installation. Once inside, they can try their luck to win a Chadstone gift card up to the value of $500. Plus, those that complete the spend with their UnionPay card can enter the draw to win a $2,000 Chadstone gift card.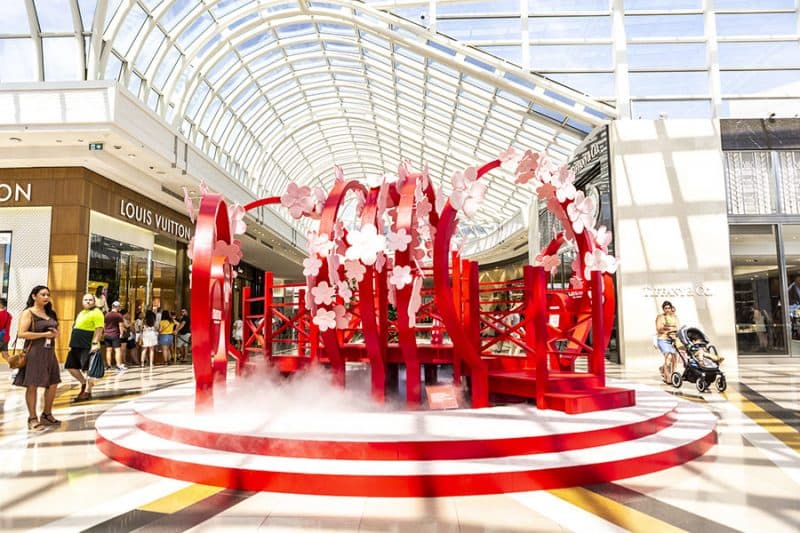 MARKET CITY, SYDNEY
With its own hashtag #MarketCityLNY2019, Market City is set to come alive this Lunar New Year, with an exciting array of events from today until 19 February.
Located in the heart of Sydney's bustling Chinatown and regarded as one of the city's most authentic Asian food destinations, locals and visitors alike can immerse themselves in the festivities, from learning how to cook a lucky Lunar New Year feast with television chef, author and long-time Market City supporter Adam Liaw, to watching traditional cultural performances, and participating in family-friendly mural painting for the little ones.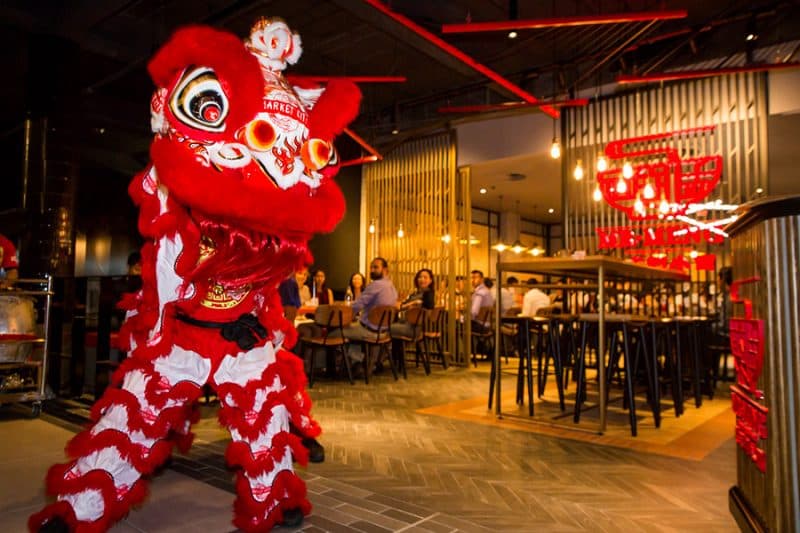 Adam Liaw will be hosting an exclusive cooking demonstration with the talented chefs behind Market City's 1909 Dining Precinct restaurants, while fans will have the chance to meet and win copies of his latest cookbook Destination Flavour: People and Places, or dining vouchers to experience the diverse range of restaurants within 1909 Dining Precinct.
Foodies can toast the Year of the Pig at Market City's newly transformed 1909 Dining Precinct on level 3, tucking into exclusive dishes and banquet menus from a stellar line-up of seven deluxe Asian restaurants including The Eight, Beijing Impressions, Mr Meng Chongqing Gourmet, and more.
Families and children of all ages can celebrate the Year of the Pig by unleashing their creative side at Market City's mural workshop. Featuring the pig zodiac, alongside a peach tree to represent longevity, health and good fortune, the 18-metre wide mural will be transformed into a feature wall over the course of the festival. Children will be invited to express their creativity by adding their own decorative elements to the mural, to welcome Lunar New Year.