For more than 25 years, The Prop House has been creating Christmas magic in shopping centres, corporate foyers, entertainment precincts and restaurants. Earlier this year, Director Jano Kotzas and Senior Designer Heather Davern visited Hong Kong to uncover trends and discover quality decorations. In this article, they share their passion and commitment to bringing the magic of Christmas to Australia.
In a world where technology and digital innovations are rapidly reshaping how we go about our daily life and the way we shop, it is increasingly important to preserve the timeless magic that makes Christmas unique. Amid the dazzling array of modern advancements, The Prop House has stood the test of time, unwavering in its commitment to creating unforgettable Christmas experiences through traditional decorations and illuminating the hearts of shoppers.
While online shopping and digital interactions offer convenience, they can sometimes leave us longing for the intangible essence that can only be found in a real, immersive shopping experience. We understand this longing and have made it our mission to keep the spirit of Christmas alive with experiences that entice shoppers to venture out of their lounge rooms and into our shopping centres. 
Toowoomba, Queensland, is known for its rich history and country heritage. In 2022, our team designed and installed all new decorations at Grand Central Shopping Centre, delivering a traditional yet tangible Christmas experience.
Shoppers dwell where decorations are expertly designed and meticulously crafted, evoking a sense of nostalgia and childlike wonder. The suite of decorations at Grand Central is an example of the quality experience The Prop House promises.
The Grand Central trim is set against the deep emerald foliage – a balancing act between the classic hues of luxe modern champagne and smoky silver with warm traditional burgundy. The magic of Christmas comes to life with the illumination of thousands of twinkling lights. Not only was every garland, tree and wreath hand lit with LED light strands, but orbs of the same warm-toned bulbs were hung and placed throughout the centre for even more Christmas magic.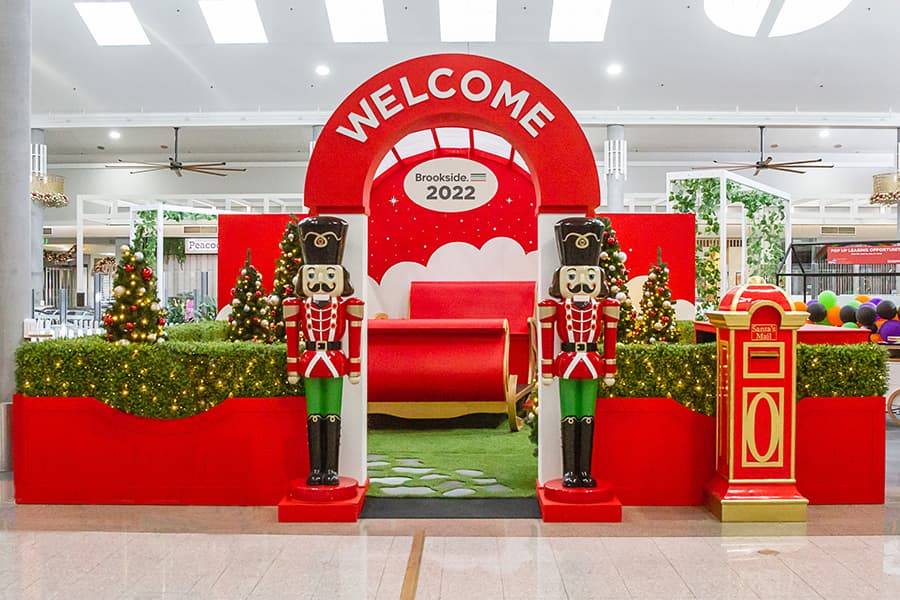 From the design process, artwork and digital rendering through to execution and installation, The Prop House team have experience in captivating audiences and creating a memorable visual experience.
Each year our teams decorate more than 100 venues for clients including QIC, Scentre Group, Retail First, Charter Hall, AMP Capital, and many other corporate customers, restaurants, hotels and shopping precincts.
As a proud Australian company, The Prop House trims all its foliage for shopping centres and retailers in its Brisbane warehouse. No project is too big, with custom requests such as the Brisbane Quarter's custom gold prism photo moment, interacting with the breeze that flows through the court. Interactive and immersive, the gold colour palette includes thousands of shimmer panels, engaging with shoppers who pass by during the holiday season.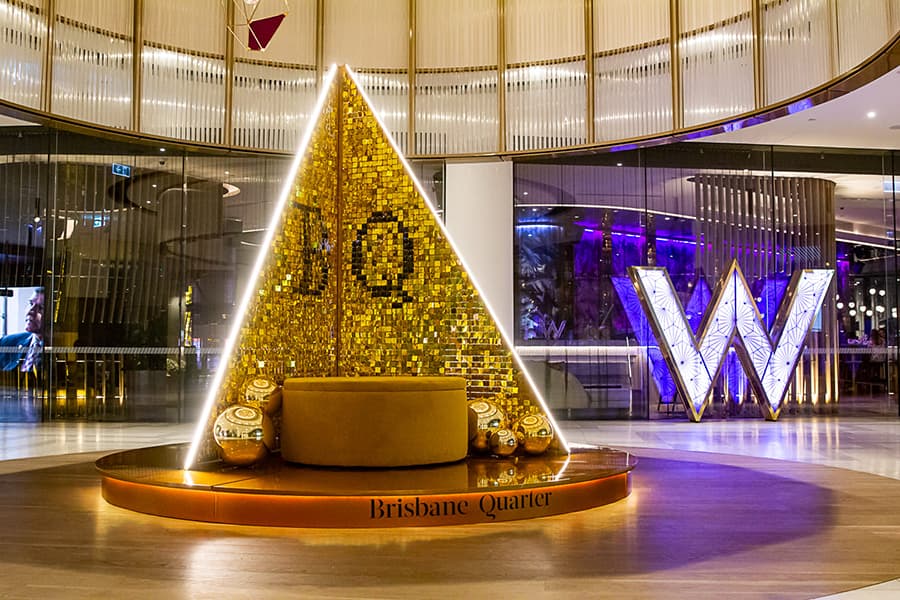 Wreaths, trees and garlands are available to purchase from now until Santa arrives. With a design team available to custom create your new suite of decorations, book in now to bring a timeless and spectacular Christmas to your precinct.
While technology may change the way we shop, it can never replace the timeless magic of Christmas. This holiday season, let us embrace the opportunity to share the magic and joy of Christmas with one another, creating real shopping experiences that unite us in the spirit of the season.