Ahead of National Skin Cancer Action Week 2021, Perth's Floreat Forum has become the first shopping centre in Australia to provide free Cancer Council sunscreen via the installation of a purpose-built SunSquirt kiosk.
Located next to the children's playground in the centre's outdoor shopping and dining precinct, the SunSquirt kiosk dispenses individual applications of SPF50+ Ultra Cancer Council sunscreen in addition to providing real-time advice on UV index, sunscreen usage and application.
Denise Johnson, Centre Manager at Floreat Forum said "We are really excited to be able to launch this service for our community. National Skin Cancer Action Week acts as an important reminder for all Australians to use sun protection and by offering convenient access to free Cancer Council sunscreen we hope to help promote safer sun practices."
Australia has one of the highest rates of skin cancer in the world. Currently, two in three Australians will be diagnosed with skin cancer by the age of 70 every year, and around 2,000 Australians die each year from this disease. However, most skin cancers can be prevented by the use of good sun protection.*
It's these statistics, along with a personal family connection with cancer that led to the creation and development of the Australian made kiosks.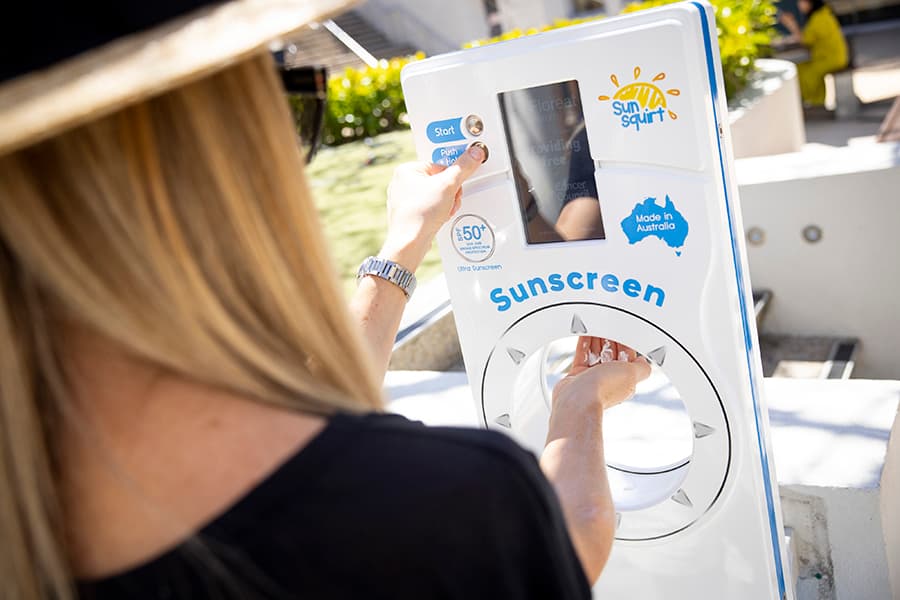 Founder, Kristofor McGhee is delighted to have one of his kiosks installed at Floreat Forum. "We developed SunSquirt to increase access to sun protection in an efficient, convenient and reliable way and we are thrilled to be working with the team at Floreat Forum to install our first permanent SunSquirt kiosk in Western Australia."
McGhee added that "It's not just about the provision of sunscreen to the general public, the SunSquirt kiosk provides people with real-time information about UV strength and education about quantities and application".
It's these credentials that led to SunSquirt becoming the only solution officially partnered with the Cancer Council Australia.
Sally Blane, Sun Smart Manager at the Cancer Council WA, said: "We welcome this initiative from Floreat Forum to make Cancer Council sunscreen more readily available. Using a combination of the 5 sun protective measures – Slip, Slop, Slap, Seek and Slide is a simple and effective way to reduce your risk of developing skin cancer."
The new SunSquirt kiosk at Floreat Forum was launched with the help of the local community and Cancer Council WA's Sid the Seagull on Saturday 13 November.
* Source, www.cancer.org.au