While Victoria continues to struggle with life in lockdown, QICGRE's Eastland Shopping Centre have been engaging their community in a significant way since the start of the pandemic and they look forward to things returning to normal in Melbourne. Across July and August, the centre has run a number of community initiatives to brighten everyones day in a situation that is both challenging and changing.
During July, Eastland invited local Childcare and Kindergartens to take part in a collaborative colouring-in project.
Jodie Murphy, Eastland's Community Relations Manager said: "Right now, our community needs to pull together to support one another, while also injecting hope and joy to the day-to-day. Whether that comes in the form of hosting impromptu concerts from our balconies or dressing up in weird and wonderful costumes to take the bin out, every opportunity to bring colour into our lives should be embraced. Here at Eastland, we choose to embrace the power of art. After all, a picture is worth a thousand words, right?"
In the packs, there were 25 x A4 colouring-in sheets, when combined, these sheets created one big, beautiful picture with positive messages.
The masterpieces were on display in July at Eastland for the community to enjoy and vote for their favourite. During the three-week project the centre received 4,891 votes spread across the nine participating local Kindergartens and Childcare facilities.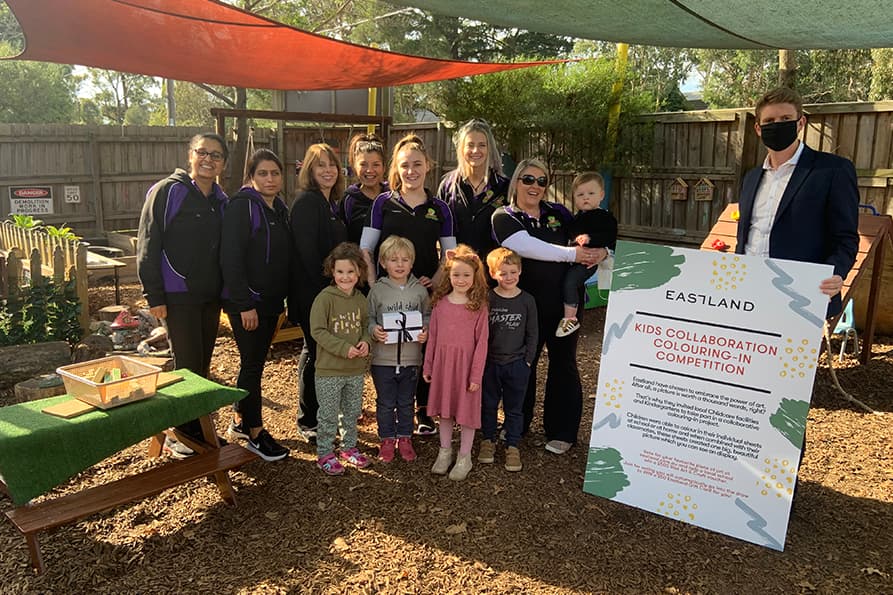 The winners – Dorset Early Learning & Kindergarten in Croydon received $500 worth of art supplies. Every school who has participated will get to keep their artworks currently on display at Eastland to showcase at their schools/centre, and they will also receive an arts and craft pack from Eastland.
Mel, Centre Director of Dorset Early Learning & Kindergarten "We cannot thank Eastland enough for giving us the opportunity to participate in this program – we never win anything, so this is a really big deal for our staff, kids and family. Thank you for everything you have done for us, like the Easter Hampers and Pen Pal. We are loving the community connections you have created with us and our families"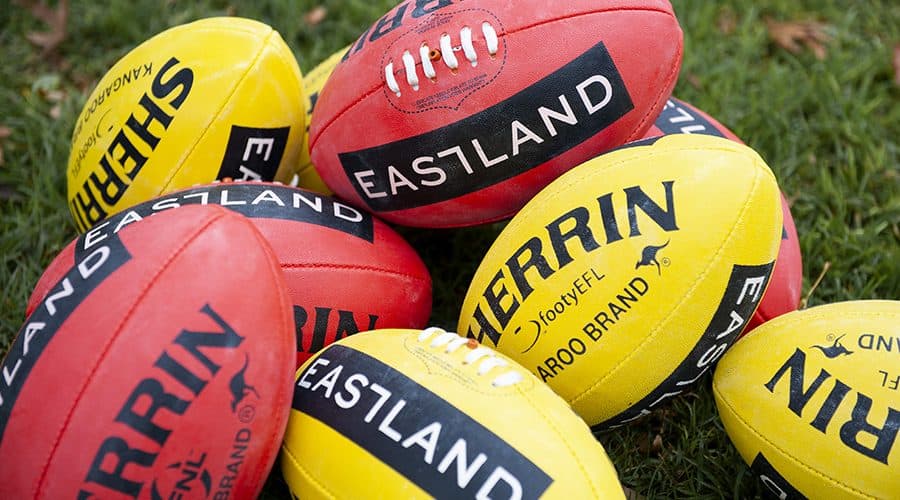 Children of Maroondah returned to football training for three weeks, however stronger restrictions for Victoria resulted in the cancellation of the junior football 2020 season.. Following this, the Victorian Government announced home schooling was back for all Primary Schools students.
During conversations with members residing in Maroondah whom represent the Department of Education and  community partners Eastern Football Netball League (EFNL) and Sport and Life Training (SALT), the centre  learnt recent research has found school and sport disruptions during COVID-19 are taking a toll on kids' mental health and well-being. Eastland also were made aware that EFNL clubs were allowing families to borrow a football to keep the kids engaged and active, however due to large player numbers there wasn't enough supply for the demand.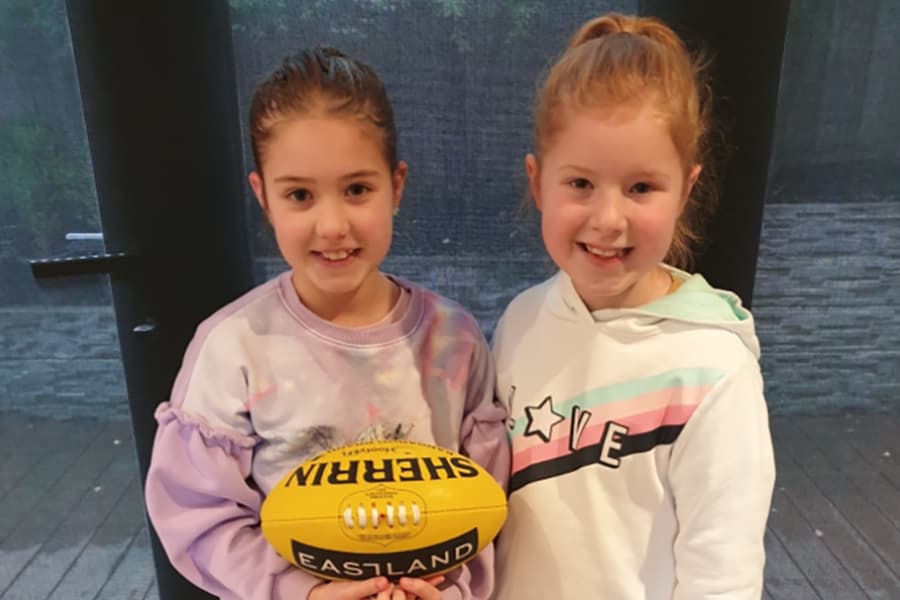 Eastland reached out to our partners the Eastern Football Netball League and secured 150 Eastland branded junior match day balls to give away to 150 local families doing it tough. The footballs were broken down into sizes based on ages; Size 2: 6-10 years old, Size 3: 11-12years old and Size 4: 13-14 years old. The opportunity to win one of these footballs kicked off on Friday July 15 and concluded on Friday July 31, which saw a phenomenal 4,505 entries and overwhelming positive feedback from the community.
Eastland were overwhelmed with these results and the kind words of appreciation from our community, which was expressed by Michelle Campbell, a customer of the centre, "I've been sick for a while so I'm more practiced in the way of ISO then most, you learn to enjoy and make the most of the little things and winning the football definitely brought a smile to our faces, as will watching Daisy and Paul play with it. Thank you so much for putting on these competitions during this time and everything Eastland puts on during normal times. It means a lot to us that Daisy has done so many special things put on by Eastland when she isn't able to do special things with me too often."
Another customer wrote to the centre and said "Brody was so happy to get the football in the mail today and even more excited to find the jelly beans at the bottom of the bag! Thanks again, you made his day, week and month. Thanks Kerry Rossenberg."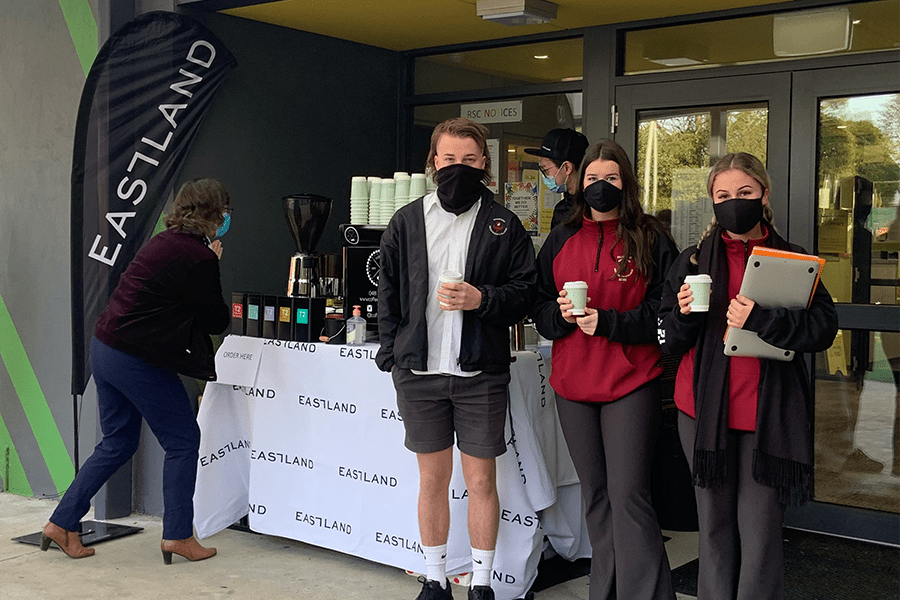 On the 24th and 27th  July, with the help of the principals and assistant principals, Eastland surprised staff and VCE students at local schools with a "coffee van" giving away more than 500 free coffees, hot chocolates and teas – which enabled accidental positive connections.
Maria, Assistant Principal at Ringwood Secondary College said "Thank you and Eastland for your generosity! In such dark days, a wonderful gesture from you to our community brought joy to everyone."