When it comes to Christmas it's always a careful decision by managers and marketers on how much funds to allocate to the busiest season of the year. Many see it an opportunity to outstrip the competition by providing something they are not, or a time simply to support retailers in the busiest period of the year. Whatever the strategy, the one thing still rings true – Christmas is very much a season for retail and thus millions of marketing dollars are spent on Christmas promotions at shopping centres across the country.
At SCN, our inboxes have been full of stories and snippets featuring clever, innovative and traditional Christmas initiatives. We've pulled out some of the best to feature in this article under four main themes:
The Christmas experience creating memories
The Charitable Christmas
Light up Christmas
Christmas is a place for community
The Christmas experience creating memories
Shopping Centres play a big part in creating memories and the highest quality of innovation can be seen in the displays, experience and activations at this time of year – all for that perfect memory.
For those looking to take their annual Santa photos up a notch this year, Santa's Secret Garden at AMP's Macquarie Centre is bringing the outdoors inside with a one-of-a-kind and unique, living, breathing Christmas set. Made from native and drought tolerant plants, Santa's Secret Garden will take visitors on a journey from the beach to the bush, encompassing a lush green set with tropical plants and coastal pathways for visitors to enjoy.
"Christmas is such a special time of year for families and we wanted to celebrate this vast and varied land of ours and create an immersive, uniquely Australian experience," says Natalie Douglas, Centre Manager at Macquarie Centre.
To ensure that the 5.1 tonnes of plants used within this set will continue to benefit the community, Macquarie Centre will be auctioning off the plants with all proceeds donated to charity. Each child that has a picture with Santa will be given a bark chip to cast their vote for one of the following charities: Need for Feed Disaster Relief, Drought Angels and the Koala Hospital.
Swarovski invites festive Queen Victoria Building shoppers to find out whether they've been naughty or nice this Christmas via an interactive kiosk inspired by its Naughty or Nice Holiday campaign next to the nostalgic beauty of the QVB Christmas tree with more than 100,000 Swarovski ornaments.
Until 24th December, customers can answer three randomly generated questions with their responses measured by the 'nice-o-meter' to determine whether they receive a 'Naughty Gift' or 'Nice Surprise', redeemable only at the QVB Swarovski store.
"In the spirit of spreading sparkle and cheer, we're delighted to activate the Naughty or Nice Kiosk at QVB this magical season. Consumers continually seek out new experiences from brands, experiences that are fresh and relevant and engage with them in new and compelling ways" comments Victoria Brown, Marketing Director, Swarovski.
Chadstone – The Fashion Capital welcomed Santa with its iconic 'Twas the Night Before Christmas' Santa Photography experience. The installation will includes snow falling on the hour, talking reindeer, a jaw dropping Christmas tree and of course a private photo moment with Santa. This year, for the very first time, professional photographers will capture a digital gallery with a minimum of 10 candid images for customers to take home and cherish.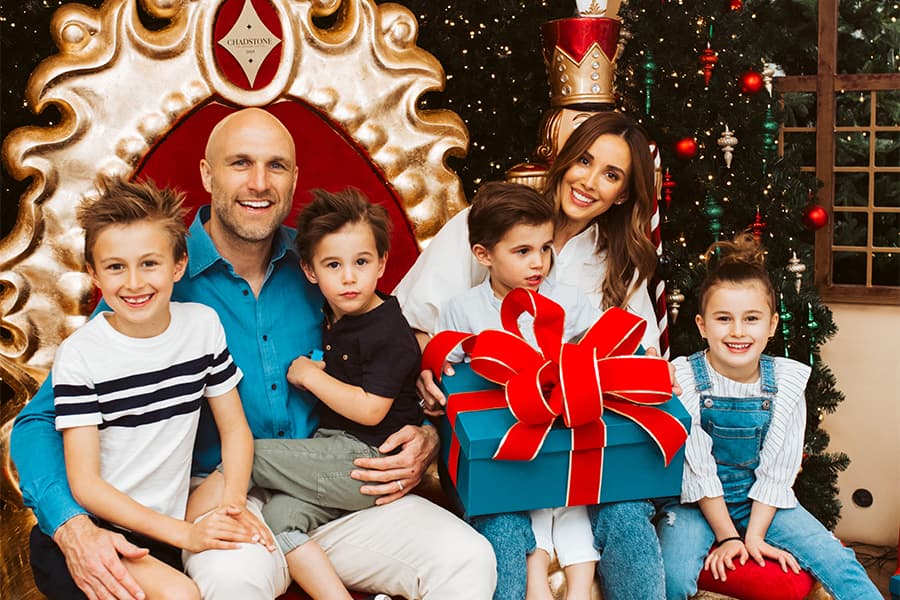 Chadstone Ambassador Bec Judd said "Taking our annual family Christmas photo has become a Judd tradition. We love creating special memories we can look back on and cherish as the kids get older."
At Dexus managed QV Melbourne, live illustrator Zahra Zainal will create personalised comics for customers. Drawn on the spot, in real-time, Zainal will improvise personalised comic strip illustrations around the theme of human connection. Each recipient will be asked "Who do you most want to feel a connection with this holiday season, and why?" The result will be a unique, handmade gift to be treasured forever.
"I've always been intrigued by the human connection and how it is expressed. Art is another means to show the natural way in which we interact with one another. Being able to translate what I'm seeing in person into a permanent image is a wonderful way to capture any given moment in time, making it memorable. Having your story drawn and being able to take it home with you is an amazing feeling." said Zainal.
At GPT's Highpoint parents can unwind at The Reindeer Bar, a relaxing North Pole-inspired oasis filled with complimentary spiced gin and something to nibble on, whilst children prepare to send off their very special letter to Santa via The North Pole Post!
Recognising that Christmas means something different to everyone, Mirvac Retail have created a series of immersive festive season moments allowing shoppers to share their own traditions, and to create new ones at their centres as part of the Aussie experience of Christmas.
Broadway Sydney is going all out for an instagrammable Christmas with an elf takeover, plus the exhausted Christmas shopper can take advantage of a wellness retreat zone delivered by MECCA and L'Occitane. The Insta moments don't stop, over at Harbourside where a paragliding, high-diving Santa adorns the entry and his shark pulled sleigh is certain to turn heads on locals and visitors alike. At Rhodes Waterside a four-roomed Christmas Instagram Museum will feature photo moments, and like many centres will offer a cute pet-themed Christmas photo option.
At Moonee Ponds, Live Bands, Christmas Tree giveaways and a Mrs Claus helper for shoppers will add to the season atmosphere; East Village features Christmas carolers and a themed night market from December 13 to 15; while Orion will showcase a magnificent life-size Santa cottage with snow falling daily throughout December, a Santa's Workshop craft zone staffed by qualified child-carers, and a series of community performances, markets and entertainment throughout the festive season will add to community events.
The Charitable Christmas
In the midst of the commercialisation of Christmas, it's a time of giving back to those less fortunate in our society. With the juggles of life, many people find Christmas a difficult time of year and shopping centres have recognised this as an opportunity to use their platforms to support others. 
Melbourne Central has launched 'The Returning' this Christmas; a one-stop-shop to return impulse purchases or unwanted presents in exchange for a Melbourne Central gift card. We are a country of unhappy gift recipients, with a third of the population admitting to receiving gifts they didn't like last Christmas, a figure that jumps to just under half of all millennials. 
From 13 until 27 December, customers can return unwanted gifts at 'The Returning' pop-up store. Melburnians will bring their unloved items, no matter where they've been purchased, and exchange for a Melbourne Central Gift Card. All proceeds and products will be donated to charity partner Property Industry Foundation, in support of Melbourne City Mission.
For the eleventh year running, Retail First has teamed up with All Purpose Transport to raise 40 tonnes of food donations, and to assist with Foodbank's increased demand for food assistance over the Christmas season. This is the largest food donation drive in Australia, and Foodbank Queensland has become reliant on the generosity of shoppers in order to meet the increased demand during this period.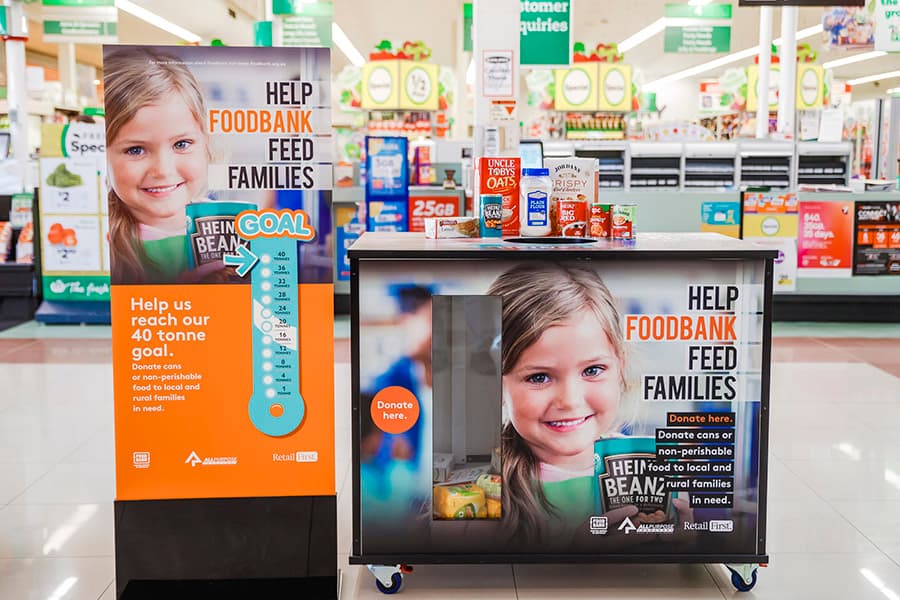 QV Melbourne is bringing back their popular Pup-mas Photography every Saturday through the Get / Festive program. In support of Guide Dogs Victoria, a gold coin donation will give you the chance to have your furry friend snapped in their festive best for a new photo for your mantle (or a paw-tacular Christmas card) this holiday.
Karen Hayes, CEO of Guide Dogs Victoria is thrilled to be partnering with QV Melbourne once more, "For those who feel deep puppy-love but can't commit to a long term best friend, our Volunteer Puppy Raising Program is a wonderful way to get the best of both worlds, while helping someone who truly needs a Guide Dog in the future."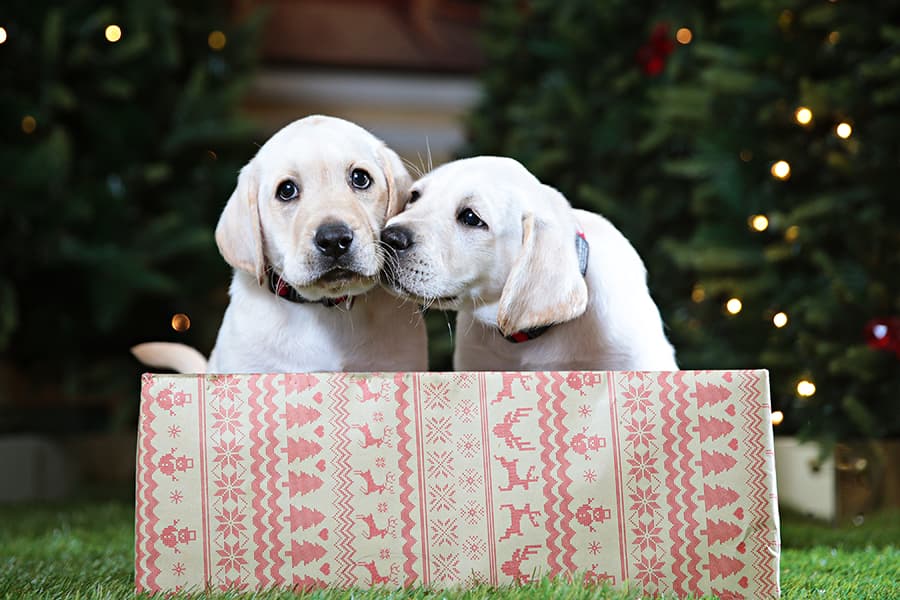 More than four million Australians experience food insecurity at least once a year. With this in mind Belmont Forum Shopping Centre recently entered into a partnership with SecondBite – the leading national food rescue organisation, collecting surplus food and distributing it to local charities and the homeless. Belmont Forum is the only shopping centre in Western Australia working with SecondBite whose service is free and making a real difference to those in need.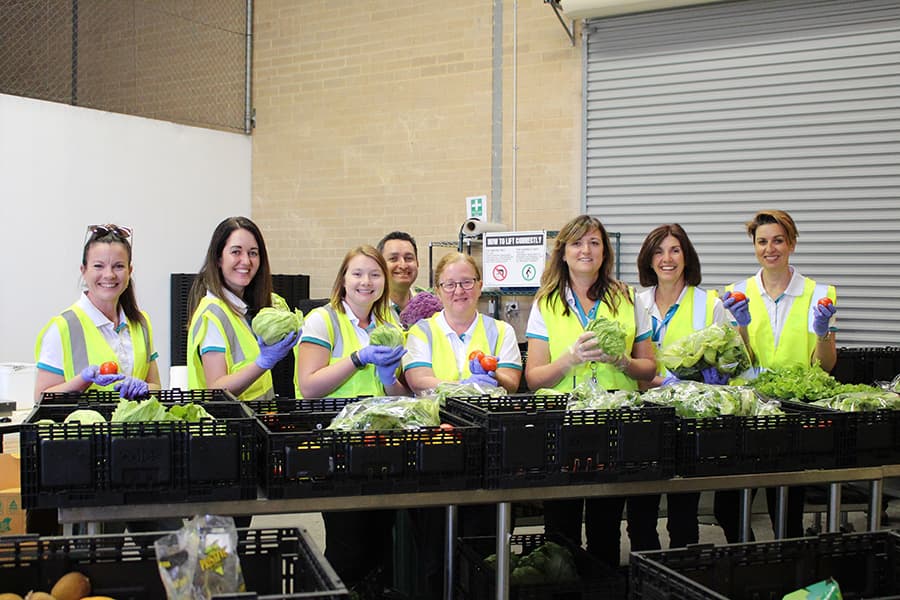 Working with SecondBite for only a few months, Belmont Forum has already provided over one and a half tonnes of fresh produce and food for people who really need it. The Centre Management Team collect produce from their retailers daily and store it in a purposefully built industrial fridge for collection by SecondBite.
Belmont Forum has also secured a partnership with local school, High Wycombe Primary School, and now SecondBite supply food and produce collected and delivered to the school for their Breakfast Pantry.
Shane McLean, Centre Manager said, four times a year, Belmont Forum Centre Management Staff and JLL colleagues volunteer their morning at SecondBite to sort produce, which is then distributed to local charities on the same day to help feed the homeless and those in need.
Stockland has once again challenged conventional Christmas marketing with its newest creative campaign for the festive season, launching the heartwarming animated film 'The Story of Dunder'. The campaign focuses on the much loved but forgotten reindeer from Down Under – Dunder – and celebrates the Australian Christmas spirit which means something a little different to everyone. Lots of activities for all the family are being held across the Stockland portfolio with a focus on a charitable cause.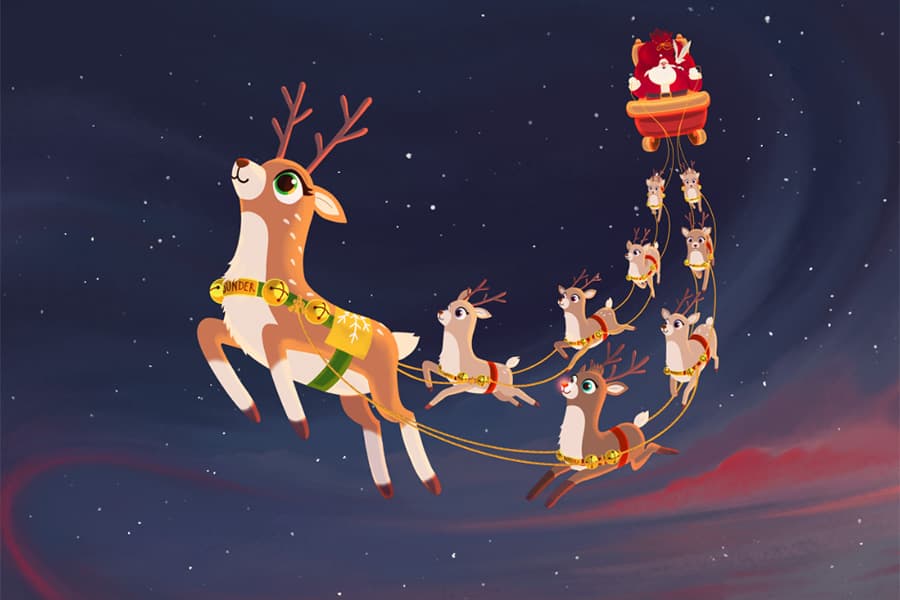 In the spirit of Christmas, Stockland will also be donating $50,000 to charity partners including $35,000 to the Foundation for Rural and Regional Renewal, and $5,000 to each of its CARE Foundation partners Redkite, R U OK? and ReachOut.
Ben Allen, GM Customer and Group Marketing at Stockland said, "We hope others may also be inspired this Christmas and make an effort to support and include those who need it this season."
This Saturday, Mackay residents are invited to show off their wrapping skills in a fierce battle against the Charity Gift Wrappers at Lendlease's Caneland Central.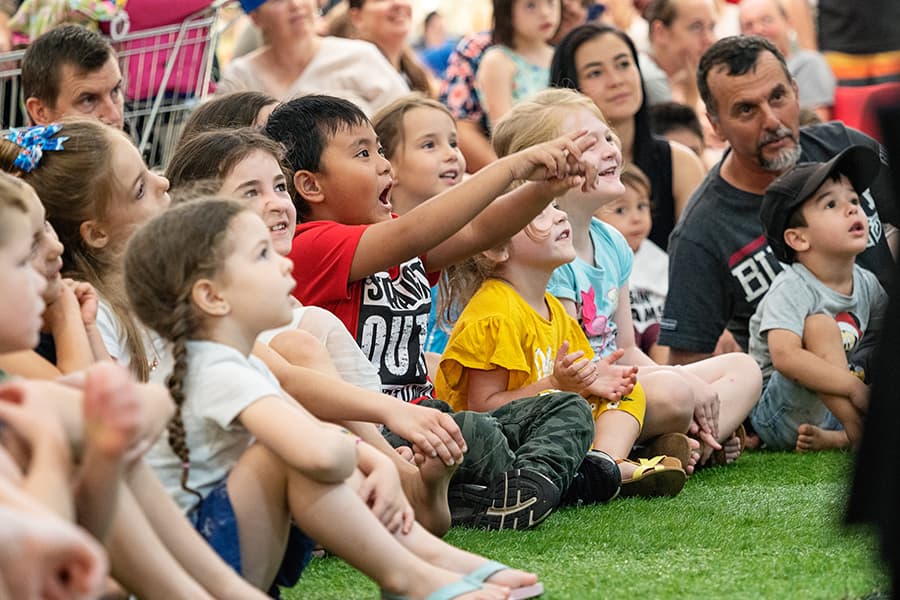 Participants will compete for the title of Caneland's Fastest Gift Wrapper competing against each other in rounds of 10. Presents wrapped during the competition will be donated to the Mackay Women's Services and gifted to vulnerable women in the local community. All money donations collected on the day will go to supporting RACQ CQ Rescue.
RACQ CQ Rescue CEO Ian Rowan said "Last year the gift-wrapping stall raised $35,000 for CQ Rescue. This reflects the esteem and support the community has for our hard-working helicopter crew."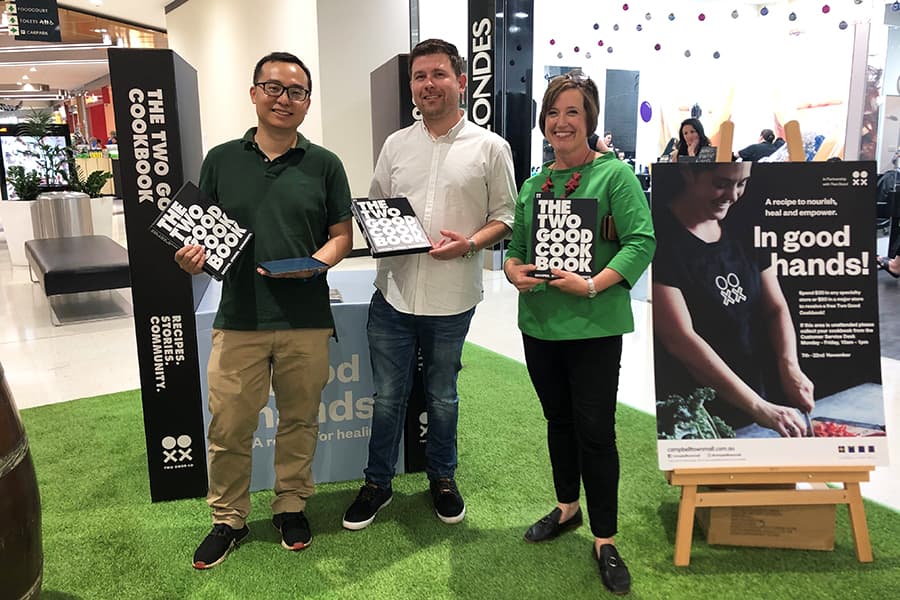 Charter Hall Retail and Two Good Co have continued their partnership to 'empower, nourish and heal' women, with an 'In Good Hands' gift with purchase campaign this holiday season. Across 23 Charter Hall shopping centres, shoppers are  invited to cash in their receipts when they spent $30 in a specialty store or $80 in a major store and receive a complimentary copy of The Two Good Cookbook.
The 6,800 Two Good cookbooks distributed across Charter Hall shopping centres will enable the 'Two Good Work Work' to continue their mission of spreading love and respect to domestic violence survivors.
Light up Christmas
The nature of shopping centres have been historically a day economy but since the reinvention of dining and entertainment precincts, the joy of light celebrated at night time has been reignited at shopping centres across the country.
Macarthur Square is going big for Christmas, with a spectacular 6.6-metre illuminated reindeer installation. The reindeer installation is a first for Australia and will complement the 10-metre Christmas tree and lights strung across Kellicar Lane.
Macarthur Square Centre Manager, Trevor Hill said  "We're especially excited about our giant illuminated reindeer and Christmas tree – a first for Macarthur Square and Australia."
At Market City shoppers are in for an extra treat this festive season with the launch of 'Christmas Infinity Rooms at Market City' – a one of a kind, immersive in-centre installation where visitors can step inside to experience never-ending Christmas scenes.
The installation features three spaces filled with multi-sensory illusions – from a beautiful reindeer forest to a fluorescent Christmas scene. Using mirrors or graphics, objects and lighting to intrigue the senses, the walls, floors and ceilings' surfaces create endless vistas, allowing guests to gaze into infinity and take their perfect Instagram shot.
The shining light of Get / Festive at QV Melbourne is an Australian first walk-through Christmas Tree, reaching 15 metres to the stars with unique Christmas characters and magical lights inside and out. State of the art digital technology creates moving colour patterns all over the tree. With a design inspired by the geometry of Melbourne,
Christmas is a place for community
Christmas is a time for community spirit, family and friends. Many shopping centre have used the season to bring communities together in an inclusive and welcoming environment.
Christmas is a wonderful time of year, but for some in our community, it can also be a lonely time. 

More than 2 million Australians will feel socially isolated during this festive period, research commissioned by 

The Salvation Army

 

shows. AMP Capital's 
Marrickville Metro, along with partner The Salvation Army, want to 
ensure that everyone in the Inner West Sydney community has a place to belong on Christmas morning.
Dean Young of Marrickville Metro Centre management says, 'Our Christmas breakfast is an opportunity to meet the community and spread some holiday cheer and Inner West love. Anyone who is alone, lonely or simply needs a welcoming place to spend Christmas morning is warmly invited'.
Marrickville Metro is proud to be partnering with Woolworths, who is graciously donating the food, and The Salvation Army who has a long tradition of providing support during the Christmas period. Over 300,000 people annually turn to The Salvation Army during the Christmas season. Marrickville Metro wants to help lower that number.
Sensitive Santa Sessions are now widely available at local shopping centres. At QICGRE's Hyperdome the centre is running a series of Sensitive Santa sessions for families that would love to capture a special Christmas memory in a low-stress, sensory-friendly environment, without the crowds, noise and other pressures that can be associated with shopping centres.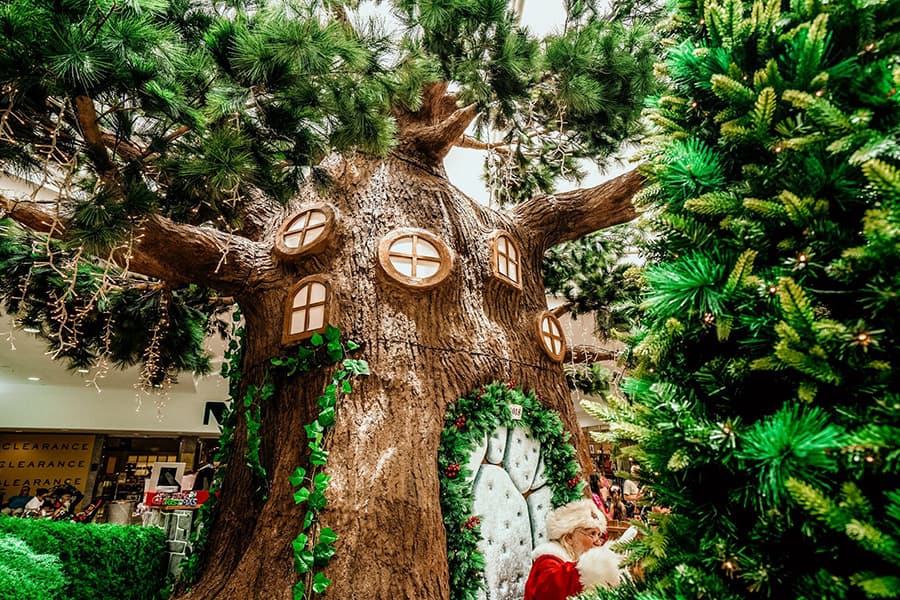 Beloved family pets are not forgotten this year, with Robina Town Centre's Pet Fur-tography back by popular demand. Customers can bring their furry family member down to The Promenade to enjoy a pre-photo styling spruce up with the resident groomer, who will have your companion looking his or her absolute best before meeting Santa himself. Free puppacinos courtesy of Starbucks will meanwhile keep pets well (de)caffeinated for their big moment.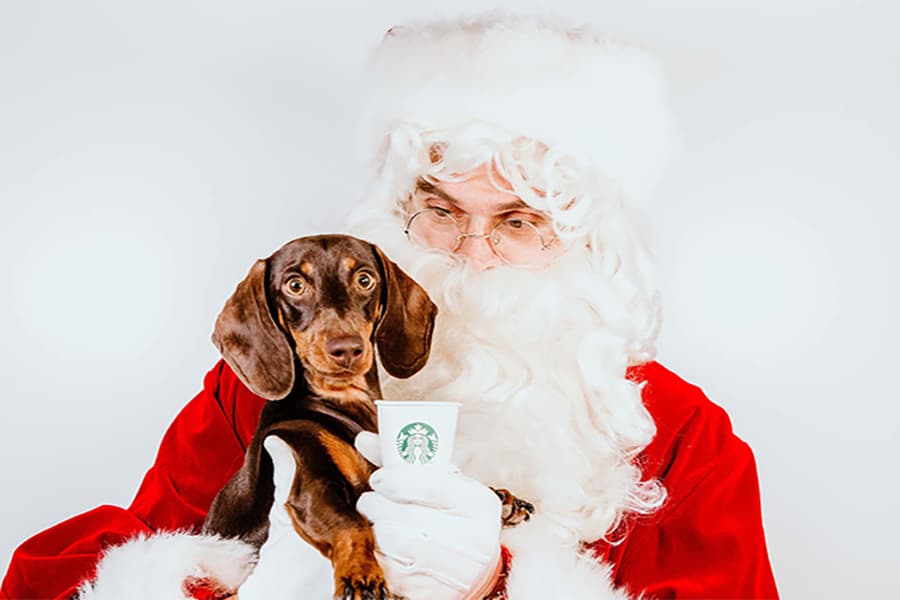 To cater to the growing population and needs of Liverpool, Crossroads Homemaker will be transformed into a Winter Wonderland. Customers will enjoy a 3-hour session with a large range of rides, including an ice skating rink, ice slide, Santa snow house, Santa photos, Christmas Village, Gingerbread Land, Candy Cane Land, Santa's Inflatable World and much more.
At Vicinity's Chatswood Chase a special parade featuring Santa and Mrs Claus, a very merry marching-band, an assortment of festive characters, and culminating in a special presentation of Clara's Tale of the Nutcracker in Centre Court to welcome in the season. the centre will be taken over by Christmas with each level of the centre featuring  wondrous things happening including crafts, gingerbread decorating, roaming entertainment including elves on stilts, singing angels and the fabulous Rockette-style Christmas Belles.
Got something to add that is making Christmas truly magical? Send contributions to belinda@shoppingcentrenews.com.au