Capitalising on one of Sydney's best-kept secret city views, Mirvac's Broadway Sydney launched an exclusive open-air rooftop roller skating rink for the month of September. The activation takes place in partnership with Sydney Fringe Festival, hosted by charismatic social media personality, Cameron Robbie.
Cue the 80s dance moves and big ol' hairdos, Broadway Pop-up Fringe is set to be the highlight precinct of the festival. Shoppers and guests will have the chance to experience a range of food and beverage tasters from Level 2 and experience DJ sets as the sun goes down over Sydney.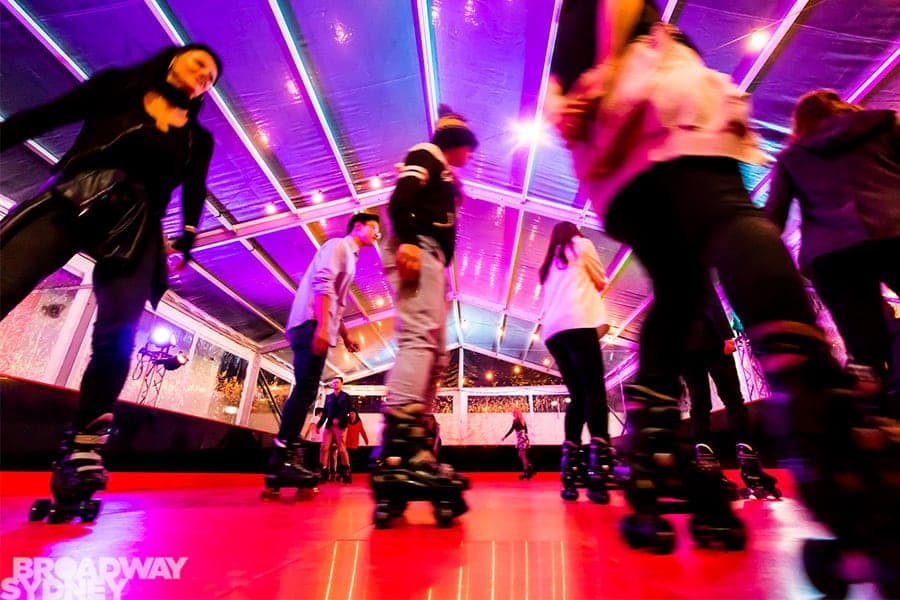 Host, Cameron Robbie (the second most famous Robbie), ensures guests experience Broadway Sydney's Rooftop Roller Rink through his wildly funny comedic lens. Robbie, who has recently taken on a role as MTV Entertainment guest reporter, is making a name for himself on the red carpet scene across Australia covering a number of events and chatting with famous celebrities (including his own sister, Margot Robbie).
"Robbie will be on hand to give his red-hot tips on how to 'race the rolla rink' and provide a crash course on the best experiences and tastiest treats to be had at Broadway."
Justine Saltmarsh, Broadway Sydney, said, "Broadway Sydney Rooftop Roller Rink is an opportunity to celebrate one of the largest independent arts festivals in NSW whilst supporting the work of local artists and performers.
We are thrilled to be working with Cameron Robbie and being able to offer the community access to one of Sydney's first ever rooftop roller skating rinks. Customer enjoyment and entertainment are at the forefront of what we do at Broadway Sydney." she said.
Sydney Fringe Festival Director, Kerri Glasscock said,"Sydney loves a pop-up and we love giving audiences unique experiences of their city that don't happen at other times of the year. We have, for a number of years, tossed around the idea of incorporating a roller rink into the festival and having partnered with Broadway Sydney for a number of years we thought it was the perfect fit."
After a round of skating, guests can enjoy a meal from the L2 Dining precinct, watch a movie at Event Cinemas or sneak in some retail therapy at the impressive retail and dining hub.  Broadway boasts an exciting mix of restaurants including Zeus Greek Street, Din Tai Fung and Grill'd Healthy Burgers alongside retail giants such as H&M, Sephora and General Pants Co.